Ride for a Healthier Tomorrow
Northwest Arkansas Circle of Friends for Arkansas Children's Northwest
1 -- The inaugural Ride for A Healthier Tomorrow to benefit Arkansas Children's Northwest will hit the road April 1 and continue through the month.
The fundraising ride is hosted by the Northwest Arkansas Circle of Friends chapter. Organizers encourage participants to raise money and ride -- all for kids. "Registrants can set their own personal cycling and fundraising goals and participate in this virtual cycling challenge any time, anywhere, in April. Registration is free, and riders of all ages and abilities are encouraged to participate."
Organizers say the group partnered with Experience Fayetteville and Bike Bentonville to create routes ranging from 10 to 55 miles for those looking for a more competitive ride.
Fundraising incentives including an exclusive cycling jersey will be awarded to registrants who raise set dollar amounts for ACNW.
Information: give.archildrens.org/ride
Pinwheels for Prevention Kick-off
Children's Safety Center of Washington County
1 -- Pinwheels for Prevention is set for the entire month. Children's Safety Center patrons are invited to "join the fight against child abuse by participating in Pinwheels for Prevention. Place signs and pinwheels in your yard throughout the month to raise awareness and show your support of the Children's Safety Center." Signs, T-shirts and pinwheels can be purchased through childrenssafetycenter.org.
Close to Home
Fort Smith Museum of History
1 6 p.m. -- The Fort Smith Museum of History will host its new exhibition, opening in the Boyd Gallery, titled "Close to Home," a series of watercolor and pen-and-ink drawings by local artist Galen Hunter.
"Close to Home" captures the mundane structures and landmark architecture that comprise the built environment in and around Fort Smith. The paintings present a snapshot in time and examine how utilitarian and repurposed structures can be viewed in the same way as formal architecture through the patterns of light and shadows cast by the buildings."
Tee Up Your Future
First Tee-NWA
6 11:30 a.m.-12:30 p.m. -- The fifth annual Tee Up Your Future event to benefit First Tee-NWA will be virtual. Organizers say the virtual event "will create an ideal professional atmosphere for girls to meet an assortment of executives working in multiple industries in the Northwest Arkansas region, while lightly incorporating the game of golf." Tee Up Your Future is open to all girls from 7th grade through 12th grade. Girls will learn how the executives have used First Tee Nine Core Values to help them get where they are both personally and professionally.
The theme will be "Building Confidence in Young Women." Featured speakers will include Rupal Poltack, president of Walton Enterprises, and Ebony Wyatt, sales director, General Mills.
This year's event is sponsored by Coca-Cola, Post Consumer Brands and Walmart. Information: (479) 419-5807 or firstteenorthwestarkansas.org.
NWA Gives
Northwest Arkansas Nonprofit Organizations
8 -- NWA Gives returns April 8 for the annual 12-hour online giving event to benefit local nonprofit organizations. Organizers say participating 501(c)3 organizations will be supplied with free fundraising training complimentary of presenting sponsor, the Walton Family Foundation.
Registered groups will also be eligible for up to $12,000 in prizes provided by First Security Bank, $10,000 of which will be distributed through random drawings and contests every hour on the hour April 8. Contest categories include "most inspiring video" and "best social media post." Information: (479) 264-8677 or nwagives.org.
Out of the Box Luncheon
Girls on the Run of Northwest Arkansas
9 11:30 a.m. -- The 10th annual Out of the Box luncheon to benefit Girls on the Run of Northwest Arkansas will not be in-person but will be online this year. The fundraiser helps support program scholarships. Proceeds from the fundraiser will help bolster the group's scholarships and programs.
GOTR-NWA provides scholarships for more than 80% of participants, helping serve vulnerable populations in our community -- "the same communities that are being disproportionately hurt by the pandemic," says Jessica Wurst, the group's event planner.
Organizers are planning the event to "celebrate our successes, learn more about our program and discuss empowerment during a fireside chat with Walmart's Executive Vice President and Chief People Officer Donna Morris."
The virtual gathering is set to include an online auction with experiences from local donors and Inspiration Boxes. Inspiration Boxes are available for purchase and are filled with goodies while select ones contain additional prizes. Information: (479) 531-4519 or gotrnwa.org.
Boys & Girls Club of Benton County
Youth of the Year
16 11:45 a.m.-1 p.m. -- Boys & Girls Club of Benton County will laud club members with the Youth of the Year Virtual Gala via livestream at facebook.com/events/232899038548687. The annual event is to "celebrate club members who have demonstrated exceptional character and made meaningful contributions to their communities."
The group's mission is "to inspire and enable all young people, especially those who need us most, to reach their full potential as productive, responsible and caring citizens." The three pillars of the mission are academic success, healthy lifestyles and character and citizenship. Information: (479) 273-7187 or bgcbentoncounty.org.
Heart Walk
American Heart Association -- Arkansas
17 8 a.m. -- The 2021 NWA Heart Walk is set to be a virtual event. Organizers say: "We are re-imagining the 2021 NWA Heart Walk! Sign up and step out with us on April 17 as we walk in honor of survivors and those impacted by heart disease and stroke." The walk will include new online experiences for participants.
"Now, more than ever, the mission of the American Heart Association resonates across our world. Covid-19 has highlighted disparities in the healthcare system and the community -- disparities that the AHA has been working to address right here in Northwest Arkansas and across the U.S. We must work together to find solutions that ensure the health of our community for decades to come."
Information: (501) 707-6600 or heart.org.
Big Bass Tournament
Pagnozzi Parker Charities
17 7 a.m. -- The ninth annual Big Bass Tournament to benefit Pagnozzi Parker Charities will take place on Beaver Lake with weigh-in at Prairie Creek. Organizers say there will be hourly cash prizes for first, second and third place ($300, $200, $100) plus payouts for first place overall ($5,000) and second place overall ($1,000) plus a Youth Division will be added this year. Online registration is available until 5 p.m. April 16. On-site registration will begin at 5 a.m. April 17 at the Prairie Creek Weigh Station. Information: (479) or pagnozziparker.org.
Pet Stampede
Circle of Life
17-May 17 -- Circle of Life will host the virtual Pet Stampede benefit walk April 17-May 17.
Organizers say: "Leash up your dog, strap your cat in a harness, throw your bearded dragon in your fanny pack and start walking. There is no limit on how long or far to run, just enjoy the time with your family and pet."
Proceeds from the walk will benefit Circle of Life's Pet Peace of Mind program. Pet Peace of Mind enriches the quality of life for our hospice patients and the pets they love by helping with vet appointments, walks, feeding and foster care if needed.
Registration is $35 and includes an event t-shirt and pet bandana. Registration continues through May 17.
Information: (479) 750-6632 or nwacircleoflife.org.
Glow Run
Children's Advocacy Center
23 5 p.m. -- The Children's Advocacy Center of Benton County will host it 21st annual Glow Run with an in-person chip-timed 5K Glow Run and virtual Glow on Your Own 5K. Registration is $25 for adults for the in-person 5K and $15 for students and $35 and $25 for the virtual run. In-person race registration will begin at 5 p.m., and staggered start times will begin from 5:30 to 6 p.m. Information: cacbentonco.com.
A Tee-rific Tournament (With a Twist)
First Tee of Northwest Arkansas
30 noon -- A Tee-rific Tournament (With a Twist) will be played at Creeks Golf Club and RV Resort in Cave Springs. Each green will have three pins, and players may play the ball closest to the pin of their choice. Players will be eligible for prizes. Information: (479) 248-1000 or [email protected]
Power of Inclusion
Sunshine School and Development Center
27 11 a.m. -- The Sunshine School and Development Center's Power of Inclusion will feature a virtual panel discussion. Organizers say the discussion will focus on "disability inclusion in the workplace. Latriece Watkins, Walmart, will moderate a discussion with companies who are champions for inclusion in their workforce and discuss ideas on how all organizations can become more inclusive."
The panel will include Rachel Berger, dyslexia and literacy community consultant and assistive tech specialist at Microsoft Education; Peter Ramsey, vice president and head of GSK consumer healthcare research and development, the Americas; and Yuri Hermida, executive vice president of North American hygiene, Reckitt Benckiser. Individual tickets are $50, and sponsorships are available.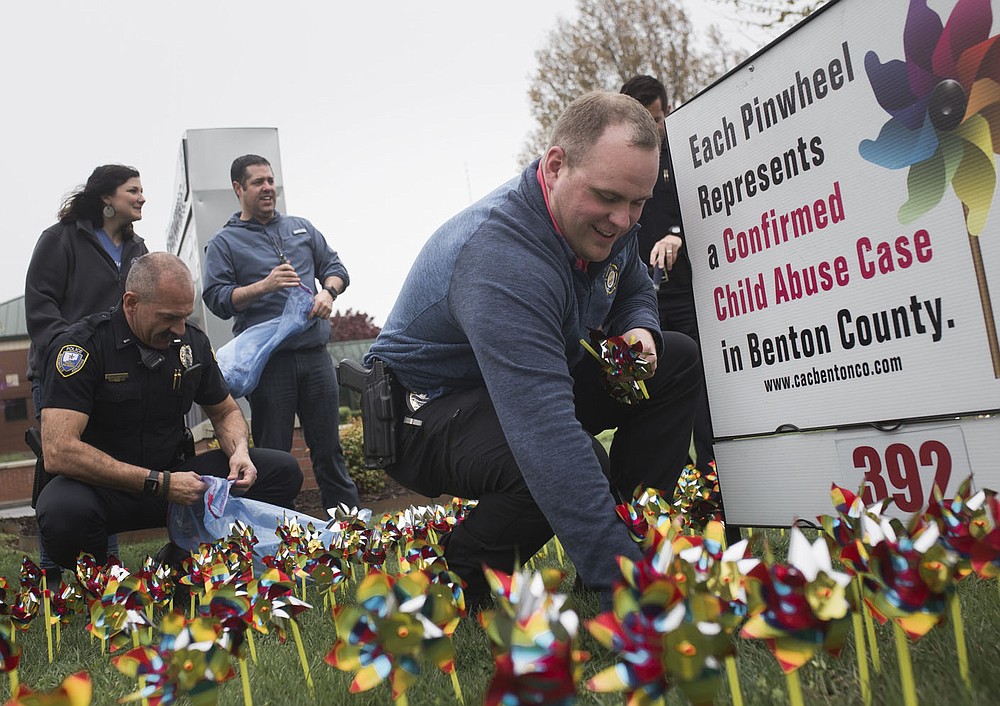 Det. Andrew Corbett (center right) places pinwheels into the ground, Friday, April 3, 2020 at the Bentonville Police Department in Bentonville. Check out nwaonline.com/200404Daily/ for today's photo gallery. (NWA Democrat-Gazette/Charlie Kaijo) April is child abuse awareness month in Benton County. All law enforcement and child protective agencies that work child abuse cases in Benton County placed pinwheels to signify the confirmed child abuse cases from the previous year. 19 agencies participated, and each agency placed 392 pinwheels at their locations.