Boys & Girls Club of Benton County will laud club members April 16 with the Youth of the Year Virtual Gala via livestream. The annual event is to "celebrate club members who have demonstrated exceptional character and made meaningful contributions to their communities."
The group's mission is "to inspire and enable all young people, especially those who need us most, to reach their full potential as productive, responsible and caring citizens." The three pillars of the mission are academic success, healthy lifestyles and character and citizenship.
Matt Taliaferro, chief executive officer, tells me: "We are a youth serving organization primarily focused on after-school and summer programs.We serve as a bridge between school and home." After-school programs are financially out of reach for many. "If we weren't here for some families, children would be home alone."
Taliaferro says that the club shut down for two months when schools closed in March 2020, and he and other club leaders used that time to rethink how to reopen slowly and safely. "Covid was a big mission moment for us. We're not going to shut down; we're going to keep serving our kids."
Academic success programs include Power Hour for homework assistance, STEAM (science, technology, engineering, art and math) activities and Girls Who Code.
Commit to Fit teaches creative ways to incorporate exercise, the importance of proper hydration and emphasizes the benefits and impact exercise has on the mind as well as the body. The club's basketball season is wrapping up, Taliaferro says. When the decision to offer the program safely was made, some 750 kids signed up,and parents told leaders how grateful they were for the children to have that outlet.
The Benton County organization recently implemented a new program, Youth for Unity. Taliaferro says, "The last year has taught us we have room to grow to understand each other and learn to have a role in promoting positive conversation and change when it comes to race." Club members also provide many hours of community service each year.
This year marks the club's 30th anniversary in Benton County. "We're very proud of what we've been able to accomplish. We started with a couple hundred kids and one unit and have grown to 3,000 kids at five units."
Sponsors for the virtual celebration include Unilever, Hershey's, Coca-Cola, Celebrate Arkansas and Intradeco.
For more event photos -- nwadg.com/photos/society.
Columnist Carin Schoppmeyer can be reached by email at [email protected]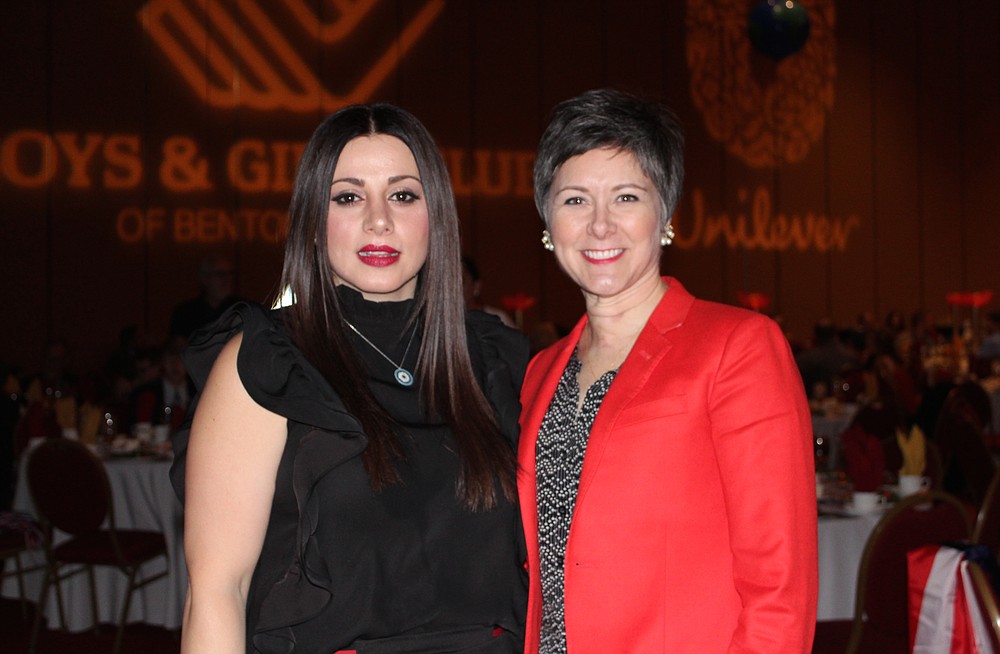 NWA Democrat-Gazette/CARIN SCHOPPMEYER Silvia Azrai-Kawas and Marybeth Hays welcome guests to the Youth of the Year Celebration.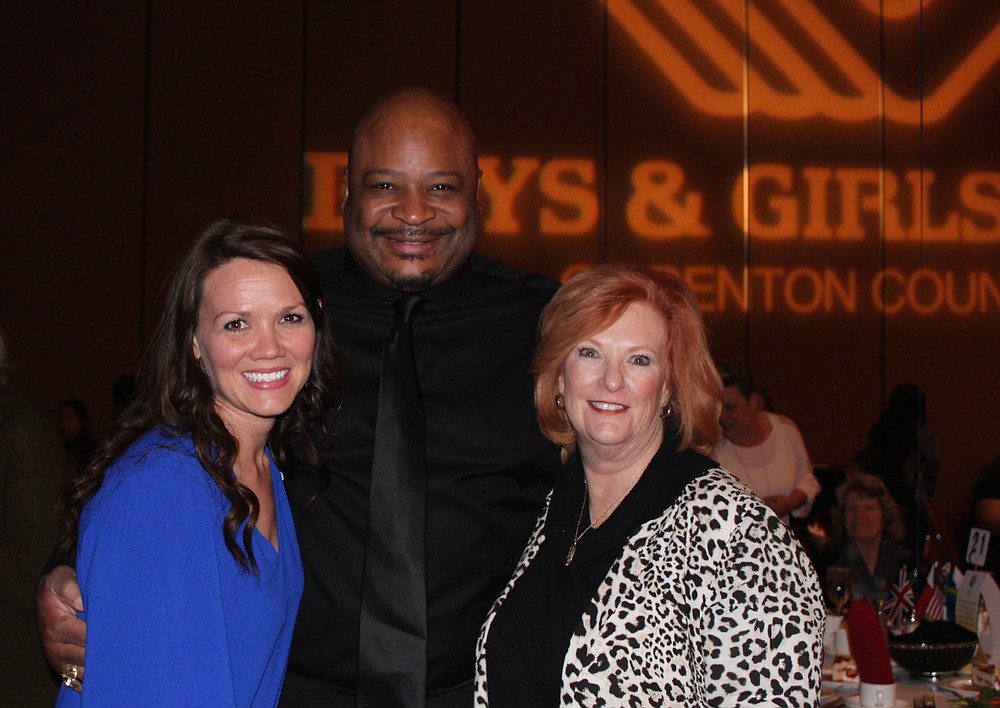 NWA Democrat-Gazette/CARIN SCHOPPMEYER Sarah Heimer (from left), Keith Jackson and Betsy Reithemeyer visit at Youth of the Year.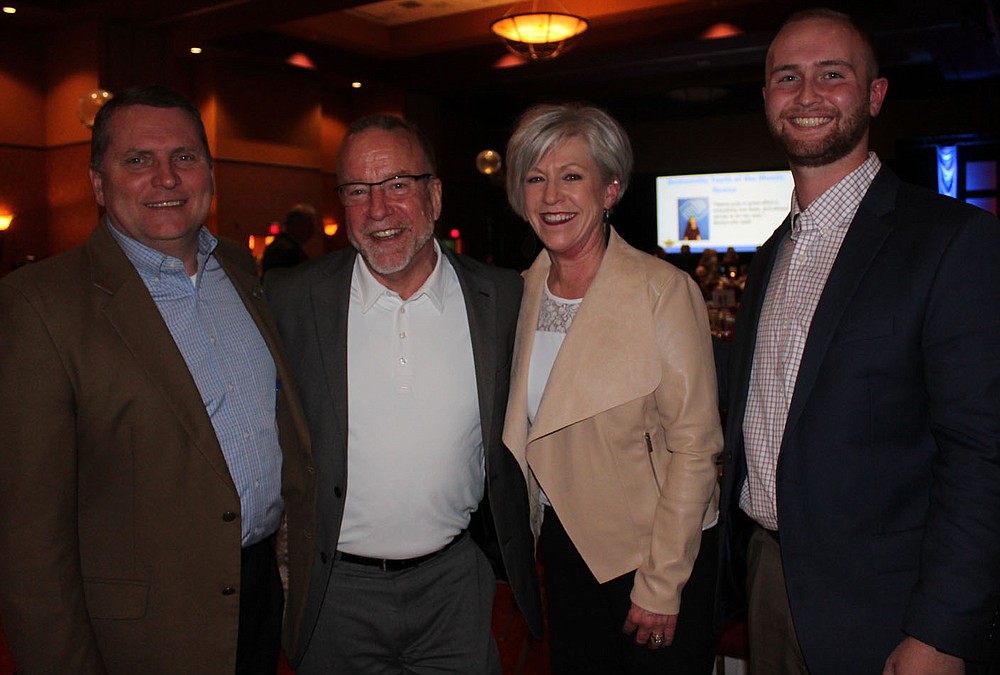 NWA Democrat-Gazette/CARIN SCHOPPMEYER Jerry Carmichael (from left), Mike Mawby and Diane and Alex McClung visit at the Youth of the Year celebration.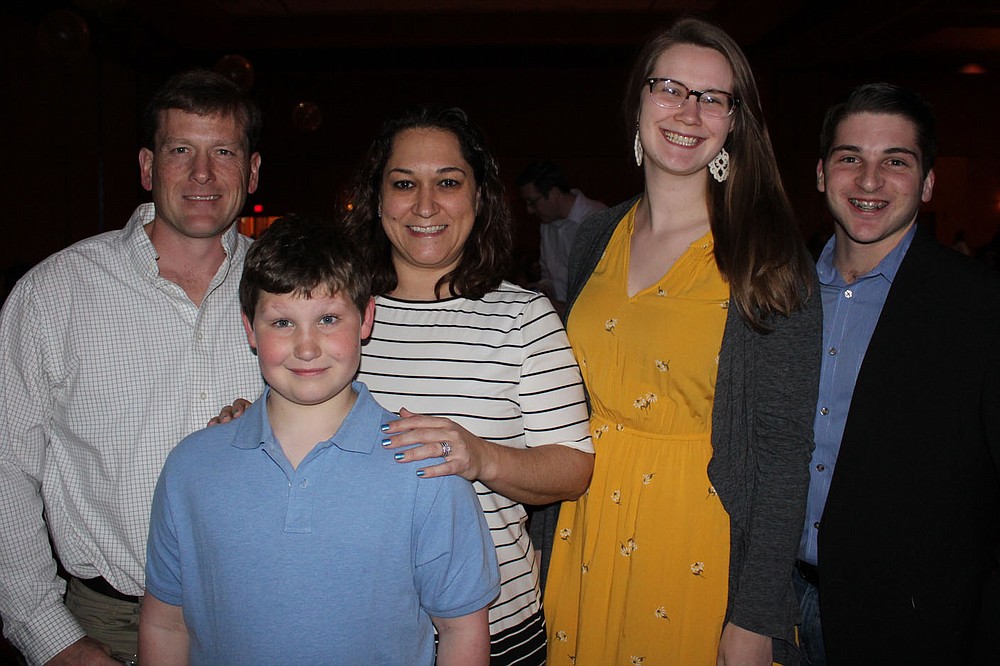 NWA Democrat-Gazette/CARIN SCHOPPMEYER Tony Cardarelli (from left), A.J. Cardarelli, Emi Cardarelli, Hanna Lineman and James Lineman enjoy the Boys and Girls Club celebration.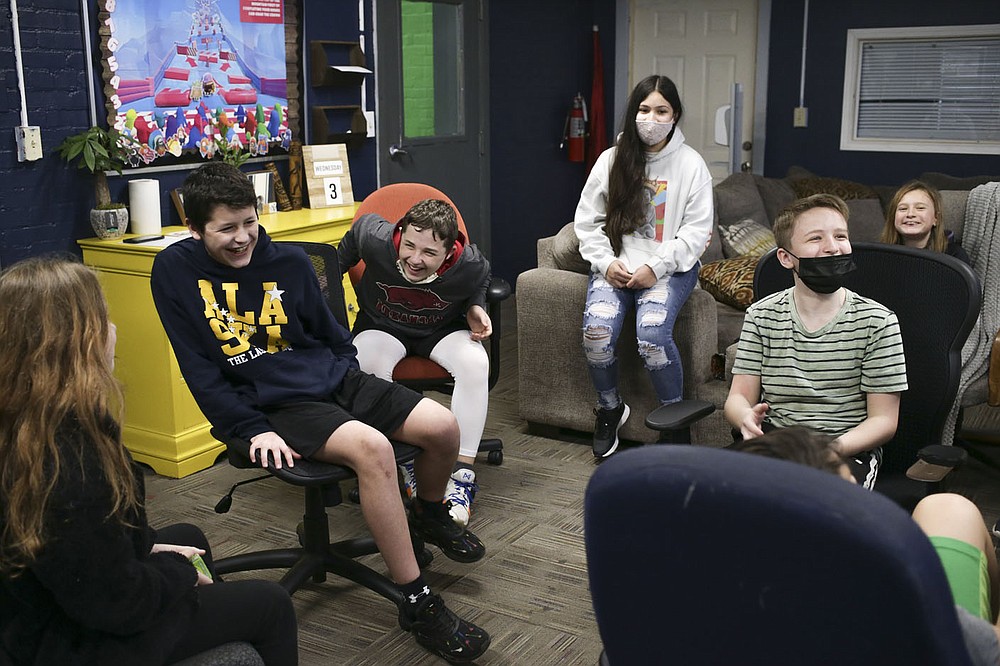 Kids laugh as they play a game, Thursday, March 11, 2021 at the Boys and Girls Club Teen Center in Rogers. Kids played a game where they passed a ball around identifying different healthy foods in a food category, part of a new program that started in February to teach kids healthy eating habits. Check out nwaonline.com/210312Daily/ for today's photo gallery. (NWA Democrat-Gazette/Charlie Kaijo)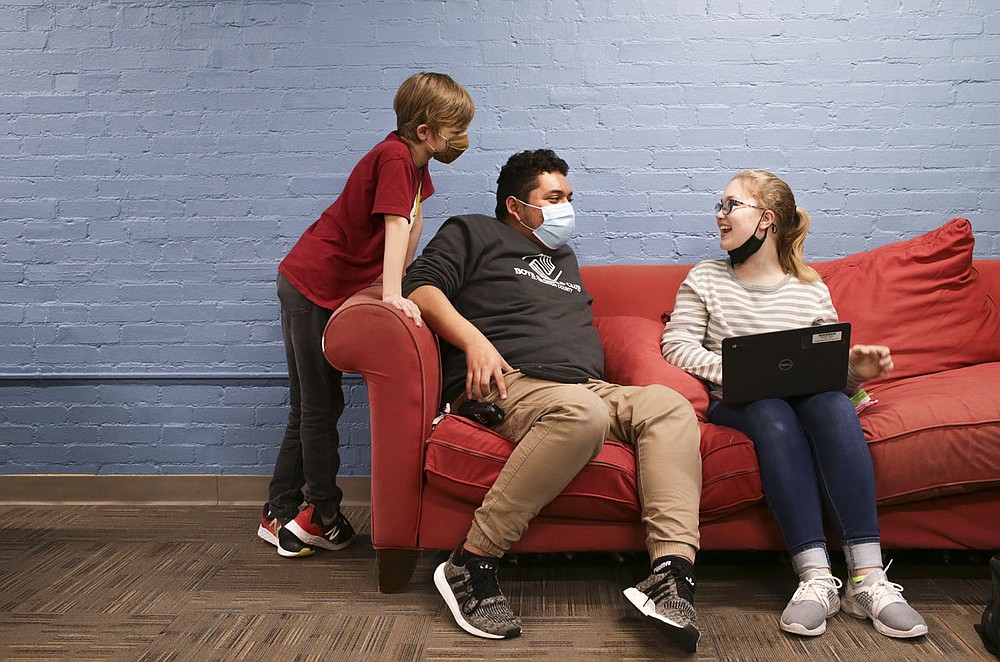 Boys and Girls Club Youth of the Year winner Omar Contreras (center) plays a computer game with Aiden Wegner (left) and Elizabeth Baker (right), Thursday, March 11, 2021 at the Boys and Girls Club Teen Center in Rogers. Check out nwaonline.com/210312Daily/ for today's photo gallery. (NWA Democrat-Gazette/Charlie Kaijo)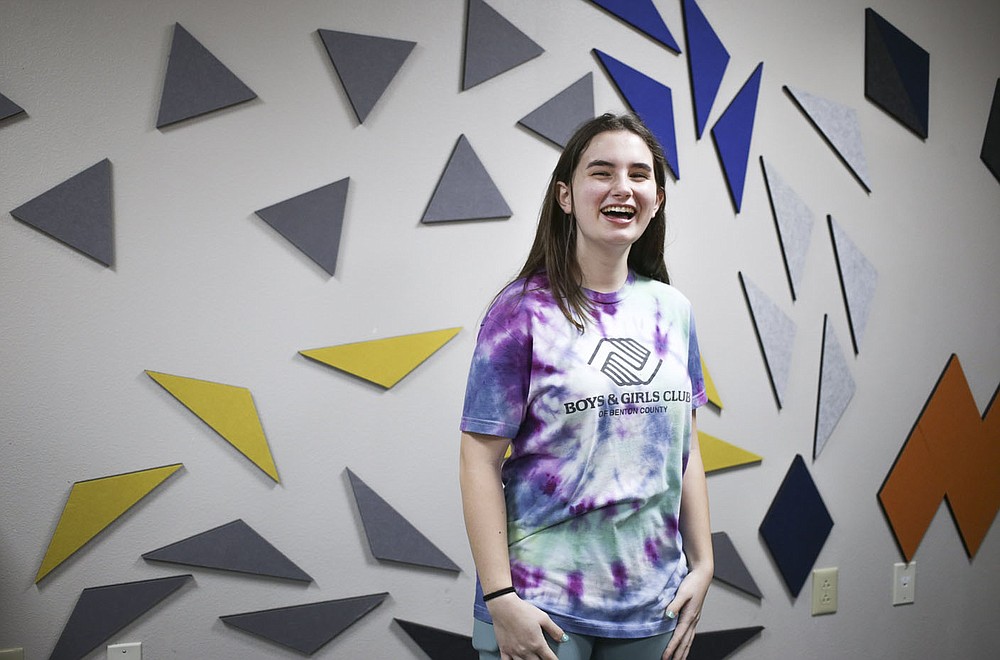 Boys and Girls Club Youth of the Year runner-up Samantha McCoin sits for a portrait, Thursday, March 11, 2021 at the Boys and Girls Club Teen Center in Rogers. Check out nwaonline.com/210312Daily/ for today's photo gallery. (NWA Democrat-Gazette/Charlie Kaijo)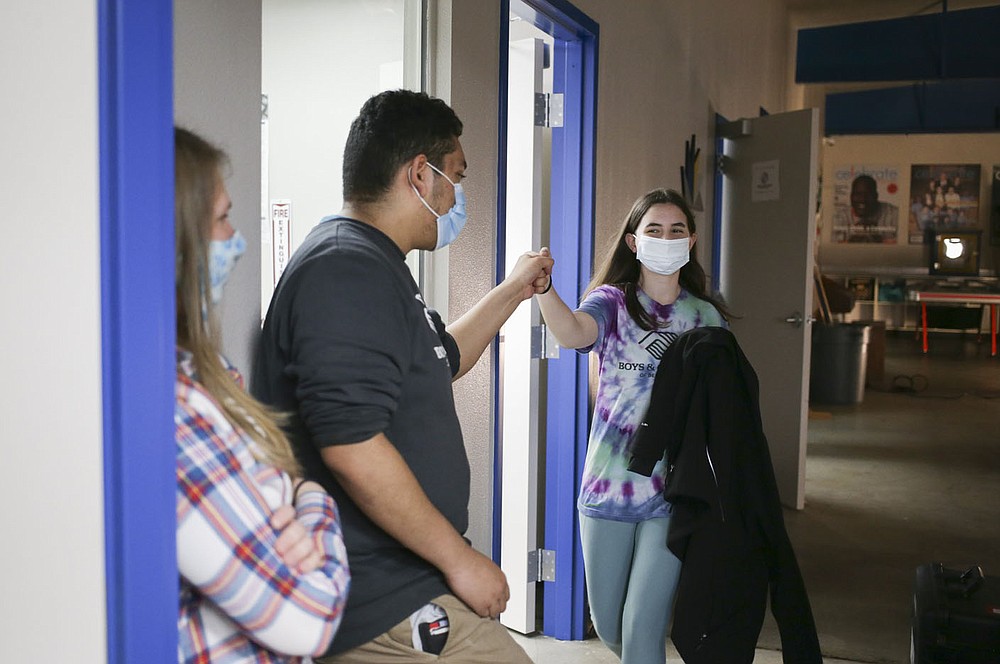 Boys and Girls Club Youth of the Year honorees Omar Contreras (from left) fist bumps Samantha McCoin, Thursday, March 11, 2021 at the Boys and Girls Club Teen Center in Rogers. Check out nwaonline.com/210312Daily/ for today's photo gallery. (NWA Democrat-Gazette/Charlie Kaijo)
More News
At a Glance
Youth of the Year Virtual Gala
Who: Boys & Girls Club of Benton County
What: The group celebrates annually "club members who have demonstrated exceptional character and made meaningful contributions to their communities."
When: Noon-1 p.m. and 6-7 p.m. April 16
Where: facebook.com/events/232899038548687
Information: (479) 273-7187 or bgcbentoncounty.org