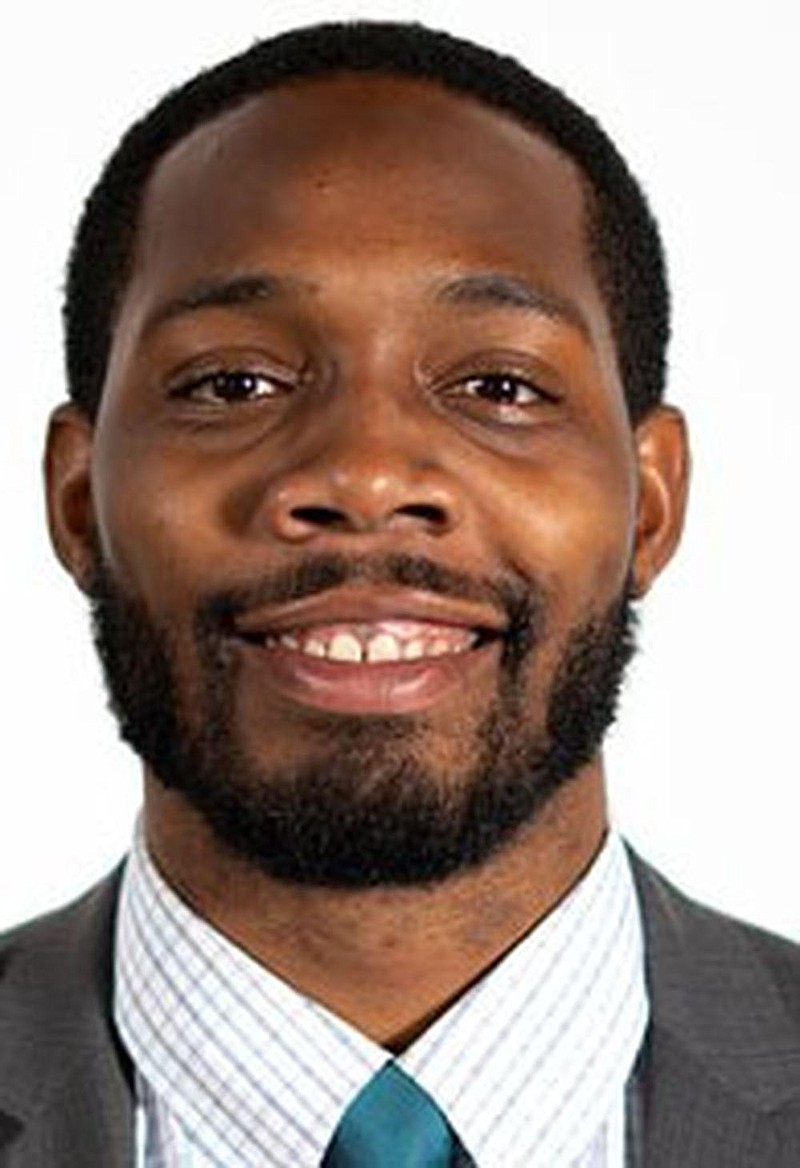 Kenny Guiton
FOOTBALL
Guiton to receive $300,000 per year
FAYETTEVILLE -- New University of Arkansas receivers coach Kenny Guiton will earn $300,000 per year on a two-year deal with a selection of performance incentives, according to his contract obtained Wednesday through a public records request by the Arkansas Democrat-Gazette.
The salary and term of Guiton's agreement had been confirmed by a UA official earlier this month after Coach Sam Pittman moved swiftly to hire the 29-year-old from the same position at Colorado State after receivers coach Justin Stepp took a position with South Carolina in his hometown of Columbia, S.C.
Guiton signed the agreement Jan. 5, as did Arkansas Athletic Director Hunter Yurachek.
Guiton, a former quarterback at Ohio State, has moved swiftly through the coaching ranks after breaking in as a graduate assistant at the University of Houston in 2015. After a brief stint as a quality control assistant at Texas, Guiton returned to Houston for the 2017-18 seasons, and worked there with current Arkansas offensive coordinator Kendal Briles in 2018.
Guiton's contract runs through Feb. 28, 2023, and includes various incentives, such as a bonus of three months' pay for winning the College Football Playoff championship, a half-month's pay for appearing in the SEC Championship Game, and one month's pay for winning the SEC championship or appearing in the SEC's New Year's Six bowl games.
-- Tom Murphy
UAPB places six on preseason team
The University of Arkansas-Pine Bluff had six players selected to the 2021 preseason All-Southwestern Athletic Conference teams Wednesday.
Offensive linemen Atondre Smith, a senior, and Mark Evans, a junior, garnered first-team honors for the Golden Lions, who are set to begin their spring football season Feb. 27 against Texas Southern. The duo was joined by senior wide receiver Harry Ballard and senior specialist Tyrin Ralph on the first team.
Junior defensive lineman Xavier Mitchell and senior defensive back Shawn Steele were chosen to the second team.
-- Erick Taylor
BASKETBALL
Lyon College women move up
The Lyon College women moved up one spot to No. 22 in the NAIA coaches' poll released Wednesday.
The Scots won their first two games of the season last weekend. They defeated Hannibal-LaGrange 68-52 and Missouri Baptist 82-69.
Lyon will play its first home game today against Stephens College at 5:30 p.m.
VOLLEYBALL
UCA picked to finish fourth
The University of Central Arkansas received 220 points and was picked to finish fourth in the Southland Conference in a preseason poll of league coaches and sports information directors released Wednesday.
Stephen F. Austin received 16 of 26 first-place votes and was picked to win the conference title after finishing with 276 points. Sam Houston State received eight first-place votes and was second with 266 points, followed by Texas A&M-Corpus Christi, which received the final two first-place votes and finished with 238 points.
The Sugar Bears enter their first full season under Coach John Newberry, who led the team on a late push that got UCA into the 2019 conference tournament.
-- Democrat-Gazette Press Services
Sponsor Content
Comments