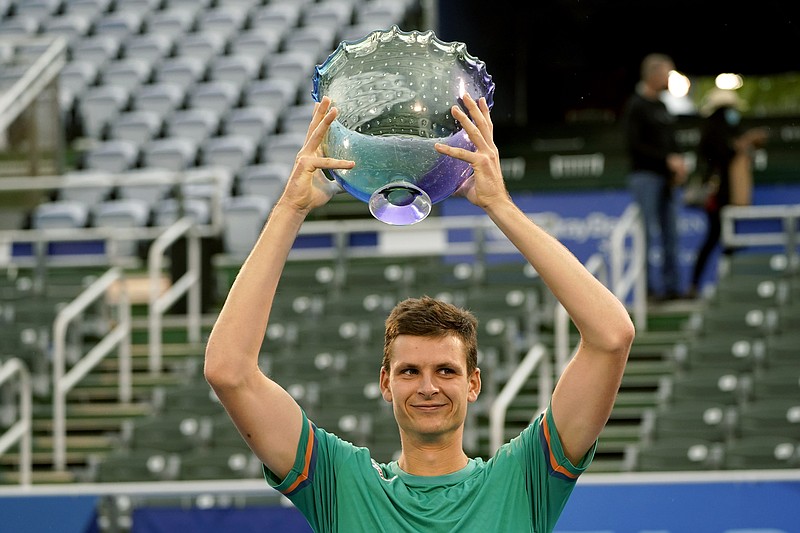 Hubert Hurkacz of Poland, holds the trophy after defeating Sebastian Korda 6-3, 6-3 during the men's singles final of the Delray Beach Open tennis tournament, Wednesday, Jan. 13, 2021, in Delray Beach, Fla. (AP Photo/Lynne Sladky)
SWIMMING
Olympian Keller charged
Five-time Olympic swimming medalist Klete Keller was charged Wednesday with participating in a deadly riot at the U.S. Capitol after video emerged that appeared to show him among those storming the building last week. An FBI complaint, citing screen shots from the video, asked that a warrant be issued charging Keller with knowingly entering a restricted building to impede an official government function, disorderly conduct and obstructing law officers. It wasn't clear whether he had been taken into custody. Thousands of supporters of President Donald Trump stormed the Capitol during a joint session of Congress on Jan. 6 while lawmakers met to formalize the victory of President-elect Joe Biden. The 38-year-old Keller competed in the 2000, 2004 and 2008 Summer Olympics. He captured two golds and a silver as a member of the 800-meter freestyle relay, as well as a pair of individual bronzes in the 400 free.
FOOTBALL
Ward back with Browns
Browns top cornerback Denzel Ward is back with the team after missing Cleveland's past two games -- one of them a playoff win -- with covid-19. Ward was activated from the reserve/covid-19 list on Wednesday along with cornerback Kevin Johnson as the Browns (12-5), who have dealt with numerous virus-related issues over the last month, began practicing for Sunday's playoff game at Kansas City against the top-seeded Chiefs. If he can play, Ward would give Cleveland's secondary a major boost as it faces Chiefs quarterback Patrick Mahomes and his numerous offensive weapons. Ward typically is assigned to the other team's top wide receiver. Johnson, who has made six starts this season, will help as well. The Browns gave up 501 yards passing Sunday to Steelers quarterback Ben Roethlisberger, who picked on Cleveland's backups. Ward's return could be followed by Coach Kevin Stefanski's. The first-year coach also missed Sunday's wild-card win at Pittsburgh after testing positive for covid-19 last week. Stefanski is on track to be back at the team's facility today.
Broncos name Paton as GM
John Elway's replacement as Broncos general manager will be Vikings executive George Paton. Elway announced the hiring Wednesday. Denver hasn't reached the playoffs since winning Super Bowl 50 five years ago. Paton spent the past 14 seasons with Minnesota, including the past six as vice president of player personnel and assistant general manager. He's been one of the hottest names on the GM circuit in recent years. Elway called Paton "a proven evaluator who knows every detail of leading football operations." Paton will report to Elway, who is keeping his role as president of football operations. Paton was one of five candidates the Broncos interviewed, including Patriots executive Dave Ziegler, who withdrew his name last weekend to stay in New England in an expanded role.
Michigan hires ex-RB
Michigan hired former running back Mike Hart to be the program's running backs mentor. The Wolverines announced the move Wednesday. Hart is Michigan's career rushing leader, and he was the running backs coach at Indiana for the past four seasons.
BASKETBALL
Alabama forward injured
Alabama forward Jordan Bruner is out indefinitely with a right knee injury. The school said Bruner suffered a meniscus injury in Tuesday night's win over Kentucky. Bruner underwent a procedure Wednesday morning performed by Dr. Lyle Cain of Andrews Sports Medicine in Birmingham. Alabama said there was no specific timetable for Bruner's return but he is expected to make a full recovery and play again this season. Bruner is averaging 7.8 points and 5.9 rebounds. The 6-10, 225-pound graduate transfer from Yale leads the team in blocks (16) and steals (20).
Iowa vs. Mich. St. off
Michigan State's basketball game at No. 5 Iowa tonight has been postponed because of covid-19 issues with the Spartans. Michigan State center Mady Sissoko and guard Steven Izzo have tested positive, and the school said there was an additional positive test Wednesday afternoon. Two SMU men's basketball games scheduled for this week have also been postponed because of a positive covid-19 case and ensuing contact tracing issues in the program. The Mustangs were supposed to play at Memphis on Thursday and host Wichita State on Saturday.
Hayward hurt in Hornets' loss
Charlotte Hornets Coach James Borrego said small forward Gordon Hayward suffered a strained left hip injury during the third quarter of Wednesday's 104-93 loss to the Dallas Mavericks. Hayward is the Hornets' leading scorer, averaging 22.5 points, 5.2 rebounds and 4 assists. Hayward was held to 16 points on 5-of-15 shooting by the Mavericks.
BASEBALL
Jays give CEO extension
Mark Shapiro has been given a five-year contract extension as the Toronto Blue Jays' president and chief executive officer. Rogers Communications, which owns the team, made the announcement Wednesday. Shapiro worked for the Cleveland Indians before becoming the Blue Jays' president on Oct. 31, 2015. The Blue Jays returned to the playoffs last season for the first time since 2016. Toronto was 32-28 during the pandemic-shortened season, earning a wild card in the expanded playoffs. The Blue Jays were swept over two games in the first round by eventual AL champion Tampa Bay.
TENNIS
Hurkacz wins Delray Open
Hubert Hurkacz was too good for Sebastian Korda in the final at the Delray Beach (Florida) Open and, on the last point, a little lucky. Hurkacz hit a cross-court lob winner corner to corner to close out a 6-3, 6-3 victory Wednesday for his second career ATP Tour title. He acknowledged he hit the last shot with more of his racket than intended. Seeded fourth, the 6-5 Hurkacz displayed rangy defense and a wide variety of strokes when on the attack, even winning one point with a serve and volley on a second serve. Hurkacz's only other title was in 2019 at Winston-Salem, where he became the second Polish tour-level champion in the Open era. Korda was slowed by an upper leg injury that required treatment in the second set. He broke at love in the opening game but didn't have a break-point chance the rest of the way against Hurkacz's strong serve.
Sabalenka on hot streak
Aryna Sabalenka won her third consecutive tour title and 15th consecutive match by beating Veronika Kudermetova 6-2, 6-2 on Wednesday in the Abu Dhabi Open final. The fourth-seeded Belarusian, who won indoor tournaments in Ostrava and Linz at the end of last season, last lost in the third round of the French Open in October. Sabalenka will rise three places to seventh in the rankings. She is 9-4 in career finals and 6-0 in the past 16 months. Kudermetova was playing in her first tour final.
Open qualifying complete
The qualifying tournament has been completed for the Australian Open, with 16 men and 16 women set to join the singles main draw beginning Feb. 8. That's a three-week delay from the original start date for the season-open tennis major at Melbourne Park because of quarantine protocols in place in the covid-19 pandemic. The qualifiers join the group of players who'll begin arriving today on 15 charter flight and immediately go into a 14-day quarantine. The women qualifiers include two-time Australian Open doubles champion Timea Babos of Hungary and British player Francesca Jones, who has a rare genetic condition. Jones has ectrodactyly ectodermal dysplasia, which means she was born with three fingers and a thumb on each hand. On the men's side, the qualifiers include 17-year-old ATP newcomer of the year, Carlos Alcaraz of Spain.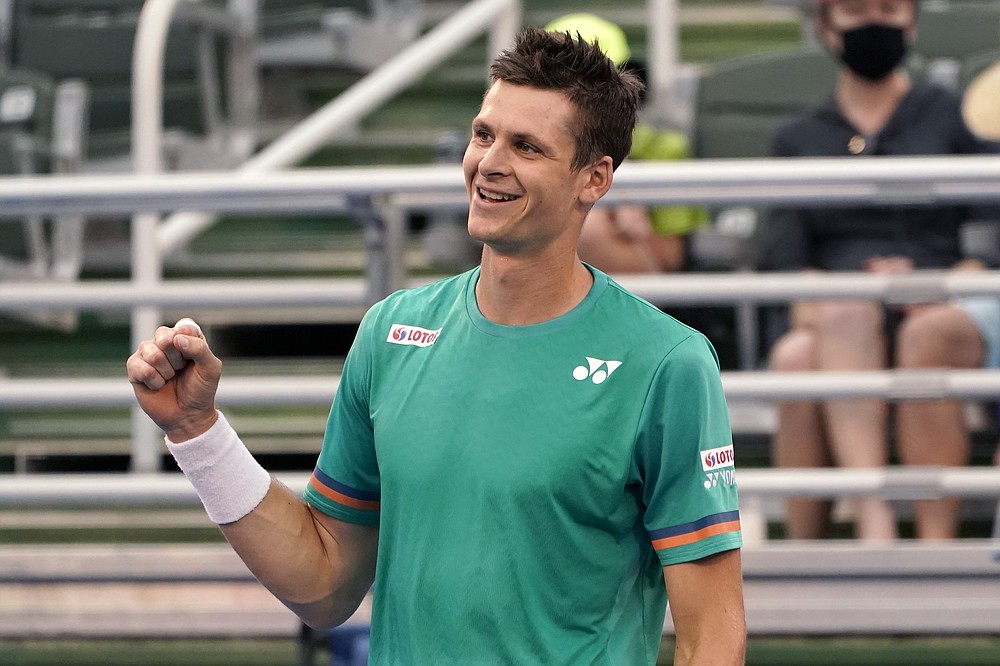 Hubert Hurkacz of Poland, reacts after defeating Sebastian Korda 6-3, 6-3 during the men's singles final of the Delray Beach Open tennis tournament, Wednesday, Jan. 13, 2021, in Delray Beach, Fla. (AP Photo/Lynne Sladky)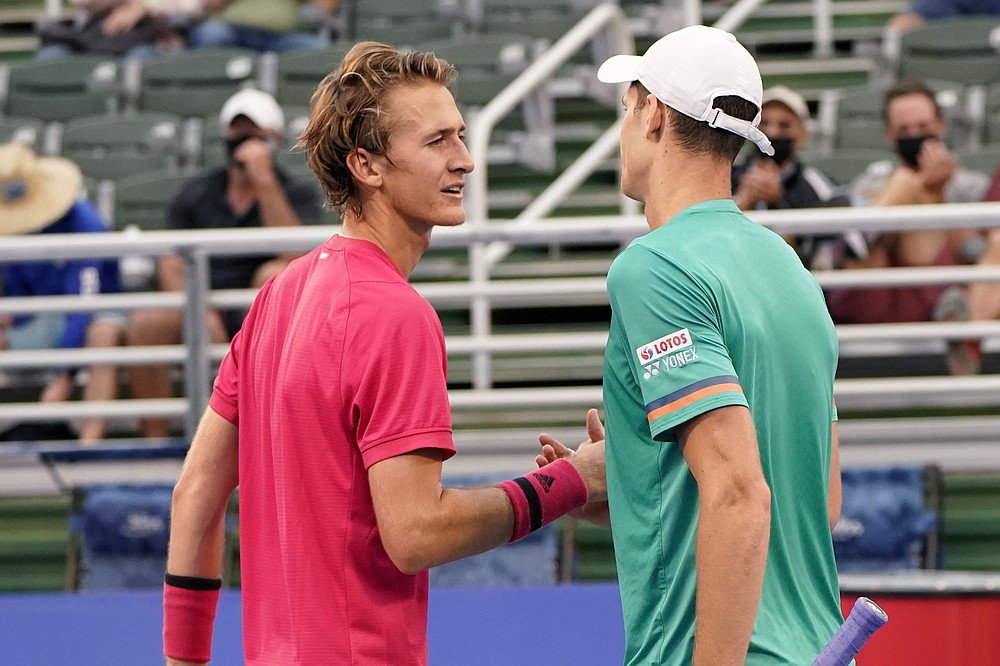 Hubert Hurkacz of Poland, right, shakes hands with Sebastian Korda, left, during the men's singles final of the Delray Beach Open tennis tournament, Wednesday, Jan. 13, 2021, in Delray Beach, Fla. Hurkacz won 6-3, 6-3. (AP Photo/Lynne Sladky)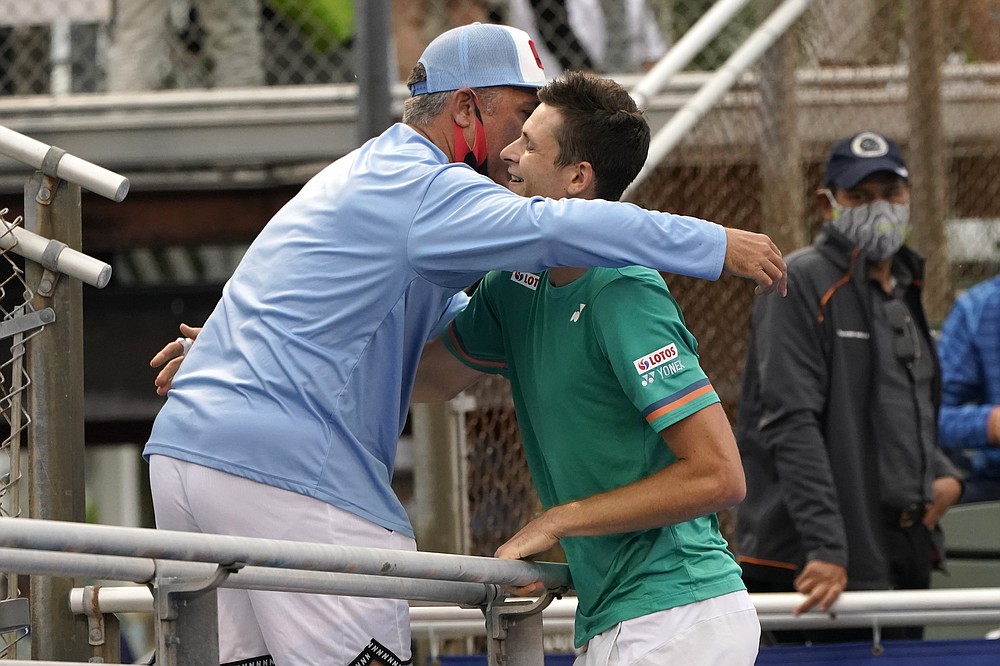 Hubert Hurkacz of Poland, right, hugs his coach Craig Boynton, left, after beating Sebastian Korda 6-3, 6-3 during the men's singles final of the Delray Beach Open tennis tournament, Wednesday, Jan. 13, 2021, in Delray Beach, Fla. (AP Photo/Lynne Sladky)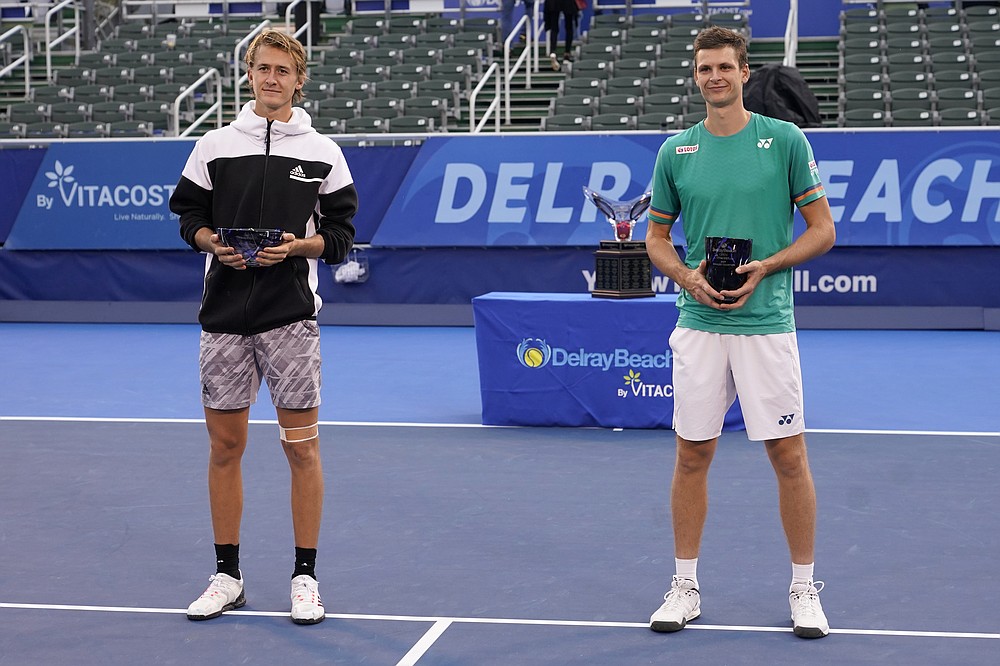 Sebastian Korda, left, and Hubert Hurkacz of Poland, right, pose with their trophy after the men's singles final of the Delray Beach Open tennis tournament, Wednesday, Jan. 13, 2021, in Delray Beach, Fla. Hurkacz won 6-3, 6-3. (AP Photo/Lynne Sladky)
Sponsor Content
Comments