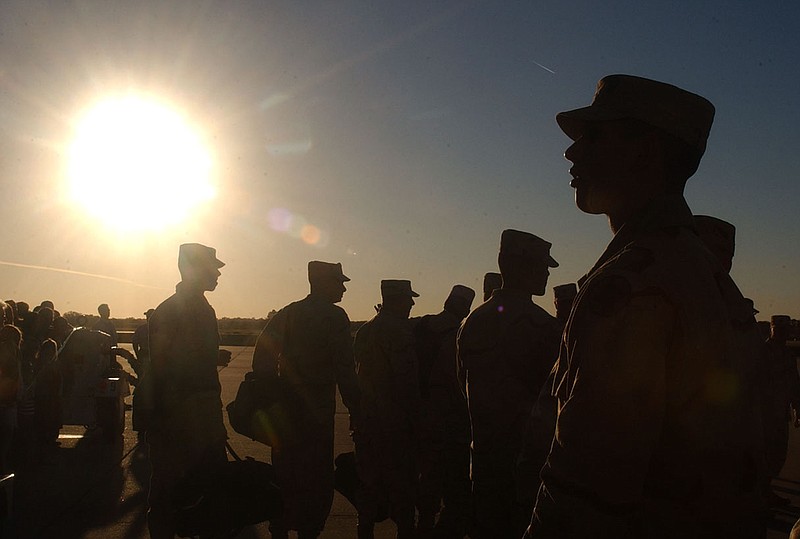 142nd Field Artillery Brigade soldiers wait to load a plane Nov. 6, 2005 in Highfill. (Arkansas Democrat-Gazette File Photo)
Five hundred members of the Arkansas National Guard will join forces protecting President-elect Joe Biden's inauguration, the guard confirmed Thursday.
Gov. Asa Hutchinson approved the mission, according to a statement released by the guard. The troops going will primarily be drawn from the 142nd Field Artillery Brigade in Northwest Arkansas and the 189th Airlift Wing, based at Little Rock Air Force Base. The airlift wing will provide C130H aircraft to transport the guardsmen to Washington, D.C.
The deployment begins Sunday and is expected to end before the end of the month. The inauguration itself is Wednesday in Washington, DC.
Supporters of outgoing President Donald Trump stormed the U.S. Capitol Building on Jan. 6, resulting in at least five deaths, including a Capitol Police officer. About 60 Capitol Police officers were injured, including 15 hospitalized. Prosecutors have announced 170 criminal indictments to date on charges ranging from unauthorized entry of a government building to domestic terrorism and insurrection.
"The 59th presidential inauguration, like all presidential inaugurations, is considered a National Special Security Event," Thursday's statement from the Arkansas Guard said. " The U.S. Secret Service as the lead federal agency responsible for coordinating, planning, exercising and implementing security for National Special Security Events has requested support from the National Guard."
National Guard forces from a growing list of states moved into positions across Washington on Wednesday as authorities scrambled to understand the extent of threats surrounding Biden's inauguration and prevent a repeat of last week's deadly insurrection at the U.S. Capitol.
By next week, the District of Columbia police chief said, upward of 20,000 guardsmen were expected to be in place to guard against violence.
The requested missions include assistance with traffic control and access control points, traffic management, metro station security, crowd management, patrol/watch on outside fencing, facility security at city hall and the National Mall, and the Lincoln Memorial among others, the statement says.
"Being in the Guard is about service. Service to one's state and their nation. We're sending some of our very best to support inauguration day activities," said Maj. Gen. Kendall Penn, Arkansas National Guard's Adjutant General. "Priority No. 1 is to protect people and property, and our Guardsmen are trained very well to do just that."
Sponsor Content
Comments