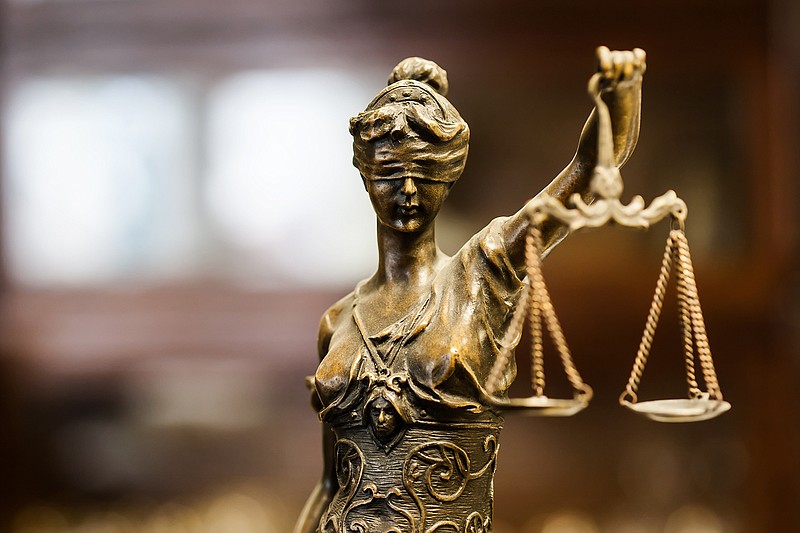 A Little Rock man was sentenced to seven years in federal prison Tuesday for his part in a drug trafficking ring that distributed methamphetamine, heroin and other drugs in and around Central Arkansas from Nov. 2015 until Feb. 2018.
In April 2020, Zachary Charles Jordan, 47, pleaded guilty to one count of possession of a firearm in furtherance of a drug crime in exchange for prosecutors dismissing one count of conspiracy to possess and distribute controlled substances. He and his attorney argued for a minimum sentence of five years in prison and two years supervised release, but citing Jordan's criminal history as well as his central role in the drug distribution ring, U.S. District Judge Brian S. Miller sentenced Jordan to seven years behind bars and five years supervised release.
In all, 14 of the 18 defendants named in the indictment have been sentenced, receiving sentences ranging from time served to 97 months in federal prison. Robert Carroll Turpin III, as the ringleader, was sentenced to 97 months in December.
"It appears that in this case, the feds were investigating Turpin and Mr. Turpin was receiving his methamphetamine, from what the pre-sentencing report says, his supplier was Mr. Jordan," Miller said. "That indicates that Mr. Jordan was moving quite a bit of methamphetamine."
The judge mentioned 18 letters he had received from family and friends of Jordan's attesting to his character and asking for leniency. But his demeanor then grew stern as he talked of Jordan's upbringing in a stable, middle class home where he learned a profession, saying the defendant was provided with numerous advantages and the skills to have a successful life.
"He has chosen, with every advantage in this world, he has chosen to be a dope dealer," Miller said. "Now the question I have is why should I give him five years? Mr. Jordan apparently likes the life of dope dealing and gun running so why don't I retire him in prison?"
At 47 years old, Miller mused, a 20-year sentence would effectively end the defendant's career.
Jordan's attorney, Caitlin Bennett, noted that her client had previously experienced limited jail time, but had spent the past two years since his arrest in the Pulaski County jail, an experience which she said had changed him.
"Shouldn't he have figured that out while he was waiting to enter his plea here and he gets charged again?" Miller asked. "Why did it take him having to be picked up again to learn?"
"I can't explain why it happened but I can explain that I think he has turned the corner," Bennett said.
Anne Gardner, the assistant U.S. attorney, explained that the plea agreement prosecutors entered into with Jordan was based upon Jordan's gun possession and that despite testimony indicating he was a major supplier of methamphetamine and cocaine to Turpin, the amount of drugs found in his possession was relatively small.
"There wasn't a whole lot of drugs seized in connection with the firearms," she said. "There were 10 grams of methamphetamine, 97 grams of cocaine and 3 pounds of marijuana."
While those are distributable amounts of drugs, Gardner said, the four firearms found in Jordan's possession were powerful evidence of his involvement.
Turning his attention back to Jordan, Miller, remarking on the defendant's middle class upbringing and the opportunities that afforded him, seemed puzzled by Jordan's descent into crime.
"To me, that is the worst of the worst," Miller said. "Now, where am I wrong?"
"I don't think you are wrong," Jordan said. "I just chose, I've gone down the wrong path. I apologize to the court and everybody else for my behavior. I just made some bad decisions. I really don't know what to tell you, I'm in a really bad position but I don't want this life and I don't want to be locked up in jail for the rest of my life."
Miller told Jordan that he didn't think a 20-year sentence would be appropriate for him but he said a 5-year sentence wouldn't do either.
"Because you had every advantage in the world and instead of living the life they would have chosen for you, you became a criminal," Miller said, adding that the charges Jordan received while waiting to enter a plea on the federal drug charge complicated the matter even further.
"I'm not going to give you 60 months so the question is how close I come to 120 months," Miller said. "I'm not going to give you 120 months, I'm going to give you 84 months, that's seven years. And instead of giving you two years supervised release I'm going to give you five years."
After sentencing, Jordan was turned back over to the custody of federal marshals and led out of the courtroom.
Sponsor Content
Comments