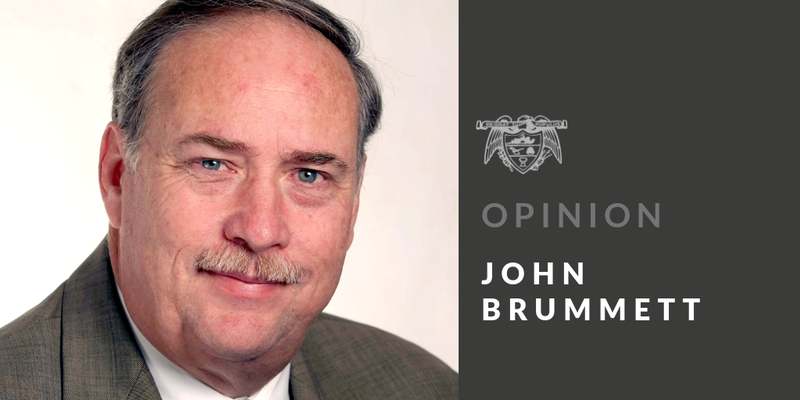 Gov. Asa Hutchinson began his State of the State address to the Legislature on Tuesday by thanking members for the warm reception that wasn't.
It was tepid. It was one of those rounds of applause falling on the perfunctory side of polite. It had to work hard to extend itself until Hutchinson's arrival at the microphone.
It reminded me of that winding-down churn of wearily obligatory applause from days when I'd make the trip from one chair away to the rostrum at rural Arkansas civic club meetings.
Part of it is that Hutchinson is in the seventh year of his governorship and is getting tiresome.
Part of it is that he is avuncular, or grandfatherly, which is to say not exciting.
But, alas, most of it is that he is now an alien in his own land, a non-vile, conciliatory, pragmatic Republican standing before a Legislature that is 80 percent nominally of his party but about 180 degrees departed from him rightward, Trump-ward and insane-ward.
I feel sorry for him, and that comes from having known him over parts of five decades. All Hutchinson wanted when he started out was to bring a two-party system to Arkansas and advance Reagan Republicanism with tax cuts and abortion restrictions. Now he enters the lame-duck phase of his governorship with his party rioting inside the U.S. Capitol in opposition to a free and fair election and in rabid service to the despotic ambitions of a television reality show creature.
Hutchinson chose nobly on Tuesday to stand in the state House of Representatives and try to convince doubting contemporary GOP faces that racist hate, religious hate and cultural hate are bad, thus worthy of a little sentence-padding in convictions of crimes based on those.
Asa read letters from a rabbi and a chamber of commerce leader, among others. The rabbi wrote of the history of hate-based crime toward Jewish people. The chamber of commerce leader wrote that it would hurt Arkansas commerce if it failed to join 47 states in having a law.
Hutchinson explained that everyone is treated equally by a provision permitting supplemental sentencing for crimes based on hate by race—meaning victims of any color.
But the ruling white rural conservative Arkansas contingency isn't buying. It thinks the bill is about making Black people more than equal,but worth more as victims than white people.(Yes,whenever they say it's not about race, it's about race.)
And the ruling white rural conservative contingency especially deplores the provision that the governor knew better than to mention, which was the protection for sexual orientation.
Why, that's not an innocent condition, but a sinful behavioral choice, the ruling white rural conservativecontingencybelieves.Thepreacheror pastorbackhomesaysso,andthepreacher or pastor presumably has inside informationonwhichpartsoftheScripturesto take literally and which to assume aren't practical or applicable anymore.
So, Asa summed up his hate-crimes argument and received … silence, nary a peep.
He elicited not one hand-clap, even from the skeletal remains of the Democratic caucus, which apparently has decided to watch Asa and his fellow Republicans fight this one out while giving the proposed law its votes,of course, when the time comes.
Otherwise, it's not the Democratic caucus' job to cheer on the noble governor, not that it would make him feel any better to get only a smattering of applause that turned out to be coming from that little huddle over in the corner.
Hutchinson moved on to another subject, declaring Arkansas the most pro-life state in the nation.And then he got applause.
Let me explain why Hutchinson chooses to put himself through this hate-crime discomfort.
One reason is that he believes it is good for the Republican legacy to reform racist and backward laws or absences of laws dating to the century of one-party Democratic control. It's why he championed a separate holiday for Dr. Martin Luther King Jr.'s birthday and has conceptually supported rebranding the symbols on the state flag to remove an homage to the Confederacy.
Another is that he knows Arkansas must modernize to compete economically and is persuaded by today's business emphasis on inclusion and diversity.
And, then, the governor also would contend that sometimes a politician will simply do something because he thinks it's right, a factor not regularly occurring to me.
At any rate, early indications are that one of the two other holdouts will likely become the 48th state to enact a hate-crimes law.
But, as the governor told legislators Tuesday, he strongly disagrees with those who predict "acrimony" and "little to no accomplishment" in this session.
So, while he doesn't disagree with me on hate crimes, he does disagree with me on something.
Maybe he can use that to his advantage.
—––––– –––––—
JohnBrummett,whosecolumnappearsregularly in the Arkansas Democrat-Gazette, is a memberoftheArkansasWriters'HallofFame. [email protected] . Read his @johnbrummett Twitter feed.
Sponsor Content
Comments