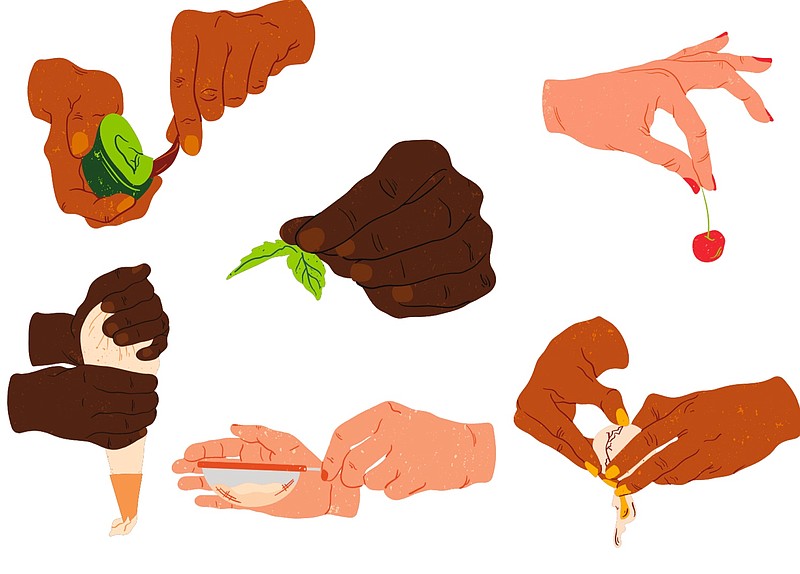 (Illustration by Kelly Brant)
Recipes that appear in Idea Alley have not been tested by the Arkansas Democrat-Gazette.
My apologies to any Kats swearing off sweets, meats and carbohydrates as this week we've got all three.
First up is this delectable sounding dessert from Faye Edmondson of Fayetteville.
Edmondson tells me this recipe was big hit with her friends.
2-Minute Black Forest Pie
1 (5-ounce) package instant chocolate pudding
1 (21-ounce) can cherry pie filling
1 cup sour cream
1 cup whole milk
1 (9-inch) baked pie crust
1 cup whipping cream
¼ cup confectioners' sugar
Chocolate shavings, for garnish
In a large bowl, combine the pudding mix, cherry pie filling, sour cream and milk and mix well. Pour mixture into the pie crust and chill until set, about 2 hours.
Whip the cream and confectioners sugar to soft peaks.
Top pie with whipped cream and chocolate shavings.
■ ■ ■
Edmondson also shared this recipe for make-ahead pie crust. The dough is prepared and then frozen to use as needed throughout the year. You'll need a big mixing bowl for this recipe.
Frozen Pie Crust
5 pounds all-purpose flour
3 pounds solid shortening
2 tablespoon salt
3 cups cold water
1 cup white corn syrup
Place the flour in a very large mixing bowl; cut in shortening.
Dissolve the salt in the water and mix into the flour-shortening mixture along with the corn syrup.
Divide dough into 20 portions. Shape each portion into a ball. Place each ball in a Zip-lock freezer bag and freeze. When ready to use, thaw and roll out on a floured board.
Makes enough for 20 crusts.
■ ■ ■
I'd never heard of tallerine, at least not by that name, until Edmondson shared this recipe with me. The baked meat and pasta dish is sure to hit the spot on a cold day.
Tallerine
1 pound ground beef
1 medium onion, chopped
1 medium bell pepper, chopped
¼ cup bacon grease
1 small can cream-style corn
½ cup ripe olives
½ package wide noodles
2 cans tomato soup
¼ pound cheddar cheese, shredded
Heat oven to 350 degrees.
Bring a pot of salted water to a boil.
In a large skillet, brown beef, chopped onion and pepper in bacon grease. Add corn and olives.
Meanwhile, cook noodles in the boiling water for 7 minutes. Drain and add to meat mixture.
Mix in 1 can of soup and transfer to a greased casserole dish. Pour the remaining can of soup on top. Top with cheese. Bake at 350 degrees until browned.
Email recipe contributions, requests and culinary questions to: [email protected]
Sponsor Content
Comments