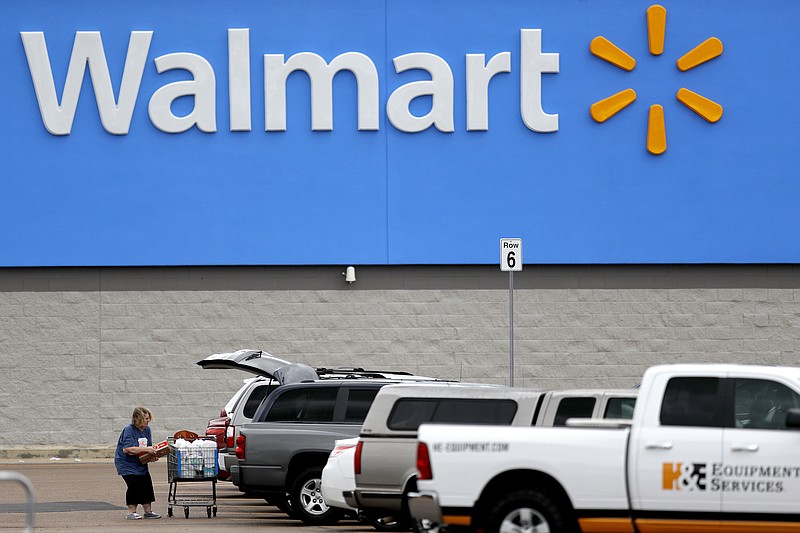 FILE - In this March 31, 2020 file photo, a woman pulls groceries from a cart to her vehicle outside of a Walmart store in Pearl, Miss. Walmart is teaming with the General Motors' Cruise autonomous vehicle unit to test automated package delivery in Arizona. (AP Photo/Julio Cortez, File)
Walmart Inc. is expanding its range of financial services with the creation of a new financial technology firm.
The Bentonville-based retailer said Monday it is now a partner in the startup with Ribbit Capital, a global investment company founded in 2012. The new firm will offer "next-generation digital financial products" for employees and customers, Walmart said in a news release.
Walmart did not release the name of the company in which it will be the majority owner. The startup's board of directors will include John Furner, president and chief executive officer of Walmart U.S.; Brett Biggs, Walmart's chief financial officer; and Meyer Malka, a managing partner at Ribbit Capital.
"When we combine our deep knowledge of technology driven financial businesses and our ability to move with speed with Walmart's mission and reach, we can create and deliver financial offerings that are second to none," Malka said.
The retailer said it will continue to offer financial services such as the Walmart Credit Card and Walmart Money Card, check cashing, money transfers and installment financing.
Sponsor Content
Comments