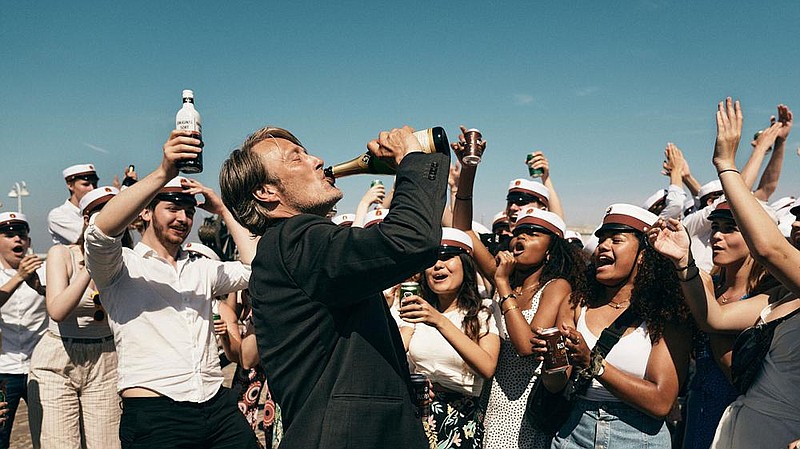 Danish actor Mads Mikkelsen plays a teacher who flirts with alcoholism in "Another Round," which was directed by Thomas Vinterberg, who previously directed Mikkelsen in the 2012 film "The Hunt."
As with everyone else, 2020 was a depressing year for me. I've lost a relative to covid-19, and a broken femur set me back for months. I can count on my fingers the times I've set foot in a theater this past year, but thanks to streaming, Blu-rays and other ways of catching a film, I've had no shortage of worthy movies to cover.
Like everyone else who loves movies, I wish I could have seen James Bond's latest adventure. What's been exciting is that I've had the pleasure of catching some wonderful movies that might not have found an audience before the virus made gathering to see a movie dangerous.
For example, Rod Lurie made "The Outpost" for a fraction of what it would have cost to create a blockbuster, but it is one of the most immersive combat movies I've ever seen. In other times, it might have been unfairly ignored. The pandemic also gave me time to discover some great limited series on cable and streaming. Frankly, "The Plot Against America," "The Queen's Gambit" and "The Good Lord Bird" are as engrossing and great to look at as anything intended for the big screen.
Making a "best" list seems arbitrary because each year terrific movies come my way after my deadline. That's why this one is in alphabetical order instead of preference. These films, however, make me look forward to catching what 2021 and the years afterward have to offer.
"Another Round" -- Danish director Thomas Vinterberg specializes in making heavy but absorbing dramas like "The Hunt," where Mads Mikkelsen ("Casino Royale") plays a teacher falsely accused of molesting a child. Here, both he and Mikkelsen demonstrate that they have surgically sharp senses of humor. Mikkelsen and an ensemble of equally talented Danes play a group of teachers who decide to test a theory about the benefit of day drinking with expectedly unhinged results. Vinterberg effortlessly juggles the pleasures of imbibing at work with occasionally disastrous consequences.
"Borat Subsequent Moviefilm: Delivery of Prodigious Bribe to American Regime for Make Benefit Once Glorious Nation of Kazakhstan" -- Fourteen years after he shocked America with his pointed, if vulgar, satire, Sacha Baron Cohen is still transgressive, but he's also grown up. In the new installment, Kazakh journalist Borat not only explores the hidden bigotry in mundane settings, but he learns to be the father he should have been ages ago. As Borat's teenage daughter, Bulgarian Maria Bakalova proves to be a prodigious improvisational comic. Remember, she's doing this stuff in a third language. Frankly, she's more interesting than watching Rudy Guiliani's unfortunate reach.
"First Cow" -- In her movies like "Meek's Cutoff" and "First Cow," director Kelly Reichardt follows the experiences of the pioneers who didn't make it. As a result, she ends telling stories that are more involving and interesting than the tales of those who ended up conquering the country. A struggling cook (John Magaro) and a Chinese immigrant (Orion Lee) with a head for business start a lucrative business making biscuits in Oregon territory in the 19th century. Unfortunately, they have to steal the milk to make them from a smug aristocrat's only cow. Even on an improperly wired DVD player (I had to put in new cords to see it in color), the performances and the story easily made up for the technical glitches.
"I'm Thinking of Ending Things" -- I hope that Charlie Kaufman never tries to make normal movies. If his outlook seems gloomy (note the title), he explores real-world challenges and frustrations in a playful way. Meeting potential in-laws when you think the relationship is doomed is never fun, but Kaufman's surreal take on the experience is as intriguing as it is baffling. It probably doesn't hurt that Jessie Buckley, Jesse Plemons, Tony Collette and David Thewlis all get a chance to do things here that they can't do in more conventional films.
"Minari" -- Thanks to the Moldy Globs, I mean the Golden Globes, this terrific film is getting attention because the dubious body chose to classify a film made by Americans about America (Arkansas, to be exact) as "foreign" because much of the dialogue is Korean. Arkansas-raised, Yale educated Lee Isaac Chung tells an absorbing story (shot in Oklahoma) about a pair of Korean immigrants (Steven Yuen and Yeri Han) struggling to make a farm work in the Natural State. Yuen has proved himself to be a versatile and even charismatic presence (catch him in "Burning"), and the supporting performers give remarkably unaffected performances as relatives who don't care for their patriarch's questionable ambitions.
"Nomadland" -- In her latest film Chloé Zhao ("The Rider") follows a woman who has outlived her husband and has no fixed address. The writer-direct wants you to feel anything but pity for Fern (Frances McDormand). In examining the lives Fern and others who form a type of community, Zhao raises fascinating questions about how we should look at money or labor. Fern is good at several jobs but wants to avoid staying too long in one place because the burdens involved may not be worth it. McDormand already has a couple of little gold men ("Fargo," "Three Billboards") and might get another for this one.
"The Nest" -- Sean Durkin's follow-up to "Marty Marcy May Marlene" covers a different kind of cult: an almost religious veneration of money. Jude Law shines a Wall Street wannabe who moves his family back to England from the States thinking that a few clever deals will make him matter. His quest is, of course, doomed, but the story is also worth catching because it's as much about how his wife (Carrie Coon) grows as his grand schemes become more and more untenable.
"One Night in Miami" -- In her directorial debut, Oscar-winning thespian Regina King makes Kemp Powers' ("Soul") play about a hotel room meeting with Cassius Clay/Muhammad Ali (Eli Goree), Jim Brown (Aldis Hodge), Sam Cooke (Leslie Odom, Jr.) and Malcolm X (Kingsley Ben-Adir) feel more like a movie than a "Masterpiece Theatre" episode. It probably doesn't hurt that the concerns the four men and civil-rights figures argue about are still relevant. The leads resemble and sound like their real-life counterparts, but thankfully don't come off as impersonations. The fact that Odom is such a talented singer is certainly a plus.
"The Outpost" -- Director Rod Lurie is a West Point alumnus, but you don't have to know much about the military to get involved in this recounting of the Battle of Kamdesh in 2009. The film vividly captures what it was like to fight off an attack from 400 insurgents and the mental toll it took on the survivors. Lurie manages the impressive feat of tugging on a viewer's nerves without reveling in gore.
"Shirley" -- I only know Shirley Jackson from her terrifying stories "The Haunting of Hill House" and "The Lottery." Except for what I've read in encyclopedias, I have no idea how authentic Josephine Decker's film about her is. Thankfully, Decker captures the dysfunctional but strangely productive relationship between the almost reclusive Jackson (impeccably played by Elisabeth Moss) and her philandering, stage managing husband, Stanley Hyman (Michael Stuhlbarg). Decker fills the movie with a dread that's a lot like Jackson's stories. I have no idea if the author would approve of Decker's work (I don't frequent seances), but I hope she would.
Sponsor Content
Comments