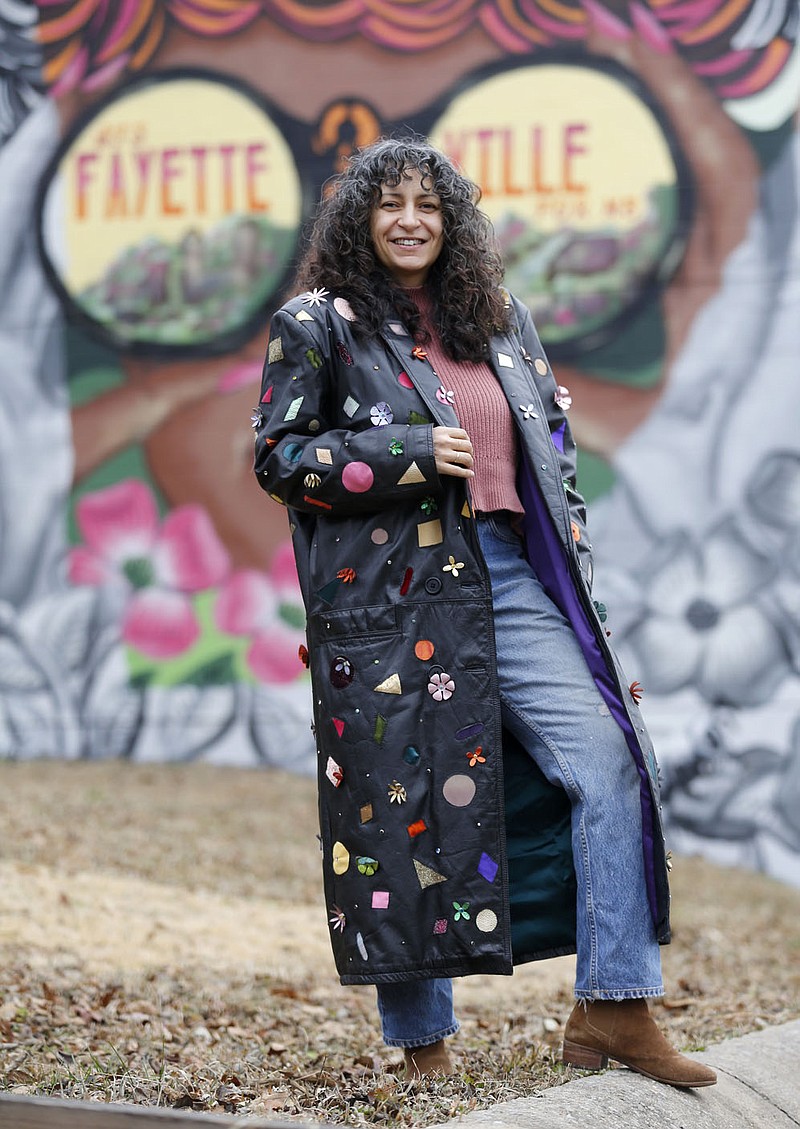 Designer Brandy Lee displays an up-cycled leather coat featuring leather cutouts, rhinestone and leather flowers Tuesday, Dec. 29, 2020, outside of her studio in Fayetteville. The Arkansas Arts and Fashion Forum said the pandemic has caused the need for changing how the industry operates, to include creating more of a reliance on American-made products and processes that will prevent lags in the industry in the future. Lee is creating a collection of jackets that she will be releasing after the first of the year. Check out nwadg.com/photos for a photo gallery. (NWA Democrat-Gazette/David Gottschalk)
SPRINGDALE -- The covid-19 pandemic has motivated some in the fashion industry to emphasize locally produced apparel.
Fashion is a $2.5 trillion global industry, according to the 2019 Economic Impact of the Fashion Industry report by the U.S. Congress Joint Economic Committee. Consumers in the United States alone spent nearly $380 billion on apparel and footwear in 2017, according to the report, published in February 2019.
"The fashion industry is one of the most globalized industries when it comes to production that there is," said Robin Atkinson, Arkansas Arts and Fashion Forum chief executive officer. The Springdale-based organization was established as a nonprofit in 2017 and launched as part of Northwest Arkansas Fashion Week, she said.
The scale of the industry is intimidatingly huge, Atkinson said, with aspects of development, manufacturing, distribution and marketing often occurring in multiple overseas locations.
It can take up to two years after conception of an idea for a design to hit shelves because of the time needed to work through the supply chain and have items produced overseas, Atkinson said.
"It's not a ship that can be steered on a turn of a dime because it's such a long supply chain, and there are so many parts," she said. "The pandemic sort of made things complicated when it came to needing to shift quickly."
Selling apparel became particularly challenging when a global need arose for personal protective equipment, slowing the overseas supply chain to the United States, Atkinson said.
[CORONAVIRUS: Click here for our complete coverage » arkansasonline.com/coronavirus]
"Not only were the disposable face masks hung up in production, all sewn production was delayed," she said. "Everyone involved in sewn goods, either production, procurement or retail, had a realization in March and April that the system that we had then was not working for the situation of today."
SHIFTING GEARS
The Fashion Forum responded to the dilemma by considering how it could do small batch production of reusable masks for the Northwest Arkansas' medical community, Atkinson said.
Fashion Forum provided materials to volunteers who sewed at home. The group handled the collection, quality checks and distribution of the masks.
The organization began teaching people to sew the masks and made them much faster than businesses that had to reconfigure large manufacturing plants, she said.
"We were able to start spitting out masks within five days, because we don't have a giant machine to turn around. We just had to get a few people in the building," Atkinson said.
So far, 12,000 masks have been distributed, Atkinson said, and those making the masks are getting paid $16 an hour.
The organization is an occupant of the Creative Arkansas Community Hub and Exchange in Springdale, formerly the Arts Center of the Ozarks.
The resulting endeavor was funded through an $18,000 grant from the Tyson Family Foundation and a $24,000 grant from the Arkansas Community Foundation, she said.
The pandemic accelerated the forum's plan for apparel production in the region by three to four years, she said, and some designers are considering relying on locally created, developed, produced and distributed goods.
"We had written it off. There was no reason to sew anything in the United States. There was no reason to think of doing anything less than 100 units," Atkinson said of the low cost of producing large amounts of quality apparel overseas. "It's forced a different kind of urgency for localized production, which then woke a lot of people up to the possibility."
Brandy Lee, 39, of Fayetteville has been a professional designer for 12 years. She said she's reevaluating how she does business as a result of the pandemic. Her Big Sister clothing brand primarily features women's wear that has a flair of fun to it, she said, and ranges from $20 for a top to more than $400 for a special occasion garment.
Much of Lee's pieces were one-of-a-kind creations before the pandemic, but she's found herself shifting gears after her own small batch pandemic mask-making experience.
"I took an opportunity to fill a need locally of people who really needed something really quick to get on their face so they could be safe," she said.
Lee said she primarily sells her creations through the Big Sister website and has recently begun using Instagram to help market and sell pieces.
The masks sold for $10, she said, but only met a temporary need for income, as the market quickly became saturated. Lee experienced long lags from overseas supply chains for procuring mask-making materials, she said, experiencing a four-week wait for basic supplies such as elastic.
The designer has begun to move toward making small batches of clothing with five to 20 pieces in varying sizes, she said.
"I'm keeping it small so that I don't have to ever rely on the big industry," Lee said. "I'm going to rely more locally for production."
She anticipates her first small batch line to be available in May or June, which will feature flowing summer looks with dressy and casual wear.
"This is my opportunity to sort of grab a little piece of the market that I think is available to me," Lee said.
CHANGING PERSPECTIVES
Atkinson said consumer mindsets have moved toward supporting local and small businesses such as Big Sister during the pandemic.
"There is so much goodwill toward local goods right now because of how damaged the economy is," she said. "That price point of a locally made product, while higher, is understood to be of social benefit."
Lee is likewise embracing the trend toward consumer support of brands supporting social justice endeavors that's also become more prevalent, with plans to have a portion of her profits donated to local charities.
"That is something that I think is going to be huge moving forward in the fashion industry," she said. "People are going to really hunker down about what they care about as far as shopping goes -- specifically clothing."
The making of apparel moved almost entirely overseas over the past several decades, resulting in industry-wide social justice concerns, Atkinson said.
"Driving apparel production abroad largely came from the ability for manufacturers to get their textiles from markets that are unregulated that drive the price way down," she said.
The low cost of labor makes manufacturing abroad attractive, Atkinson said.
The monthly minimum wage for garment workers varies significantly, ranging from as low as $26 in Ethiopia to $1,764 in Belgium in 2019, according to Minimum Wage Level for Garment Workers in the World by the Department of Fashion and Apparel Studies at the University of Delaware.
Low wages often equate with poor working conditions, such as underage workers, long hours and unsafe environments, Atkinson said.
"You can get prices really low if you're willing to stoop to the bottom," Atkinson said.
The world average stood at $470 per month in 2019 with U.S. garment workers earning an average of $1,160 per month, according to the report.
American consumers are becoming increasingly aware of social injustices abroad and in the United States, which is often impacting how they purchase discretionary goods such as apparel, Lee said.
"A lot of people are seeing it's not OK to just be a business," Lee said. "You have to be doing something else good. You have to be doing good in the world."
Arkansas as a whole has the potential and the infrastructure to rely less heavily on overseas goods, Atkinson said.
The state has skilled fashion designers, businesses in Little Rock that produce textiles and a retail market with high-end boutiques throughout Arkansas, she said.
The Fashion Forum hopes to be the connecting fiber for those elements to develop a made-in-Arkansas apparel industry, Atkinson said.
Designer Brandy Lee displays an up-cycled leather coat featuring leather cutouts, rhinestone and leather flowers Tuesday, Dec. 29, 2020, outside of her studio in Fayetteville. The Arkansas Arts and Fashion Forum said the pandemic has caused the need for changing how the industry operates, to include creating more of a reliance on American-made products and processes that will prevent lags in the industry in the future. Lee is creating a collection of jackets that she will be releasing after the first of the year. Check out nwadg.com/photos for a photo gallery. (NWA Democrat-Gazette/David Gottschalk)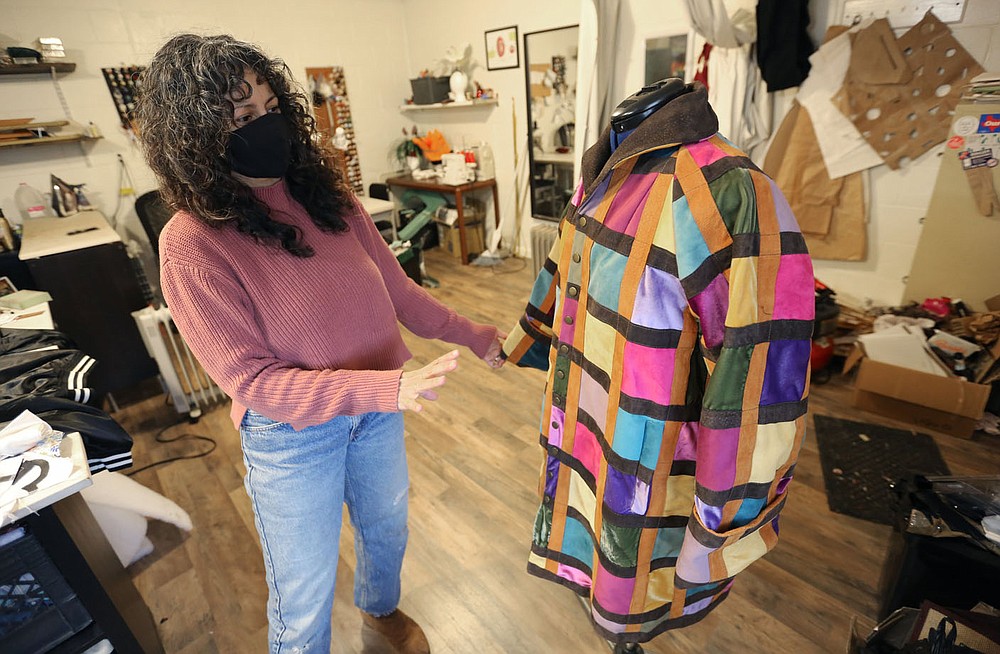 Designer Brandy Lee displays one of her coats Tuesday, Dec. 29, 2020, at her studio in Fayetteville. The Arkansas Arts and Fashion Forum said the pandemic has caused the need for changing how the industry operates, to include creating more of a reliance on American-made products and processes that will prevent lags in the industry in the future. Lee is creating a collection of jackets that she will be releasing after the first of the year. Check out nwadg.com/photos for a photo gallery. (NWA Democrat-Gazette/David Gottschalk)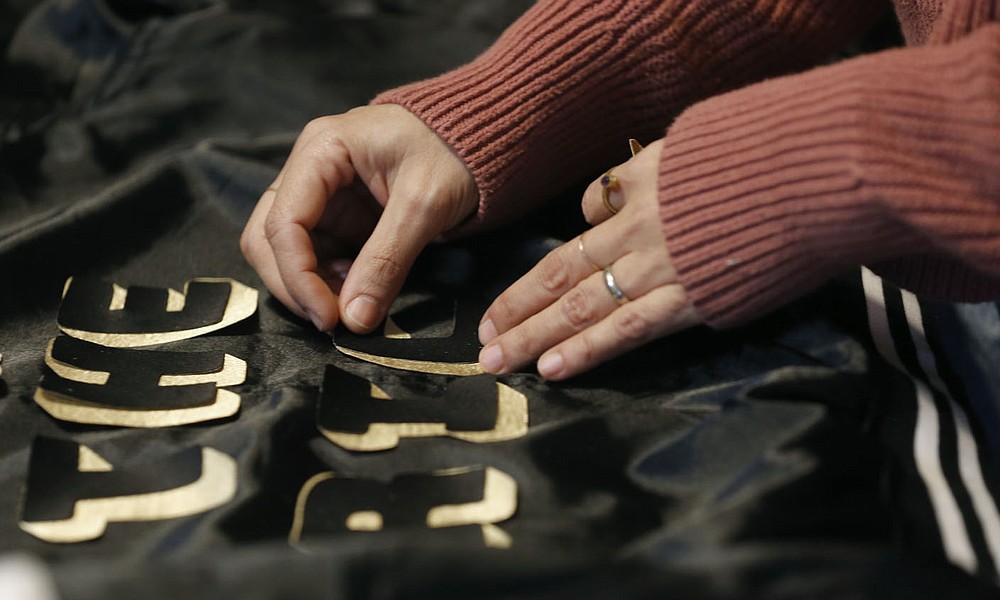 Designer Brandy Lee lays out letters on a jacket Tuesday, Dec. 29, 2020, at her studio in Fayetteville. The Arkansas Arts and Fashion Forum said the pandemic has caused the need for changing how the industry operates, to include creating more of a reliance on American-made products and processes that will prevent lags in the industry in the future. Lee is creating a collection of jackets that she will be releasing after the first of the year. Check out nwadg.com/photos for a photo gallery. (NWA Democrat-Gazette/David Gottschalk)
Sponsor Content
Comments