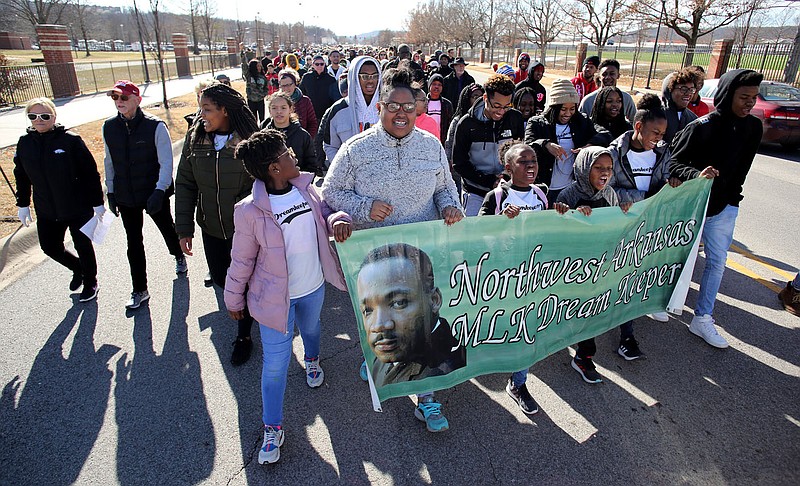 NWA Democrat-Gazette/DAVID GOTTSCHALK Members of the Northwest Arkansas Dream Keepers and friends carry a banner Monday, January 21, 2019, in the annual Martin Luther King Jr. Freedom March to the campus of the University of Arkansas in Fayetteville. Participants in the march, sponsored by the Northwest Arkansas Martin Luther King, Jr. Council, began near the corner of Razorback Road and Martin Luther King, Jr. Boulevard and marched, sang and chanted to the Arkansas Union for the Dr. Martin Luther King, Jr. Vigil presented by the University of Arkansas Associated Black Student Association with the Associated Student Government. The keynote speaker was Angela Mosley Monts, assistant vice chancellor for Diversity and Inclusion in the Office for Diversity and Inclusion at the university.
5K Tutu Run and 1/4 Marathon
Western Arkansas Ballet
16 9 a.m. --Western Arkansas Ballet will host its seventh annual 5K Tutu Run and 1/4 Marathon at the Greg Smith River Trail in Fort Smith. Entrants can run or walk a 5K or quarter marathon. Race is chip-timed, and participants will receive a finisher's medal.
Awards will be given for top three male and female participants plus age division winners. Pre-registration fees are $25 for the 5K and $35 for the 1/4 Marathon or $35 and $45, respectively, on race day. Pancakes and Plies lets runners eat all the pancakes they want after the race!
Register at: runsignup.com/Race/AR/FortSmith/WesternArkansasBalletTutuRu.
Information: (479) 785-0152 or waballet.org.
Northwest Arkansas MLK Council
Recommitment Event
18 7 p.m. -- The 25th annual Recommitment event, sponsored by the Northwest Arkansas Martin Luther King Jr. Council, will be hosted online by the University of Arkansas. Kevin Dedner, founder and CEO of Hurdle mental health care, will speak.
Information: (479) 409-1139 or [email protected]
Frozen Toes 5K/15K
Kessler Mountain Regional Park
9 a.m. Jan. 23 or Jan. 24-31 -- The 2021 Frozen Toes 5K/15K trail run at Kessler Mountain Regional Park in Fayetteville will give runners the option of participating in the in-person Frozen Toes Race beginning at 9 a.m. Jan. 23 or the Frozen Toes DIY Challenge Jan. 24-31. Organizers say the challenge option "entails completing the 5K or 15K on the marked course at Kessler Mountain any time during the week of the challenge."
The in-person race will be limited to 200 runners with staggered start times of groups of 15 to help maintain social distancing. "The virtual challenge is a great option that we want to see more people sign up for," says Tiffany Hoover, Fayetteville Parks and Recreation assistant recreation superintendent.
The single-track trails of Mount Kessler are technical in most areas, "but the views are worth every step of the course," and participants are encouraged to "take a break from the pavement and give trail-running a try." Technical trails include "rocky, rooty sections and steep climbs," says Hoover.
Both options include a participant goody bag, featuring the "infamous Frozen Toes Socks" -- instead of a typical race T-shirt -- and the finisher medal. Registration is $30.
The race will include overall and age group awards, but the challenge will not feature awards. Both options will require runners to be self-sufficient (meaning no on course water stations).
Updated maps for 2021 will be posted Jan. 8.
Information and registration: www.fayetteville-ar.gov/recreation.
Deadline to submit February event information is Jan. 15. We want to include your fundraising event whether it's online or in person! Send event information to Carin Schoppmeyer at [email protected]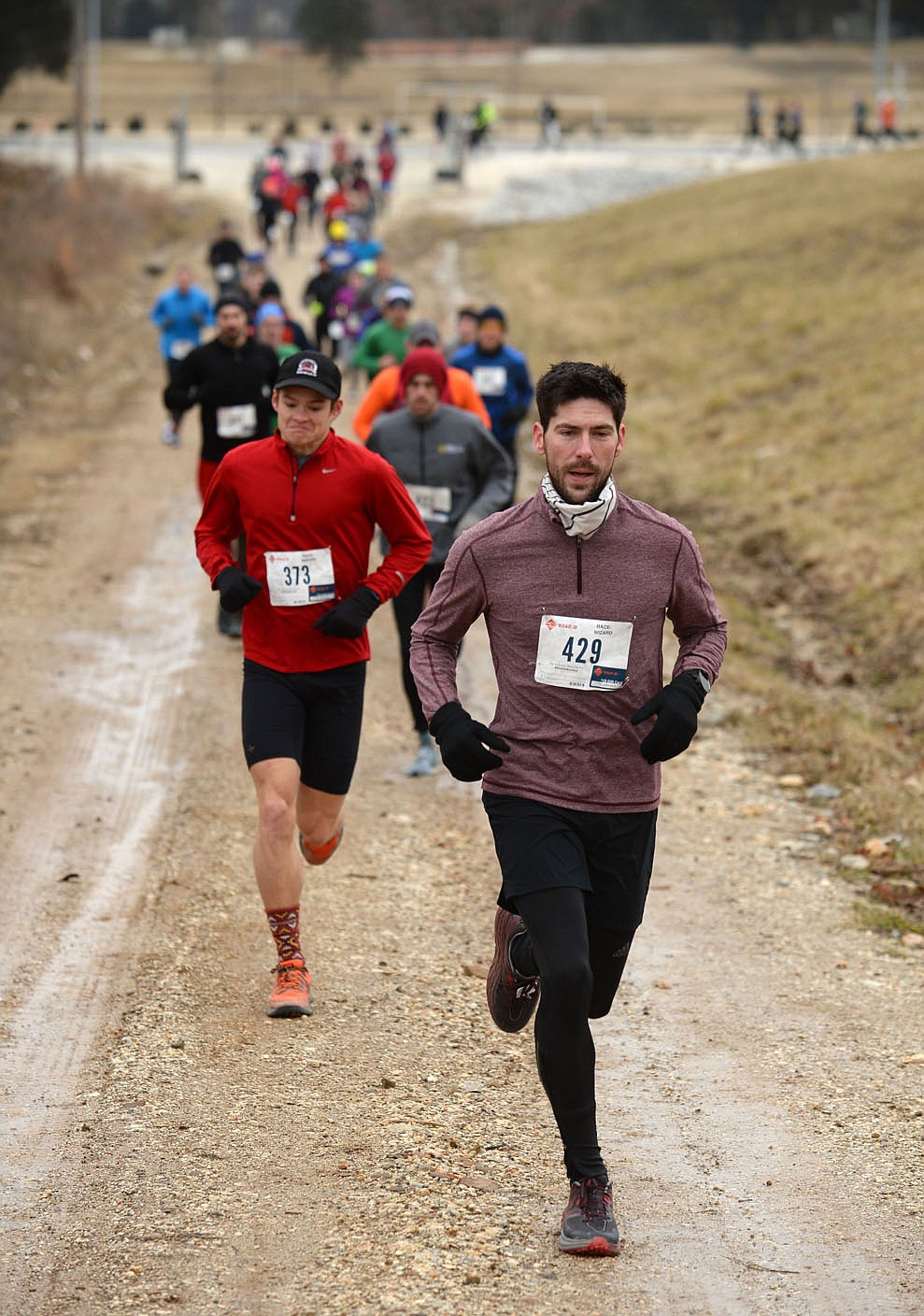 NWA Democrat-Gazette/ANDY SHUPE Runners begin the fourth annual Frozen Toes 15K trail run Saturday, Feb. 16, 2019, at Kessler Mountain Regional Park in Fayetteville. The race is organized by the Fayetteville Parks and Recreation Department and kicks off the Fayetteville Race Series.
Sponsor Content
Comments