Editor's Note: Since March, we've sometimes used the Profiles pages to share the efforts of Northwest Arkansas heroes who worked under exhausting and dangerous conditions to help their fellow community members during the pandemic. These are two more we wanted you to meet.
"The United States used their homeland for nuclear test-bombing, then denied them Medicaid. Now, their way of life in the U.S. heartland has left them prime prey for the pandemic."
So reads the summary of a Politico article from mid-December, just one of several national news stories focusing attention on the outsized rate of infection for the 10,000-plus Marshallese who live in Northwest Arkansas. So devastating was the spread of sickness and death among our Marshallese neighbors that the CDC dispatched a team of researchers to the region this summer. Its findings are staggering: The Marshallese, reports Politico, are 71 times more likely to be infected by covid-19 than the white population, 96 times more likely to be hospitalized, and 65 times more likely to die. Entire families are being decimated by the disease, and the community has experienced immeasurable loss since March.
The lack of access to health care has only served to exacerbate the situation, as has the fact that many Marshallese are essential workers, employed in factory and food production jobs that make social distancing difficult. The community is close-knit, and many live in multigenerational households that make the spread of covid-19 frighteningly easy.
Nowhere is the closeness of this community better illustrated than in the heroic work of two of its members during the course of the pandemic. Melisa Laelan, founder and executive director of the Arkansas Coalition of Marshallese (ACOM), and Albious Latior, a community organizer now working as Fayetteville's Good Shepherd Lutheran Church's Marshallese covid-19 outreach coordinator, have worked tirelessly for 10 months to do whatever they can to support those hardest hit.
"If you're Marshallese, you know you cannot sleep because people come to your house 24/7 -- come and knock at your door and seek help, and until you get them help, they won't leave you alone," says Latior with a chuckle. "Our community is a close-knit community, so everybody knows each other. If they don't know you, they know someone else who knows you."
Both Latior and Laelan left their birthplace of the Marshall Islands in their youth. Latior's family left when he was in third grade, and Laelan joined the United States Army immediately following high school graduation. Those born on the Marshall Islands have the ability to visit, work and live in the United States legally, as granted by the Compact of Free Association (COFA). But that freedom was the result of a much higher cost: From 1946 to 1958, the United States used the Marshall Islands as a testing ground, ultimately detonating 67 nuclear explosions across the island system, rendering much of it uninhabitable. The damage has spanned decades: Crops failed, cancer rates skyrocketed, and birth defects multiplied. The nuclear waste left on the islands is becoming more of a threat because of global climate change. Food assistance from the United States -- required because the nuclear testing made growing crops and fishing dangerous -- came in the form of processed foods, resulting in a host of health complications for the Marshallese people. When COFA was put in place in the early 1990s, the Marshallese people were guaranteed access to Medicaid -- until the 1996 U.S. Personal Responsibility and Work Opportunity Act stripped them of those benefits.
Many of these factors have contributed to the devastation wrought by covid-19 on the community.
Mobilizing community
Laelan first came to Springdale to visit family while she was an Army staff sergeant. When she retired from the service, she decided she liked the area well enough to move here. She took a job with the Washington Country Juvenile Detention Center, where she observed that a lack of Marshallese interpreters was detrimental for Marshallese families navigating the justice system. So she gained certification as a Marshallese language court interpreter, the first in the nation. In 2011, she started ACOM.
"I had a feeling that we were going to get hit harshly by the pandemic early on, simply because of what we have known all along about the health condition of the community," says Laelan. "The history of diabetes, cancers and more illnesses were precursors for the pandemic. I remember seeing a video on Facebook of a mother from another state, in the Washington [state] area, sharing her story that she couldn't breathe, and she just lost a nephew -- a perfectly healthy young man (I think he was 16). There was a gofundme website for the funeral, and I immediately donated. The story touched me, and still it seems too far away from Arkansas."
Laelan's covid-19 fears were realized in April when a young Marshallese man died of the disease. The following week, the losses became personal as Laelan learned a family member had died.
"I think I was in frantic mode," she says. "The family was on lock-down; no one was allowed to go outside. At the same time, I had relatives who moved in with me because they were losing their apartment due to nonpayment. There was increasing social messaging about social distancing and how to keep yourself safe, and I think that's when the majority of our community went into panic mode."
Laelan's experience in organizing and her contacts through ACOM allowed her to mobilize help quickly.
"ACOM was already set to provide rent assistance through a grant from Fargo Bank," she says. "Later on, we received assistance from the city of Springdale to provide more rental assistance. Through fundraising and grants, we have assisted over 300 households with rents and bills, and we are currently processing more. We have started a food pantry -- it is a new territory for us, but we will do whatever we need to do to meet the needs of the community."
ACOM hired a nurse who assists in weekly covid-19 education sessions and translates medical information into the Marshallese language, Laelan says. ACOM staff has also helped countless Marshallese enroll in the Affordable Care Act.
And in an election year like no other, Laelan and other volunteers have worked tirelessly to register as many eligible Marshallese community members as possible to vote.
Moving forward
Albious Latior was just a child when he was thrust into the school system of a country he had never even visited.
"I was really excited, because we all the time watched the American movies, and we were excited about moving to America," says Latior. "When I came to Arkansas, I was like, 'Ah, this is different than the America that I see on television.' That was a big city, but this is the countryside. Everything was different -- the weather, the food, the people, the language."
By the time he was in high school, however, he had acclimated enough to be an active member in the Marshallese community. Latior has worked in the field of Marshallese outreach for the Springdale Public Schools and The Jones Center, among others. At the beginning of the pandemic, he says, Good Shepherd Lutheran Church in Fayetteville reached out to offer him a position as an outreach coordinator for its efforts to help the Marshallese community. Latior's long-term activism and advocacy on behalf of the Marshallese community has made him a trusted voice, and, like Laelan -- pre covid-19 -- he has helped care for a sick parent in their last year of life, giving him unique insight and experience that he's called upon while helping out in the pandemic.
"There are lot of struggles I have witnessed since the pandemic hit our community," says Latior. "I would say the majority of the community members work at one of the poultry plants here in Northwest Arkansas, and the majority of them were struggling. There are many reasons why they were struggling. Most of the family were evicted, their car had been repossessed, [they were] without food. The reason why is that most of the family members in a household ... did not get paid while they were in quarantine, or their paycheck was delayed for two to three weeks. Because the companies did not take care of their workers, they were struggling and needed help with rent, food, car payments, medication for their elders and much more."
Latior has done whatever he could to help: He's sewn masks, organized food drives, raised funds for medical bills and registered his community to vote.
"Most of [my community members] are my former teachers, colleagues or friends," he says. "Even strangers step in and help me help my community with their need. During the pandemic, I went on Facebook and created 'Adopt a Marshallese Poultry Worker,' where anyone can sponsor a family. Lots of people came in to help with this. Lots of churches also stepped in to help the community."
Despite their hard work, both Laelan and Latior say there's more to be done.
"Our community is still recovering from the pandemic," notes Latior. "A lot of them are still going through this, because some of them are in quarantine again. This might be their fourth time of quarantine, without a paycheck. A lot of families are still needing help. To sponsor a family or get involved would be a greatly appreciated."
There is one bright spot that might mean 2021 will be a healthier one for the Marshallese community: This month, through the efforts of lawmakers like Hawaii's Sen. Mazie Hirono, Congress finally restored their access to Medicaid.
"That means we have a better chance of living longer," says Laelan, who, through ACOM, has advocated for the restoration for nearly a decade. She proudly notes that Rep. Steve Womack, with whom she's met multiple times to talk about the subject, was the first Republican to sign on to the latest covid-19 relief legislation that included restoring Medicaid benefits for the Marshallese. "The latest legislation will close the gap that has existed over 25 years. The health inequity has cost so many lives, and these are people we know dearly, so the change is very personal to me.
"I can't help but think of how resilient this community has been. There are things that we still need to consider, like the trust between the community and providers. We had so many people who were hesitant about receiving health care. Building trust is what I worry about the most moving forward. Maybe we have arrived at this crucial moment too late; however, I know greater things are to take place. I hope for a healthier community and healthier Arkansas as a whole."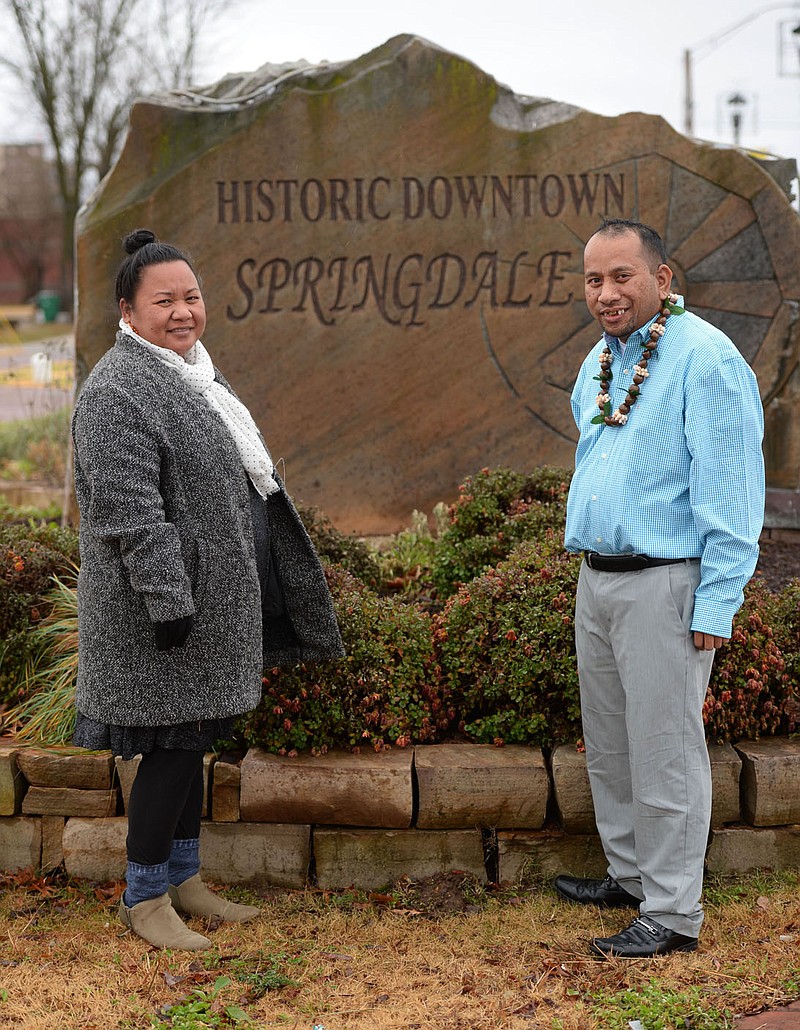 Melisa Laelan (left) and Albious Latior stand Wednesday, Dec. 30, 2020, in front of a sign at Emma Avenue and Thompson Street in Springdale. Latior and Laelan have worked to improve the lives of those in the Marshallese community in Springdale. Visit nwaonline.com/200103Daily/ for today's photo gallery. (NWA Democrat-Gazette/Andy Shupe)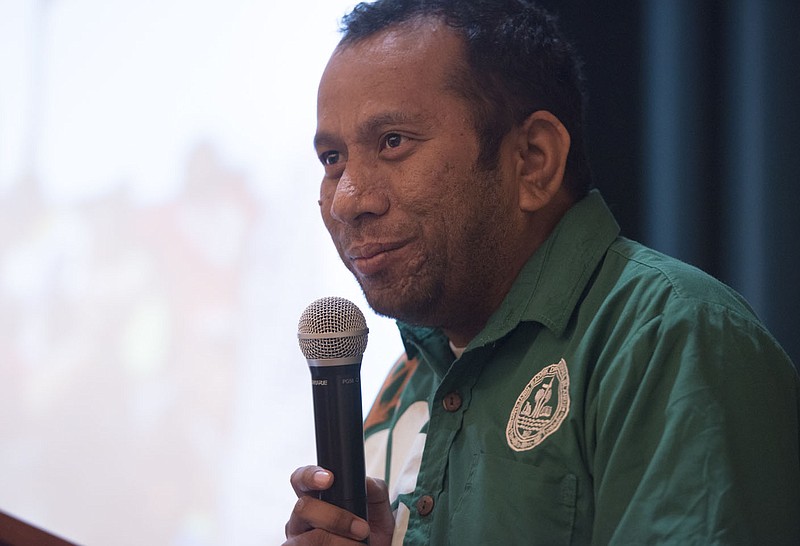 NWA Democrat-Gazette/CHARLIE KAIJO Albious Latior of Springdale shares his experience of being a Marshallese immigrant to attendees during an immigration conversation forum, Saturday, April 14, 2018 at the Jones Center in Springdale. Immigrant Youth of Arkansas hosted an immigration conversation with candidates for office in Arkansas. Topics included DACA, the Dream Act, the Immigration and Nationality Act Section 287(g) and Marshallese immigration issues. "Today is a platform we have created to be able to inform Arkansas candidates running for office about the realities behind the struggles and issues that the immigrant community faces nationwide and in Arkansas," said youth activist Mayra Esquivel. "We're wanting to debunk and misconceptions people have about immigrants and put a real face to these issues."
More News
How to Help
Arkansas Coalition of Marshallese
(479) 365-6625
Sponsor a Marshallese Family
Good Shepherd Lutheran Church
(479) 521-2113