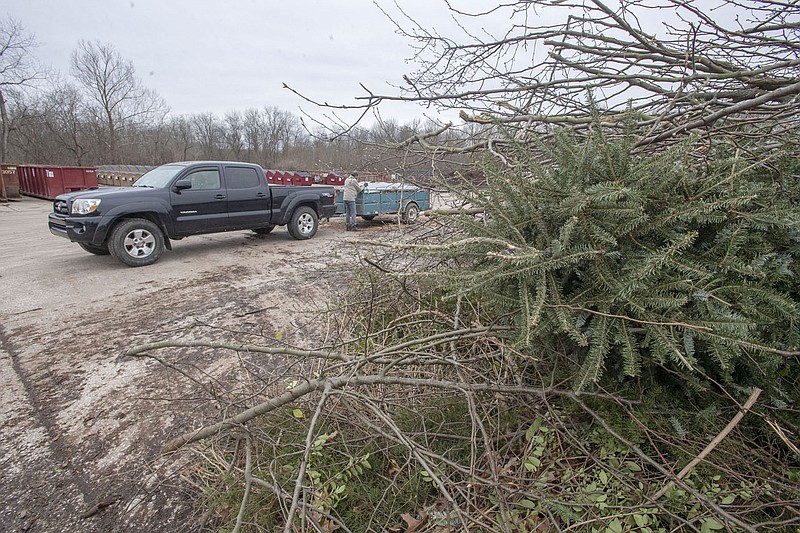 Christmas trees in Fayetteville can be dropped off at the city's composting facility at 1708 S. Armstrong Road or left with regular trash and recycling for curbside pickup. For more information see www.fayetteville-ar.gov/3421/Composting-and-Mulch . Go to nwaonline.com/210101Daily/ and nwadg.com/photos. (NWA Democrat-Gazette/J.T. Wampler)
Northwest Arkansas residents have multiple ways to dispose of Christmas trees this season.
Live trees are serving a purpose beyond the holidays through the Arkansas Game and Fish Commission's Habitat for the Holidays program.
"Instead of letting that tree go to waste, we have drop-off locations to improve angling throughout the state," said Colton Dennis, a fisheries habitat coordinator with Game and Fish. "Throughout January, anglers can create brush piles in nearby lakes from these donated trees, increasing fishing opportunities and habitat for themselves and other anglers."
Trees may be dropped off at Beaver Lake at the Arkansas 12 bridge access and at the Don Roufa access near the U.S. 412 bridge, according to a news release from the commission. Trees may be dropped near the boat ramps at Lake Elmdale near Elm Springs, Crystal Lake in Decatur and Bob Kidd Lake in Prairie Grove.
Artificial trees aren't allowed at those drop-off locations, and all ornaments, tinsel and lights must be removed before dropping off live trees.
Any angler can take the trees. Anglers supply their own rope and weights to sink the trees.
"Cinder blocks and sandbags work well to sink the trees, and parachute cord works very well to bind trees together and attach them to the weight," Dennis said. "By the time the cord deteriorates, the tree will be waterlogged enough to stay put."
Most Christmas trees will likely deteriorate within a year or two, he said, but they offer very good cover for small bait fish and ambush locations for larger sport fish until they rot away.
The Benton County Environmental Department encourages residents to work through trash collection providers to dispose of live Christmas trees, according to Teresa Sidwell, environmental manager.
Artificial trees with all decorations removed can be dropped off at Benton County Convenience centers in Centerton, 5702 Brookside Road, from 8-11 a.m. and noon to 3 p.m. Tuesday-Saturday; in Rogers, 2307 N. Arkansas St., from 8-11 a.m. and noon to 3 p.m. Tuesday-Friday and the second and fourth Saturday of each month; and Siloam Springs, 1108 E. Ashley St., from 8 a.m. to noon the first and third Saturday of each month, according to the Benton County Solid Waste District website.
Curbside tree collection won't be offered in Bentonville, according to a representative with Republic Services, the city's waste and recycling provider.
Fayetteville residents can have live Christmas trees turned into compost by putting them out on the same day as their residential trash collection through January, according to the Fayetteville Recycling and Trash Collection Department web page.
Trees may also be dropped off at Fayetteville's composting site at 1708 S. Armstrong Ave. for free from 8 a.m. to 3 p.m. Tuesday and Thursday and from 8 a.m. to noon the first Saturday of each month, according to the web page.
All trees must be free of plastic bags, stands, decorations, lights and tinsel before they'll be accepted, and artificial trees won't be collected.
Residents of Rogers can have live Christmas trees picked up curbside Monday through Jan. 8 on their regular service day, according to an Orion Waste Solutions representative, the company that provides trash and recycle service for Rogers.
People must call (479) 878-1384 by noon the day before their usual service day to notify Orion of the pickup, according to the representative. Artificial trees can be picked up on customers' bulk pickup day through coordination with Orion as well.
The Waste Management collection provider in Springdale hasn't determined when it will be picking up Christmas trees this season, according to a Bulky Waste Program representative. Residents can call (479) 750-8135 to leave their name and contact information with program staff so they can be notified when collection begins.
More News
Environmentally Friendly Christmas Tree Disposal
• Living Bird Feeder: Birds will be attracted by suet, cranberry and popcorn strings, stale bread and dried, chopped fruit in mesh bags. If you grow sunflower seeds, simply hang the whole sunflower head on the tree.
• Garden Decor: Cut off all the branches and use the trunk to edge a garden. The trunk can also be strategically placed in your garden as a resting spot for birds, squirrels and other little critters.
• Mold-Free Mulch: Since pine needles dry quickly and decompose slowly, use them as moisture- and mold-free mulch in your garden.
• Relax by the Fire: The trunk can be sawed into logs and burned in your fireplace.
Source: American Forests
Mary Jordan can be reached by email at [email protected] or on Twitter @NWAMaryJ.
Sponsor Content
Comments