SPRINGDALE -- Sunday marks six months since Springdale annexed the 3,000 residents and 2.4 square miles that comprised the city of Bethel Heights.
Springdale has added about $3.6 million to its coffers from the former city's accounts and taken ownership of the former city hall, police and fire stations and two parks. The added residents will mean more revenue from the city sales tax, more turnback money from the state sales tax and a little bigger share of all the other county, state and federal funding based on population.
Voters in Springdale and Bethel Heights approved the annexation by 64% in a vote Aug. 11. A group of residents put the annexation on the ballot.
They were frustrated by the ineffective operation of the city's wastewater treatment system, said Charlene Bowen, who sponsored the petition drive. The treatment system had operated in violation of its state permit for more than 10 years, letting untreated sewage flow into neighboring yards when the system became overwhelmed, according to records of the Arkansas Division of Environmental Quality.
Springdale now must clean up and close the old Bethel Heights plants and build a more permanent hookup for its new residents. Springdale installed odor control equipment at manholes and other parts of the sewer system throughout the former city.
"There's no more of that smell," said Rhonda Neal, a former Bethel Heights resident.
Brad Baldwin, director of Springdale's Engineering and Public Works departments, said a crew member saw a resident applaud as he drove by pretreating a street for winter weather earlier this week, a service Bethel Heights did not offer.
He said Springdale crews also have been in the former city patching potholes.
"We took it to mean they are generally appreciative of our services," Baldwin said.
Cleaning up
The Springdale Water and Sewer Commission is considering a $1.5 million plan to permanently connect Bethel Heights with Springdale and clean up the Bethel Heights treatment fields starting late this year.
Environmental Quality is reviewing a closing and connection plan submitted last month by the Springdale Water Utilities, according to an email from the agency Friday.
The fields no longer pose any danger to the public, insisted Heath Ward, the utility's executive director.
Springdale Water Utilities took over the treatment system and spent $120,000 to build a temporary pipeline connecting Bethel Heights customers to the Springdale sewer system within three weeks, Ward said. Springdale already served the Bethel Heights area with water.
The terrain and floodplain of the area are complicating the construction of a traditional trunk line to carry the wastewater, Ward said. He said a siphon system might be the solution. It would create a vacuum in the pipe and control the pressure, he said.
"It's unique, but probably the best option," Ward said.
The city ultimately would like to extend the system to Arkansas 264 to drain the entire basin, he said.
Bethel Heights operated a drip system to treat its wastewater. Waste was transferred from the residents' homes or businesses into holding tanks at Bethel Heights' two plants on North Oak Street and South Lincoln Street. After some treatment in the tanks, wastewater was released underground as part of a drip irrigation system. The Earth's natural structures underground were supposed to complete the treatment process.
Ward said Springdale must pump out whatever is left in those tanks and fill them with gravel, dirt or some other filler. Springdale must remove the green pods seen above ground and any electrical components and level the ground of the former treatment plants to be used as pasture or park space.
Ward said mapping the tanks also is an important step in the cleanup so a future owner of the property will know they were there.
"We got the sewer under control on the cheap," Ward said. "We are looking for a permanent solution."
The Arkansas Pollution Control and Ecology Commission in October suspended for three years the operating licenses of Rick Sayre, operator of the former Bethel Heights wastewater treatment plant. He held both municipal and industrial licenses.
The commission's administrative law judge found Sayre in violation of the city's no-discharge permit.
In the bank
Wyman Morgan, director of finance and administration for Springdale, said Tuesday that Bethel Heights had $3,559,000 remaining in its operating budget. The street fund contained an additional $696,000. Both funds were transferred to Springdale.
State law required Springdale to keep the Bethel Heights accounts open and the money of each city separate for six months after the annexation, Morgan said. Springdale would have used the money from the Bethel Heights accounts to pay off any remaining expenses, fines and debt of the smaller city.
But there were none, Morgan said.
"At least no one has come forward with any," he said.
Springdale also will benefit from additional tax money coming with its increase in population from Bethel Heights.
Springdale in January collected $1.4 million in city sales tax receipts, with 1% going into the city's general fund and 1% dedicated to pay off the $200 million bond issue approved by Springdale voters in February 2018, Morgan said.
Springdale collects about $90,000 a month from sales tax on purchases in the former town, Morgan said. The collections are expected to drop to about $72,000 a month on April 1, he said. Purchases in the former Bethel Heights were subject to that city's 2.5% sales tax. Beginning April 1, consumers there will pay just 2% on purchases, bringing the rate into line with Springdale's.
Springdale also received real property owned by Bethel Heights but has made no determination about its status, Morgan said. Springdale owns the former Bethel Heights city hall building, the fire and police department building, two houses, a couple of lots and two parks.
Springdale departments were able to use some of the equipment Bethel Heights owned, Morgan said. For example, the Fire Department will use a former Bethel Heights fire engine for training at the Mickey Jackson Fire Training Center.
Smelling good
Joetta Bowen said she and her family can enjoy their back patio again after 13 years.
Joetta and her husband, Lawrence, have lived for more than 40 years in their home adjacent to the former wastewater treatment field on Lincoln Street. They reported constant pestering by insects and odor coming from the site, as well as untreated wastewater flowing onto their property.
The final state investigation against the former city started after Lawrence Bowen filed a complaint in May 2019 with Environmental Quality about untreated wastewater from the plant flooding his lawn.
Joetta Bowen said her neighborhood is quieter with the Bethel Heights police and fire stations -- which were near their home -- closed. And the family has returned cattle to the pasture adjacent to the former plant.
Neal noted the Springdale city staff has been very friendly and quick to answer questions and very quickly erected highway signs that welcome people to Springdale. She said the transition from Bethel Heights to Springdale was insignificant.
"Especially when you live right next door and went there to go shopping anyway," she said.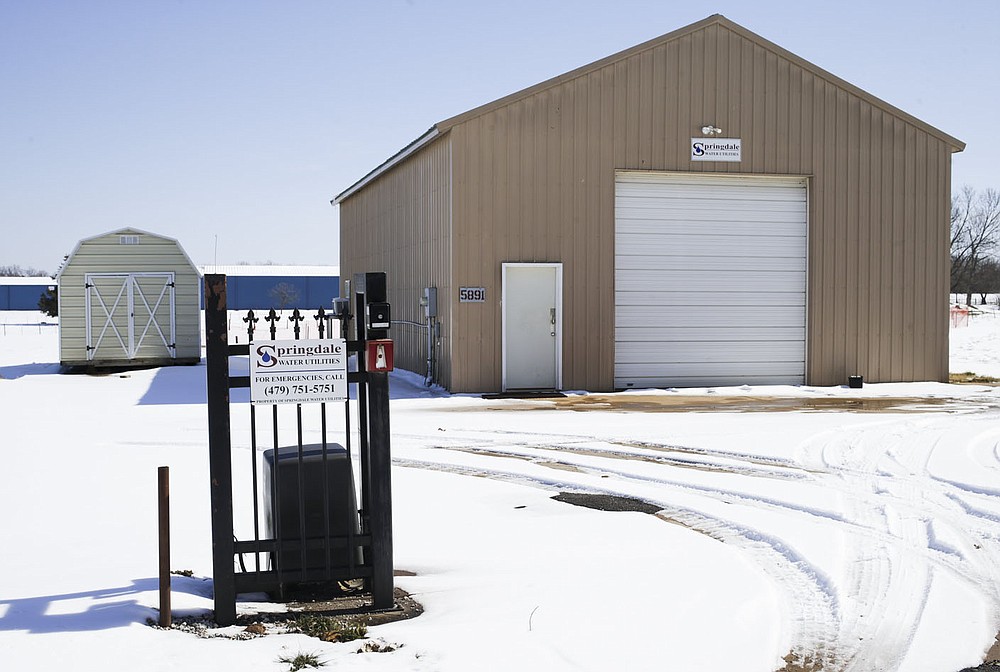 The former Bethel Heights water utilities building is shown, Saturday, February 20, 2021 in Springdale. Check out nwaonline.com/210221Daily/ for today's photo gallery. (NWA Democrat-Gazette/Charlie Kaijo)