When most folks hear fantasy, their minds automatically go to J.R.R. Tolkien, but the genre is old and wide. It has several subgenres, and my personal favorite is urban fantasy, which takes elements like magic and monsters and brings them to an urban center, typically a modern city.
On television, the genre seemed to really pick up steam with shows like, "Kolchak: The Night Stalker." In books, you see the genre really come into modern use with titles like "Borderland" by Terri Windling and "War for the Oaks," by Emma Bull in the 1980s.
Then 1993 came along, and Laurell K. Hamilton, who was born in Arkansas, brought Anita Blake: Vampire Hunter into the world with her first title in the series, "Guilty Pleasures." Now, the 28th book in the series, "Rafael," will be published on Tuesday.
After 28 novels, one of the first questions out of my mouth in an interview was, "Is this Anita's last adventure?" To which, Hamilton answered, "as long as they keep selling, I get to keep playing in a world I love."
That world belongs to Anita Blake, a necromancer and vampire executioner who lives in St. Louis, as does Hamilton. She regularly helps local police (and other law enforcement across the country) solve supernatural murders. Anita's world is full of creatures from ghouls, to zombies, to vampires, and she's killed her fair share of each of them across 28 books.
I stumbled upon the series when I'd finished all available "Dresden Files" novels and was looking for another urban fantasy story to devour. And one of my editors, Becca Martin-Brown, could not have been more excited when I picked up the series.
Of course, as I write this article, I've only read the first nine, and I'm waiting on book 10 to arrive in the mail. This put some constraints on Hamilton, who, during our interview, would sometimes find herself about to answer a question and then pause. She had to consider how much to say without spoiling any future details for me. Talk about patience!
Hamilton's most recent novel, "Sucker Punch," was released in August 2020, so to suddenly have another book in the series seems like a fast turnaround. But as it turns out, that was Hamilton's plan due to the pandemic. The author wanted to give her stressed fans a new novel to escape into.
"People are surprised to have a book this soon. I wanted to give you a story sooner. Something to help us go into a brighter new year."
"Rafael" in some ways will be a bit of a throwback because the plot features the return of one of Hamilton's original characters, a wererat (like a werewolf, but a rat) named ... well, Rafael. He shows up in the very first book and saves Anita Blake's life. Of course, they've been friends ever since. And this new book finds him needing Blake's help to hold onto his title as king of the wererats.
Hamilton told me she got to really dive into research for this newest book. "It was really fun," she said.
According to Hamilton, every novel is 70 percent crap and 30 percent gold. You have to write it all and edit the manuscript to make it shine. But no writer gets to start out on novel number 40. Hamilton had to start at square one like all other writers.
"At 12, I thought maybe I wanted to be a writer. At 14, I thought I only wanted to write dark fantasy," she said.
Born in Heber Springs, Hamilton said she was inspired by works like Stephen King's "'Salem's Lot," and Anne Rice's "Interview With the Vampire."
"For me, the horror in my novels is true crime. The monsters don't make it horror. What makes it horror is when horrible things happen," she said.
The original plan, according to Hamilton, was to get a doctorate in English and teach. Of course, some roads have detours, and the author said she was asked to leave the creative writing program at her small Christian college in Indiana.
Hamilton said to get into the creative writing program she submitted "a vampire story and a very Lovecraft story." The head of the program let her in, and Hamilton believed she was OK with continued submissions of horror stories. Hamilton said instead she thought the Arkansan had talent and that she could convince her to "write something she deemed worthwhile."
One day, the head of the department put her foot down and said genre fiction would no longer be accepted. Undeterred, Hamilton kept writing and submitting fantasy and horror stories, eventually inspiring a class mutiny. Others continued to submit genre stories as well.
Finally hitting her breaking point, the head of the creative writing program doubled down and called genre fiction "trash," according to Hamilton. But in class, before the other students, Hamilton got the faculty member to admit authors like Tolkien and C.S. Lewis were indeed not trash.
This resulted in Hamilton being summoned to the department head's office, where the teacher proceeded to "slice her and dice her" for hours. Hamilton said her teacher called her talentless and wielded every ounce of authority she had to convince the Arkansan to give up writing forever.
Hamilton said she didn't write anything for two years after that.
"She almost succeeded," the author said. "She thought she could save me, and when she figured out she couldn't, she decided to destroy me."
Hamilton ended up earning a degree in biology and a degree in English. And her road to publication didn't immediately get smoother.
"Guilty Pleasures" received more than 200 rejection slips before it sold because it was a mixed genre book. Hamilton said publishers didn't know how to market it. When it finally sold, the publisher put "horror" on the spine, and that's where it ended up being shelved in most bookstores, instead of romance or mystery.
In 1993, urban fantasy just wasn't on the radar for most publishers. I believe Hamilton's series helped change that.
"Until something sells, a genre doesn't take off. It has to make money for the publisher before they'll want more," she said.
Although Hamilton started out in paperback, her sales eventually led her books to be moved to hardcover. And eventually, her first three books received comic book adaptations from Marvel.
"It felt pretty vindicating," she said.
What keeps me coming back to "Anita Blake: Vampire Hunter" is the heroine. At the end of the day, I'm a sucker for a woman who kicks tail and takes names. If you read my column on the "Gunnie Rose" series a couple weeks ago, you already knew that about me.
Anita is a fascinating study in what it means to balance humanity in a world of monsters. I've loved watching her evolve through the first several books as someone who thinks she knows the true villains and monsters, only to learn nothing is as black and white as it seems.
The crimes Anita has to help solve are so detailed, I asked Hamilton how she even thought them up. Turns out, if anything happens in her books that doesn't require magic, it's a real crime somebody did to someone else in our world.
"No reason to feed the beast when the real world exists," she said. Yowza. From having gone through thousands of pages of police affidavits and court documents in my career as a journalist, I know she ain't kidding. Scary enough stuff happens in reality.
Of course, Hamilton mixes a fair bit of romance into her books, and she was writing about the vampire/werewolf love triangle WAY before "Twilight." I didn't have the courage to admit this during our interview, but I despise Richard (the werewolf in this love triangle) and am 1,000 percent Team Jean-Claude (the vampire).
Yet when I asked Hamilton if she had a favorite character, she couldn't choose -- although the way she described her characters and how those characters reveal their stories to her was fascinating. She has an assassin in the series named Edward who shows up pretty early on, and Hamilton said she never intended for him to be a big character. Despite that, he grew on her.
So I followed up by asking if Hamilton had any characters she hated, and apparently that role is filled by the villains she creates. And let me tell you, Hamilton cooks up some really nasty villains, people that are very easy to hate ... and fear.
"Rafael" comes out Tuesday, and I closed by asking Hamilton if she thought fans would ever get to see Anita on the little screen or the big screen.
"I dunno. Maybe. We've come close a couple times," she said. "Hollywood makes more contracts than movies."
Whether Anita makes the jump or stays solely in her books, I've got some catching up to do. Hopefully my editor won't spoil anything for me until then.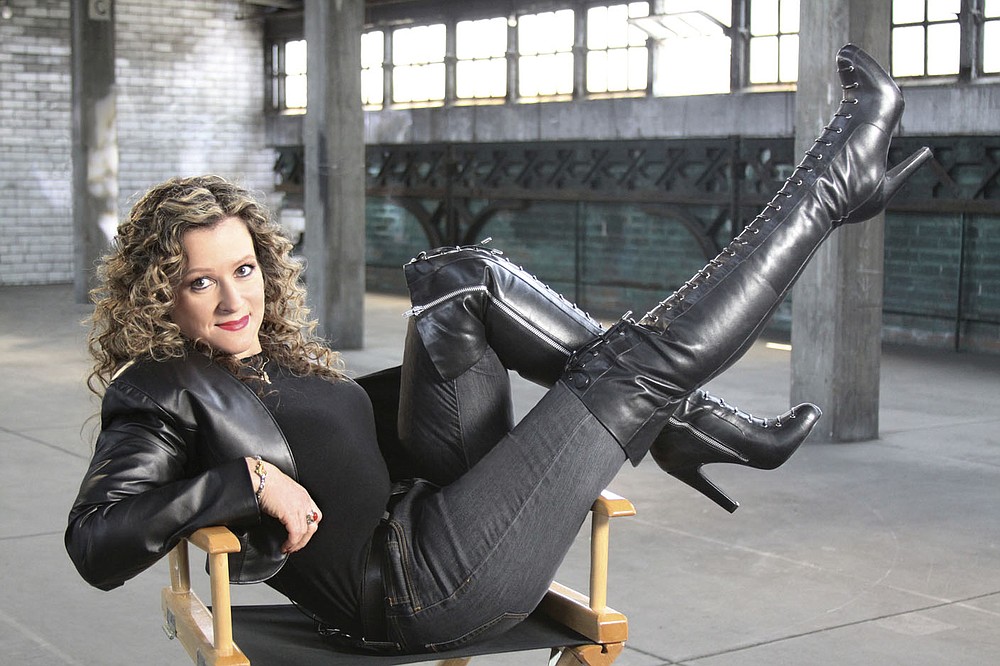 Laurell K. Hamilton lives near St. Louis, which is populated in her novels by vampires, werewolves, zombies and a very determined federal marshal, Anita Blake. Hamilton was born in Heber Springs, Arkansas. (Courtesy Photo)
More News
Read More
'Rafael'
"Rafael" by Laurell K. Hamilton comes out in paperback Feb. 9 wherever books are sold. It will also be available on Kindle and as an audiobook.