Crystal Bridges Museum of American Art revealed Wednesday plans for a major expansion to be completed by 2024.
The expansion will add nearly 100,000 square feet to the facility, increasing the 200,000-square-foot museum by 50%. Internationally renowned Safdie Architects returns to create the expansion after completing the original design for the museum.
Increasing Crystal Bridges' footprint so substantially will move the institution from the 45th to the 28th largest U.S. art museum in scale, but the expansion isn't about competition, says Crystal Bridges Public Relations Director Beth Bobbitt.
"It is in response to meeting the need," she said. "A few years ago, Ms. Walton and Mr. Safdie were talking about the 25-year master plan, and it was determined that based on the demand and impact of opening Crystal Bridges, an expansion should happen sooner."
Walmart heiress Alice Walton, Crystal Bridges founder and board chairwoman, confirmed that need in a news release.
"With the number of visitors we welcome annually, it's timely to enlarge our building and make sure more people can access these offerings. Having Safdie Architects expand on its original Crystal Bridges design with this new addition will create a unified experience for enjoying art, nature and architecture."
Approaching the museum's 10th anniversary, Crystal Bridges has transformed the community and the community has "transformed us," Bobbitt said. The museum has welcomed more than 5.2 million people, including 280,000 students on field trips, since opening Nov. 11, 2011.
"It's an incredible story to have followed where someone is supporting American art, is making such an investment, and then also just really bringing the art to her hometown and having that be a driver for the whole area," mused Matthew Israel, curator, writer and Ph.D art historian. Israel is also co-founder and chief curator of Artful, a company focused on contemporary art travel, that visited Crystal Bridges in the fall and is planning another visit this year.
"I think it's just always a way," he continued, "that people who are interested in contemporary art want to think about how contemporary art can kind of build and influence a society."
The expansion will provide a 65% increase in gallery space. Two new galleries will expand the exhibition capacity of the museum's permanent collection, which has grown from 1,500 pieces at its opening to more than 3,500.
Space for temporary exhibitions also will grow.
More education spaces and a dedicated floor with community gathering areas and spaces for artists of all ages and abilities to create will further engage community visitors, according to the press release.
It's a massive endeavor for any institution, said Alex Greenberger, senior editor of ARTnews, the most widely circulated art magazine in the world, according to its site.
"Not just for a museum that's outside Los Angeles or New York, but even for a museum in Los Angeles or New York, it would be huge," he said.
Greenberger offered the recent expansion to the Museum of Modern Art in New York City for comparison: That expansion yielded some 40,000 square feet of new space, increasing gallery space by one-third upon its reopening in 2019.
"You really feel the expansion when you're actually in a museum and you're going through something of that size. It feels like a different institution, ultimately," Greenberger said.
Other expansion highlights include growing the collection of pavilions nestled into the landscape surrounding the museum. A new bridge connecting two galleries will offer nontraditional space for art that isn't sensitive to light and will house a new cafe. A new outdoor event plaza also will increase opportunities for programming and performances.
PRESERVING PRINCIPLES
Architect Moshe Safdie of Boston-based Moshe Safdie and Associates returns to the project to integrate the new elements with the facility's structures, according to the release.
The coalescence of art, architecture and nature that has become synonymous with Crystal Bridges originated from Safdie's design of a structure that complemented the forested ravine in which it sits -- swaths of glass on nearly all sides inviting nature inside the galleries at every turn and natural, regionally sourced material further bridging the exterior and the interior, according to the release.
"There's sort of two major movements in art museum creation," Israel said, explaining why Crystal Bridges has become a "bucket-list" destination for arts lovers.
"One is refabbing a historically industrial space, which you've seen with the Momentary. The other is actually creating a space that's almost a work of art unto itself and is unabashedly almost like a sculpture. And so I think people are fascinated reading about Crystal Bridges and always want to visit beautiful museums."
The Momentary, a 63,000-square-foot contemporary arts space, opened in February 2020 in a former Kraft Foods cheese plant in the 8th Street market district of southeast Bentonville.
The venue is the first in the region to offer multidisciplinary art programming to include visual, performing and culinary art experiences; festivals; and an artists-in-residence program all in one location, according to Lieven Bertels, Momentary director.
Crystal Bridges owns the nonprofit venue, which was inspired by the vision of Tom, Olivia and Steuart Walton, according to Emily Neuman, Momentary senior communications manager.
Safdie said at the 2005 news conference announcing Crystal Bridges the design evolved as a complex that reaches out.
"Museums were exclusive, introverted buildings, and today's museum is a very different affair. It is for everyone," he said.
The new space will be a continuation of that commitment to expanding access for all and providing an inclusive environment. Despite the museum's relative youth, that inclusivity is one thing Greenberger has been impressed by in the curatorial program's continued development.
"A lot of museums are really saying, how does our collection, or how does it not, in some cases, reflect the diversity of American art history?" Greenberger said. "And I think that Crystal Bridges is an unusual institution in that their collection really does reflect the diversity of American art history. And that is something that I would say they've been really trying hard, maybe even a bit longer than other recent U.S. institutions, to show."
Preserving and highlighting nature also remains a priority in expanding the structure's design.
"Crystal Bridges and Safdie Architects are taking great care to minimize the impact on the natural landscape," said Scott Eccleston, director of operations for Crystal Bridges.
Teams on both sides are working closely with the U.S. Army Corp of Engineers to reestablish the habitat of Town Branch Creek and are being careful to remove as few trees as possible, he added.
"We are committed to replanting 30% more trees than what we remove and are working on plans for a wildlife area with native pollinators for bees and butterflies. Some of the new buildings have more than 40% of their exterior wall buried into the cliffside, which reduces energy consumption for heating and cooling."
EVER-EXPANDING
The project is in the design development phase with construction set to begin in early 2022, and a goal of completion in 2024.
This expansion follows a reconfigured main lobby and courtyard, also designed by Safdie Architects, to be completed next month, among other recent and forthcoming projects.
"In its first 10 years, Crystal Bridges has catalyzed economic development in Northwest Arkansas by transforming the region into a destination for tourism and enhancing the quality of life for our residents," Nelson Peacock, president and CEO of the Northwest Arkansas Council, said in the Wednesday release. The council is a group of business and community leaders.
"The museum's expansion will open opportunities for artists and creatives and provide access to more world-class art in our community," Peacock said.
Kalene Griffith, Visit Bentonville president and CEO, echoed Peacock's sentiments. In an interview in March 2020, Griffith listed some of the arts and culture fixtures that opened in downtown Bentonville over the last decade.
"Within four years, we had three major attractions in our community, all brand new," she said, noting Crystal Bridges' opening in 2011, the 21c Museum Hotel opening in 2013 and the Scott Family Amazeum in 2015.
"They were the catalyst for our growth in the cultural amenities and the cultural events that we have now," she said of Crystal Bridges.
The Bentonville Planning Commission unanimously approved plans Tuesday for the Whole Health Institute, which Alice Walton plans to build near Crystal Bridges.
Establishment of the institute was announced during the Northwest Arkansas Council's winter meeting at Crystal Bridges in January 2020. The groundbreaking will take place this spring with an estimated completion date of summer 2023.
The institute will be on the museum's 120-acre grounds and will include space for interactive programs and convention space for up to 800 people, according to a news release in December.
The 77,000-square-foot multiuse office and community gathering space will include access to the Chopra Library and offices for the institute and Art Bridges. Walton founded Art Bridges, which creates and supports programs to expand access to American art across the nation, according to the museum website.
Jocelyn Murphy may be reached by email at [email protected]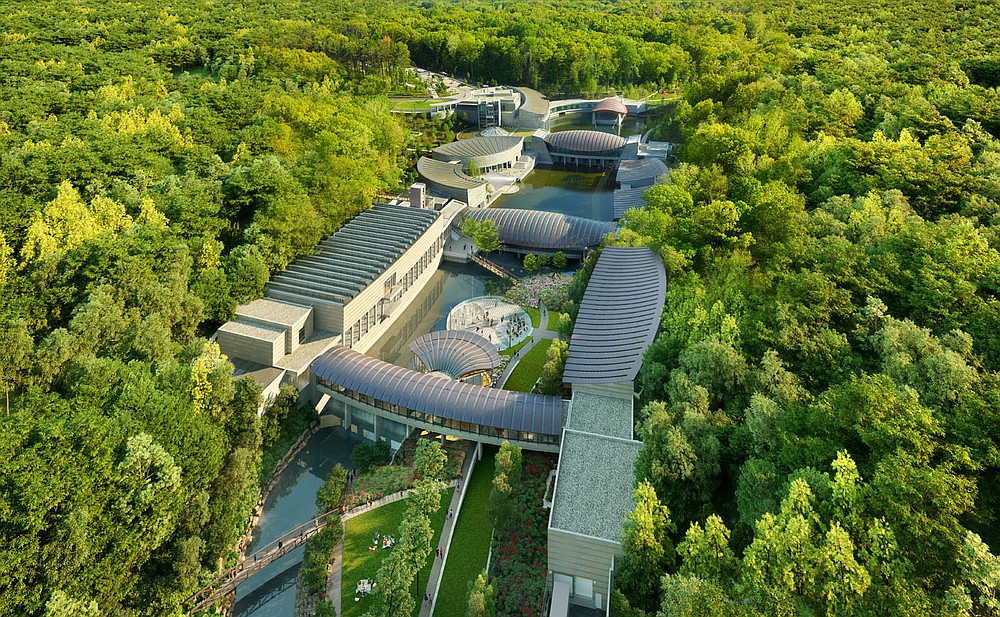 This artist's rendering, an aerial view looking south, shows the planned 100,000-square-foot expansion of Crystal Bridges Museum of American Art in Bentonville. The project will increase gallery space by 65% and provide education and studio areas, another cafe and "spaces for refl ection and gathering." (Special to the Democrat-Gazette)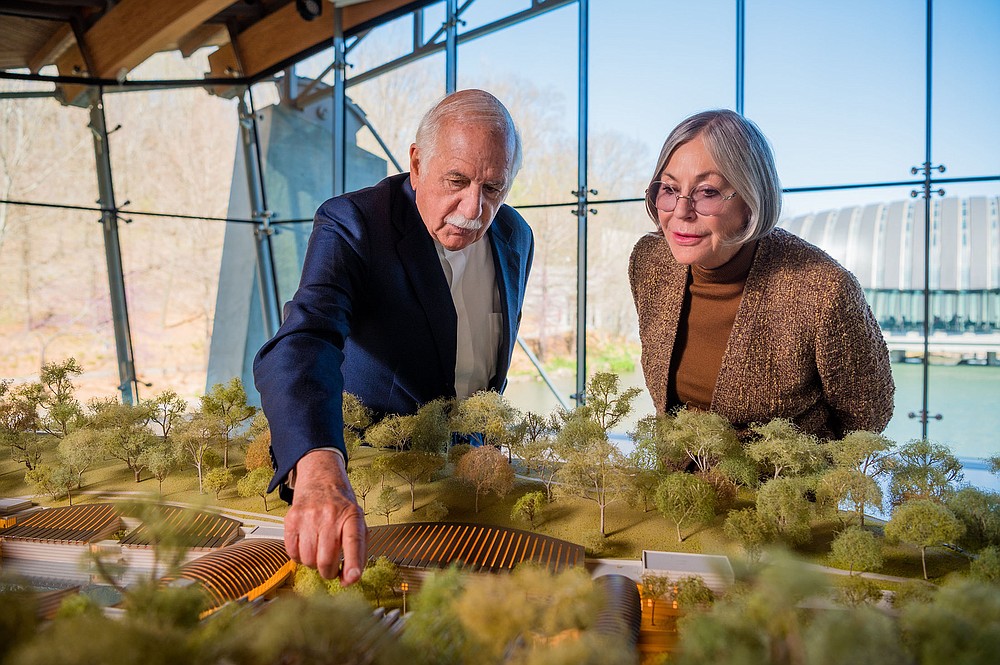 Architect Moshe Safdie and Alice Walton, founder of the Crystal Bridges Museum of American Art, look over the diorama of a planned expansion of the museum Wednesday in Bentonville. Safdie's firm is designing the addition. (Special to the Arkansas Democrat-Gazette)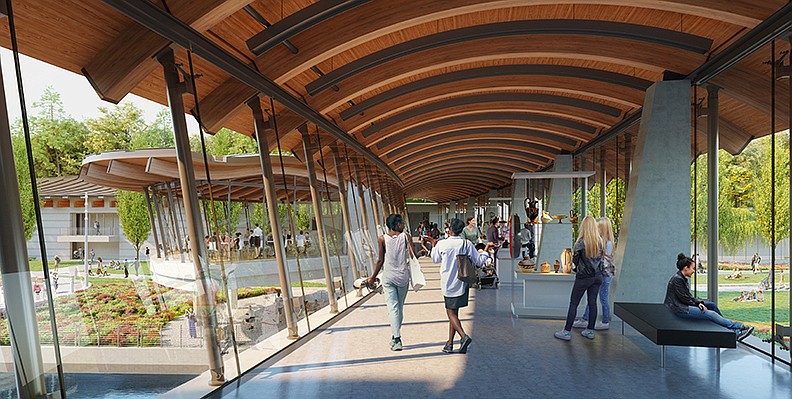 An artist's rendering depicts the new bridge connecting the current and future galleries at the Crystal Bridges museum. (Special to the Arkansas Democrat-Gazette)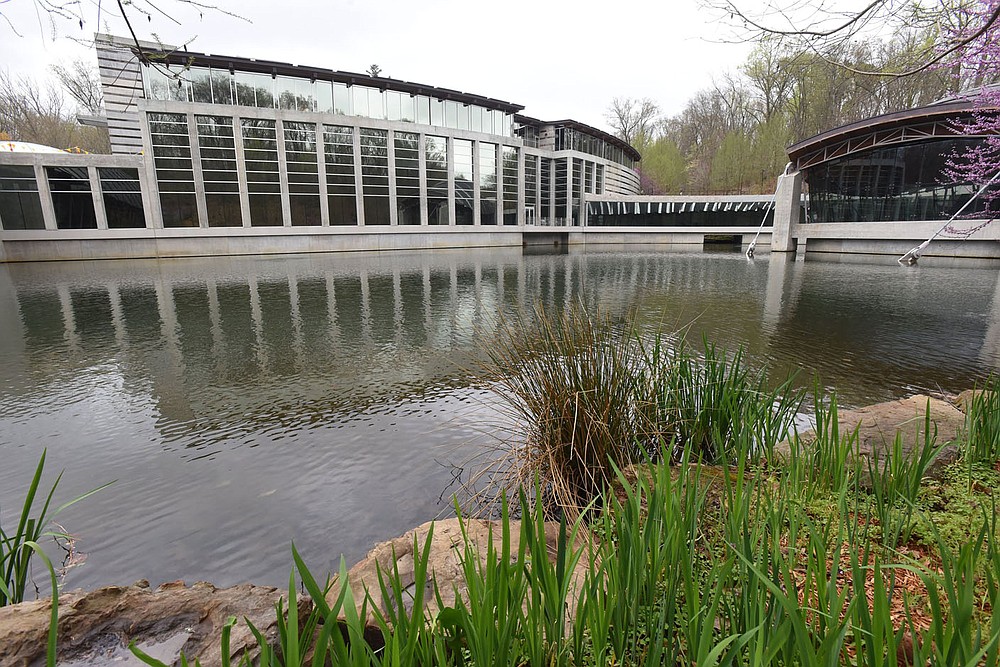 A major expansion at Crystal Bridges Museum of American Art in Bentonville, seen here on Wednesday April 7 2021, will expand the size of the current museum by 50 percent. Go to nwaonline.com/210408Daily/ to see more photos. (NWA Democrat-Gazette/Flip Putthoff)
More News
Other work
The Arkansas Arts Center in Little Rock also is undergoing an expansion and has rebranded as the Arkansas Museum of Fine Arts. The $142 million renovation and expansion is designed by Chicago-based Studio Gang.