Even if a picture is worth 1,000 words, it can't adequately convey the impact of 518 Combat Boot Display on the state Capitol steps. Only a walk-through can do that and the heartbreak the boots convey has been felt in all of the state's 75 counties, including Jefferson County.
Among those honored Sunday morning were U.S. Army Sgt. 1st Class James Doster of White Hall, who was killed Sept. 29, 2007, in a roadside bombing in Baghdad, Iraq, and U.S. Army Sgt. Michael J. Strachota of Pine Bluff, who was killed June 24, 2012, near Kandahar, Afghanistan, in a vehicle collision. Both towns are in Jefferson County.
Each pair of boots represented a service member who has died on active duty since Sept. 11, 2001. That was the day when 19 terrorists affiliated with Al-Qaida turned four American commercial airplanes into weapons and destroyed the Twin Towers in New York and the Pentagon in Washington, D.C.
Each boot contains a name, rank and a year of death.
"It's visually powerful...surreal," said Christy Brooks who drove 2½ hours from Jonesboro early Sunday for the Combat Boot Display.
Her brother, Staff Sgt. Paul Brooks, was among those represented by the 518 pairs of boots lining the Capitol steps in honor of Gold Star Families Day.
Sue Johnson, who was traveling with her husband from Charlotte, N.C., to see the state's Capitol, likened the experience to walking through a cemetery.
"It was quite moving," Johnson said.
The exhibit was for all fallen military service personnel, not just combat-related deaths, said Andrea Fisher, event organizer and Camp Joseph T. Robinson's Survivor Outreach Services support coordinator.
The display was open from 9 a.m. until 3 p.m., and about 150 people visited the memorial. This will become an annual event, Fisher said.
The boots were of various styles and purchased by the families or others. And volunteers from Little Rock Air Force Base in Jacksonville, Camp Joseph T. Robinson in North Little Rock and Camp Pike, located inside Camp Robinson, set up the display Sunday morning starting at about 7 a.m.
Brooks said she was touched by the event, adding, "It was worth the drive."
Fisher said they had encouraged the public to "Please stop by to read the names, see the faces and share in the legacy of our fallen heroes...they may be gone but never forgotten."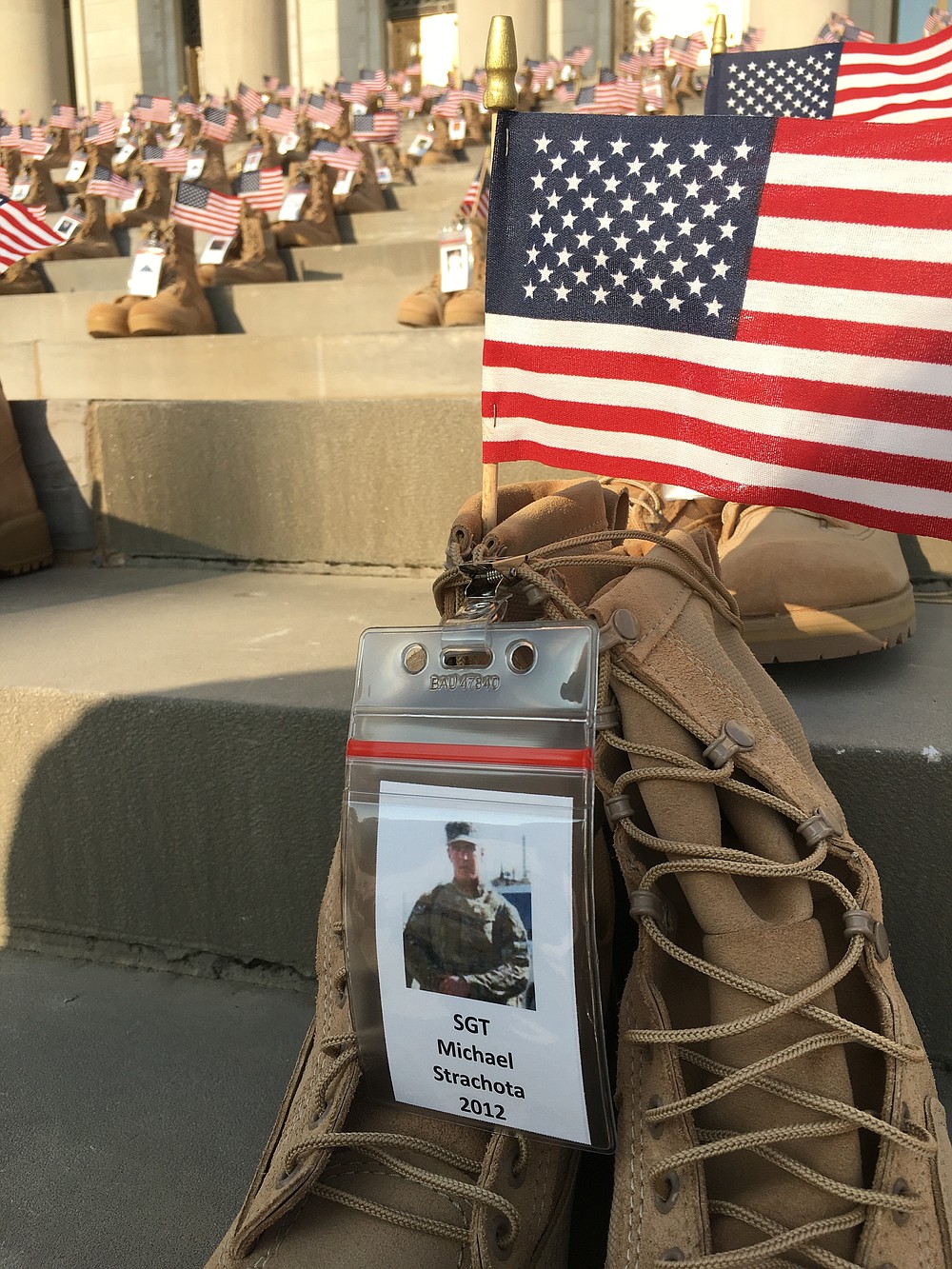 U.S. Army Sgt. Michael J. Strachota from Pine Bluff died June 24, 2012, near Kandahar, Afghanistan. Deborah Horn/Special to The Commercial