A pillar of the community, active, respected, an influential citizen of Jefferson County and throughout the nation who made history throughout her years.
That describes Viralene J. Coleman, 92, of Pine Bluff, who died Sunday, Sept. 20. Coleman served the University of Arkansas at Pine Bluff for 37 years as an English and literature teacher. She was the chair of the Department of English and Mass Communications when she retired.
In her honor, UAPB named its on-campus English writing computer lab the Viralene J. Coleman Computerized Writing Center in April 2003.
So who was this distinguished professor?
On, Wednesday, June 4, 1969, the Pine Bluff Commercial first introduced Coleman to the community as the first Black to get a doctoral from the University of Arkansas at Fayetteville.
"At first I couldn't believe that I had really done it," said Coleman as she patted her new diploma in the 1969 article. "But there it is, Viralene Johnson Coleman, Doctor of Philosophy."
Coleman, a Waterloo native (Nevada County), moved to Pine Bluff with her husband, the late Elijah Coleman, and their children, Ronald and Sandra, in 1954. Her husband became the principal at Townsend Park High School, a segregated all-Black high school, and she joined the faculty as an English teacher. Coleman went on to compose the school's alma mater, "Oh, We Cherish Townsend Park High."
Coleman graduated as a high school valedictorian, which earned her a college scholarship. She received her bachelor's degree in English at Arkansas AM&N College in 1950, now known as UAPB, and earned her master's degree from the University of Arkansas in 1959.
Coleman said she was asked to teach at AM&N after getting her master's degree but refused because of the fear of not having enough depth for college students.
She ended up joining the staff in 1960 after colleagues convinced her that college freshmen were newly graduated high school seniors.
After teaching a few years and wanting to pursue more with her career, Coleman took a sabbatical from teaching at AM&N to start working on her doctorate.
Passing her language requirement exams (French and German) and an intensive research requirement of a 500-page doctoral dissertation, Coleman made history at the University of Arkansas as the first Black to receive that degree.
She returned to AM&N College the following academic school year and resumed her profession.
Lawrence A Davis , served as the chancellor at UAPB for 21 years before retiring in 2012. Before being named chancellor in 1991, he was a professor at UAPB and admired Coleman's tenacity and work. Davis described Coleman as an outstanding professor, teacher, educator and administrator.
"She was a person that you could always depend on if you had a challenge with the university," said Davis.
Davis said Coleman's outstanding leadership drew excellent professor recruits to her well-run English department. As chair she supervised programs in humanities, religion and philosophy, and modern foreign languages.
She established a chapter of Delta Sigma Theta (a national English sorority), developed a degree-granting program in journalism, revised the freshman writing program and expanded the English curricula.
"We named the writing center after her because of the efforts of her teaching," said Davis. Although she was retired from full-time teaching during the naming ceremony, she was still active on UAPB's campus as an adjunct faculty member.
Coleman's innovative ways of teaching got her noticed on a national level.
She received numerous recognitions and awards, including a Woodrow Wilson National Fellowship, National Endowment for the Humanities fellowships, and Rockefeller grants.
Coleman also served as test developer and reader for Educational Testing Services, and College Board, and as a test reviewer for the National Endowment for the Humanities.
In 1984, she was named "Humanist of the Year." Secretary of State Paul Riviere, who presented the award, said that "one person can make a difference" adding that her programs were not only well-organized but also well-attended in addition to being interesting.
Some of her programs presented included: "Rime of the Ancient Mariner;" "Shakespeare: The Globe and the World;" "The Search for Alexander;" "The Church in the Black Community;" and "The University and the Community."
King David Godwin, a former dean of the College of Arts and Sciences and professor at Grambling State University who studied higher education at UAPB under Coleman, remembers her as a woman of integrity and grace.
"A true humanitarian, leader, educator and ambassador of good will, faith and love," wrote Godwin on Coleman's online obituary. "I served under her leadership for 15 years, and she taught me how to be a leader extraordinaire. She lived by example, and I am such a better man because of her pouring into my spirit."
Coleman was a faithful member of Faith Presbyterian Church and the Delta Theta Sorority. Those who knew her said she made a mark in history and lived her life with acts of charity, kindness and goodwill.
"I can't say enough good words about her except she was an outstanding individual," said Davis in remembrance of Coleman. "She deserves a great recognition because of her outstanding work."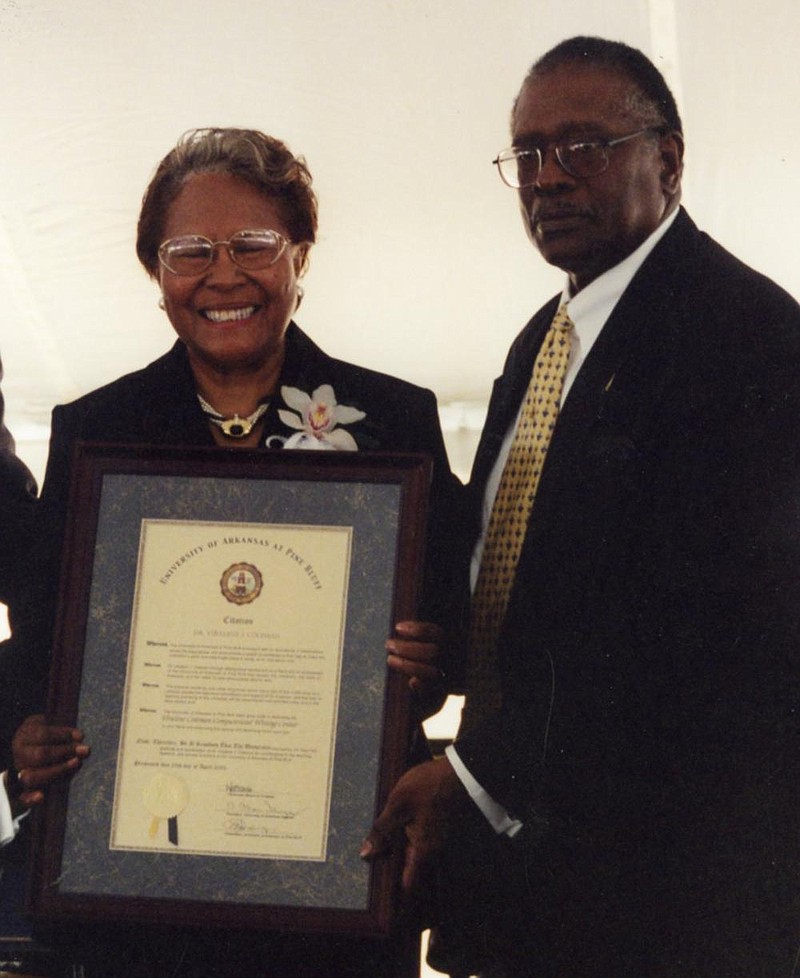 Viralene J. Coleman stands with former University of Arkansas at Pine Bluff Chancellor Lawrence Davis. (Special to The Commercial)