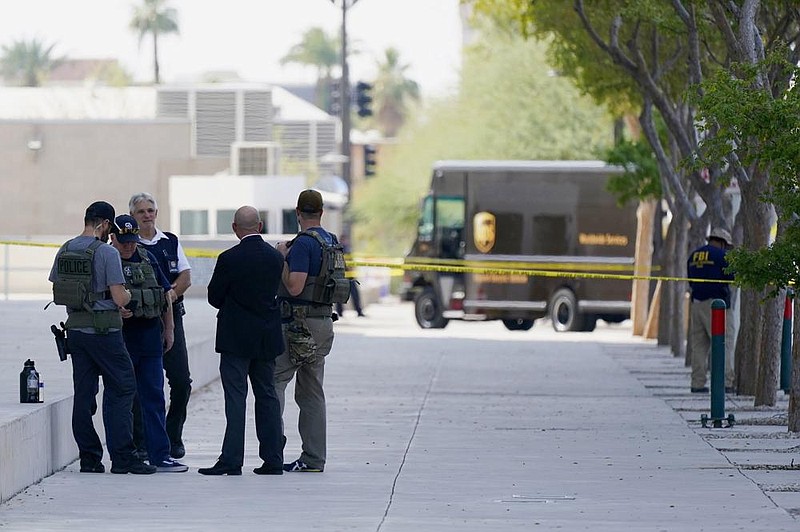 Federal law enforcement personnel work Tuesday outside the Sandra Day O'Connor Federal Courthouse in Phoenix. (AP/Ross D. Franklin)
Marshal injured in Phoenix shooting
PHOENIX -- A drive-by shooting wounded a federal security officer outside the U.S. courthouse in downtown Phoenix on Tuesday, and a person was later taken into custody, authorities said.
The officer was taken to a hospital and was expected to recover, according to city police and the FBI. Jill McCabe, a spokeswoman for the FBI's Phoenix office, said someone was later detained and there was no indication of a further threat to the public.
The court security officer works for the U.S. Marshals Service and was struck in his protective vest, said a law enforcement official who spoke on condition of anonymity because they were not authorized to discuss the investigation publicly.
The FBI said it isn't providing any more details as it investigates. Police had released a photo of a silver sedan spotted leaving the area around the Sandra Day O'Connor U.S. Courthouse.
U.S. cites China, Hong Kong travel risk
WASHINGTON -- The U.S. on Tuesday issued a sweeping new advisory warning against travel to mainland China and Hong Kong, citing the risk of "arbitrary detention" and "arbitrary enforcement of local laws."
The advisory is likely to heighten tensions between the sides that have spiked since Beijing's imposition on Hong Kong of a strict new national security law in June that has already been met with a series of U.S. punitive actions.
The statement warned U.S. citizens that China imposes "arbitrary detention and exit bans" to compel cooperation with investigations, pressure family members to return to China from abroad, influence civil disputes and "gain bargaining leverage over foreign governments."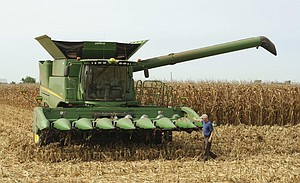 Photo by The Messenger-Inquirer
Tony Fischer of Fischer Farms Inc. clears cornhuskings from his combine as he harvests crops Tuesday afternoon in Owensboro, Ky. (AP/The Messenger-Inquirer/Alan Warren)
"U.S. citizens traveling or residing in China or Hong Kong, may be detained without access to U.S. consular services or information about their alleged crime. U.S. citizens may be subjected to prolonged interrogations and extended detention without due process of law," the advisory said.
When in Hong Kong, U.S. citizens are "strongly cautioned to be aware of their surroundings and avoid demonstrations," the advisory said.
Chinese foreign ministry spokesperson Wang Wenbin told reporters at a daily briefing Tuesday that the U.S. should "fully respect the facts and should not engage in unwarranted political manipulation" when issuing such advisories.
Senators seek info on dark web opioids
CONCORD, N.H. -- U.S. Sen. Maggie Hassan, D-N.H., is asking the U.S. attorney general's office and the FBI for a progress report on illegal drug trafficking, particularly of fentanyl and other opioids, on a hidden part of the internet known as the dark web.
Hassan was joined by Sens. Dianne Feinstein, D-Calif., and John Cornyn, R-Texas, in a letter Tuesday asking for information regarding the work of the Joint Criminal Opioid Darknet Enforcement, known as J-CODE.
That was created by former U.S. Attorney General Jeff Sessions in 2018 to develop a strategic plan to disrupt and dismantle dark web marketplaces that facilitate the distribution of opioids. The senators wrote that the dark web can provide anonymity to those who use it, hiding identities and locations.
The senators asked whether the Justice Department has a system that tracks indictments and investigations related to crimes involving the dark web and opioids; if authorities have been able to determine which countries opioids are coming from on the dark web; and whether there are technology companies that provide secure or encrypted communications that don't cooperate with law enforcement with respect to drug trafficking.
Asian gang sweep results in 18 arrests
LOS ANGELES -- Authorities arrested 18 people who have ties to Asian gangs operating in Southern California that illegally sold drugs and guns as part of an 18-month investigation, federal officials said Tuesday.
The probe into the Black Dragons, Wah Ching and Asian Boyz gangs was based on their activity in the San Gabriel Valley, said Jack Bennett, acting assistant director in charge of the FBI's Los Angeles field office.
Officials say they seized hundreds of thousands of dollars in cash, an illegal marijuana growing operation, 28 pounds of methamphetamine and 4 ounces of cocaine and crack cocaine, as well as 16 firearms. Several of the guns were described as so-called "ghost guns" that do not have manufacturing or serial number identifications.
Authorities arrested 18 people Tuesday using SWAT teams. Four other suspects were already in custody and three remain at large, authorities said. Prosecutors have filed seven indictments against the 25 defendants, who could face 10 years to decades in prison if convicted.
The three gangs are made up of Vietnamese, Chinese and Korean members, officials said, and fuel some of the area's violent crimes as a "decentralized criminal network."
"They tend to be loosely affiliated and go out of their way to evade low enforcement and stay low on the radar," Bennett said.
-- Compiled by Democrat-Gazette staff from wire reports
Print Headline: The Nation in Brief
Sponsor Content
Comments