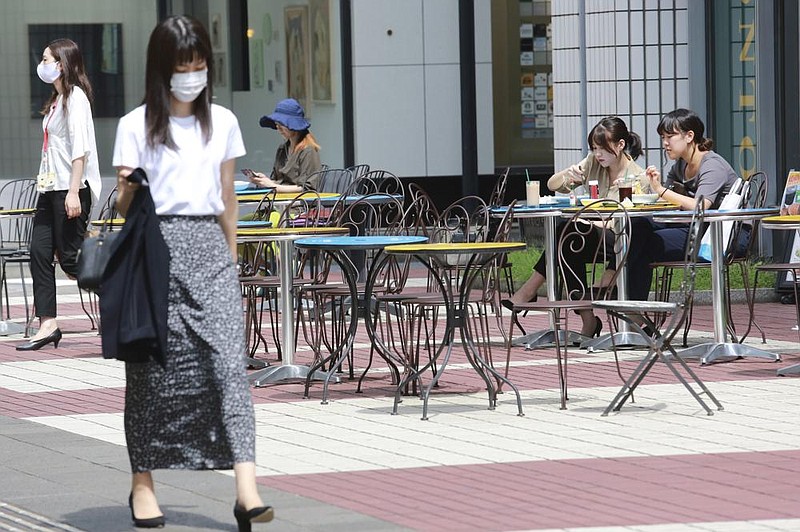 Diners enjoy lunch outside a restaurant Tuesday in Tokyo. (AP/Koji Sasahara)
24 migrants dead, missing off Libya
CAIRO -- The U.N. migration agency said Tuesday that a boat carrying migrants bound for Europe capsized in the Mediterranean Sea off Libya, leaving at least two dozen people drowned or missing and presumed dead, the latest shipwreck off the North African country.
Safa Msehli, a spokeswoman for the International Organization for Migration, told The Associated Press that Libya's coast guard intercepted three boats on Monday, and one of them had capsized.
She said the coast guard retrieved two bodies, and survivors reported 22 others were missing and presumed dead.
At least 45 survivors on the three boats were returned to the shore. All migrants were men, with a majority from Egypt and Morocco, she said. Survivors and other intercepted migrants were taken to a detention center in the Libyan capital, Tripoli, Msehli said.
"This new tragedy signals yet again the need for increased search and rescue capacity in the Mediterranean. Instead, we are seeing restrictions on NGOs and long, unnecessary stand-offs," Msehli said.
The shipwreck was the latest maritime disaster involving migrants seeking a better life in Europe. Msehli said last month more than 350 migrants died in the central Mediterranean this year.
Vietnam sentences 7 human smugglers
HANOI, Vietnam -- A court in central Vietnam on Monday sentenced seven people to up to 7½ years in prison for smuggling a woman who later died in a truck together with 38 other people as they were being transported into Britain, state media reported Tuesday.
According to the Thanh Nien newspaper, the six men and one woman were found guilty of "organizing and brokering" illegal immigration by the Ha Tinh provincial court in central Vietnam.
Nguyen Quoc Thanh, Nguyen Thi Thuy Hoa and Tran Dinh Truong received jail sentences ranging from five to 7½ years, while the other defendants received probation for orchestrating the smuggling of 26-year-old Pham Thi Tra My into England, the newspaper reported.
They were accused of receiving $21,000 to take the woman from her hometown in Ha Tinh province to China, where they used a false passport to travel to France before loading her into a container truck to enter Britain last October.
From the sealed container, My sent a string of texts to her mother in Vietnam saying "I can't breathe," typing out her name and home address before passing out.
The authorities identified the rest of the victims, including 10 in their teens, as Vietnamese nationals who left the country to find better opportunities in the West.
U.N. resolution backs Afghan peace talks
UNITED NATIONS -- The U.N. Security Council unanimously adopted a resolution Tuesday welcoming the start of negotiations between Afghan representatives and the Taliban, encouraging the warring parties to engage in good faith and aim for a permanent cease-fire and political settlement to their 19-year conflict.
The resolution, which also extended the U.N. political mission in Afghanistan into next September, also strongly encourages the parties "to continue pursuing confidence-building measures including additional reductions in violence."
The Taliban were ousted from power in Afghanistan in 2001 by a U.S.-led coalition for harboring Osama bin Laden, the architect of the Sept. 11, 2001, terrorist attacks on America. The talks in Qatar were laid out in a peace deal that Washington brokered with the Taliban and signed in February, aimed at bringing American troops home and ending more than four decades of relentless wars following the 1979 Afghan invasion by forces from the former Soviet Union.
The so-called intra-Afghan talks in Qatar are expected to set a road map for a post-war society in Afghanistan.
Mali's ex-president of 22 years dies
BAMAKO, Mali -- Mali's former president Moussa Traore, who ruled the West Africa nation for more than 22 years, has died at age 83, according to his son Idrissa Traore. He did not give details on the cause of death.
Traore seized power in a military coup in 1968, eight years after Mali gained independence from France, and amid growing discontent with then-president Modibo Keita, the country's first president.
Traore and other officers set up the Military Committee for National Liberation, abolished the constitution and established a regime. Traore ruled the country as its military leader until 1979 when he installed himself as civilian president of a one-party state. He was the sole presidential candidate in elections held in 1985. Traore was eventually ousted in a coup in 1991 after days of violent protests killed at least 200 people following years of economic decline.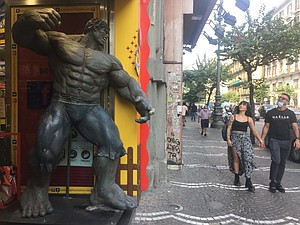 Photo by AP
A couple walks past a giant replica of the Incredible Hulk on display Tuesday outside a toy shop in Naples, Italy. (AP/Gregorio Borgia)
After the coup d'etat of March 26, 1991, Traore was imprisoned and sentenced to death in 1993. Alpha Oumar Konare, who was president from 1992 to 2002, commuted Traore's sentence to life imprisonment and finally pardoned him in 2002.
Traore's death comes nearly a month after military leaders in Mali staged a coup on Aug. 18, deposing President Ibrahim Boubacar Keita, who had three years left in his second term in office.
-- Compiled by Democrat-Gazette staff from wire reports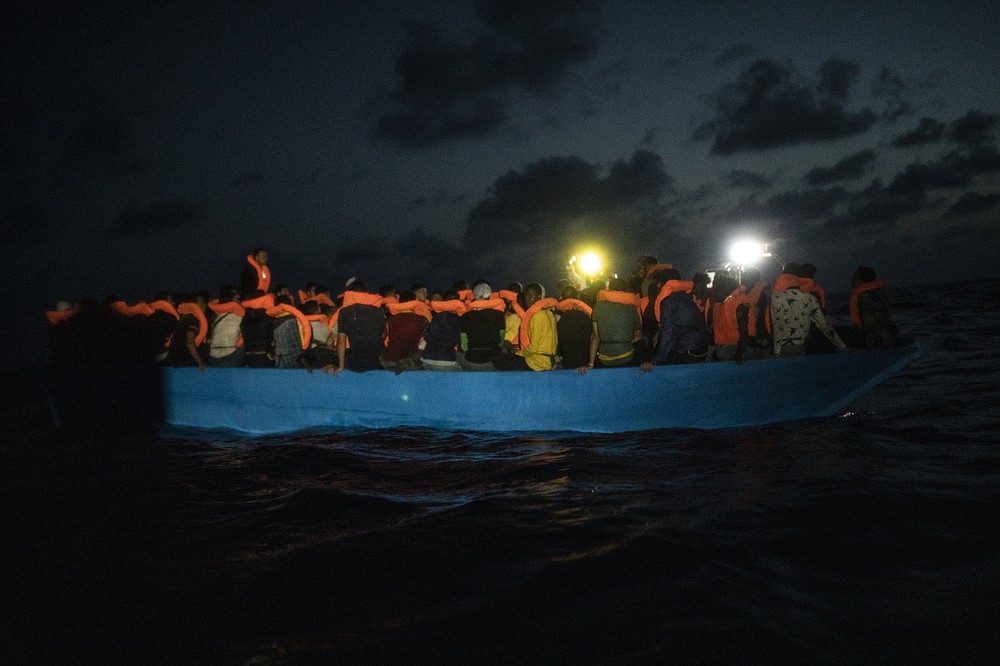 Dozens of migrants from different nationalities, mainly Somalia, Egypt and Morocco, including 14 minors and 4 women, wait to be assisted by a team of aid workers of the Spanish NGO Open Arms, after spending more than 20 hours at sea when fleeing Libya on board a precarious wooden boat, in international waters, in the Central Mediterranean sea, Tuesday, Sept. 8, 2020. (AP Photo/Santi Palacios)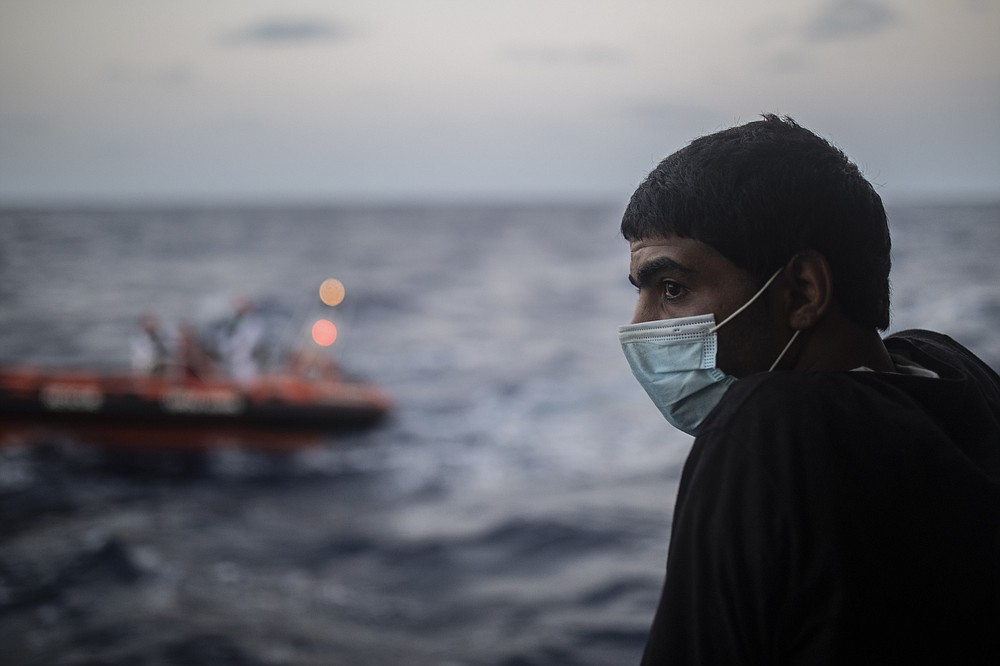 A migrant stands on on board the Spanish NGO Open Arms vessel with other people from different nationalities, including 14 minors and 4 women, on Wednesday Sept. 9, 2020, after being rescued last Tuesday night as they were trying to flee Libya on board a precarious wooden boat, in international waters, in the Central Mediterranean sea. (AP Photo/Santi Palacios)
Sponsor Content
Comments