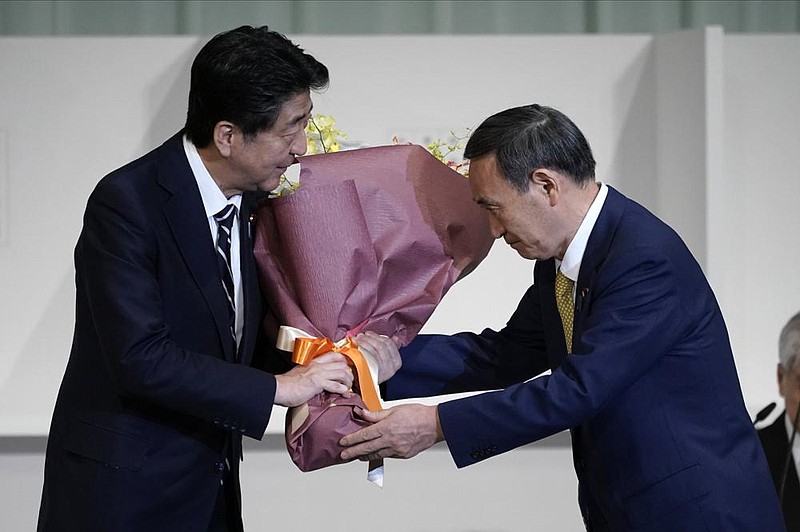 Japan's outgoing Prime Minister Shinzo Abe (left) receives flow- ers from Chief Cabinet Secretary Yoshihide Suga after Suga was elected as the new head of Japan's ruling Liberal Demo- cratic Party at a party election Monday in Tokyo. More photos at arkansasonline.com/915leader/. (AP/Eugene Hoshiko)
TOKYO -- Yoshihide Suga was elected the new head of Japan's ruling party Monday, all but assuring that he will become the country's new prime minister when a parliamentary election is held later in the week.
Despite his low-key image, Suga, 71, has been an important figure in outgoing Prime Minister Shinzo Abe's administration, serving as the government's top spokesperson in his role as chief Cabinet secretary. Abe announced last month that he would resign due to health problems.
Suga's victory in the ruling Liberal Democratic Party vote virtually guarantees his election in a parliamentary vote Wednesday because of the majority held by the LDP's ruling coalition.
Suga, the son of a strawberry grower in northern Japan's Akita prefecture, said he had come a long way.
[Video not showing up above? Click here to view » https://www.youtube.com/watch?v=kqF9Pm-Ee0E]
"I will devote all of myself to work for the nation and the people," he said in his victory speech.
He has said that his top priorities will be fighting the coronavirus and turning around a Japanese economy battered by the pandemic. He gained the support of party heavyweights and their wing members early in the campaign on expectations that he would continue Abe's policies.
Suga received 377 votes in Monday's election. Former Foreign Minister Fumio Kishida received 89 votes, while former Defense Minister Shigeru Ishiba got 68.
"Now I'm handing the baton to new LDP President Suga," Abe said. "We can count on him."
Suga has been a loyal supporter of Abe since his first stint as prime minister in 2006-07. Abe's tenure ended abruptly because of chronic illness, and Suga helped him return as prime minister in 2012.
Suga has repeatedly praised Abe's diplomacy and economic policies when asked what he would like to accomplish as prime minister. He also has defended against scores of favoritism and cronyism scandals, saying investigations into the cases were properly handled.
On the surface, the straight-faced Suga is known for offering bland comments at twice-daily televised news briefings.
Gallery: Yoshihide Suga set to replace Shinzo Abe as Japan's leader
[Gallery not loading above? Click here for more photos » arkansasonline.com/915leader/]
But behind the scenes, he's known for his iron-fist approach to getting jobs done as a policy coordinator and influencing bureaucrats by using the centralized power of the prime minister's office, leading political watchers to call him the "shadow prime minister." Some bureaucrats who have opposed his policies have reportedly been removed from projects or transferred elsewhere.
Suga, whose portfolio also included a ministerial role as head of Okinawa issues in the Abe-led government, has offended local leaders with his high-handed approach to a disputed relocation of a U.S. Marine air station on the southern island. He also sparked criticism last year over his hostile responses to a female reporter asking tough questions about Abe's policies and scandals.
As his parents' eldest son, Suga defied tradition by deciding not to take over the family farm. Instead, he headed to Tokyo, where he became a self-made politician, a rarity in Japan's largely hereditary business of politics -- and a change from Abe, the scion of a political dynasty.
"Where there is a will, there is a way," is Suga's motto.
​​​​​Information for this article was contributed by Liu Zheng of The Associated Press.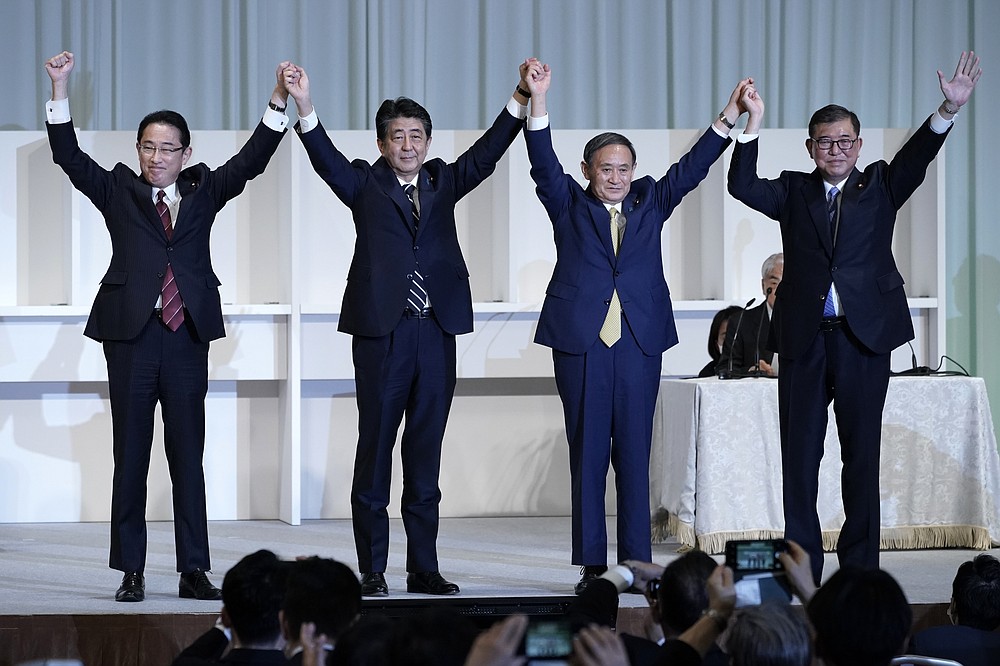 Former Foreign Minister Fumio Kishida, left, Japan's Prime Minister Shinzo Abe, Chief Cabinet Secretary Yoshihide Suga and former Defense Minister Shigeru Ishiba celebrate after Suga was elected as new head of Japan's ruling party at the Liberal Democratic Party's (LDP) leadership election Monday, Sept. 14, 2020, in Tokyo. The ruling LDP chooses its new leader in an internal vote to pick a successor to Prime Minister Shinzo Abe, who announced his intention to resign last month due to illness. (AP Photo/Eugene Hoshiko, Pool)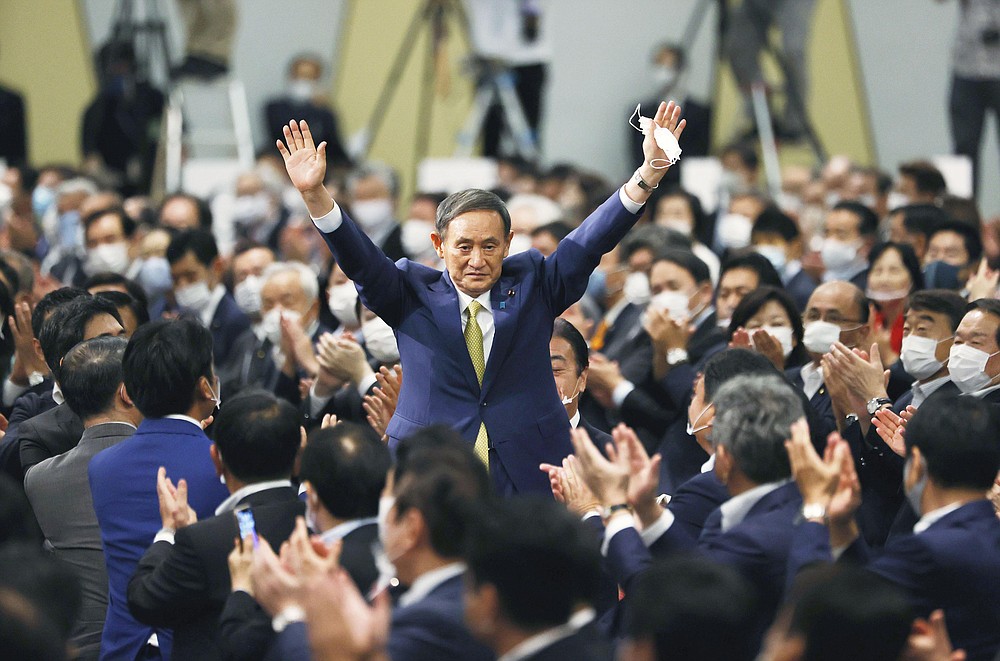 Japanese Chief Cabinet Secretary Yoshihide Suga acknowledges as he is elected as new head of Japan's ruling party at the Liberal Democratic Party's (LDP) leadership election in Tokyo Monday, Sept. 14, 2020. Suga was elected as the new head of Japan's ruling party on Monday, virtually guaranteeing him parliamentary election as the country's next prime minister. (Kyodo News via AP)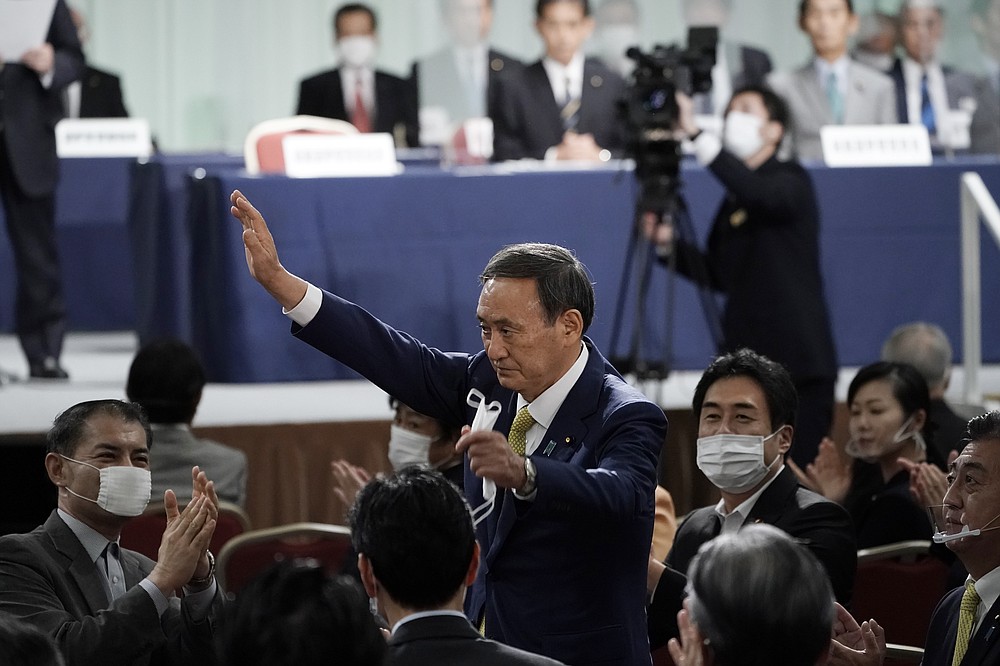 Japanese Chief Cabinet Secretary Yoshihide Suga acknowledges as he is elected as new head of Japan's ruling party at the Liberal Democratic Party's (LDP) leadership election Monday, Sept. 14, 2020, in Tokyo. The ruling LDP chooses its new leader in an internal vote to pick a successor to Prime Minister Shinzo Abe, who announced his intention to resign last month due to illness. (AP Photo/Eugene Hoshiko, Pool)
Japanese Chief Cabinet Secretary Yoshihide Suga acknowledges as he is elected as new head of Japan's ruling party at the Liberal Democratic Party's (LDP) leadership election Monday, Sept. 14, 2020, in Tokyo. The ruling LDP chooses its new leader in an internal vote to pick a successor to Prime Minister Shinzo Abe, who announced his intention to resign last month due to illness. (AP Photo/Eugene Hoshiko, Pool)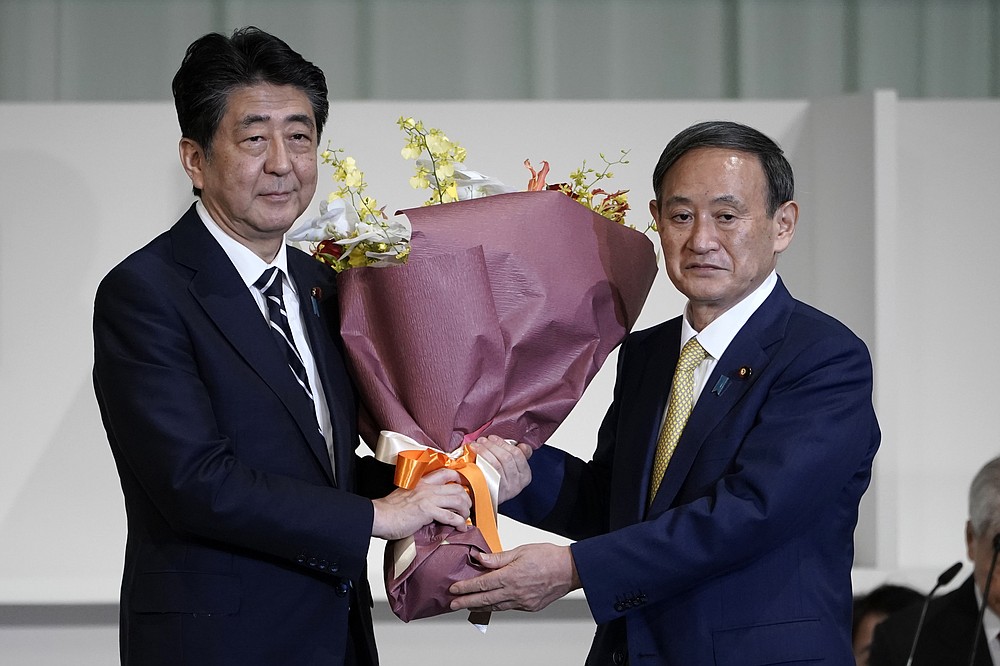 Japan's Prime Minister Shinzo Abe, left, receives flowers from Chief Cabinet Secretary Yoshihide Suga after Suga was elected as new head of Japan's ruling party at the Liberal Democratic Party's (LDP) leadership election Monday, Sept. 14, 2020, in Tokyo. The ruling LDP chooses its new leader in an internal vote to pick a successor to Prime Minister Shinzo Abe, who announced his intention to resign last month due to illness. (AP Photo/Eugene Hoshiko, Pool)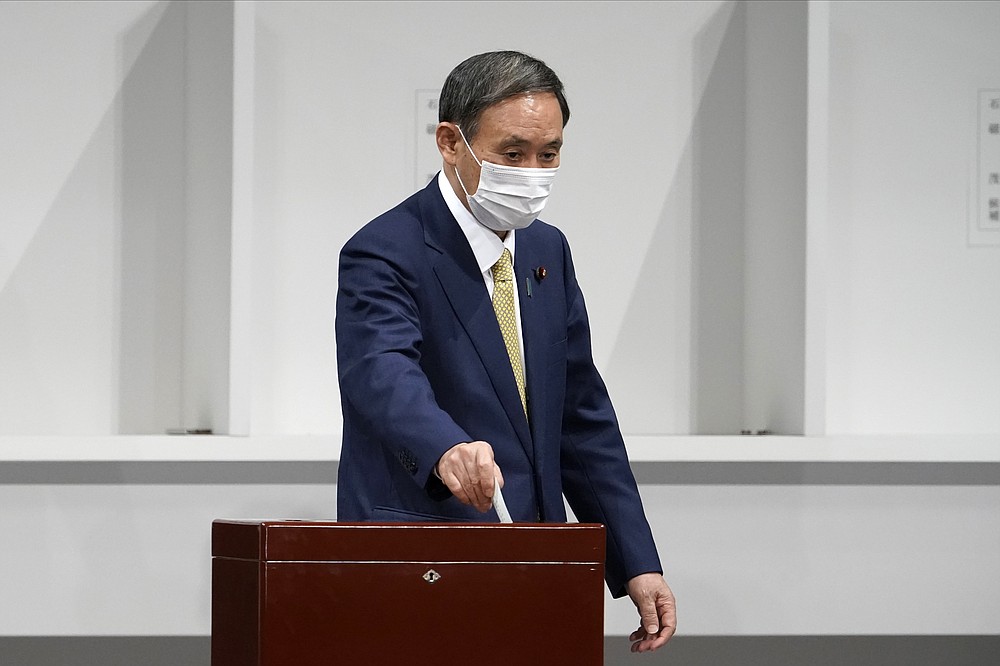 Japanese Chief Cabinet Secretary Yoshihide Suga casts his ballot at the Liberal Democratic Party's (LDP) leadership election Monday, Sept. 14, 2020, in Tokyo. The ruling LDP chooses its new leader in an internal vote to pick a successor to Prime Minister Shinzo Abe, who announced his intention to resign last month due to illness. (AP Photo/Eugene Hoshiko, Pool)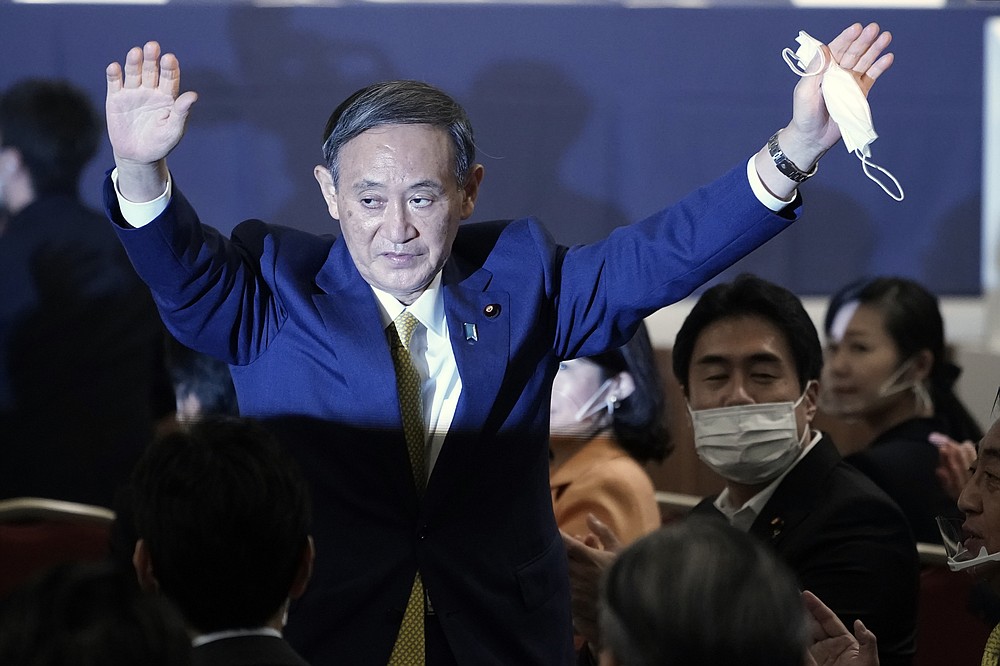 Japanese Chief Cabinet Secretary Yoshihide Suga acknowledges as he is elected as new head of Japan's ruling party at the Liberal Democratic Party's (LDP) leadership election Monday, Sept. 14, 2020, in Tokyo. The ruling LDP chooses its new leader in an internal vote to pick a successor to Prime Minister Shinzo Abe, who announced his intention to resign last month due to illness. (AP Photo/Eugene Hoshiko, Pool)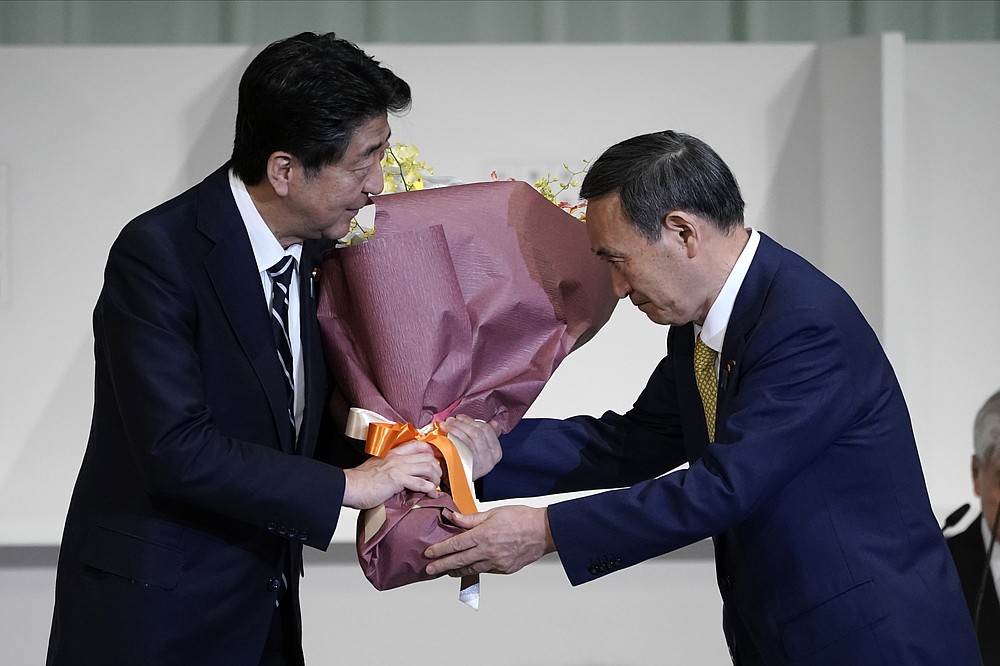 CORRECTS TO THAT JAPAN'S PRIME MINISTER SHINZO ABE RECEIVES FLOWER - Japan's Prime Minister Shinzo Abe, left, receives flowers from Chief Cabinet Secretary Yoshihide Suga after Suga was elected as new head of Japan's ruling party at the Liberal Democratic Party's (LDP) leadership election Monday, Sept. 14, 2020, in Tokyo. The ruling LDP chooses its new leader in an internal vote to pick a successor to Prime Minister Shinzo Abe, who announced his intention to resign last month due to illness. (AP Photo/Eugene Hoshiko, Pool)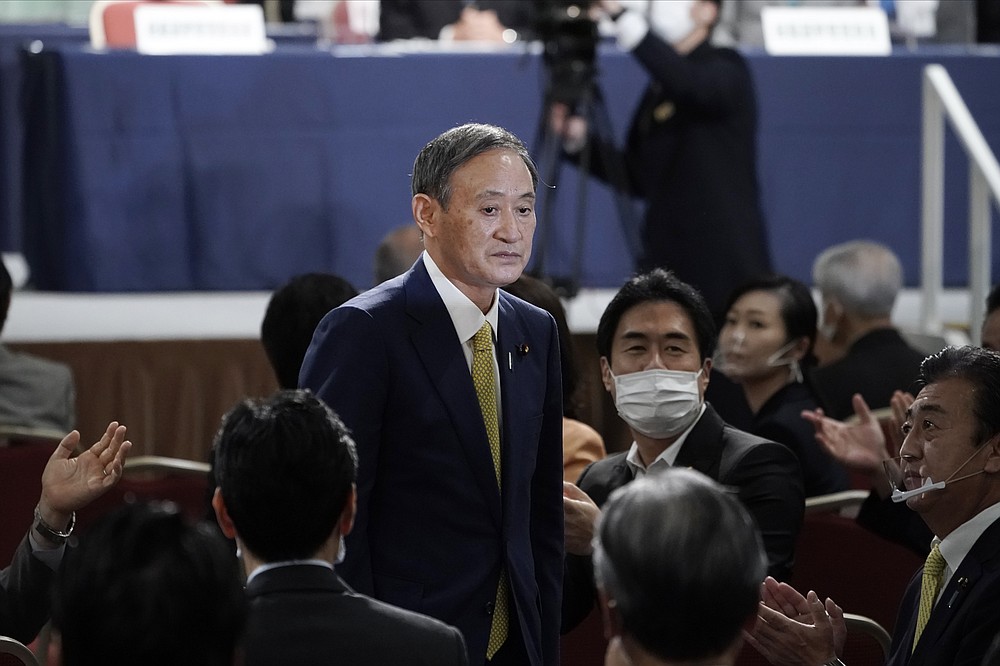 Japanese Chief Cabinet Secretary Yoshihide Suga acknowledges as he is elected as new head of Japan's ruling party at the Liberal Democratic Party's (LDP) leadership election Monday, Sept. 14, 2020, in Tokyo. The ruling LDP chooses its new leader in an internal vote to pick a successor to Prime Minister Shinzo Abe, who announced his intention to resign last month due to illness. (AP Photo/Eugene Hoshiko, Pool)
Sponsor Content
Comments