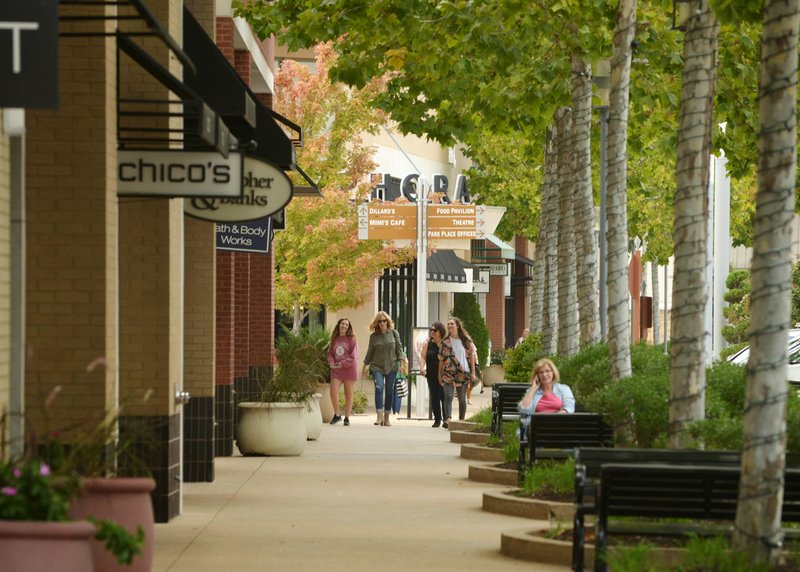 File Photo/NWA Democrat-Gazette/BEN GOFF @NWABENGOFF Shoppers walk at Pinnacle Hills Promenade mall in Rogers.
ROGERS -- The city is discussing creating an entertainment district where people may drink alcohol outdoors.
J.R. Shaw, executive director of Visit Rogers, said Wednesday during an Advertising and Promotions Commission meeting business leaders, representatives of the Rogers-Lowell Area Chamber of Commerce and the city attorney, community development director and police chief have discussed creating the district in the southwest part of the city. The area includes the Walmart Arkansas Music Pavilion and Pinnacle Hills Promenade mall.
Visit Rogers is the name of the city's Advertising and Promotions Commission, which is funded through a hotel tax and is responsible for promoting business and tourism in Rogers. Visit Rogers and the Rogers-Lowell Area Chamber of Commerce work closely together.
A state law passed in 2019 allows cities to create entertainment districts within set boundaries determined by the city. Fayetteville recently established one downtown.
"It's become a bit more appealing to some cities especially now in this pandemic to try to provide every opportunity possible for our restaurateurs and for other leisure establishments to make a buck and stay in business," Shaw said.
The proposed area for the entertainment district includes several restaurants and other businesses such as Top Golf, Chuy's, Walk-On's and Fish City Grill. The exact boundaries are still up for discussion, but Shaw said the idea is for the district to have two areas, on each side of Interstate 49.
Hunt Ventures is a real estate development firm that owns much of the property and developments, such as Hunt Tower, in the area.
"We are open to considering it. It's a new concept," said Tom Allen, executive vice president of Sage Partners, which has merged with Hunt Ventures.
Allen said he's heard mixed opinions and questions from the company's tenants and other businesses. He added many details haven't been worked out, such as whether an entertainment district would require more police patrol or more trash receptacles.
John McCurdy, the city's community development director, said he supports creating a district. A common misconception about the districts is they are synonymous with party zones.
"It doesn't create Bourbon Street," McCurdy said.
The intention is for people to have the option to go out and buy alcohol or food from restaurants without being packed indoors during covid-19, he said.
"It's so people can grab dinner and have a beer and take it to a picnic table and be safer," McCurdy said.
The law states an entertainment district must be in a contiguous area zoned for or customarily used for commercial purposes. Cities must set reasonable standards for the regulation of alcohol possession, according to Act 812 of 2019.
Raymond Burns, president and chief executive officer of the chamber, said businesses will choose whether to participate in the entertainment district. Some may not consider it helpful to their business, while others will. Rogers should give businesses all the tools it can in light of covid-19, he said.
Safety is the biggest concern because it's difficult for bar or restaurant staff to know whether a patron has been served too much alcohol when people can hop to several establishments, Burns said.
"That's a really big liability question," he said.
Participating businesses would sell a standard cup to customers. Customers could then purchase alcohol from different businesses using the same cup and would be required to wear a wristband to show they are 21 or older.
The commission discussed possibly buying the first round of cups for businesses. The cups all need to be the same, have the entertainment district's rules printed on them and be biodegradable, Shaw said. Businesses would purchase the cups and sell them to customers.
Burns said, under normal circumstances, he would have no hesitation saying the commission should purchase the cups. However, the covid-19 pandemic has hurt the Advertising and Promotions Commission's budget. Burns said he'd rather see if a beer distributor would sponsor the cups.
The City Council will ultimately decide whether the entertainment district is allowed. The council hasn't yet been presented with an ordinance to consider.
City and business leaders have not thoroughly discussed establishing an entertainment district downtown, but that could be on the table when the Railyard Park renovation downtown is complete, McCurdy said. He said he tentatively expects the park to be open by mid-April.
Alex Golden may be reached by email at [email protected]
Sponsor Content
Comments