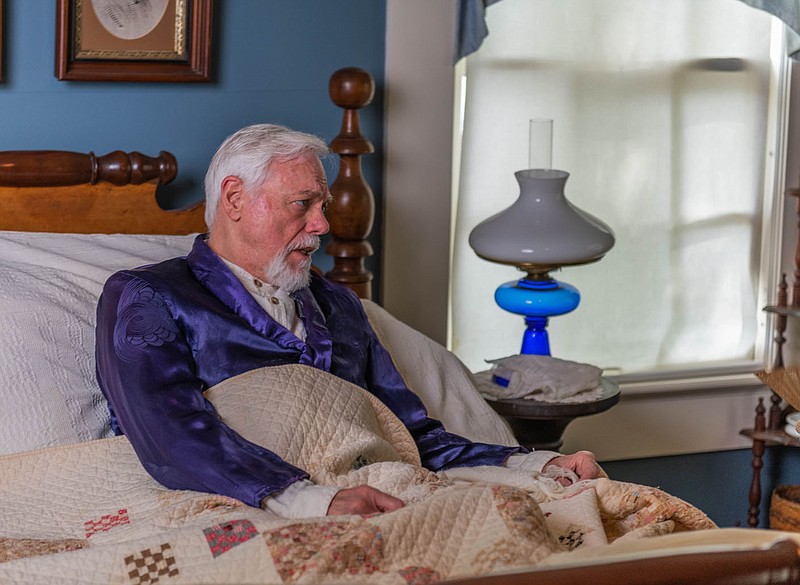 Fayetteville actor Bill Rogers makes his film debut as Fort Smith's infamous hanging judge Isaac Parker in "Indians, Outlaws, Marshals and the Hangin' Judge," released last week. DVDs are available from uapress.com for $19.95. (Courtesy Photo/James Brewer)
Since March, we've talked a lot about artists and arts organizations "pivoting" in the face of a global pandemic -- and, in fact, artists in Northwest Arkansas have proven to be quite adept at finding ways to stay connected with the community while many are staying home. We asked them to let us know what online and virtual programming they've helped create -- as well as what programming created by others they've been enjoying for the past six months. This is Part 1 of a three-part series.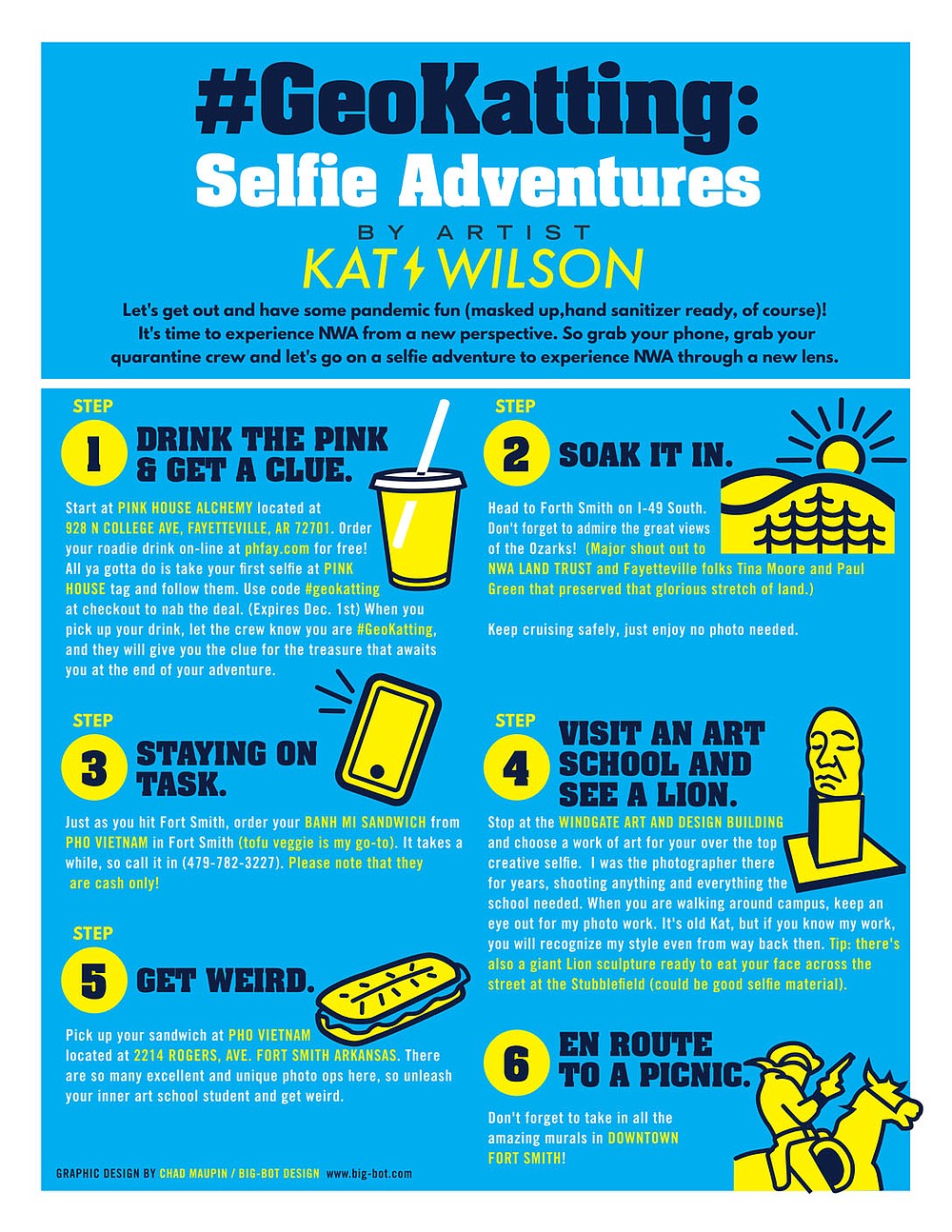 Artist Kat Wilson has become adept at developing pandemic-friendly activities since covid-19 shut most events down; her new one is #geokatting. (Courtesy Photo/Kat Wilson)
Kat Wilson
Artist Kat Wilson took her iconic photographic series "Habitats" and turned it into "Quarantine Habitats," spurring a trend where people across the globe assembled the quarantine necessities getting them through the pandemic for lively photographs. Her new quarantine activity, #geokatting, started Sept. 1.
My Online Projects: Let's get out and have some pandemic fun -- masked up, hand sanitizer ready, of course! It's time to experience Northwest Arkansas from a new perspective. So grab your phone, grab your quarantine crew, and let's go on a selfie adventure to experience Northwest Arkansas through a new lens. Be sure to hashtag your photos on Instagram #geokatting. Thanks to DJ Ambrosia for creating the ultimate playlist for your first #selfieadventure to Fort Smith at https://spoti.fi/35dCKb2. Start at Pink House Alchemy located at 928 N. College Ave. in Fayetteville. Order your roadie drink online at phfay.com for free! All ya gotta do is take your first selfie at Pink House, tag and follow them. Use code #geokatting at checkout to nab the deal. (Expires Dec. 1.) When you pick up your drink, let the crew know you are #GeoKatting, and they will give you a clue for the treasure that awaits you at the end of your adventure. Be on the lookout for future #geokatting in Springdale, Rogers and Bentonville!
How I've enjoyed what others have contributed: During the pandemic, the International Center of Photography started offering online courses with world-renowned art critique David Campany. I've now taken a course called "Writing About the Single Image" and several workshops. This is something I could not have done in person. It's not an option for me to fly to New York City and take an eight-week course to continue my education. ICP is about to drop their new courses for the fall, and I can't wait to see what they will be offering -- hopefully more with David Campany, whom I met at Crystal Bridges for his exhibit "The Open Road."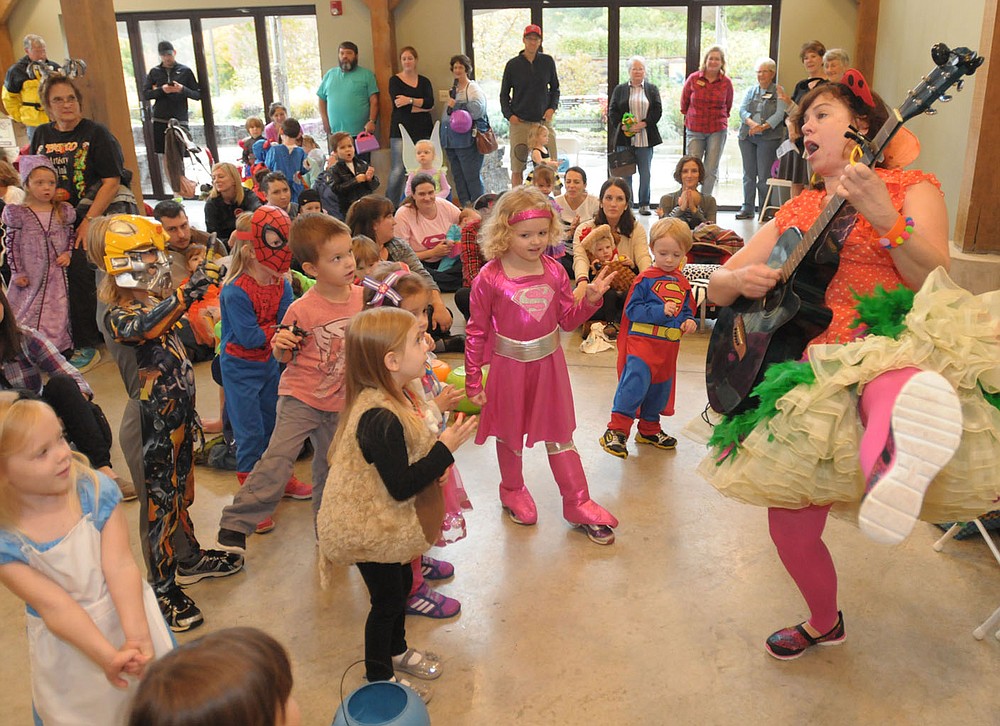 NWA Democrat-Gazette/ANDY SHUPE Jules Taylor of Shaky Bugs (right) performs Wednesday, Oct. 28, 2015, for Joy Bedwell, 5, (center) and her brother, Levi Bedwell, 3, both of Johnson, and other children during the Little Sprouts Halloween Costume Parade at the Botanical Garden of the Ozarks in Fayetteville. Visit nwadg.com/photos to see more photographs.
Jules Taylor
Jules Taylor is well known for her work with the Phunbags Improv group, as a theater educator and director with groups like Arts Live Theatre and the Smokehouse Players and as the ever-energetic voice behind the guitar of Shaky Bugs, her one-woman children's band.
My Online Projects: I have made Shaky Bugs episodes in conjunction with Arts Live Theatre (eight episodes at artslivetheatre.com), Crystal Bridges (on their website in Virtual Family Day) and St. Paul Library (on their Facebook page). I've also been doing some acting coaching through Zoom, which is always a highlight of my week, and I'm soon to be teaching virtual fall classes for Arts Live, starting Sept 28.
How I've enjoyed what others have contributed: I have been watching a lot of concerts online. Not just my local favorites, like Randall Shreve and SJ Tucker, but others that I am a huge fan of, and might not otherwise get to see very often, like Indigo Girls and Susan Werner. I have watched play readings and virtual performances from ALT and TheatreSquared, as well as theaters in New York City. I have Zoomed with groups of friends that I have not seen in years, as well as those that I miss seeing more often.
Bill Rogers
Actor Bill Rogers is well known in the Northwest Arkansas area for his compelling theater and movie work. He's also serving the community through his work on the Fayetteville Public Education Foundation's Reaching New Heights Committee, where he's helping raise $3 million to enlarge the Foundation's endowment.
My Online Projects: In March, I was actually reprising the role of Eddie in the Virginia Stage Company production of "The Legend of Georgia McBride" -- it involved many of the same actors and artistic team as TheatreSquared's production -- when the pandemic forced us to close early. We were having such a blast and, as you can imagine, we were heartbroken. Since that time, artistic wise, I've submitted a number of audition videos primarily to help me continue working on my audition skills. I've participated in several play readings via Zoom mostly with friends from grad school at the UA. It's been fun staying connected with them and learning to work through this new medium. At the same time, however, it has increased the longing for this pandemic to be over so that we can all share the stage again.
How I've enjoyed what others have contributed: I've used this time to work on a new actor's website for myself as well as teaching myself how to use iMovie. I continue to read a variety of fiction, nonfiction, new plays, and so on, so that really helps as well.
More News
Go Online
Find Kat Wilson's projects at katwilsonartist.com
Find Jules Taylor's projects at artslivetheatre.com, crystalbridges.org/virtual-family-day/ and splibrary.org
Sponsor Content
Comments