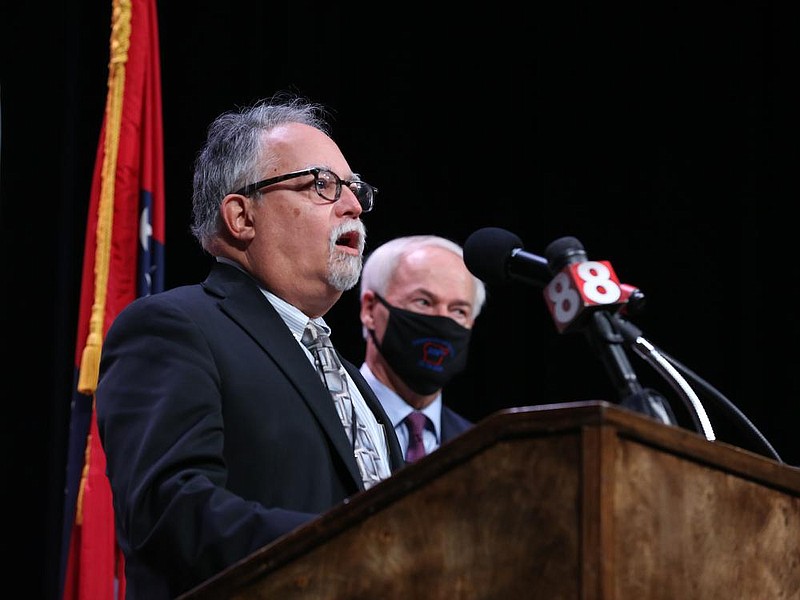 Secretary of Health Dr. Jose Romero (left) answers a question as Gov. Asa Hutchinson listens during the covid-19 briefing on Wednesday, Sept. 16, 2020, at the University of Arkansas Community College at Batesville. (Arkansas Democrat-Gazette/Thomas Metthe) - Photo by Thomas Metthe
American history, indeed the history of the world, is no stranger to political leaders willing to do whatever it takes to achieve their goals.
"Any means necessary" is how it's sometimes characterized.
While the Rev. Martin Luther King Jr. was challenging racism through nonviolent demonstrations, Malcolm X was unnerving those resistent to change with a 1964 speech in which he declared "our right on this Earth to be a man, to be a human being, to be respected as a human being, to be given the rights of a human being in this society, on this Earth, in this day, which we intend to bring into existence by any means necessary."
"Any means necessary" is as much a reflection of one's devotion to a cause as it is a warning to others who might believe they can derail that cause. It also demands a level of self-righteousness, a certainty that one's position is morally superior.
It seems state Rep. Dan Sullivan of Jonesboro and 16 other state lawmakers -- including Northwest Arkansas Sen. Bob Ballinger and Rep. Harlan Breaux -- have adopted an "any means necessary" approach to getting what they want in state government.
In what very well may just be a pre-election grab for headlines and a platform for bloviating about their ideas of limited government, these lawmakers recently filed a lawsuit to end the public health emergency declared by Gov. Asa Hutchinson. You know the one, the state response to covid-19 and how to limit the spread of the highly contagious, sometimes deadly coronavirus.
Hutchinson is in the same Republican Party as the plaintiffs but it's easy to get the impression the lawsuit filers view themselves as the true Republicans, defending by any means necessary their version of how state government should respond to the covid-19 epidemic.
The only named defendant, oddly, is newly named Secretary of Health José Romero.
"He trusts his advisers more than the Legislature and the democratic process," Sullivan said in a rally for the litigation on the steps of the state Capitol.
Hutchinson in March declared a public health emergency after discovery of the state's first patient infected with the coronavirus. In the months since, testing has shown nearly 70,000 Arkansans infected with the virus, and nearly 1,000 residents have died from it. On Friday, Hutchinson announced 1,107 confirmed positive cases reported in the previous 24 hours. The number reflected the highest single-day total of positive tests since the state epidemic began.
If there was a public health emergency on March 11, it's hard to reasonably argue that mid-September's numbers don't indicate one still exists.
But Sullivan, et al, don't care much for the measures Gov. Hutchinson and the Health Department have put in place in an effort to restrain the coronavirus' spread. The measures forced the temporary closing of some businesses and continue to place capacity limitations on venues capable of drawing crowds. Some of these lawmakers earlier protested Hutchinson's mandate that Arkansans wear masks, a practice widely accepted among medical experts as one of the cheapest, most effective ways to slow the spread of coronavirus.
Hutchinson isn't playing the role of dictator. He's used the powers granted to him through the state Constitution and by the acts of the General Assembly. While one can argue whether he's gotten everything just right, no one can reasonably suggest the state's response to an unprecedented epidemic should be dictated by committee, i.e., the Legislature. The governor has limited powers to respond to emergencies that need decisive action. The Legislature retains some authority to short-circuit emergency declarations when the General Assembly is in session. That will come in January.
Sullivan, Ballinger and Co. want their way now -- or at least their time on the Capitol steps right now, as the lawsuit could take months to resolve. Maybe you've heard the old political adage to never let a crisis go to waste? It's especially true in the run-up to an election.
OK, maybe it's not just about headlines. Maybe it's one of those "any means necessary" types of responses. Sullivan says it's about restoring representative democracy and putting an end to "a perpetual state of emergency." Apparently, the definition of "perpetual" among these lawmakers is about six months.
He argues the Legislature has been sidelined when it's a co-equal branch of government.
The lawsuit reflects the impatience of lawmakers who haven't so far been able to get their way through the regular legislative process. Sullivan said as much on a recent edition of Arkansas PBS' "Arkansas Week" program, on which he lamented how a bill that gained 86 House sponsors couldn't get out of a Senate Committee. And, he says, the governor could veto the Legislature's efforts to rein in the public health emergency, he asserted.
So is the lawsuit really about representative democracy? It sounds like the plaintiff's don't care much for the results of representative democracy, so they're using the courts, instead.
So is this dedicated band of conservatives hoping to find help from some activist judges? It seems so.
Some Republicans from time to time suggest government ought to be run like a business. If that's so, the chief executive needs the ability to respond quickly to changing circumstances. If Arkansans had to wait on a legislative decision -- essentially managing a pandemic by committee -- it's hard to fathom the Arkansas covid-19 experience would have been improved over the last six months
Every state in the nation declared public emergencies to effectively deal with covid-19. We understand Arkansas isn't looking to come in last in any category, but in this instance, it would be ludicrous to come in first as a state undeclaring a public health emergency in the middle of a worldwide pandemic.
More News
What's the point?
A group of lawmakers suing to stop the state's public health emergency are misguided.
Sponsor Content
Comments