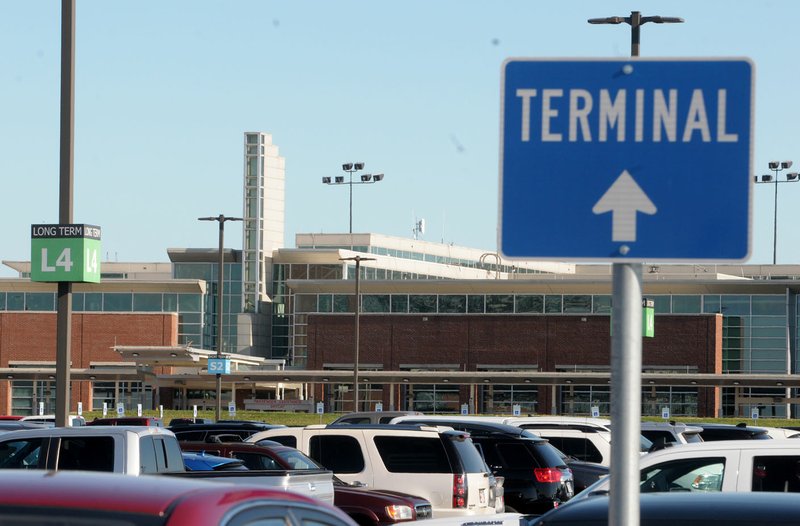 NWA Democrat-Gazette/DAVID GOTTSCHALK The terminal and front entrance is visible Friday, June 22, 2018, at the Northwest Arkansas Regioinal Airport in Highfill. The 20-year-old terminal building at the Northwest Arkansas Regioinal Airport will be getting a makeover in the next couple of years. Board members on Wednesday had in an informal input session with engineers and architects to give them a general idea of what they'd like the terminal to look like after the planned renovation and expansion. The work should result in a new front door for the terminal including a new building across the loop drive from the main terminal and a second-floor bridge into what is now the front of the terminal.
HIGHFILL -- Income at the Northwest Arkansas National Airport is way down because of the covid-19 pandemic, but officials said Wednesday they hope to come close to breaking even thanks to federal stimulus money and aggressively cutting spending.
"The customer experience remains our primary focus, and we do not see that being adversely impacted by the unprecedented drop in passengers and revenues," Aaron Burkes, CEO of the airport, said. "Higher than expected enplanements in January and February coupled with the federal CARES Act grant are helping us financially weather the pandemic. We entered the pandemic with nice cash reserves in anticipation of undertaking several large building expansion projects."
Revenue from airlines and car rentals are both down about 50% through the first six months of the year, members of the airport board's Finance Committe were told.
Income from parking is down $1.8 million from projections. Passenger facility charges, the fees collected per passenger and used to build amenities like parking decks, are down $950,000, roughly 50%.
The airport's cost per passenger is going up. This year it was estimated the cost would be $7.39 per passenger. But, it's now expected to be about $19.41 per passenger, at current passenger levels. It could go higher next year. The cost per passenger is calculated using the total of a mix of operating costs, debt service, salaries, and landing fees divided by the number of passengers flying.
The outlook for the second half of 2020 isn't great. Passengers are projected to be off by 63% and, if business travel doesn't pick back up, the number could be worse. XNA officials said in May they were expecting revenue to be off 60% to 70% compared to last year.
On the bright side, XNA is in a better position than some airports to weather the downturn.
XNA had $29.3 million in unrestricted cash reserve available to start the year. Expenses for the first six months are 8% below what was anticipated in the 2020 budget.
The airport received a grant from the Federal Aviation Administration as part of the Coronavirus Aid, Relief, and Economic Security Act. The grant money is being used for operations, including payroll, utilities, maintenance and debt service. They're required to retain the majority of employees as a condition of getting the federal grant.
XNA also was reimbursed this year for capital project work done last year. Some capital projects have been pushed back.
More federal money could come if Congress approves another round of stimulus money. XNA could be in line for up to $10 million, based on numbers in early discussions.
Tim O'Donnell, chief financial officer at XNA, said he expects the combination of federal help and keeping a close eye on the purse strings to result in a shortfall of about $2 million this year.
Back in May, XNA officials said their goal was to keep the airport's 2020 shortfall at $2 million to $3 million with a combination of decreasing operating expenses, deferring capital projects and using federal grant money.
Officials budgeted for $21.9 million in income this year from airlines, car rentals, parking, fuel taxes, terminal rentals and other sources.
The number of flyers was down 81.7% in June and 71.7% in July from last year. Preliminary numbers for August show enplanements off about 65%. Summer numbers were buoyed by vacation travelers, according to airport officials. Business travel has traditionally accounted for more than 60 percent of traffic at XNA and officials hope some will return this fall.
More News
Meetings
The Northwest Arkansas National Airport's Connector Road Task Force and the Board of Directors will both meet next week. The Task Force will meet at 9 a.m. Wednesday followed by the full board from 9:30 a.m. until noon.
Source: XNA
Ron Wood can be reached by email at [email protected] or on Twitter @NWARDW.
Sponsor Content
Comments