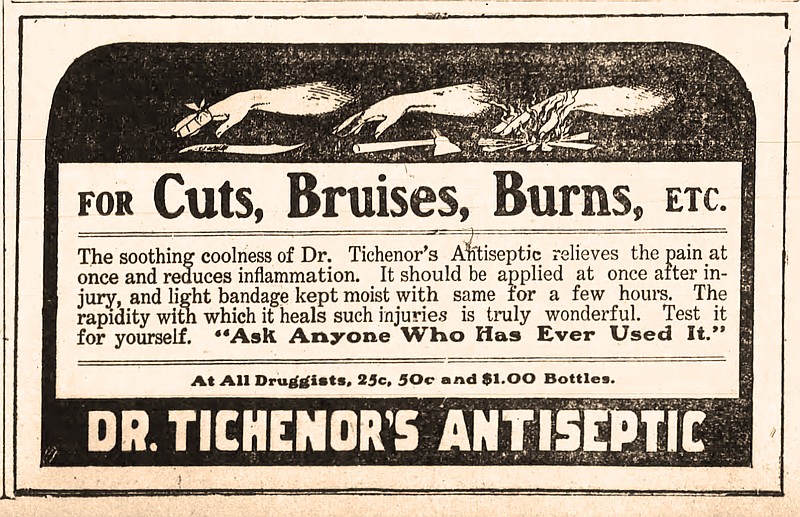 Ad for Dr. Tichenor's Antiseptic from the July 2, 1906, Arkansas Democrat. (Arkansas Democrat-Gazette)
Before we drive into today's Old News, I just have to say something about a tidbit from 100 years ago that appeared Sept. 3 in Other Days. (Love that column.)
It highlighted a Sept. 3, 1920, Arkansas Gazette report about there being "no clew" in the alleged kidnapping of the 2-year-old son of Mrs. B.F. Bidwell, 204 E. 15th St., North Little Rock.
He was found eight blocks away after his cries awakened a homeowner. Rewards were offered by the School Improvement League and other partisans in the big school-board brouhaha that had citizens all fired up in summer and fall 1920.
A few details from the newspaper that didn't fit into Other Days:
◼️ His clothing was clean, so he "must'' have been carried.
◼️ Mrs. Bidwell was adamant that the motive was revenge for her support for ousted Superintendent Elmer B. Gardner. She'd received a poison pen letter saying she ought to mind her babies instead of "trying to run Argenta."
◼️ Mrs. Bidwell was sure she had latched the rear screen door and the screen door for the French window before she went to bed.
◼️ Her husband, a Missouri Pacific fireman, was out of town, so a woman was staying with her.
Mrs. Bidwell was often in the society pages as hostess of the First Presbyterian Church Ladies' Aid Society and the North Side Mothers' Club. From society notes two weeks before, we can surmise that two other females lived in her household, possibly daughters. In August, these misses went to Louisiana to visit relatives for two weeks. Was she on a mommy holiday, with only the baby to feed?
She woke up when she heard a door creak in the rear of the house, and then she and her friend ran around turning on lights and hiding in the yard to see who came out. It was past midnight before the women headed back to bed, which is when she noticed her son's crib was empty.
No harm at all appears to have been done to little Frank Shelby Bidwell, who, by the by, nine months later took first place in the 2½- to 3-year-old boys category of a baby contest. His photo from that event suggests a slender, straight-legged child.
Subtract nine months from 30 months (2½ years) and you see that the youngest he might have been the night he was found blocks from home is 21 months old. The oldest he might have been is 27 months.
Most babies learn to walk by 12 months. By 18 months, my son could have opened an unlatched door and wandered off down the street in the night. And oh boy, would I have been embarrassed — and in the dog house when my husband found out.
I could be wrong, unfair and wrong, but I suspect there's less to that story than appeared in the newspaper.
DEATH BY WHISTLE
Let's turn to a different story that appeared on Page 1 of the Sept. 2, 1920, Gazette and also in the Arkansas Democrat.
Two cousins, hopped up on Dr. Tichenor's Antiseptic, argued. One of them flung an automobile whistle at the other, smacking him a fatal blow upside the head. John C. McDade, the surviving cousin, then fetched a pail of water and dumped it atop Tom McDade, victim. When Tom failed to revive, John held Tom's head and advised him to wake up.
Tom died in the hospital later that day.
A sordid tragedy, but ... Dr. Tichenor's? We dabbed that on mosquito bites when I was a kid. And what was an automobile whistle?
According to its ads, Dr. Tichenor's was an instant cure for muscle soreness, sprains, blistered feet, galded toes, razor cuts or irritation from shaving, chapped skin from cold weather, internal cramps, colic, prickly heat, bruises, burns, diarrhea, summer complaint, gas, insect bites, flux.
Also, it prevented pain, stopped bleeding, destroyed bacteria and was an antiseptic refrigerant.
Add to that these conditions, listed in an amusing essay by Dr. Brobson Lutz, who visited pharmacies in New Orleans for background: scalds, cholera, bad nerves, headaches, canker sores, sunburn.
Gallery: First ads for antiseptic
George Humphrey Tichenor, who never attended med school, dabbled in chemistry as an artist, photographer and businessman and that background won him a surgical appointment in the Confederate Army during the Civil War. Supposedly he developed his formula on the battlefield and saved his own leg with it.
He refused to use it to help prisoners, Lutz writes. A Confederate battleflag adorned the bottle until the 1960s.
So what was in it? "The original," Lutz writes, "was an herbal soup diluted in 70% alcohol."
It had all the virtues of a liniment or porous plaster, and you could still buy it during Prohibition.
Automobile whistles were conical, metal whistles that were shoved up the tailpipes of cars so that the exhaust blew a very loud woot-wooting, something like a train, and livestock got out of the way. (Read about the history of automotive honking here.)
Some happy automobile restorer kitted out a Model T with one and videotaped himself wailing along a country road.
Unlike the kidnapping of Baby Bidwell, there is more to the story of Tom and John McDade.
At trial in November, the dead cousin's wife testified for the prosecution while John's wife and three children stared at her. Mrs. Tom McDade said the men had been drinking Dr. Tichenor's after working all day. She chided her husband about being drunk when he got home, and the men argued.
At the time of his death, Tom McDade was out on bond awaiting trial on a charge of procuring whiskey.
John testified that Tom grabbed his wife by the neck and was shaking her when he intervened. She disagreed with that but corroborated the rest of his story. That they argued. That Tom ordered John out. That Tom grabbed the auto whistle, went into the yard and flung it at John, who chased him, then picked up the whistle and flung it back.
The highly competent defense attorney Fred Isgrig represented John McDade. He was found guilty of involuntary manslaughter in November and sentenced to two years.
A large petition persuaded Gov. Charles Brough to pardon John. Even the prosecutor signed that petition — even though John McDade had been picked up and fined $50 in September for carrying a concealed, loaded revolver while he was out on bond.
Flash forward a year.
In October 1921, 10-year-old Evelyn McDade told police she was grabbed by a man who entered her parents' home at 610 Rock St. while everyone else was out. She fought him off and screamed. Unable to silence her, he gave her money and sent her out to buy some candy. Instead, she raised the alarm and police came. Although the house had been ransacked, nothing was missing.
In November 1921, Sallie McDade sued John C. McDade for divorce.
Then in December 1921, John snatched a purse containing $16 from Miss S.E. Matthes at Ninth and Scott streets. He was chased down and tackled by a former high school athlete, Harold Mabbitt.
John McDade, Little Rock painter, pleaded guilty to a charge of petty larceny, was fined $10 and sentenced to 10 months on the county penal farm.
And then ... I don't know the rest of the story. Dear Reader, do you?
Email:
Sponsor Content
Comments