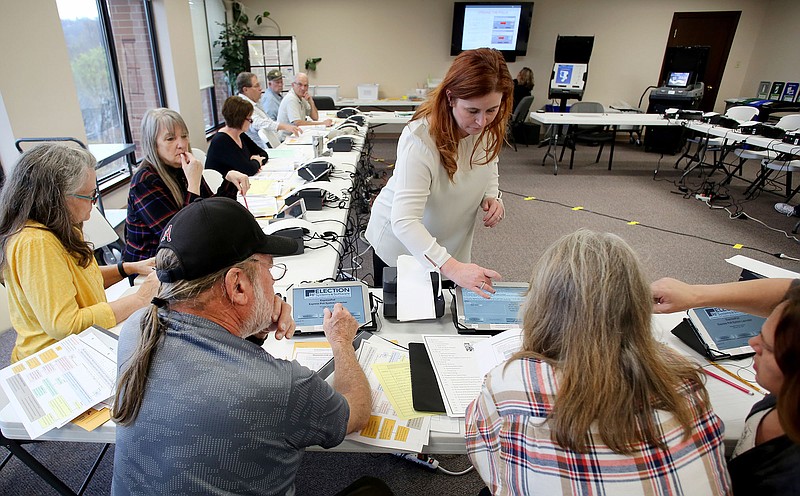 Jennifer Price (center), Washington County election coordinator, trains poll workers and supervisors Tuesday, April 3, 2018, on the use of the poll book tablet at the Washington County Courthouse in Fayetteville. (NWA Democrat-Gazette/DAVID GOTTSCHALK) - Photo by David Gottschalk
BENTONVILLE -- Election officials in Benton and Washington counties are closing in on the number of poll workers needed for this election season.
Early voting starts Oct. 19 and the general election is Nov. 3.
Kim Dennison, Benton County election coordinator, said about 60% of her poll workers have indicated they will help this year. She needs about 450 poll workers. Dennison said she hired over 160 new poll workers last week, but still needs to fill about 20 spots.
Jennifer Price, election coordinator for Washington County, said 65% to 75% of her poll workers have indicated they plan to work this year. She needs about 400 poll workers. Price said her office is processing about 100 poll worker applications.
Poll workers do myriad duties, Price said.
They check in people by verifying their identification, name, address and date of birth. That process takes the longest and is the most complicated, Price said. A would-be voter is sent to a poll site supervisor if he doesn't have an ID or his address has changed.
"The one thing that voters can do to make the poll worker's job easier at the polls is to update their address before heading to the polls," she said.
Poll workers assist voters at the voting machines and ensure voters place their ballots in the ballot box before leaving.
Because of covid-19 concerns, poll workers will make sure voting equipment is cleaned between voters, that voters are socially distancing and give voters an unused stylus to check in and use on the equipment, Price said.
Poll workers must attend training before election day. They earn $11.30 an hour and supervisors make $12.30 an hour in Washington County, Price said. Supervisors receive $13 an hour and poll workers $11 an hour in Benton County, Dennison said. To be a supervisor, a person must have worked at least one general election, Dennison said.
Recruiting
Both counties are trying to get younger people as poll workers.
Act 328 of 2019 amended state law governing the duties of "election pages." In the past, high school students were volunteers who observed the voting process and could seek information from election officials but couldn't handle or touch ballots, voting machines or any other election material or enter any voting booth.
Under the changes, an election page trained by the county election commission may assist election officials with checking in voters, assist voters with operating voting machines, guard the ballot box and other related duties.
High school students aren't allowed to have a supervisor role, Price said. The students also don't get paid unless they are older than 18.
There are some qualifications to be a poll worker, Dennison said. A person must live in the county they want to work in; be a registered voter, unless they are a high school volunteer; be able to stand for long periods of time; be comfortable using a computer; and be able read and write English.
Being bilingual is a plus, Dennison and Price said. Those who are interested can call the election commission offices in Benton or Washington counties.
According to the U.S. Election Assistance Commission, 58% of poll workers in the 2018 general election were over age 60. A person's risk of severe illness from covid-19 increases with age, according to the Centers for Disease Control and Prevention.
"We have had a few high school students to volunteer so far and are reaching out to other groups currently to see if we can get more," Dennison said.
Price said Washington County had more than 100 students train and work the primary election in March. She signed up her son, a 17-year-old from Fayetteville High School, to work this election season, she said.
"I am working with the schools to see if the students will be able to work the general election," she said. "Covid-19 has complicated how we will train the students and the number that will be able to participate, but we will plan on having some of the students back for the general election.
"We were very happy with the student participation for the primary. Don Tyson School of Innovation has students that are looking to participate," she said.
Staying Safe
Brenda Taylor of Lowell has been a poll worker in Benton County for 15 years, including 10 years as a site supervisor. She said she's concerned about covid-19, but thinks the county has a good plan to keep poll workers and voters safe.
Benton and Washington county election officials tested covid-19 precautions during the Bethel Heights annexation election last month.
Washington County made sure social distancing was clearly marked while voters waited in line and hand sanitizer was available at voting centers. Poll workers were provided face masks, face shields and gloves, according to the county website. Acrylic shields between voters and poll workers were used, and voters each received a stylus and placed their ballot in the box.
Voters in Benton County used a stylus to sign at the voting sites, then took the pen to a voting machine and used it to touch the screen instead of using their fingers. The pen was dropped into a sanitizing bucket after each use, Dennison said. The touch screens also were cleaned after each use, she said. Acrylic shields separated poll workers from voters, too, Dennison said.
Taylor said she saw the procedures work firsthand during the Bethel Heights annexation election. She said voters also did their part by wearing face masks and maintaining social distance.
Benton County has 150 acrylic shields for early voting, said Bryan Beeson, facilities administrator. The county also will use its Clorox360 sanitizing machine before voting starts and after it ends at the early voting sites, Beeson said.
Taylor said she encourages voters to read up on any issues on the ballot before they come to the polls. That will help keep speed up the process, she said.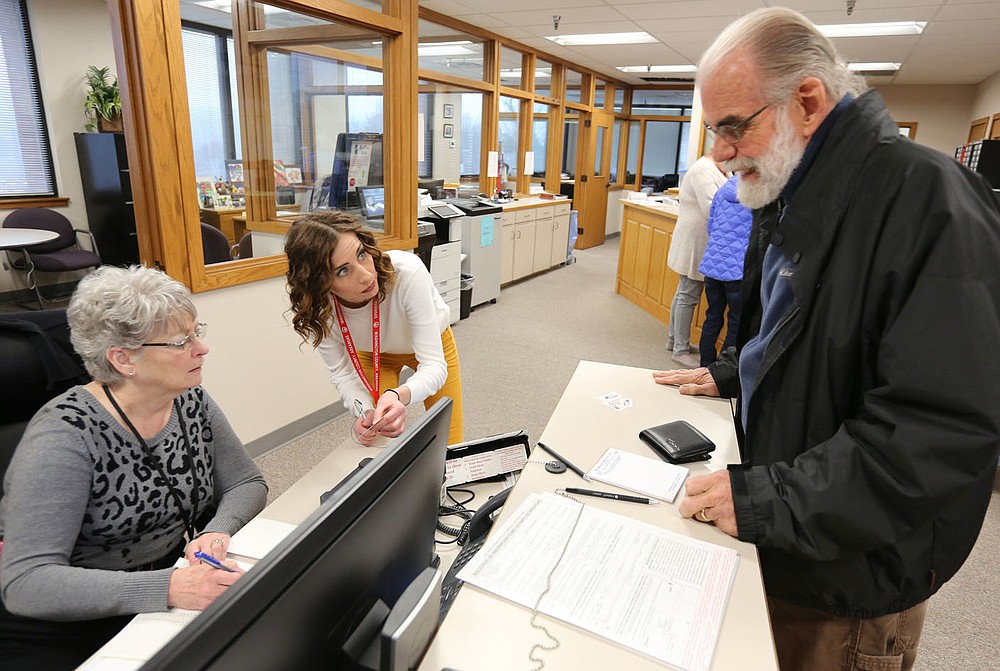 Lynn Wade (from right) checks in with Rochelle Caswell, Washington County Deputy Clerk, and Evelyn Jackson, poll worker supervisor, before receiving his ballot Tuesday, February 4, 2020, on the first day of early voting for a special election of a bond restructuring program for Fayetteville Public Schools. The Fayetteville School District is asking voters to restructure eight bond issues that would leave about $111 million to build one school and for maintenance at all other school buildings. The millage rate will not be increased if the measure is approved. Early voting is available 8 a.m. to 4:30 p.m. Tuesday Feb. 4 through Friday Feb. 7 and Monday Feb. 10 at the county clerk's office, 280 N. College Ave., Suite 300, Fayetteville. Election day is Tuesday Feb. 11. All eligible voters in the Fayetteville School District may cast a ballot at any of the seven voting centers. Check out nwaonline.com/200205Daily/ and nwadg.com/photos for today's photo gallery. (NWA Democrat-Gazette/David Gottschalk)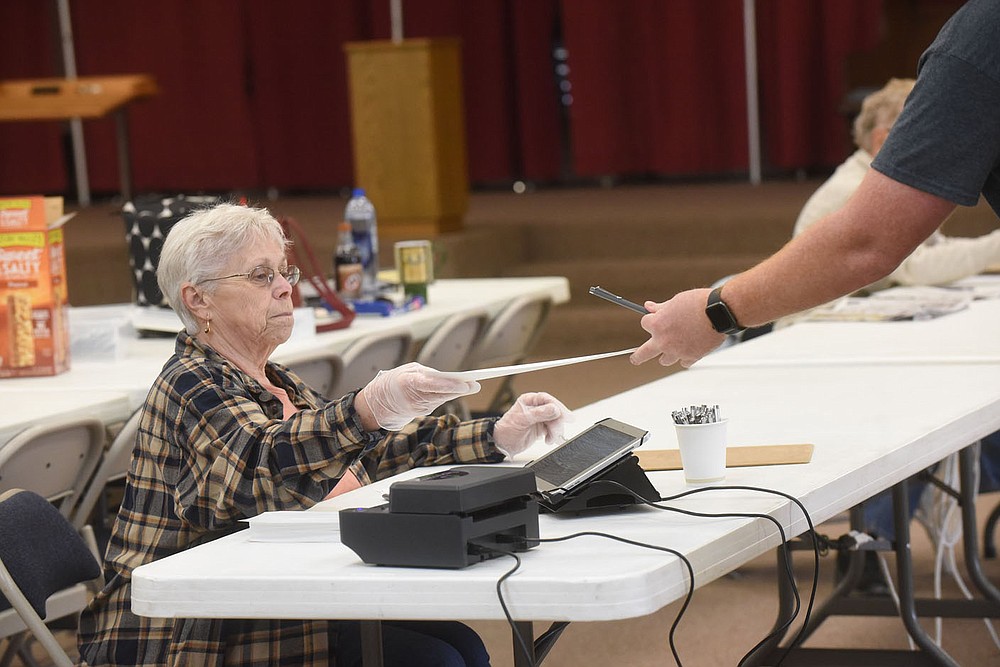 Lorna Miller, poll worker, hands a ballot to a voter on Tuesday March 31 2020 while wearing protective gloves at First Baptist Church in Lowell. Votoers and election workers were encouraged to maintain a safe distance at all polling places. Go to nwaonline.com/200401Daily/ to see mor photos. (NWA Democrat-Gazette/Flip Putthoff)
More News
Voting information
County Clerk's Offices
• Benton County: 479-271-1013
• Washington County: 479-444-1711
Secretary of State
• Voting information can also be found at www.sos.arkansas.gov
— NWA Democrat-Gazette
Mike Jones can be reached by email at [email protected]
Sponsor Content
Comments