It has not been the 60th anniversary celebration that Brad Thomas, president of Silver Dollar City Attractions, imagined for the Branson theme park. Covid-19 concerns closed the gates and delayed events, along with complicating the way business had to be done.
That doesn't mean it's been a bad summer.
"Every day for 60 years, Silver Dollar City has offered our guests an escape from the real – and burdensome – world," Thomas says. "Today, the pandemic has changed how we operate, yet our guests are still able to enjoy family fun TOGETHER – watching a craft demonstration, listening to a music show together or laughing together on a ride."
With that track record of success, Silver Dollar City is rolling into fall with festivals that offer new events and bring back old favorites.
September's Country Music Days -- Sept. 11 -20 -- brings all-star performers back by popular demand with Sawyer Brown at Echo Hollow Amphitheatre for two shows Sept. 12 and Shenandoah for two shows Sept. 19. Other rising stars and country performers take to the stages, too, Thomas says, among them the Ables, Melody Hart & Family and Eastern Heights, plus some of the best of Branson's country acts are included in the lineup.
The National Harvest Festival featuring Crafts, Cowboys and Pumpkins is scheduled for Sept. 23-Oct. 31. Considered one of the longest running and most-attended craft festivals in America, the event lets guests watch demonstrating crafters while toe-tapping western, bluegrass and country music sounds from outdoor stages and cowboy lore is brought to life by legendary figures.
The Makers' Market houses some of the most intricate creations, with the artisans chatting with guests as they work.
"The demonstrating craftsmen are very important to the atmosphere of this long-running festival," says Silver Dollar City designer Kelly Eutsler. "Many art fairs highlight the finished products, but our festival is long known for showing how the crafts are actually created."
"Our daytime experiences include craft demonstrations from our resident and visiting artisan and craftsmen," Thomas says. "And, we are so excited to bring back an all-new cowboy focus. "
Then, everything changes in the evening.
"At night, we offer families a fun, non-spooky pumpkin experience," Thomas says. "From pumpkin sculptures that are 6 to 23 foot tall to thousands of hand-carved regular-sized pumpkins, the streets of The City glow at night. Add to that the tastes of fall – from fall food to pumpkin treats -- and Silver Dollar City takes on a special look and feel during the crisp days and nights of autumn in the Ozark Mountains."
Wrapping up the year, of course, will be An Old Time Christmas Nov. 7 through Dec. 30 with more than 6.5 million lights, Christmas In Midtown, a nightly light parade featuring Rudolph The Red-Nosed Reindeer and more.
"Throughout each year, USA Today's 10Best conducts numerous online contests of their readers," Thomas says proudly. "This summer, Silver Dollar City took the No. 1 spot for Top Theme Park in the USA, according to the 10Best/USA Today poll. In addition, this summer, Trip Advisor listed the top-rated theme parks in the USA and the world based upon Trip Advisor reviews, [and] Silver Dollar City came in as Trip Advisor's No. 9 rated amusement park in the USA, and No. 14 in the world.
"Every day, I am blessed to see families and adult couples choosing to visit us," Thomas says of his presence on the grounds of the 1880s themed park. "And I see our 'citizens' care deeply for each other and for our guests. Each of us have different needs, and hopes and issues – but TODAY, more than ever, we ALL need to laugh, have a bit of fun, and ensure that folks around us know we care."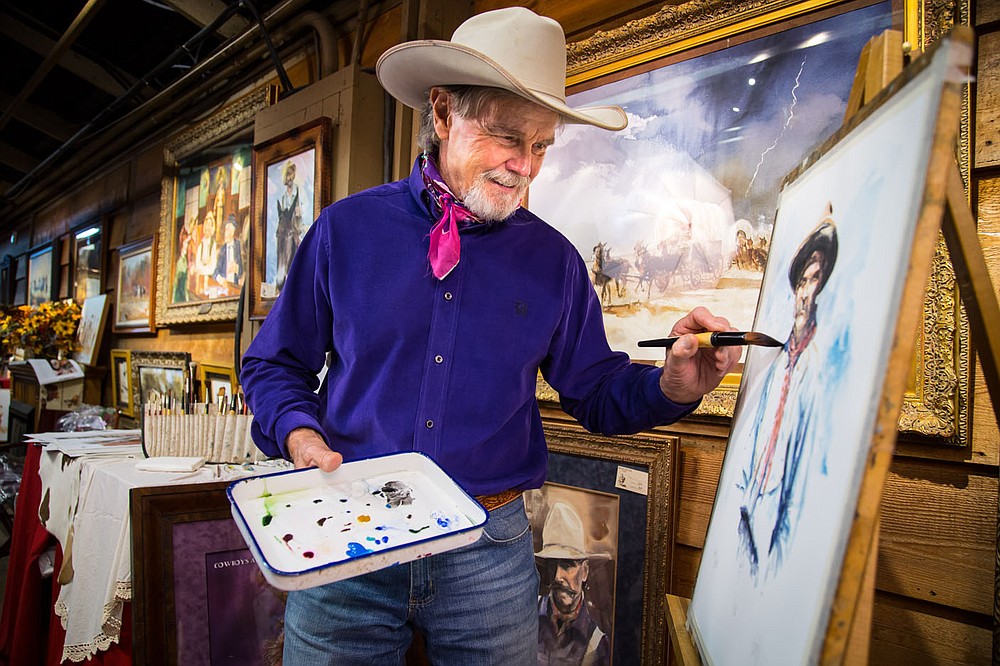 Film and television actor and watercolor artist Buck Taylor at the Silver Dollar City National Harvest & Cowboy Festival.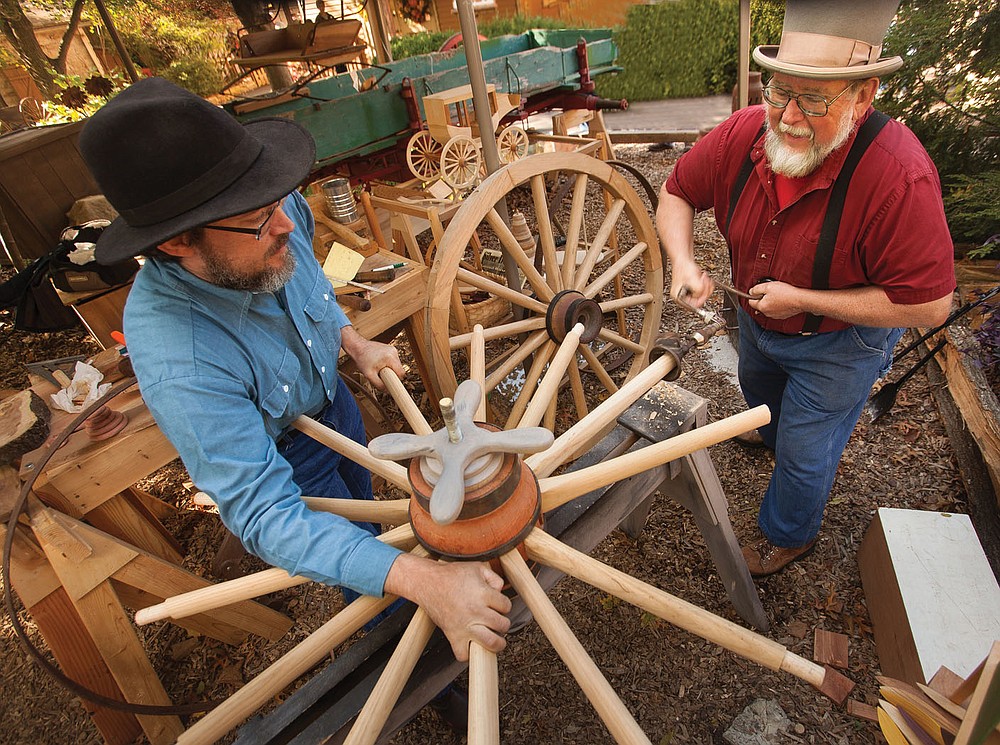 Demonstrating artists, designers and makers with high-quality, handmade, original work line the Silver Dollar City's square for the National Harvest Festival featuring Crafts, Cowboys and Pumpkins.
More News
Go Online!
Silver Dollar City
silverdollarcity.com