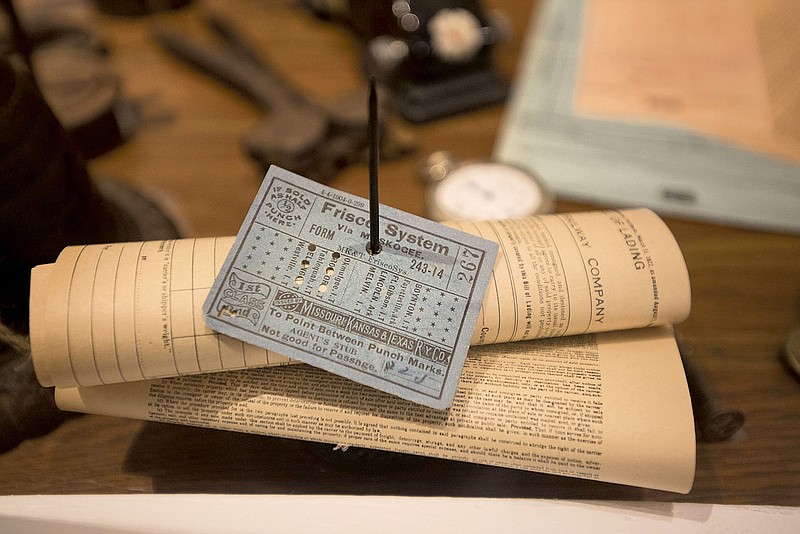 NWA Democrat-Gazette/J.T. WAMPLER A train ticket and schedule sits on the desk at the Shiloh Museum's new exhibit which includes a replica train ticket office and waiting room.
It was Sept. 7, 1968, that the first iteration of the Shiloh Museum opened in the old library at the corner of Main and Johnson streets in Springdale. So it seems only appropriate that on Sept. 7, 2020, the museum will reopen after being closed more than five months due to covid-19 concerns.
"Just having visitors walk through our doors again is exciting in and of itself," says the museum's director, Allyn Lord. "While a museum is a preserver of history, it also offers that personal experience, when visitors are face to face with real history, real artifacts. You can do that online, but it's not quite the same as an in-person visit."
That doesn't mean the staff has been idle while the doors have been closed. Lord says everyone was in the middle of their usual spring tasks when the coronavirus surged into Northwest Arkansas. First on the list, then, was finding a way to make that programming happen safely. "We usually serve a lot of students and teachers in April and May, so our field trips have since been made virtual," she begins. Summer history camps also happened on schedule, but online. And two new exhibits, "Make Do" -- based on the Ozarks tradition of "use it up, wear it out, make it do or do without" -- and "Queen for a Day" -- a look at fair queens, homecoming queens, pageant queens and more -- were installed but also showcased in their entirety on the museum website.
That was just part of what observant patrons could see. There were also new virtual offerings, including Shiloh Shout-Out videos, Minute History videos and eNews staff activities, Lord says. Renovations were undertaken at the Searcy House. And new plantings and path work were installed along Spring Creek, joining the museum campus on Johnson Avenue with the Shiloh Meeting Hall on Huntsville Avenue.
Then there's what happened behind the scenes. Staff started renovations on a duplex, purchased by the city for the museum in February, "including an exhibits shop, storage, offices and our new digitization offices, including the renovation of a bathroom to a darkroom," Lord says. A second duplex was purchased "through the generosity of the Tyson Family Foundation," she adds, "marking the museum's ownership of two of the four properties it needs for the full-city-block vision of the future museum." There has also been "lots of grounds work, including increased emphasis on our monarch butterfly station and adding more milkweed and other attractants, planting numerous Ozark chinquapin trees, helping to bring them back after their blight in the 1960s, and taking down a tree which had died from the ivy that took it over, which resulted in exposing the original well from the community of Shiloh," Lord continues.
"We also began last spring proactively collecting artifacts, images and personal accounts of the pandemic," she adds. "Acquiring objects from present-day is always difficult, as hindsight usually gives better perspective. But if artifacts aren't collected now, they may not be available in the future. So we've added to our collections artifacts like signs and masks, of course, but also images of covid testing, empty store shelves, people wearing masks, seniors in nursing homes and closed businesses.
"The artifacts and images include those representing all sorts of people in Northwest Arkansas, including children and seniors, the Latinx and Marshallese populations so adversely affected, the medical community and those who've become unemployed," she enumerates. "And we'd welcome anyone with a story, artifacts or images related to the pandemic to contact us about a possible donation."
Now it's time for the doors to reopen -- based on "CDC's covid-19 guidelines, Arkansas and Northwest Arkansas covid-19-related statistics, recommendations by the Arkansas Health Department, directives by the city of Springdale and anecdotal reports of the public's comfort level for re-engaging," Lord says. "As much as possible, we've tried to keep the Shiloh Museum experience as varied, interesting and fun as in pre-covid days. But we live with the realities of the coronavirus, so there are some changes that will affect everyone who visits, for their protection and that of the museum staff and volunteers."
That means guidelines that include required face masks, a limited number of visitors at a time, social distancing recommendations, the continued closure of the museum store and all historic buildings and the temporary removal of all hands-on displays.
Also important to know is that some events will remain online only, among them school education programs, Sandwiched In lectures and Shiloh Saturdays. Lord says the Ozark Quilt Fair, in its 42nd year, will debut on the museum's website on Sept. 12 -- "the same second-Saturday in September we traditionally hold the fair."
"Folks have sent in a photograph of one of their quilts, along with the quilt's pattern and history," she says, and the display at ShilohMuseum.org will include clickable music from the Roving Gambler Band. "It will almost be like our annual quilt fair!"
Also, Lord says, look for the museum's "message to the community" online "responding to the George Floyd murder and the resulting Black Lives Matter protests. "And we encourage you to watch for a new initiative we'll be launching on these issues soon."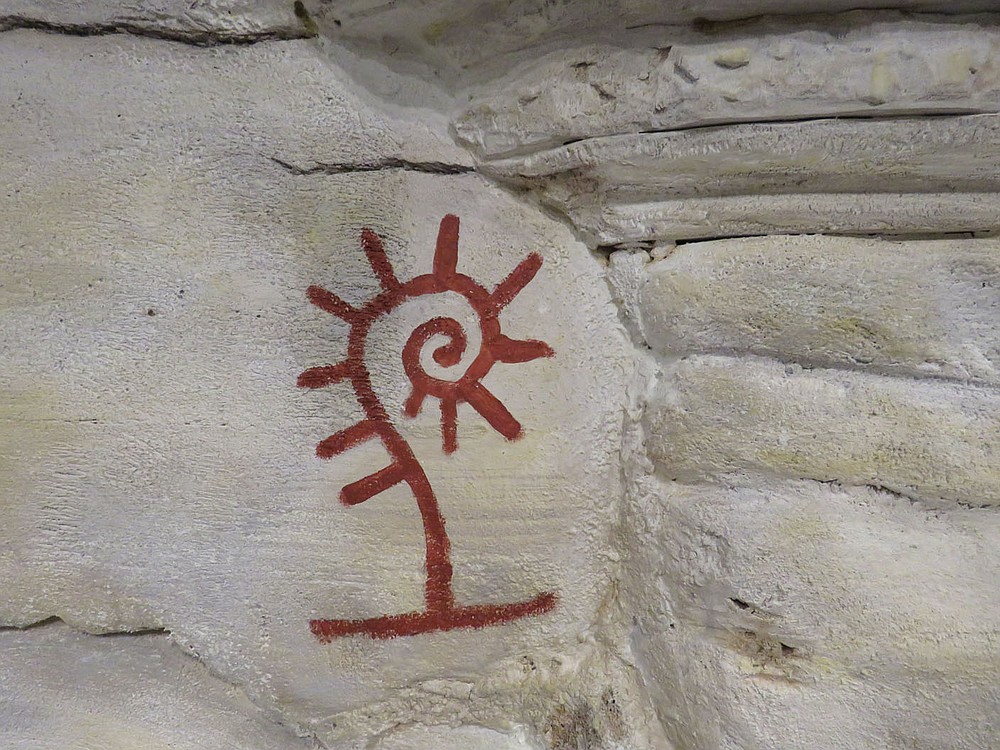 #5 'Earliest Days in the Arkansas Ozarks' Curator: Curtis Morris Ironically, the last section of our exhibit hall to be renovated interprets the beginning: Ozarks geology and prehistory. I hope that, when experiencing this final installment, visitors get a sense of how rich and complex our region's prehistory actually was. … our old perceptions of local prehistoric people as isolated and ignorant are clearly shot down by scientific research and cultural traditions. Anthropologists and modern American Indians agree that our ancient neighbors and ancestors had to be innovative and intelligent to live and thrive here. While they were fully participating in regional cultures and life ways, at the same time they were also developing unique adaptations to life in the Ozarks.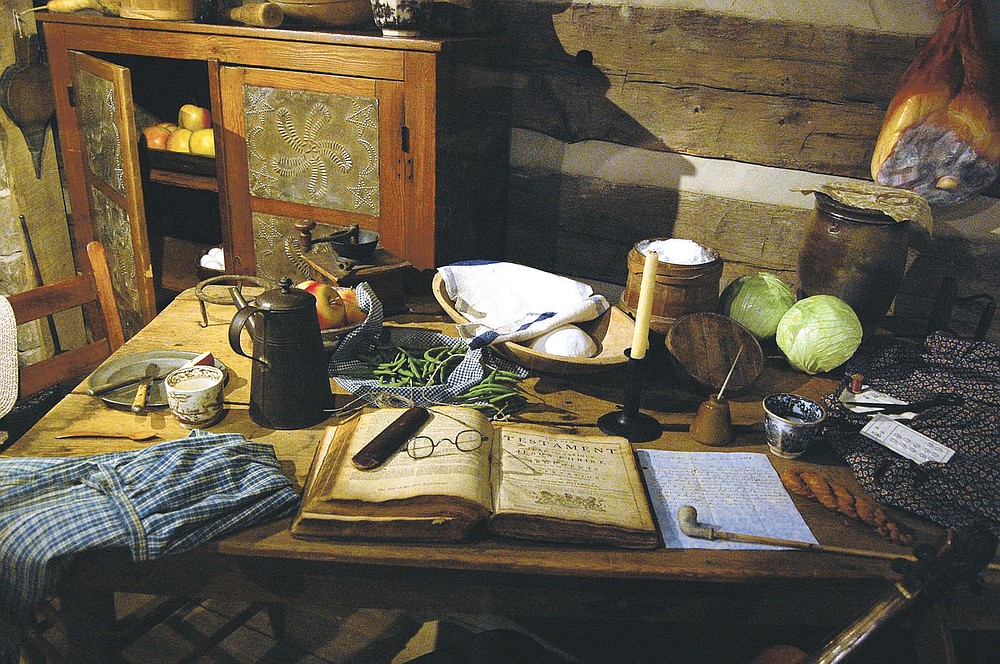 #1 'Settling the Ozarks' Curator: Marie Demeroukas "Settling the Ozarks" [is] a look at the people who came to Northwest Arkansas from the 1820s to 1860. Back then, this area was our nation's western border. If you wanted to live, you had to work hard — very hard — to clear land, plant crops, build a home, and make the many things needed for everyday life. I wanted to show visitors what it took to cook and preserve food, to make cloth and wash clothes, and to fashion furnishings back in the days before superstores and home delivery. The artifacts from that time are so cool, and many are displayed within the walls of an 1841 log cabin in as natural a setting as we could make.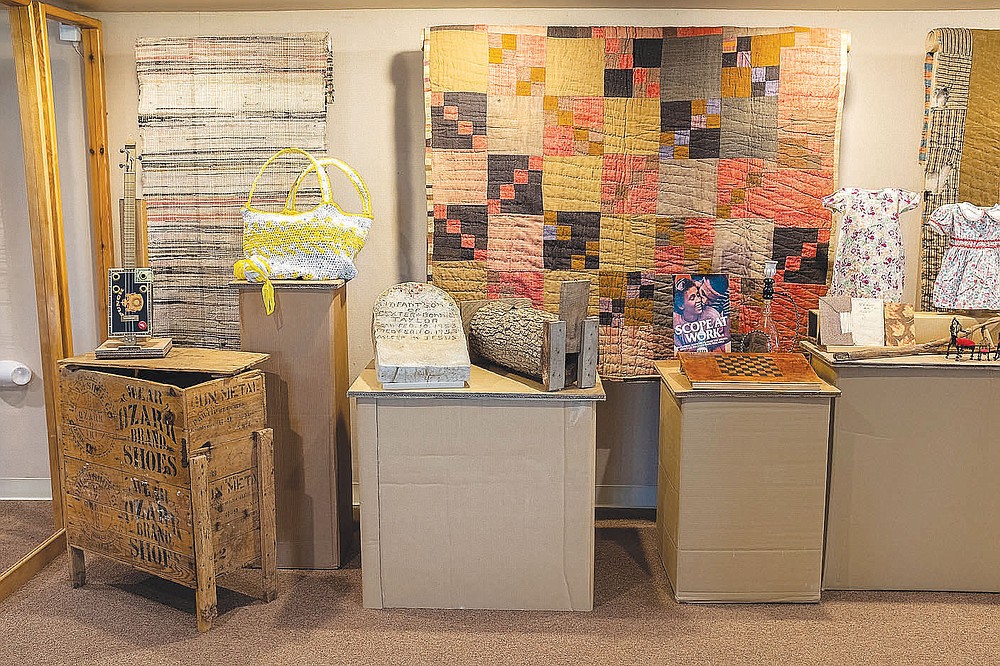 The Shiloh Museum's "Make Do" exhibit was the first to debut online because of covid-19 concerns. But with the Springdale facility reopening Sept. 7, visitors can now see the physical display, which features 25 historic items. The artifacts cover a hundred-year span from 1860, represented by a gourd baby rattle, to 1968, depicted by a bong made from a Scope mouthwash bottle. (Courtesy Photo/Shiloh Museum)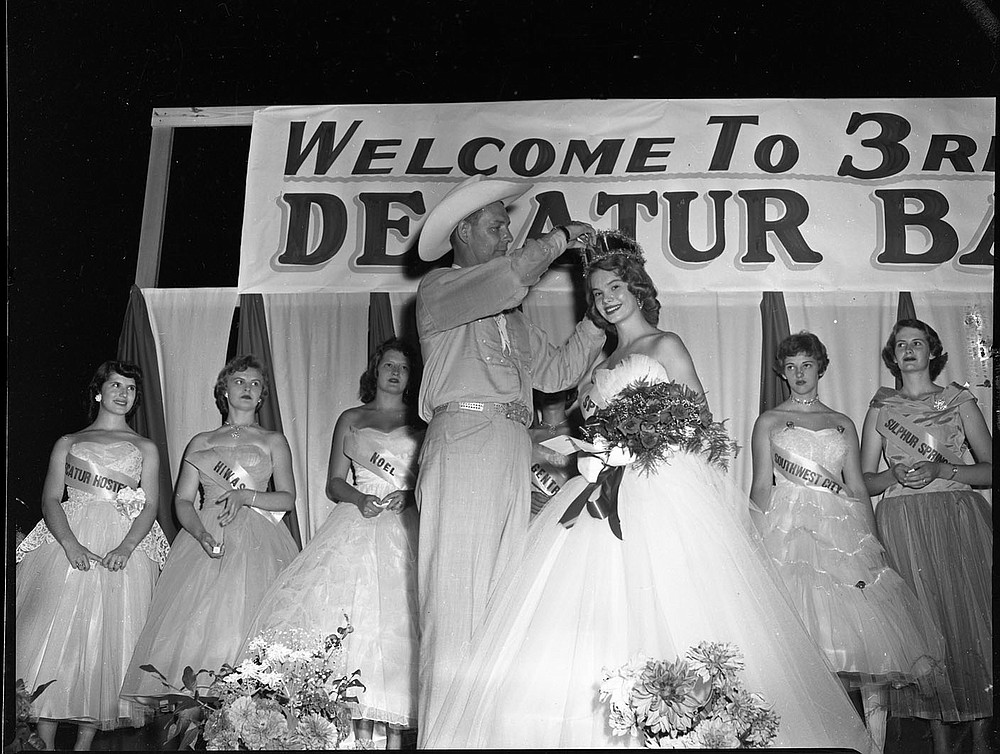 Judy Eoff, Miss Decatur Barbecue 1956, is crowned by musician Leon McAuliffe in this photo taken in Decatur on Aug. 2, 1956. The photo is part of an exhibit at the Shiloh Museum of Ozark History titled "Queen for a Day," which also has the distinction of having premiered online. Now that the museum is reopening, visitors can see the exhibit there. (Courtesy Shiloh Museum of Ozark History / Northwest Arkansas Times Collection (NWAT Box 5 56-8.49)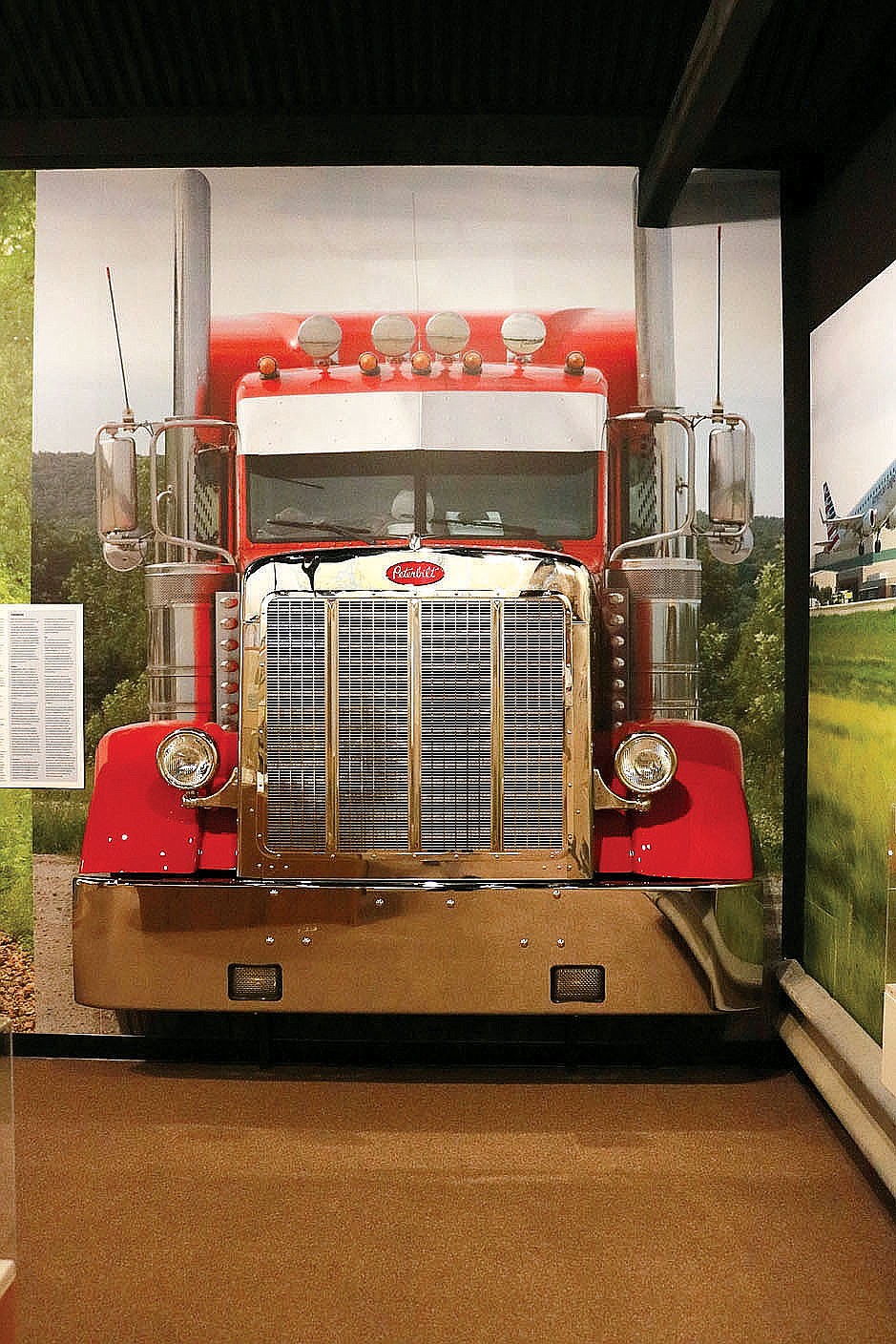 'Modern Times: 1950 to the Present' Curator: Susan Young "My 'Modern Times: 1950 To Present' exhibit boils down to two words: 'growth' and 'change,'" says its curator, Susan Young. "The driving force during this time was Beaver Lake — the fuel for our economic engine. We could not have grown or continue to grow without this water supply – industrially, commercially, residentially. Expand the story to include agriculture, retail, tourism, transportation and the University of Arkansas, and you have 'Modern Times' in a nutshell."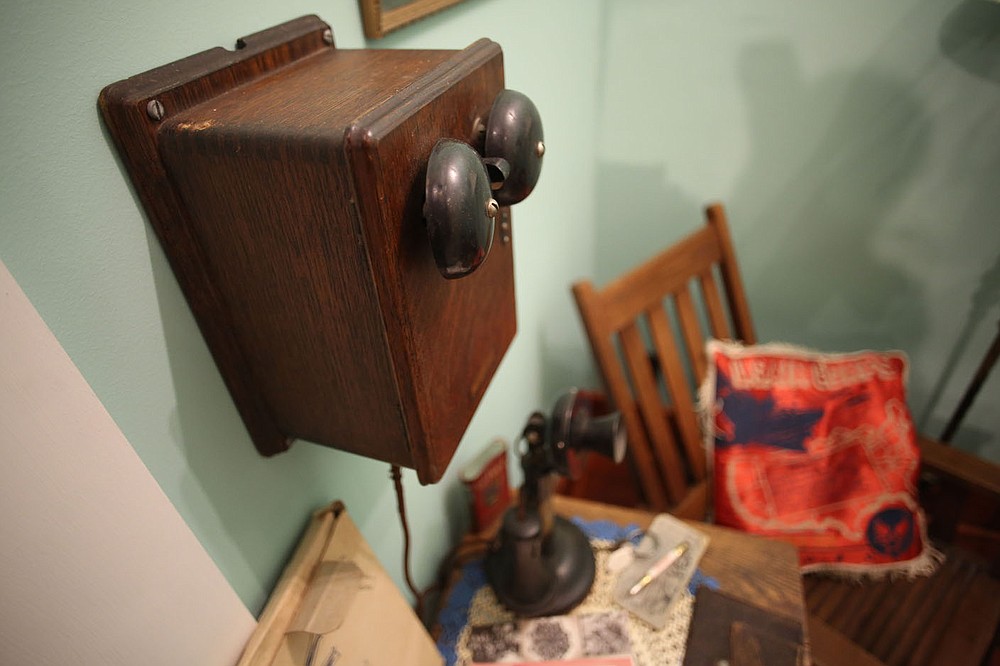 NWA Democrat-Gazette/DAVID GOTTSCHALK Items in the new exhibit The Arkansas Ozarks: 1920 to 1950 at the Shiloh Museum of Ozark History Tuesday, January 10, 2017, in Springdale.
More News
FAQ
Shiloh Museum
WHEN — 10 a.m.-5 p.m. Monday-Friday; Thursday mornings from 10 a.m. to noon are reserved for high-risk visitors only
WHERE — 118 W. Johnson Ave. in downtown Springdale
COST — Free
INFO — 750-8165 or ShilohMuseum.org
Sponsor Content
Comments