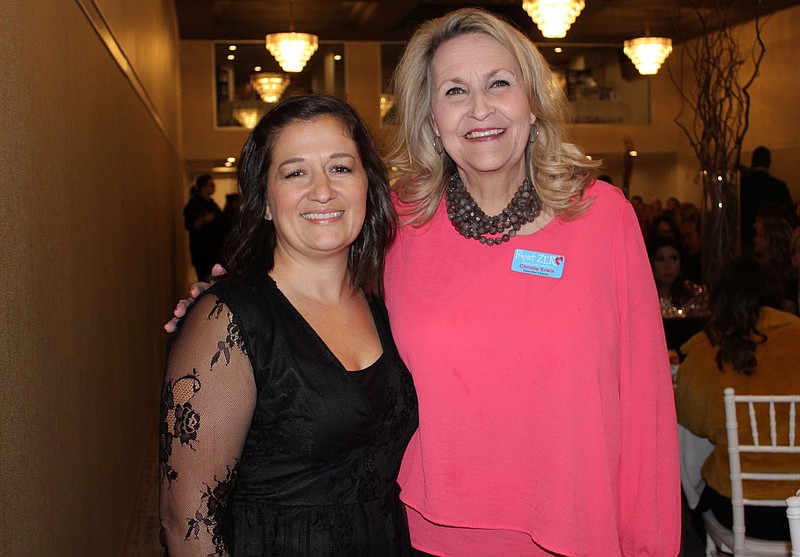 NWA Democrat-Gazette/CARIN SCHOPPMEYER Christie Erwin, Project Zero founder (right), and Tiphanie Gurwell, Northwest Arkansas outreach coordinator, welcome guests to the inaugural Aiming for Zero NWA on Nov. 1.
Tell us about your organization:
• Mission:
The mission of Project Zero is to diligently and enthusiastically promote adoption through the foster care system with the ultimate goal of finding a forever family for every child who is waiting.
• Services provided:
• Raising awareness about the need for adoptive families through the Arkansas Heart Gallery online exhibit and three traveling exhibits, through short films featuring waiting kids, and through promotional products and speeches.
• Building hope in and relationships with waiting children/teens through exciting monthly events filled with new experiences.
• Helping to connect waiting children/teens with the right forever family through our partnership with Arkansas Department of Children and Family Services, through "connection" events that bring waiting families and waiting children together and through one-on-one interaction with interested and waiting families.
• Are there volunteer opportunities in your organization? What are they?
Anyone can volunteer with a background check, and we are always looking for new volunteers; any families who have gone through the process of becoming an open adopt home can attend events to meet waiting kids.
To volunteer or to start the process to become an adoptive family, visit theprojectzero.org
• Why do you work or volunteer for a nonprofit organization? Do you have a personal connection to the mission? If so, what is it?
I started volunteering with foster and adoption advocates about four years ago, and when I saw that Project Zero was launching in Northwest Arkansas and hiring, I knew it was something I would love doing as I am passionate about kids and teens in vulnerable situations, and I have always had a desire to help them anyway I can. I could not be more blessed doing what I do. The opportunity I have to love on some of the most vulnerable kids and teens in the state of Arkansas is one of the most amazing things.
• What are your organization's most pressing needs? Our most pressing need at the moment would be awareness, more families willing to adopt from foster care and of course funding, especially before our annual Christmas event.
• What other ways may people help?
There are many ways to help aside from physically volunteering and adopting. We always need people to help share our posts from Facebook, waiting kids short films and heart gallery photos in order to help raise awareness.
What upcoming fundraisers and/or other events does your organization have planned?
November is National Adoption Month, so this is a huge month for us. We will host our annual gala and then the following day we will host our annual adoptive family photo shoot where we offer families who have adopted a child to have their family photos professionally done on us!
Due to covid, we have had to rethink how we would host our annual gala. This year we will be hosting an online event through social media where we will share our annual National Adoption Month video. We are also offering guests an opportunity to purchase a gala-to-go celebration box which will include a four-course meal from The Hive, a centerpiece from All Things Kindred, wine or sparkling water and some beautiful gifts from Project Zero. We will also be hosting a clays tournament in the morning. We are excited to be able to think outside the box as we raise funds for our mission and celebrate with our guests, even if we can't be together in person.
More News
Project Zero
Aiming for Zero: Garden and Gun Celebration To-Go
What: Sporting clays tournament, virtual watch party, dinner to go, online auction
Where: Little Rock, Bentonville, Fort Smith
Information: (501) 951-0686 or theprojectzero.org
— Carin [email protected]
Sponsor Content
Comments