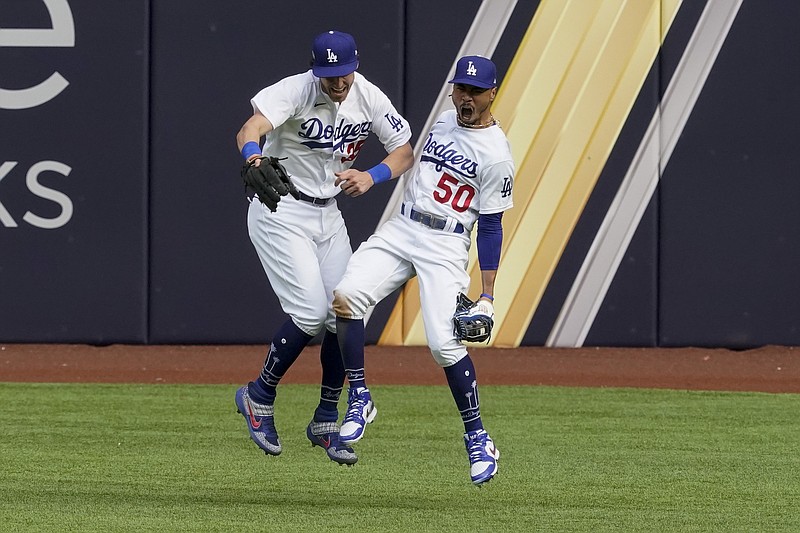 Los Angeles Dodgers right fielder Mookie Betts celebrates with center fielder Cody Bellinger after robbing Atlanta Braves' Marcell Ozuna of a home during the fifth inning in Game 6 of a baseball National League Championship Series Saturday, Oct. 17, 2020, in Arlington, Texas. (AP Photo/Tony Gutierrez)
ARLINGTON, Texas -- Corey Seager's sweet swing. Walker Buehler's calm. Kenley Jansen's resurgence.
The Los Angeles Dodgers got what they needed -- again.
"We did what we had to do to force a Game 7," Justin Turner said.
They sure did.
Seager homered again, Buehler pitched six scoreless innings and the Dodgers beat the Atlanta Braves 3-1 on Saturday to send the NL Championship Series to a winner-take-all finale.
Los Angeles avoided elimination for the second time in less than 24 hours, staying alive in its pursuit of a third pennant in four years. It hasn't won a championship since 1988.
"I'm still sort of recovering from this one, but already thinking about Game 7," Dodgers Manager Dave Roberts said. "That's what you live for."
Gallery: National League Championship Series, Game 6
[Gallery not loading above? Click here for more photos » arkansasonline.com/1018nlcs/]
Turner also homered for Los Angeles, and Jansen threw a six-pitch ninth for his 18th career postseason save.
The NL West and East champions play again tonight, with the potential for two rookie starters in a Game 7 for the first time in big league history. The winner gets the Tampa Bay Rays in the World Series.
Roberts was keeping his options open for his starting pitcher while the Braves plan to go with rookie right-hander Ian Anderson, who has thrown 152/3 scoreless innings in his three postseason starts. Tony Gonsolin and three-time NL Cy Young Award winner Clayton Kershaw are among the possibilities for Los Angeles.
The Braves were hoping to celebrate Snitker's 65th birthday Saturday with the franchise's first World Series berth since 1999. But Max Fried took his first loss all year, working into the seventh inning after surrendering three runs during a rocky first.
Buehler threw 65 of his 89 pitches for strikes. He allowed seven hits while striking out six without a walk.
After Atlanta loaded the bases with three singles in a row to start the top of second -- the last hit by his Vanderbilt roommate Dansby Swanson -- the right-hander really brought the heat, with 10 consecutive fastballs to get out of the jam.
Austin Riley struck out on a 98.7 mph pitch before Nick Markakis took a called third strike on 99.7 mph. Cristian Pache, the 21-year-old rookie who had an RBI in each of his first four NLCS starts, was retired on an inning-ending groundout.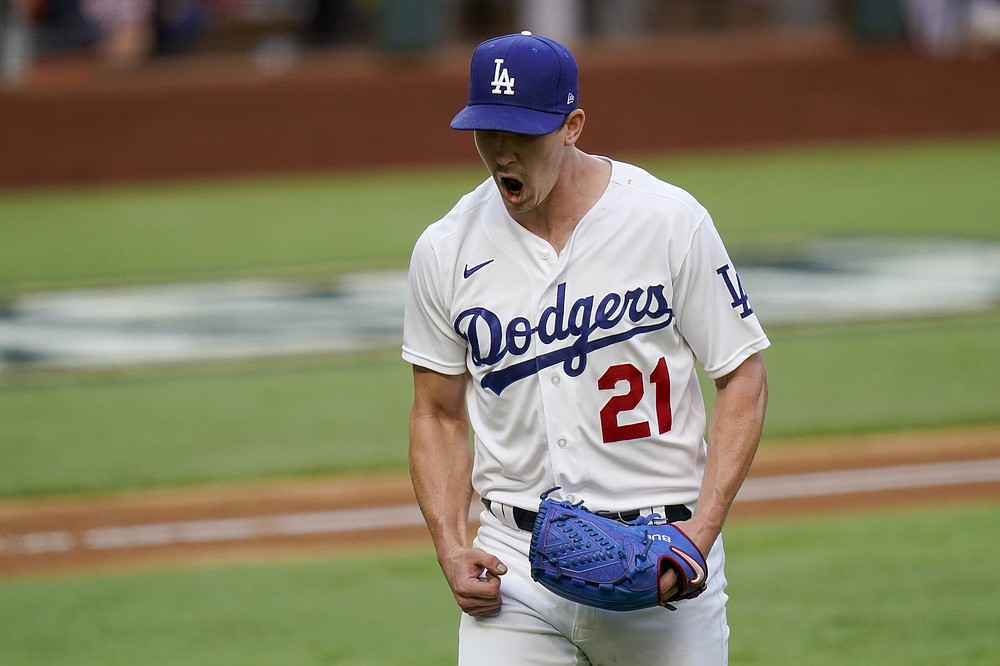 Los Angeles Dodgers starting pitcher Walker Buehler celebrates after striking out Atlanta Braves' Austin Riley during the sixth inning in Game 6 of a baseball National League Championship Series Saturday, Oct. 17, 2020, in Arlington, Texas. (AP Photo/Eric Gay)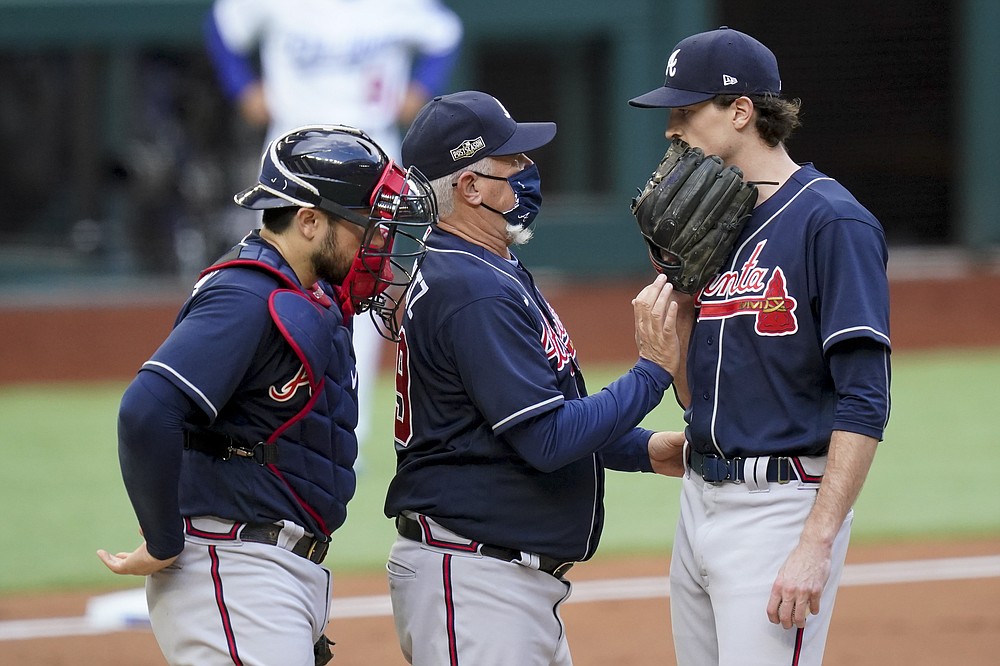 Atlanta Braves manager Brian Snitker talks with starting pitcher Max Fried during the first inning in Game 6 of a baseball National League Championship Series against the Los Angeles Dodgers Saturday, Oct. 17, 2020, in Arlington, Texas. (AP Photo/Eric Gay)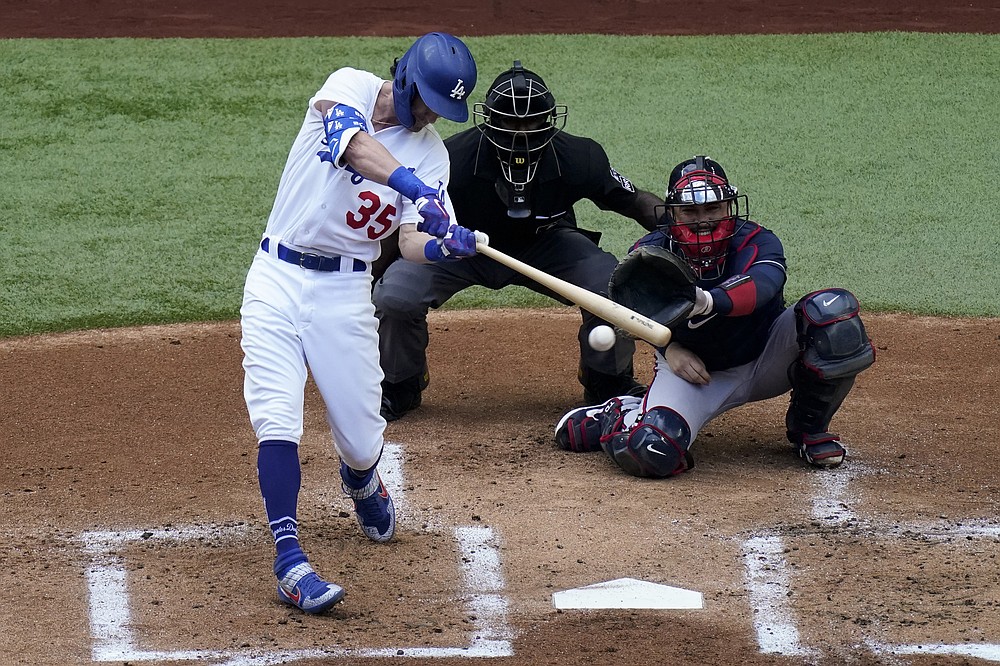 Los Angeles Dodgers' Cody Bellinger hits a RBI-single against the Atlanta Braves during the first inning in Game 6 of a baseball National League Championship Series Saturday, Oct. 17, 2020, in Arlington, Texas. (AP Photo/Sue Ogrocki)
Los Angeles Dodgers' Corey Seager celebrates his home run against the Atlanta Braves during the first inning in Game 6 of a baseball National League Championship Series Saturday, Oct. 17, 2020, in Arlington, Texas. (AP Photo/Eric Gay)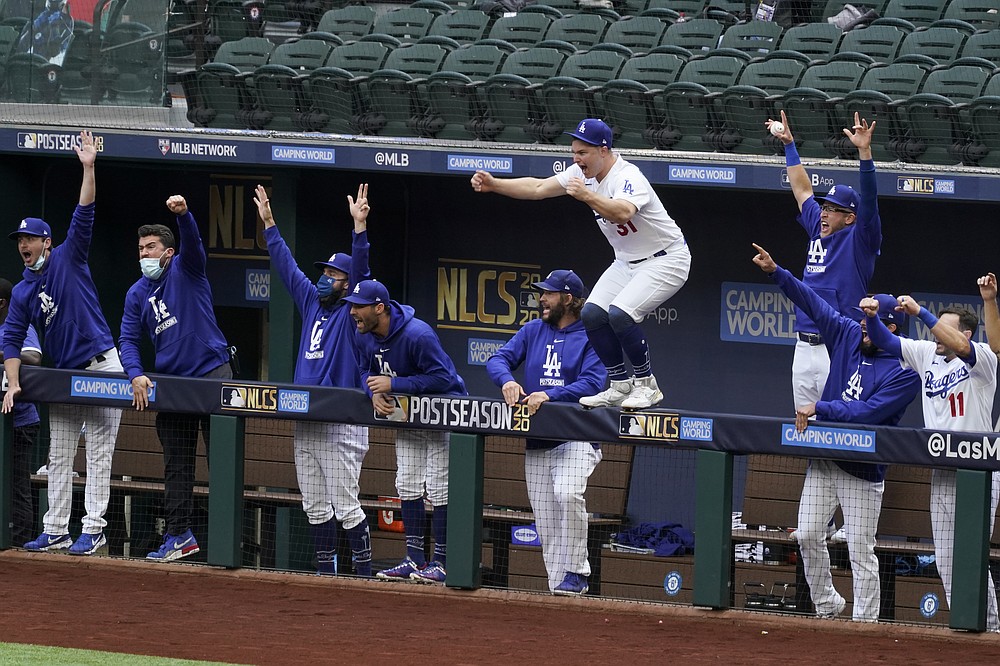 Los Angeles Dodgers celebrate a home run by Justin Turner during the first inning in Game 6 of a baseball National League Championship Series against the Atlanta Braves Saturday, Oct. 17, 2020, in Arlington, Texas. (AP Photo/Tony Gutierrez)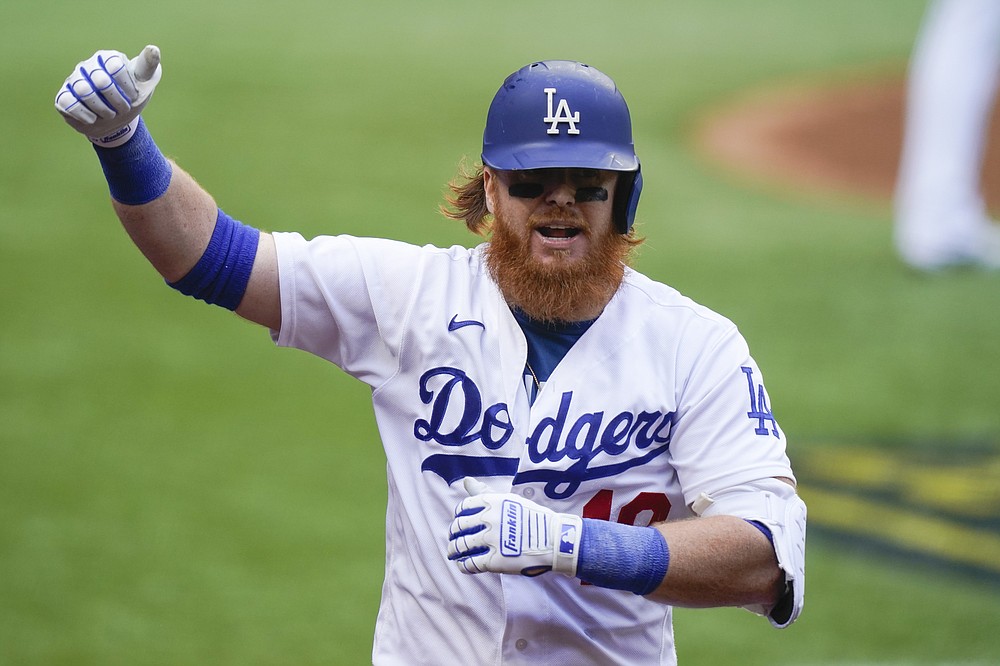 Los Angeles Dodgers' Justin Turner celebrates his home run against the Atlanta Braves during the first inning in Game 6 of a baseball National League Championship Series Saturday, Oct. 17, 2020, in Arlington, Texas. (AP Photo/Eric Gay)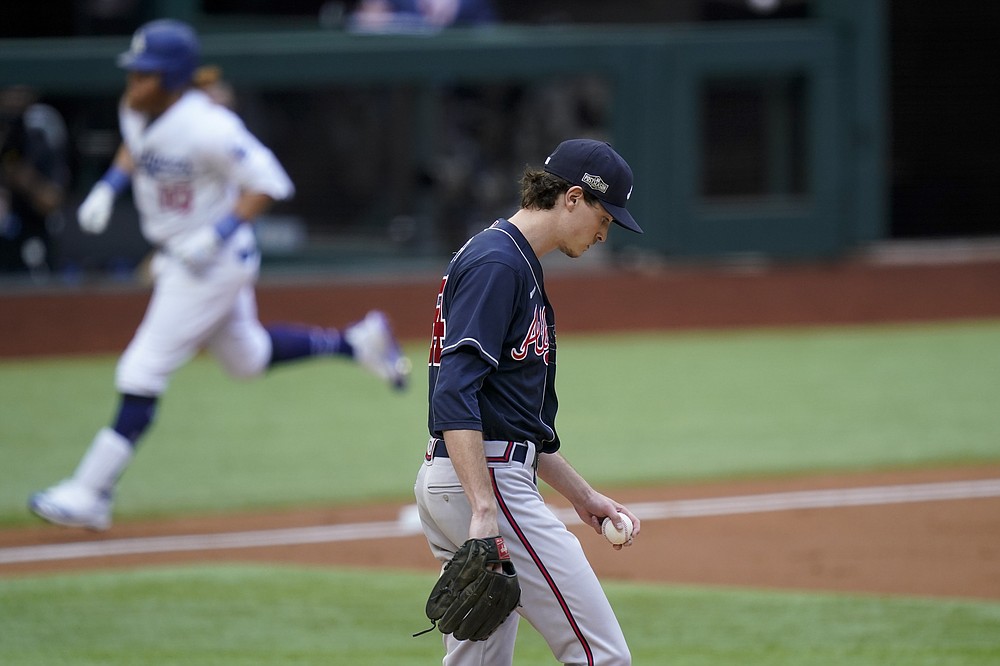 Los Angeles Dodgers' Justin Turner rounds the bases after a home run off Atlanta Braves starting pitcher Max Fried during the first inning in Game 6 of a baseball National League Championship Series Saturday, Oct. 17, 2020, in Arlington, Texas. (AP Photo/Eric Gay)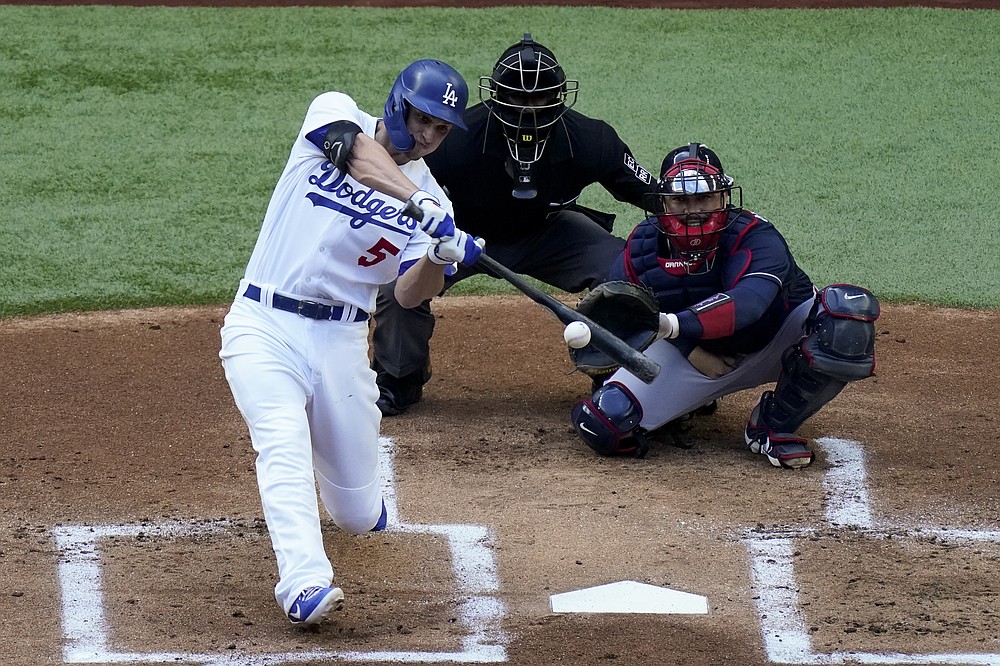 Los Angeles Dodgers' Corey Seager watches his home run against the Atlanta Braves during the first inning in Game 6 of a baseball National League Championship Series Saturday, Oct. 17, 2020, in Arlington, Texas. (AP Photo/Sue Ogrocki)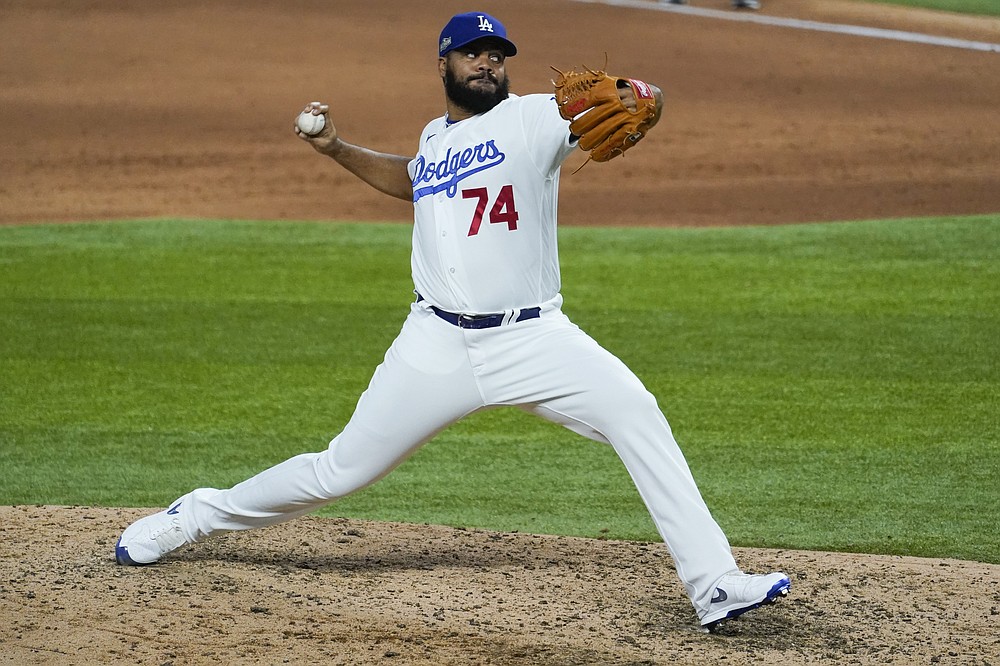 Los Angeles Dodgers relief pitcher Kenley Jansen throws against the Atlanta Braves during the ninth inning in Game 6 of a baseball National League Championship Series Saturday, Oct. 17, 2020, in Arlington, Texas. (AP Photo/Tony Gutierrez)
MLB playoffs
LEAGUE CHAMPIONSHIP SERIES
Best-of-7 All times Central
National League
At Arlington, Texas
SATURDAY'S GAME
LA Dodgers 3, Atlanta 1
Series tied 3-3
TODAY'S GAME
Atlanta (Anderson 3-2) vs. LA Dodgers (Gonsolin 2-2), 7:15 p.m. (Fox/FS1)
American League
At San Diego
SATURDAY'S GAME
Houston vs. Tampa Bay, (n)
Series tied 3-3
Sponsor Content
Comments