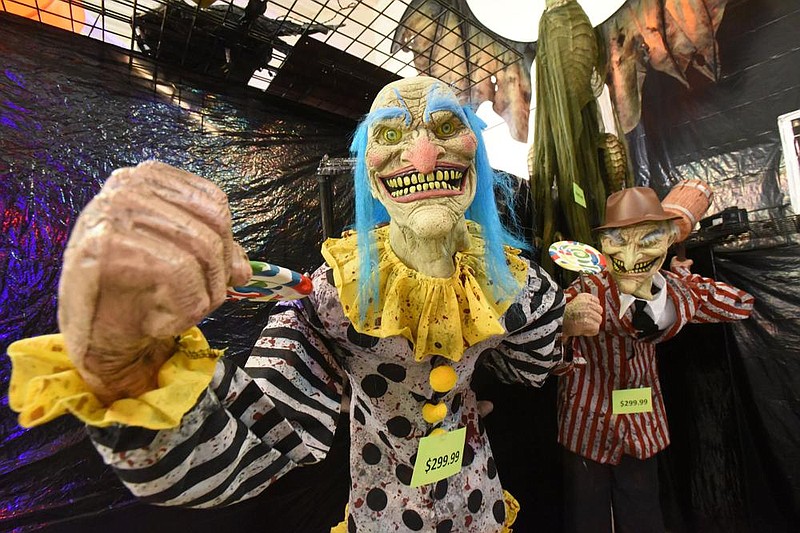 Scary characters await customers last week at the Halloween Express store inside Frisco Station Mall in Rogers. (NWA Democrat-Gazette/Flip Putthoff)
Businesses that rely on Halloween sales are running a little scared this season because of covid-19.
Revenue predictions are down this year, a rarity, and some consumers are struggling to decide how much time and cash to dedicate to the spooky holiday.
The National Retail Federation's annual Halloween survey is predicting revenue of $8.05 billion for 2020, down from $8.78 billion in 2019, mostly because there will be fewer public activities this year.
Angela Lemke the owner the Halloween Express store in the Frisco Station Mall in Rogers said foot traffic and sales are down this year adding that her product availability has been somewhat limited because manufacturers are shutting down earlier in the pandemic and then having to push production to meet demand.
She said that while she's seeing fewer shoppers than in years past, those who do stop by are in the holiday mood and spending money on things from costumes to decorations. While in the store, she said, the vast majority of customers have been willing to follow guidelines on social distancing and mask requirements.
[CORONAVIRUS: Click here for our complete coverage » arkansasonline.com/coronavirus]
The retail federation said that three-quarters of those surveyed say the covid-19 pandemic is a deciding factor in their holiday plans. Overall participation is down to 58%, with traditional Halloween activities like parties, trick-or-treating, and visiting haunted houses all seeing less interest this year, primarily because of social-distancing requirements and concerns.
Those who do plan to celebrate will spend more cash, according to the survey, with each person expected on average spending $92.12 on the holiday compared with $86.12 in 2019.
Activities close to home seem to be the most popular and saw saw some slight increases, with 53% of those surveyed saying they'll decorate their homes, up 4% over last year; 46% carving pumpkins, up 2%; and 18% springing for a costume for their pet, up 1%.
The retail federation has released a Halloween survey for more than 10 years. The 2020 survey of 7,644 people by Prosper Insights & Analytics was conducted from Sept. 1 through 9 and has a margin of error of plus or minus 1.1 percentage points.
Lemke said a big seller this year is astronaut helmets and spacesuits as folks cobble together outfits to mimic those seen in the hit online, multiplayer game Among Us. She said pandemic-themed costumes like toilet paper and hand sanitizer have also been in demand and she said, since it's an election year, President Donald Trump masks are also big sellers.
"People seem to be more interested in making it personal this year," Lemke said of Halloween. "People are celebrating but they're keeping it more restrained and controlled."
A survey by Fort Lee, N.J.-based What If Media Group, a performance-marketing company, showed two primary factors that brought stress to the holiday because of covid-19. The first was a fear of spreading the disease stopping gatherings and discouraging trick-or-treating and the second was job loss driving down consumer spending in general in areas like costumes, party supplies and candy.
"There is lot of uncertainty," Jordan Cohen, CMO of What If Media Group, said in a recent phone interview. "It will be a less than optimal season this year."
According to the What If Media Group survey, 66.2% of respondents said their children didn't plan to trick-or-treat in 2020, while on a typical year 8.6% of parents with children at home say they did not go trick-or treating. Only one-third of respondents said they planned on receiving trick-or-treaters. Of those who have typically received trick-or-treaters in previous years, 28% are not handing out candy this year.
"People are wary of having people come to their door," Cohen said.
Arkansas ranked ninth in the survey's top 10 states for trick-or-treaters with 28.9% of parents with children saying they intended to still go out on Halloween in search of treats. The top state was South Dakota with 35% saying they still intended to trick-or-treat.
The survey was conducted from Sept. 30 through Oct. 1 online within the United States, according to the company. The 16,053 respondents were randomly selected with a margin of error of 2.5 percentage points.
Chanda Wisdom, the manager of the Spirit Halloween store in the Northwest Arkansas Mall in Fayetteville, said the store has been surprisingly busy despite the pandemic and that most customers are polite and mindful of social-distancing requirements and other health guidelines.
She too said astronaut gear sold quickly because of the Among Us craze and decorations are big this year, including old standards like those based on the "Hocus Pocus" and "The Nightmare Before Christmas" franchises. Skulls, bones and tombstones are also good sellers.
Wisdom noted that health requirements have made selling some of the more elaborate costumes challenging since they had to close down dressing rooms and not allow folks to try on outfits. That's resulted in more returns, she said.
"It's hard for people not to try on a mask but they just can't," Wisdom said.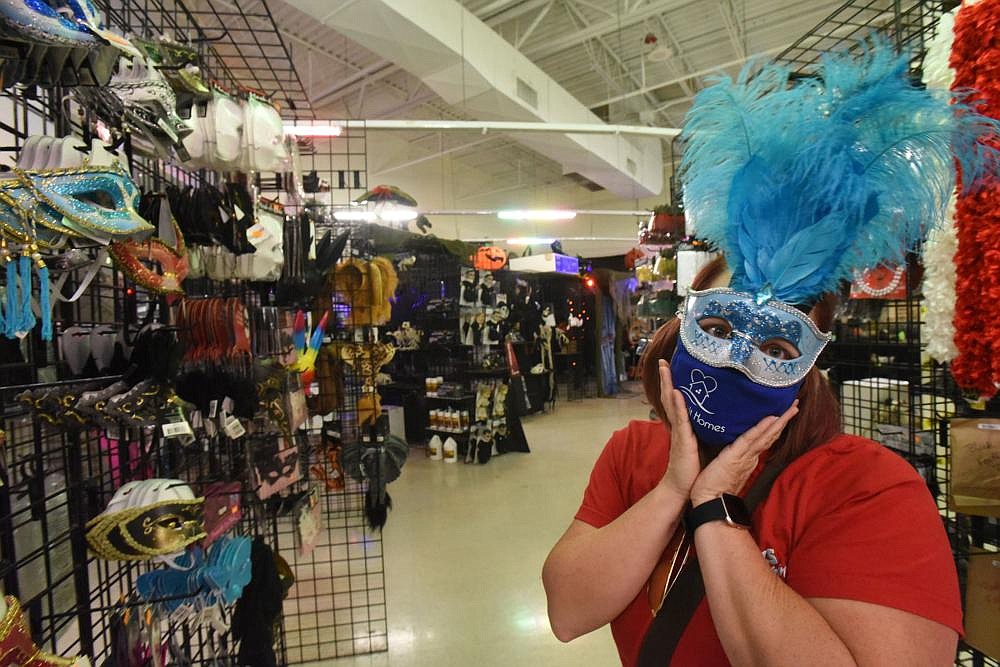 Amber Green of Bentonville tries on a costume mask last week at Halloween Express at Frisco Station Mall in Rogers. (NWA Democrat-Gazette/Flip Putthoff)
Sponsor Content
Comments