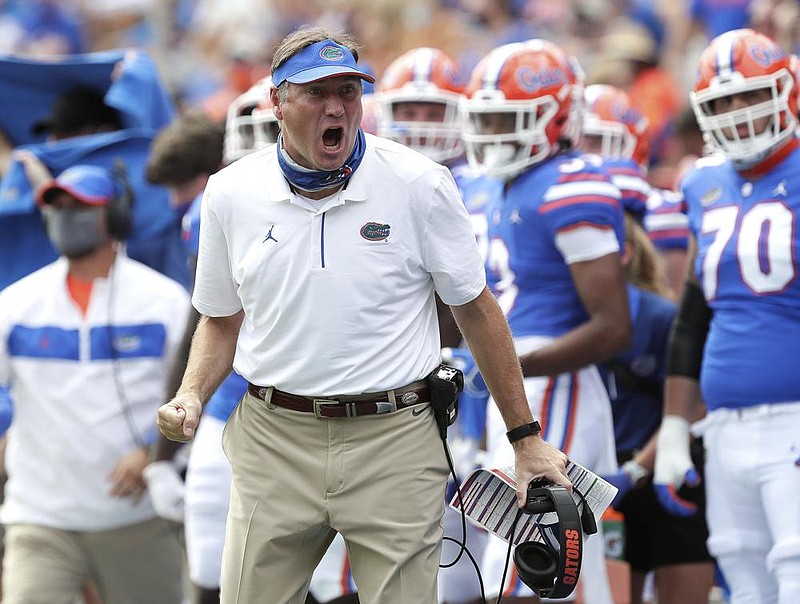 In this Oct. 3, 2020, file photo, Florida head coach Dan Mullen yells to a referee about a call during an NCAA college football game against South Carolina in Gainesville, Fla. (Brad McClenny/The Gainesville Sun via AP, Pool, File)
FOOTBALL
Mullen tests positive
University of Florida Coach Dan Mullen announced Saturday that he has tested positive for covid-19, becoming the latest person impacted by the outbreak within the Gators football program. Mullen said his initial positive test result was confirmed. An outbreak among the Florida football team prompted the school to suspend all team activities and postpone Saturday's game against LSU and next week's game against Missouri. Coming off a disheartening loss at Texas A&M, the Gators (2-1) would have had fewer than 50 scholarship players available to face the Tigers (1-2) in the Swamp. The Gators also would have had at least three coaches absent, with Mullen previously saying two assistants tested positive. Florida's medical staff has not pinpointed the exact origin of the Gators' outbreak but surmised it began with a couple of players -- one experiencing congestion and another a headache late last week. Suspecting an allergy or seasonal cold, neither reported the symptoms before the team traveled during the weekend to Texas A&M for the game.
Lions add two to roster
The Detroit Lions activated guard Joe Dahl from injured reserve and signed quarterback David Blough from the practice squad to the active roster. The Lions announced the moves Saturday, a day before Detroit's game at Jacksonville. The Lions also elevated tight end Isaac Nauta from the practice squad and released cornerback Chris Jones. Dahl went on IR last month with a groin injury. He started Detroit's season opener against Chicago.
Jets activate WR
The New York Jets have activated wide receiver Vyncint Smith and linebacker Blake Cashman from the injured reserve list in time for both to play against the AFC East-rival Dolphins at Miami. The team also announced Saturday it elevated quarterback Mike White from the practice squad. White will again serve as the backup to Joe Flacco, who is making his second consecutive start in place of the injured Sam Darnold. Safety Marqui Christian was released to make room on the active roster. The speedy Smith has been sidelined since training camp, when he suffered a core muscle injury that required surgery. Smith's return boosts a Jets receiving corps that has been ravaged by injuries since the summer.
MOTOR SPORTS
Moffitt qualifies for finale
Brett Moffitt wasn't about to finish second again -- not with a spot in the NASCAR Truck Series finale on the line. So when Zane Smith tried to pass him with three laps to go, Moffitt moved down ever so slightly and sent his teammate into a spin along the backstretch. Then, the 28-year-old from Iowa held off a field full of playoff contenders, winning a two-lap shootout to the checkered flag at Kansas Speedway on Saturday. Moffitt got a big push from another teammate, Sheldon Creed, on the final restart and then beat the winner of the first two stages to the finish line. It was Moffitt's first win of the season after a maddening four runner-up finishes. It couldn't have come at a better time, either. It was the first of three Truck races that will trim the playoff field from eight to four for the finale, and the victory means that Moffitt won't have to worry about qualifying the next two events. Austin Hill finished third.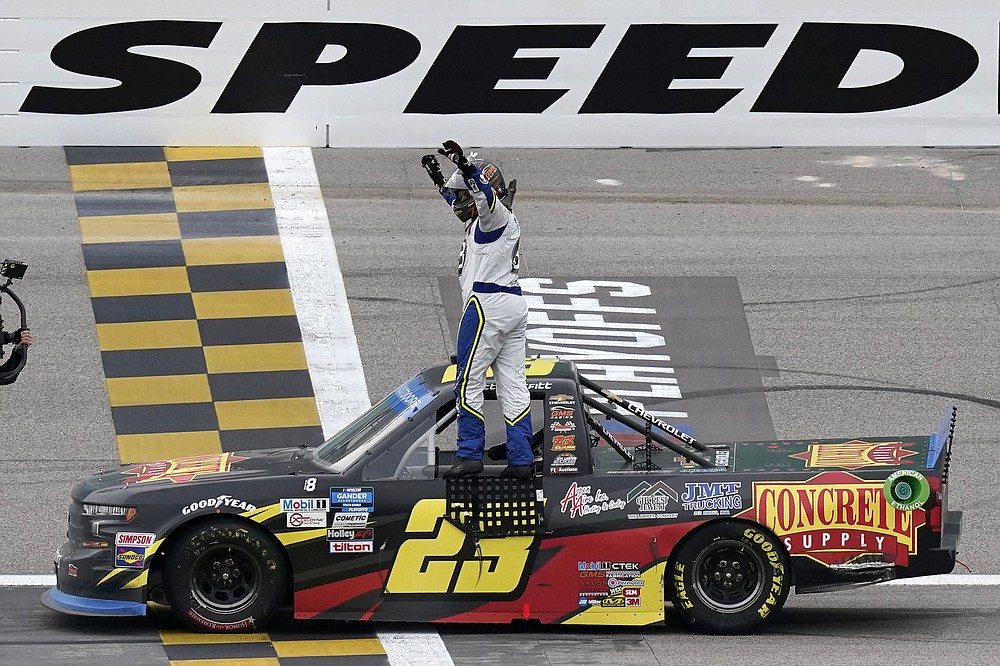 Brett Moffitt (23) celebrates after winning a NASCAR Truck Series auto race at Kansas Speedway in Kansas City, Kan., Saturday, Oct. 17, 2020. (AP Photo/Orlin Wagner)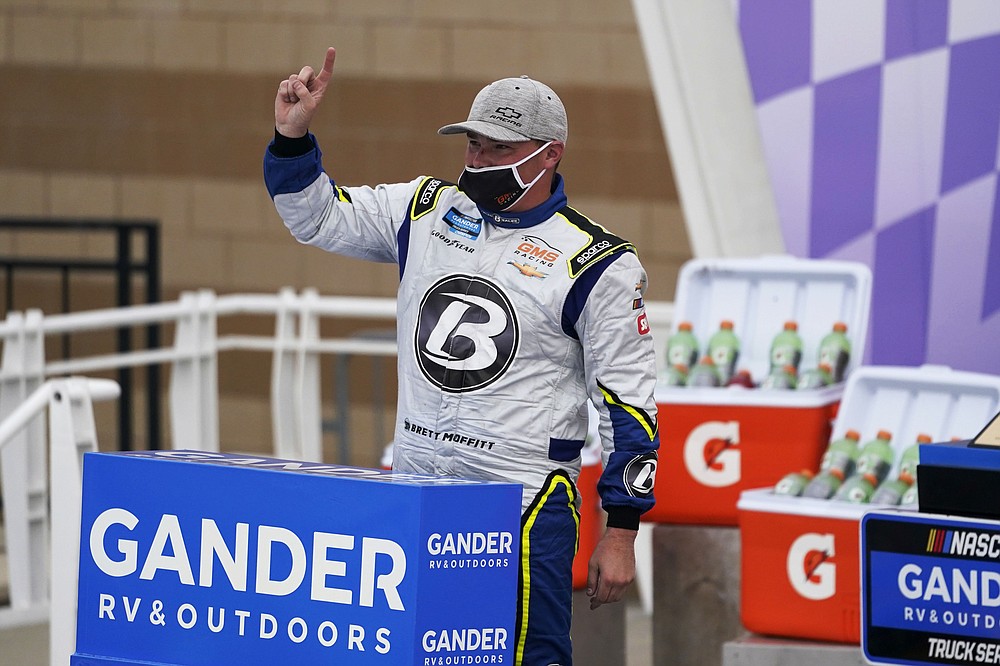 Brett Moffitt celebrates in victory lane following a NASCAR Truck Series auto race at Kansas Speedway in Kansas City, Kan., Saturday, Oct. 17, 2020. (AP Photo/Orlin Wagner)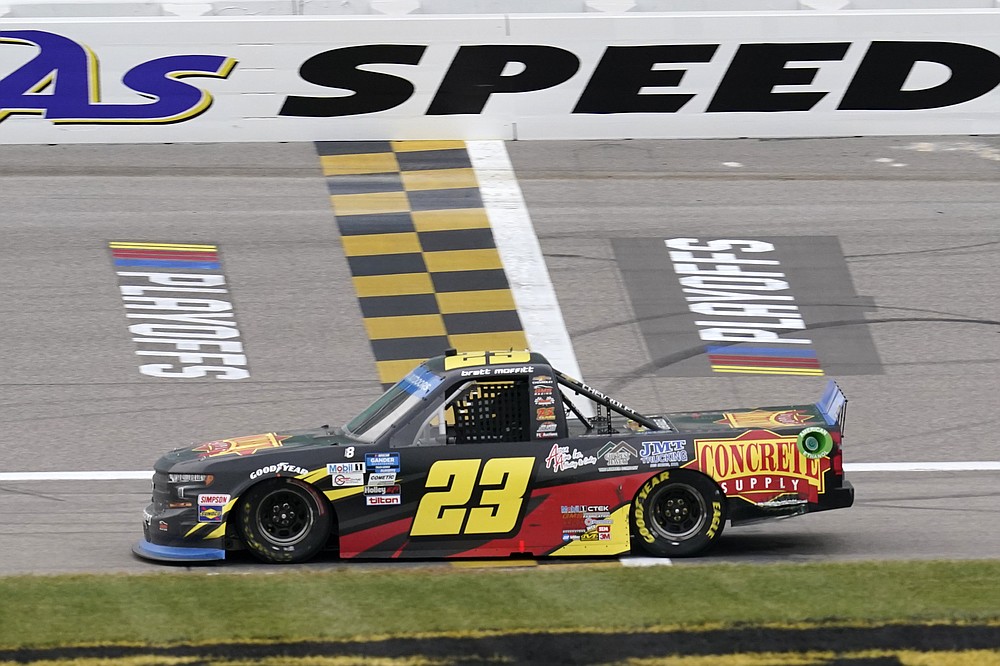 Brett Moffitt (23) crosses the finish line to win a NASCAR Truck Series auto race at Kansas Speedway in Kansas City, Kan., Saturday, Oct. 17, 2020. (AP Photo/Orlin Wagner)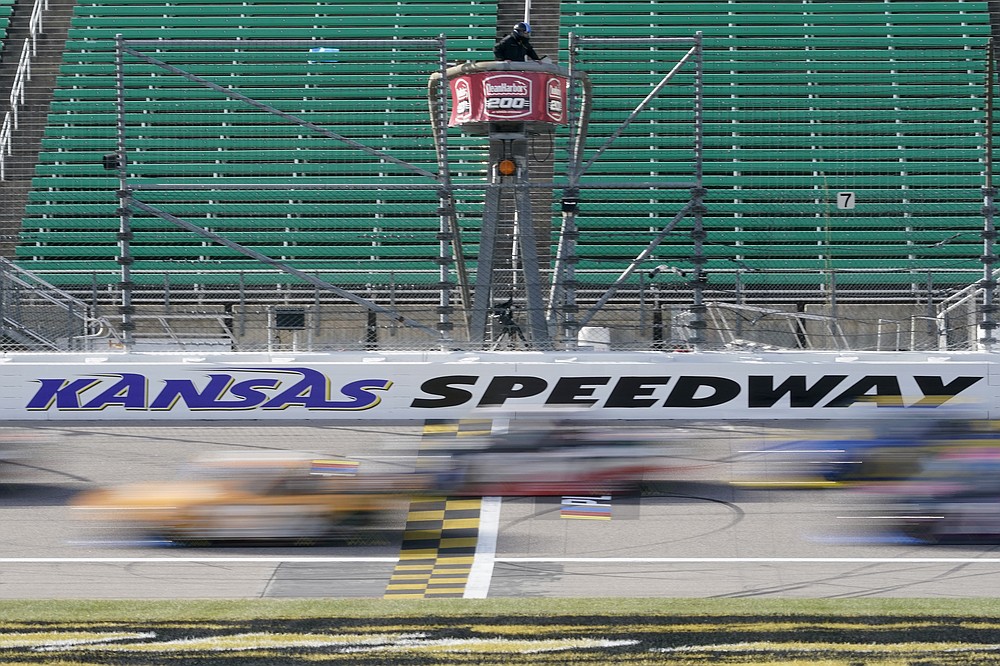 Drivers take the green flag during a NASCAR Truck Series auto race at Kansas Speedway in Kansas City, Kan., Saturday, Oct. 17, 2020. (AP Photo/Orlin Wagner)
Chandler Smith (51) takes the green flag with Ben Rhodes (99), Sheldon Creed (2) and Brett Moffitt (23) during a NASCAR Truck Series auto race at Kansas Speedway in Kansas City, Kan., Saturday, Oct. 17, 2020. (AP Photo/Orlin Wagner)
GOLF
Weir on top in Richmond
The other left-handed, 50-year-old former Masters champion was in the lead after a long Saturday at The Country Club of Virginia in Richmond, Va. While Phil Mickelson got most of the attention going into the Dominion Energy Charity Classic as he tries to open his senior career with consecutive victories, Mike Weir was a little better on a 36-hole day after rain washed out play Friday. The Canadian shot 68-63 to reach 13 under and take a three-stroke lead over Mickelson. Mickelson shot 68-66. He won his PGA Tour Champions debut at Ozarks National in August. Weir won the 2003 Masters for the biggest of his eight PGA Tour titles. Fellow major champion Retief Goosen was third at 8 under with Brandt Jobe. They each shot 68-68. Bernhard Langer, the first-round leader after a 67, was 7 under with Wes Short Jr. (69-68) after a second-round 70. Ken Duke (Arkadelphia, Henderson State) and Glen Day (Little Rock) are both at 2-under 142. John Daly (Dardanelle, Arkansas Razorbacks) stands at 144.
Wallace leads in Scotland
English golfer Matt Wallace opened up a three-stroke lead after the third round of the Scottish Championship on the European Tour after shooting 6-under 66 on Saturday. Wallace birdied three of his last five holes to complete a bogey-free round at Fairmont St. Andrews and pull clear of countryman Garrick Porteous, who also shot 66 in the next-to-last group. Wallace started the day tied for the lead with Spain's Adrian Otaegui, who shot 70 and dropped four strokes off the pace. The only other player within five shots of Wallace is Sean Crocker of the United States, after his 67. The 51st-ranked Wallace is a four-time European Tour winner. Three of those victories came in 2018.
TENNIS
Zverev reaches Cologne finals
Alexander Zverev moved one win from a third title in his native Germany on Saturday and will play Felix Auger-Aliassime in the final of the Cologne Indoors tournament. Top-seeded Zverev defeated Alejandro Davidovich Fokina 7-5, 7-6 (3) in the semifinals. The 20-year-old Auger-Aliassime also beat a Spanish opponent, second-seeded Roberto Bautista Agut, 6-3, 1-6, 6-3. The Canadian will be going for his first title in today's final -- his sixth -- while Zverev is bidding to make up for some of the disappointment of losing the U.S. Open final to Dominic Thiem.
Rublev vs. Coric in Russia
Andrey Rublev and Borna Coric overcame Canadian opposition to reach the final of the St. Petersburg (Russia) Open on Saturday. Third-seeded Rublev rallied to beat second-seeded Denis Shapovalov 4-6, 6-3, 6-4, and Coric also recovered in the semifinals to beat Milos Raonic 1-6, 6-1, 6-4. Rublev saved five of six break points to rally from a set down for the second time this week after also trailing Ugo Humbert by a set in the second round. Coric, who lost to Daniil Medvedev in last year's final, withstood an early onslaught from Raonic to win in just under two hours. The Croatian player will bid to beat Rublev for the first time at the fourth attempt in today's final.
Sponsor Content
Comments