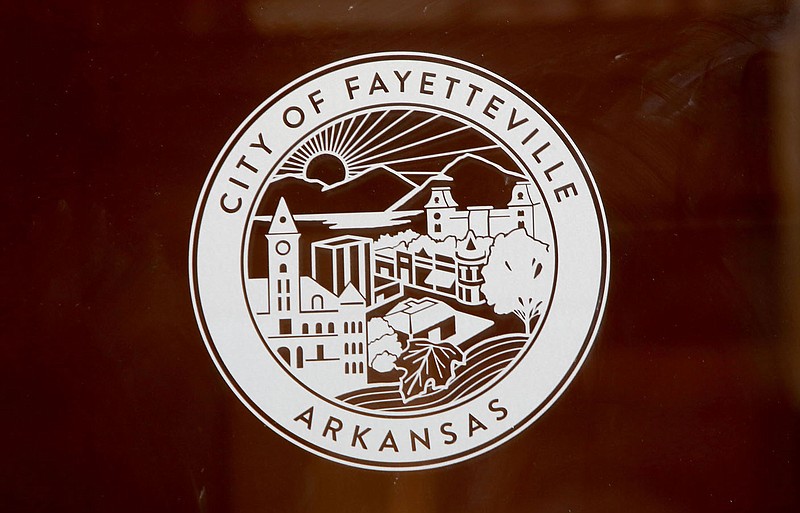 File photo/NWA Democrat-Gazette/DAVID GOTTSCHALK The city of Fayetteville logo is seen at City Hall on Feb. 14, 2017.
FAYETTEVILLE -- The City Council is set to consider an ordinance Tuesday that would allow prosecutors to present evidence a misdemeanor crime was hate-based.
The intent is to encourage the judge to consider a stiffer penalty and ultimately deter people from committing such acts, supporters said.
An example might be if someone spray-paints homophobic slurs on a gay person's house, according to City Prosecutor Brian Thomas. A criminal mischief conviction might garner a harsher penalty from a judge if he could present the spray-painted words as evidence the offender wanted to intimidate a homosexual person, Thomas said.
The maximum fine is $1,000 and/or up to a year in jail. The judge might order the offender to pay less restitution and avoid jail if he didn't know about the prejudicial message, Thomas said.
Thomas doesn't always seek a maximum penalty, but said he appreciates the ability to be able to present more evidence in a case, he said.
"I don't look forward to using it, because that means someone's been victimized," Thomas said. "But if it comes up, we'll bring it out and see how it would apply."
The ordinance wouldn't raise maximum fine amounts or jail time, City Attorney Kit Williams said. It would adopt 16 class A misdemeanor offenses into city code, keeping intact their range of penalty as defined by state law. Penalties for class A misdemeanor crime can involve fines up to $2,500 and/or jail time up to one year, according to state law.
By prosecuting the offenses under city code, rather than state law, a hate-crime component could be introduced, Williams said. The city prosecutor would still have the option of prosecuting someone under state law, without the hate-crime component, he said.
Sending a message
Hate-crime intent as defined by the measure is, "criminal conduct with the intention or purpose to hurt, intimidate or terrorize the victim or others because of their actual or perceived race, religion, gender, gender identity, national origin, sexual orientation or disability."
Council Member Teresa Turk sponsored the measure after the Little Rock Board of Directors passed a hate-crime ordinance in July.
"I felt, as one of the responsibilities of being on the City Council and running on an inclusive and welcoming platform, I really needed to step up and propose something like this," Turk said.
On Sept. 14, a mural painted by artist Olivia Trimble was spray-painted with graffiti referencing a white supremacist slogan. The mural, with bold letters saying "Love unites us," was a response to someone previously painting "white pride" on a wall of the building on West Martin Luther King Jr. Boulevard. Trimble has since repainted the building.
Turk said she started working on her proposal before the mural was vandalized. However, the act exemplifies the need for the city to adopt some type of measure to better deter hate speech, she said.
Prosecuting someone for one of the misdemeanors under city code, as opposed to state law, would mean a conviction would not go on the person's record, Thomas said. Convictions prosecuted under state law go on the person's record. Violating a city code does not, just like with parking tickets or cars sitting idle in a front yard.
Misdemeanor cases are handled by a district court judge. A person found guilty can appeal the verdict and seek a new trial before a jury in circuit court.
Turk described the measure as modest, going as far as a city likely could go with hate-crime legislation. She said she envisioned the move likely resulting in maximum fines, rather than maximum jail time.
The move wouldn't end racism or bigotry, but it could be a step forward in a larger conversation, Turk said.
"I think it sends a very clear message," she said. "Hopefully, the word would get out that this is not something we tolerate in Northwest Arkansas. We don't like this, we don't condone it, we don't think it's OK. You're targeting a group of people whom you have a prejudice or bias against, and those effects are long-lasting."
Little Rock's ordinance goes further than the one proposed for Fayetteville. Misdemeanor crimes targeting people because of race, national origin, religion, sexual orientation, gender identity or disability can carry fines up to $1,000 and/or a jail sentence of 30, 60 or 90 days. That's in addition to the underlying offense's range of penalty as defined by state law.
No one has been prosecuted under the ordinance, officials said Friday, nor has the measure been challenged in court.
Passing muster
The city should avoid any potential legal hurdles by operating within the state's established laws for punishment, Williams said.
Lanny Richmond, legal counsel for the Arkansas Municipal League, said it appeared the city went to great lengths to ensure the proposal stayed within statutory limits for penalties, which is the normal hurdle for such an ordinance.
Arkansas joins South Carolina and Wyoming as states without a hate-crime law. Turk said she hopes other cities will adopt hate-crime provisions, pushing state leaders to join the 47 states that do have such a law.
A bipartisan group of state lawmakers this summer released a draft of a hate-crime law the Legislature is expected to take up when it convenes in January. The law would enhance punishments for crimes committed against people because of their race, ethnicity, religion, disability, sexual orientation or gender identity, as well as factors such as homelessness or military service.
Gov. Asa Hutchinson has expressed support for the measure, as has Attorney General Leslie Rutledge. The legislation was drafted by state Sen. Jim Hendren, R-Sulphur Springs, and sponsored by four other Republican and 17 Democratic state lawmakers.
Another provision of the Fayetteville proposal requires the city prosecutor to report annually to the City Council each May the number of cases prosecuted under the code.
More News
Possible offenses
Any person convicted of the following misdemeanors who also intended to hurt, intimidate or terrorize the victim or others because of their actual or perceived race, religion, gender, gender identity, national origin, sexual orientation or disability would be subjected to Fayetteville's proposed hate crime recognition as deterrence code:
• Battery in the third degree
• Assault in the second degree
• Assault in the third degree
• Coercion
• Terroristic threatening
• Arson
• Criminal mischief in the first degree
• Criminal mischief in the second degree
• Filing a false report with a law enforcement agency
• Disorderly conduct
• Harassment
• Harassing communications
• Communicating a false alarm
• Threatening a fire or bombing
• Cyberbullying
• Stalking in the third degree
Source: Fayetteville
Stacy Ryburn can be reached by email at [email protected] or on Twitter @stacyryburn.
Sponsor Content
Comments