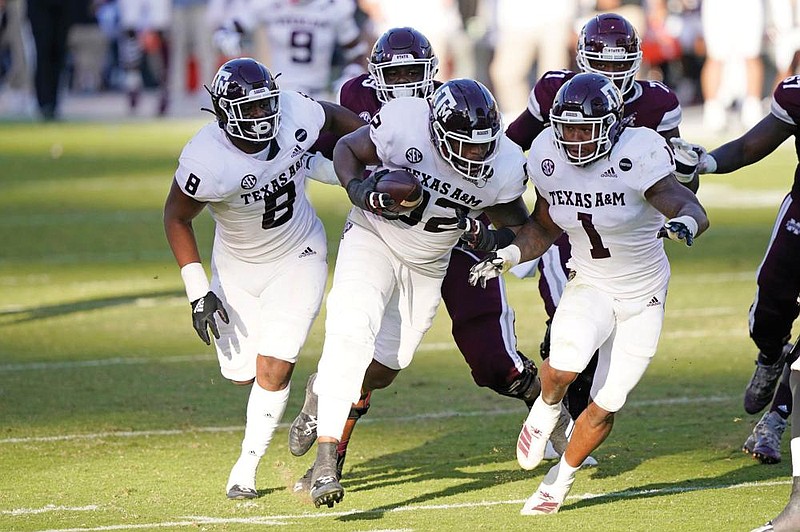 Texas A&M defensive lineman Jayden Peevy (middle) runs with the ball after recovering a fumble Saturday while escorted down the field by teammates DeMarvin Leal (8) and Buddy Johnson during the second half of the No. 11 Aggies' 28-14 victory over Mississippi State on Saturday in Starkville, Miss. Peevy did not score on the play. (AP/Rogelio V. Solis)
STARKVILLE, Miss. -- Texas A&M controlled the line of scrimmage and the clock.
Isaiah Spiller ran for 114 yards and two touchdowns and Kellen Mond threw for two scores to help the No. 11 Aggies beat Mississippi State 28-14 on Saturday.
"When you're on the road, you've got to be able to control clock, control tempo, and you've got to run the football to do that," Aggies Coach Jimbo Fisher said. "And we did at times today. The other part was running out the last five, six minutes of the game when we got the ball and we got down there and could have had a score. We didn't, but eating that clock up and not giving it back, that was huge."
Texas A&M (3-1) led 14-0 at the half and had 325 yards of total offense in the game. Ainias Smith caught five passes for 20 yards and a touchdown. Chase Lane caught two passes, including a 51-yard touchdown reception in the opening minutes of the third quarter.
Mississippi State (1-3) had little offensive rhythm for the third consecutive game. The Bulldogs' first touchdown came on Emmanuel Forbes' interception return in the third quarter.
"I thought we literally squandered the first half," Bulldog Coach Mike Leach said. "Right now we're one team on Tuesday and Wednesday and another team on Saturday. We need to be able to transition that to the field. And if you think that's frustrating for you, you should try it from my perspective."
Leach benched starting quarterback KJ Costello midway through the second half for freshman Will Rogers, same as he did last week in a 24-2 loss at Kentucky. Rogers connected with Malik Heath for a 15-yard touchdown pass in the fourth quarter.
"Offensively, we were a bunch of pincushions out there," Leach said. "And I think its mental on the part of our O-line, because we can block our own defensive line consistently in practice and A&M couldn't even do that. So, it's definitely mental."
Texas A&M's defense continually disrupted the line of scrimmage, finishing with six sacks and eight tackles for loss. Mississippi State had minus-2 yards rushing and just 217 yards of total offense.
"Day 1 we believed in the game plan," tackle Jayden Peevy said. "We saw Kentucky come with a three-man front. We watched a lot of film against these guys. We saw [Kentucky] get a victory so we planned on it all week."
KENTUCKY 34,
NO. 18 TENNESSEE 7
KNOXVILLE, Tenn. -- Kelvin Joseph and Jami Davis returned interceptions for touchdowns in the first half and Kentucky shut out No. 18 Tennessee in the second half to sink the Volunteers.
It was Kentucky's first win in Neyland Stadium since 1984, the Wildcats' largest margin of victory in Knoxville since 56-0 in 1893 and their most lopsided victory in the series since 1935.
"I don't like our team inheriting 20, 30 years of history that's not on these guys. We're responsible for what we've done lately," Kentucky Coach Mark Stoops said. "Two years ago, I didn't like how I had them ready to play and we altered that, got some things fixed and played much better. That's on me as much as it is on the team."
After getting six interceptions and allowing only a safety against Mississippi State last week, Kentucky (2-2) intercepted three passes against the Vols (2-2).
"This game was definitely personal for us," said Davis. "We came out and put our foot on their necks. We're tired of leaving here empty-handed."
Tennessee has now followed up an eight-game winning streak with a two-game losing streak.
"There's lots of areas we need to improve obviously but it's more about creating the right habits," Tennessee Coach Jeremy Pruitt said. "It's how you practice every single day. It's the work ethic. It's creating the right habits. It's on everybody within our organization to really improve that. We've got to work hard to do that."
Joseph's 41-yard touchdown and Davis' 85-yard return -- both off interceptions thrown by Jarrett Guarantano -- helped put Kentucky up 17-0 in the second quarter.
With about 5 minutes left in the third quarter and trailing by 20, Tennessee went three-and-out for a second consecutive possession and was showered with boos from the sparse crowd of 22,519.
Saturday's scores
EAST
Liberty 38, Syracuse 21
Temple 39, South Florida 37
West Virginia 38, Kansas 17
SOUTH
Ala.-Birmingham 37, W. Kentucky 14
Clemson 73, Georgia Tech 7
Georgia Southern 41, Massachusetts 0
Jacksonville St. 24, North Alabama 17
Kentucky 34, Tennessee 7
Marshall 35, Louisiana Tech 17
Memphis 50, Cent. Florida 49
Miami 31, Pittsburgh 19
NC State 31, Duke 20
Navy 27, East Carolina 23
North Texas 52, Middle Tennessee 35
South Alabama 30, Texas State 20
South Carolina 30, Auburn 22
Texas A&M 28, Mississippi St. 14
Troy 31, E. Kentucky 29
Virginia Tech 40, Boston College 14
Wake Forest 40, Virginia 23
MIDWEST
Cent. Arkansas 33, Missouri St. 24
Notre Dame 12, Louisville 7
SOUTHWEST
Arkansas 33, Mississippi 21
Army 28, UTSA 16
Stephen F. Austin 31, Angelo St. 12
Sponsor Content
Comments