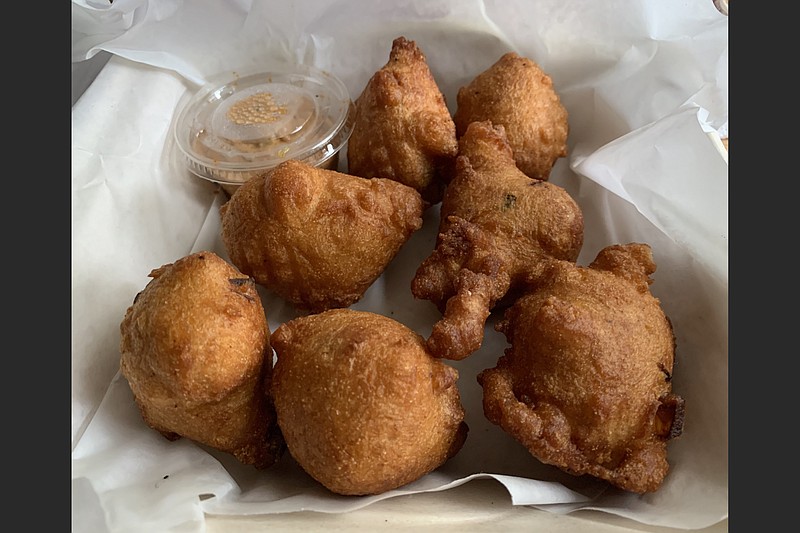 The enormous, puffy hush puppies are on the veggie/vegan and omnivore sides of Esters' menu. (Arkansas Democrat-Gazette/Eric E. Harrison)
"No matter where you to-go, there you are." So saith the title character, more or less, in "The Adventures of Buckaroo Banzai Across the 8th Dimension." It's a wacky cult film involving an alien invasion that, if the pandemic continues long enough, more people may be moved to explore.
In this, our weekly hit-and-miss odyssey of area eateries, we are, as is our practice, sticking — with the occasional exception, noted below — to locally owned, nonchain places. We pay for all our meals, we try to remain anonymous (it's a lot harder when we pay in advance with a credit card and/or give a name to the people on the other end of a phone) and we don't take requests from restaurants for reviews.
◼️ ESTERS, 1214 Main St., Little Rock, (501) 353-2489, esterspub.com
WHAT WE GOT: South Broadway ($9.99); Hush Puppies (seven for $6.99)
Esters' "pub grub + plant-based" bill of fare is really two menus, or rather two sides of the same menu: one for vegetarians/vegans and one for "omnivores." We really wanted to order something off the plant-based side, but our omnivorous innards late in the lunch period weren't up for the experiment, so we went with a sandwich that had impressed us previously, which the menu describes as a "grownup grilled cheese with mayo, mozz, provolone, bacon and a garlic-basil spread on a pressed hoagie roll." (The "plant-based" version, same price, specifically substitutes vegan bacon and the customer can specify vegan cheese. Another sandwich substitutes seitan [wheat gluten] for chicken.)
The sandwich, though by the time it had been pressed enough for the cheeses to properly melt wasn't attractive enough to pose for a photo, tasted just as good as we remembered. There was plenty of crisp bacon, the cheese was melted but not gooey, and it had a vivid basil-garlic kick. We spent an extra buck to substitute a side salad for fries, a good-size collection of mixed greens with fresh tomato and fresh mushrooms on top and (our choice) a pleasant blue cheese dressing.
The hush puppies are the same on either side of the menu: beer-batter dough puffs charged just a little with bits of onion and jalapeno, and served with a house-made remoulade. We didn't expect them to be that huge, each just a little bigger than an irregular golf ball, nicely balanced between fluffy and spongy. The remoulade was quite tangy and a nice complement to the dough balls.
HOW IT WENT: We tried several times, unsuccessfully, to order by phone; after tiring of the voicemail message, we headed downtown and placed, and paid for, our order in person. The dining room is partially open with tables toward the front roped off specifically for folks awaiting to-go orders. Except for the plastic carry-out bag, all the packaging is compostable, including the paper-board clamshells and the plant-based plastic salad bowl; so is the cutlery.
HOW IT'S GOING: There were three tables of dine-in customers and one customer waiting for a to-go order late in the lunch period.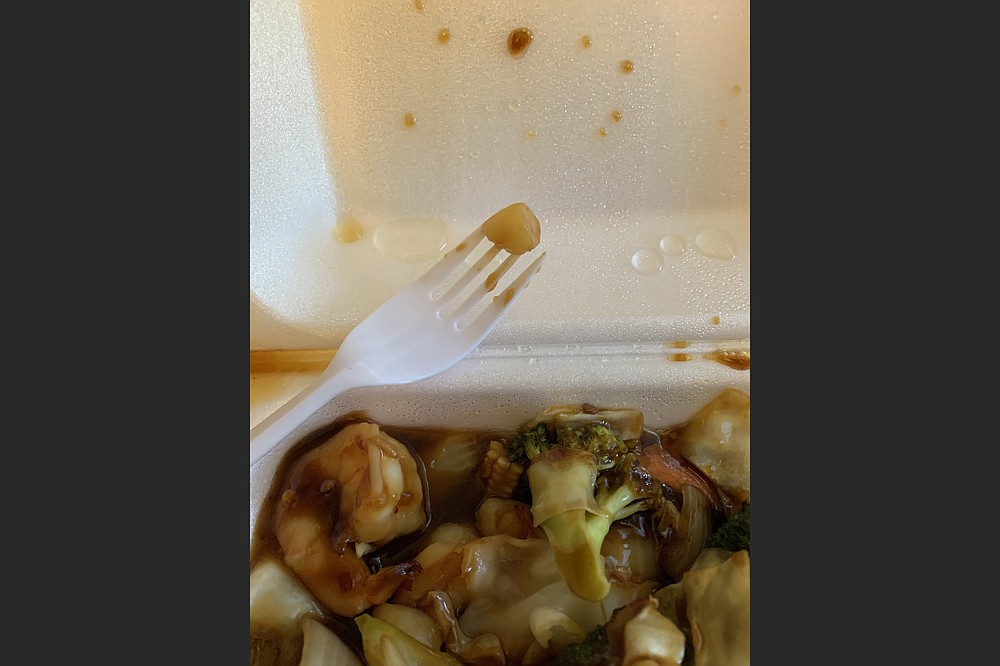 The shrimp are medium-sized in the Scallop & Shrimp with Garlic Sauce from China Taste; the scallops are about the size of a pearl. (Arkansas Democrat-Gazette/Eric E. Harrison)
◼️ CHINA TASTE, 9218 N. Rodney Parham Road, Little Rock, (501) 227-8800; chinatastelittlerock.com
WHAT WE GOT: Shrimp and Scallops With Garlic Sauce ($10.95); pint of hot and sour soup ($2.55). General Tso's Chicken lunch combo ($7.29) with egg roll and fried rice, plus hot and sour soup
China Taste is one of a cadre of quick-serve Chinese restaurants doing much of their business via drive-thrus and packaging food in foam containers and plastic cutlery whether you eat on the premises or take it with you. The food is rarely of the same quality as you'd get from a full-service Chinese restaurant, but every now and then you run across a gem. That wasn't the case here, however. The shrimp, one of the "chef's specialties," we have no beef with (no pun intended) — they're medium-size, firm and tasty, especially in the rich brown sauce with a pleasant, not overwhelming garlic flavor and some red pepper shreds. It's the scallops that raised our eyebrows: tiny, about the size of a pearl, so at first, we thought perhaps that somehow they'd been left out of the wok. We'd probably have been just as well off if they had. The rest of the dish is veggies, including broccoli, baby corn, carrots and lots and lots of cabbage.
Even so, it was yet an improvement on the General Tso's Chicken we ordered as a lunch special. The dark-meat batter-fried chicken in what's supposed to be a spicy sauce was, well, meh. So was the accompanying egg roll and the fried rice. China Taste's hot and sour soup was decent — we handed over an extra 50 cents for a surprisingly generous-size polystyrene cup — though a bit thin, so we reprised it with our dinner entree on a second visit.
HOW IT WENT: We drove up during an off-peak hour for lunch and ordered on the spot for the drive-thru (the dining room is closed), paid at the window, then waited 10 minutes for them to produce our order, which is a long time to sit at a drive-thru window, especially since there didn't appear to be any reason — there was nobody ahead of us. So for dinner, we decided to try ordering online. That worked a lot better. The online ordering system was clear, quick and painless, though we did have to register through a third-party service; the order was ready and waiting for us at the drive-thru window when we got there about 15 minutes later.
HOW IT'S GOING: Our lunch visit, as we mentioned, was off-peak; there was one car behind us when we finally pulled away. Dinner business seems a little brisker — there was one car ahead of us at the drive-thru and two behind us.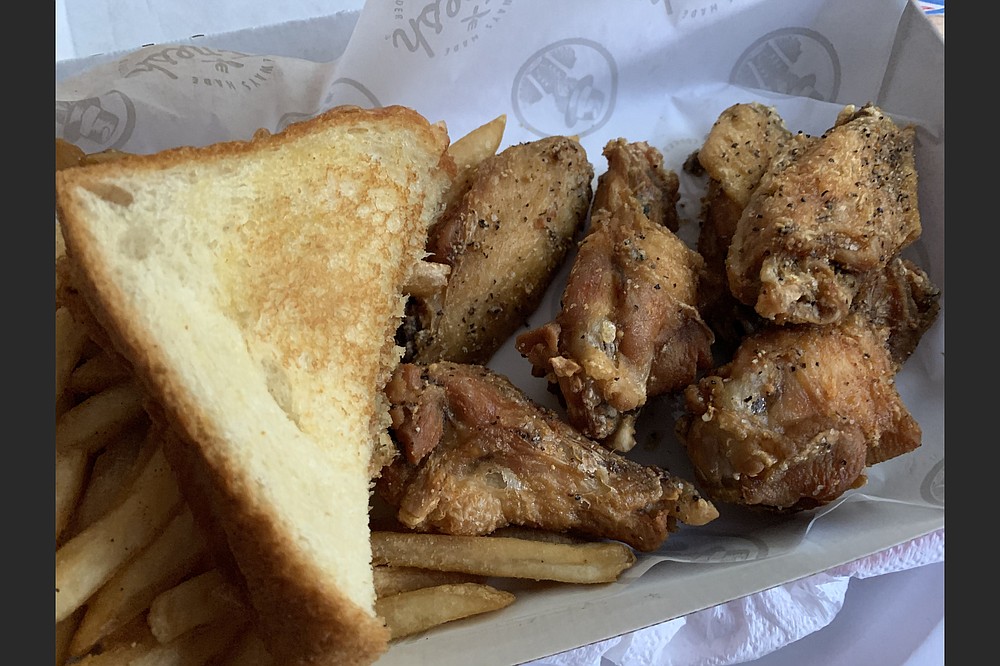 Slim Chickens recently introduced dry-rub wings to the menu, in lemon pepper (shown) and Cayenne ranch. (Arkansas Democrat-Gazette/Eric E. Harrison)
◼️ SLIM CHICKENS, 4500 W. Markham St., Little Rock, (501) 907-0111; slimchickens.com/location/little-rock-ar-4500
WHAT WE GOT: Lemon-pepper wings, eight pieces ($12.20 including tax; six-piece meal also an option); Chicken & Waffles ($8.49, $5.99 with a coupon and all-day Wednesday)
Dry-rub wings are a new, for a limited time, menu item at this Fayetteville-based chain. (We know, we've been avoiding chains, but this one is Arkansas-owned and locally franchised, and we make the rules, so we can bend them when it's appropriate. So there.) All sorts of sauced-wing combinations have been available all along. They come in two flavors: Cayenne Ranch, which they describe as "a perfect blend of creamy ranch with a kick of Cayenne," and Lemon Pepper, "a tangy and zesty flavor featuring a punch of black pepper spice with the classic onion and garlic duo." Our lemon-pepper wings were less tangy and zesty than promised, but they were meaty and tasty and we'd probably order them again. Orders come with a good-size pile of decent fries, a lightly toasted piece of white bread and choice of dipping sauce (we chose blue cheese, not chunky but fairly rich). We were aghast at first that they only provided three napkins, but once we realized that dry-rub wings aren't nearly as messy as their sauced counterparts, three was actually just enough.
We can't, however recommend the chicken & waffle, three good-size tenders — Slim Chickens' central menu item — piled onto a waffle, with cupped butter and "sweet Maple syrup." The tenders were bland, but not as bland as the waffle. The syrup helped but not enough.
HOW IT WENT: Central Arkansas' first Slim Chickens, on West Markham Street near the University of Arkansas for Medical Sciences, has opened its patio but not its dining room, so it's doing a lot of business via the drive-thru, where there can be long lines at peak periods. So we avoided the peak periods. Even so, things like wings and waffles take time to prepare, so we were guided to park in one of five or six reserved spots (including the two handicapped spaces, which gave us a little pause), and masked-and-gloved servers brought our orders to the car.
HOW IT'S GOING: There were a number of customers dining on the patio on both our visits; even at off-peak periods, there were several cars in line at the drive-thru.
Sponsor Content
Comments