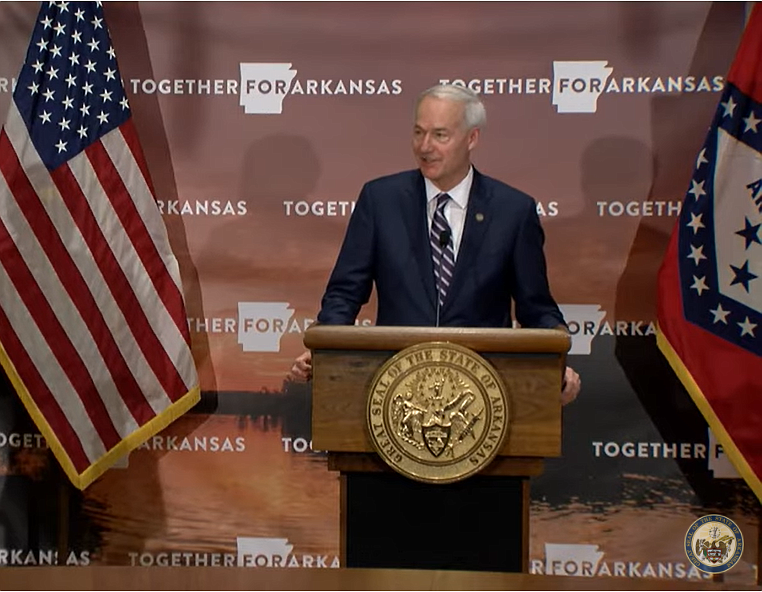 Arkansas Gov. Asa Hutchinson speaks during a news conference Wednesday, Oct. 14.
Arkansas' count of coronavirus cases increased by 1,079 on Wednesday — the highest one-day increase so far this week and one that exceeded the amount added on the same day a week earlier.
The state's death toll from the virus, as tracked by the Department of Health, rose by 23, to 1,634.
Gov. Asa Hutchinson announced the day's virus numbers at a news conference to unveil the state's plan to use tens of thousands of rapid antigen test kits to conduct regular tests of employees at public elementary and secondary schools, state prisons and human development centers, which provide homes and care for people with severe developmental disabilities.
The tests will be performed using credit-card size BinaxNOW kits, made by Abbott Laboratories, that return results in about 15 minutes without the use of a machine or computer equipment.
Hutchinson said the state has received 100,000 of the kits that were ordered by the federal government and expects to receive 50,000 more each week.
"This is the first time we've developed a plan for sentinel testing, or surveillance testings, that goes beyond simply symptomatic or exposure-type testing, and so this is a new world for us that will give us new benefits for this testing," Hutchinson said.
The cases added to the state's tallies on Wednesday included 884 that were confirmed through polymerase chain reaction, or PCR, tests.
The other 195 were "probable" cases, which include those identified through less-sensitive antigen tests.
The state's count of deaths rose by 21, to 1,484, among confirmed cases and by two, to 150, among probable cases.
The number of people hospitalized with covid-19 in the state fell by 18, to 587. Those patients included 113 who were on ventilators, up from 110 a day earlier.
The state's cumulative count of confirmed cases rose to 95,246.
That comprised 90,235 confirmed cases and 5,011 probable ones.
The number of confirmed or probable cases that were considered active rose to a new record, 8,007.
That was an increase of 263, reflecting the cases added Wednesday minus the 23 deaths and 793 Arkansans who were newly classified as having recovered.
Despite the different classifications, the Health Department has said it treats confirmed and probable cases the same for the purposes of its contact-tracing efforts.
That includes requiring people whose results are positive from either type of test to isolate themselves and for those they may have infected to quarantine.
Read Thursday's Northwest Arkansas Democrat-Gazette for the full story.
EARLIER: Governor gives update on distribution of rapid covid-19 tests
Gov. Asa Hutchinson will provide an update on distribution of rapid covid-19 tests at 1:30 p.m.
The the total number of confirmed and probable coronavirus cases reported in Arkansas was at 94,167 Wednesday morning, according to a state website. The death toll remained at 1,611.
Check back to watch the live video.
[Video not showing up above? Click here to view » https://www.youtube.com/watch?v=7Oe9IkgBg8M]
Sponsor Content
Comments