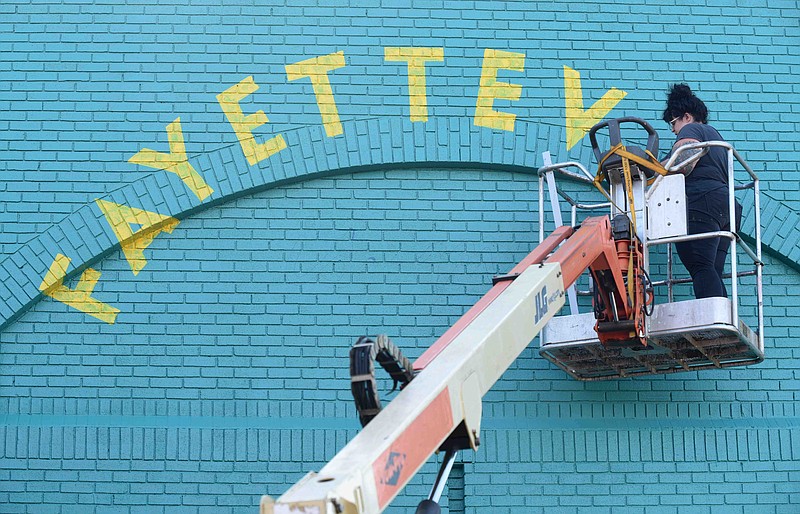 Artist Olivia Trimble, owner of Sleet City Signs and Murals, moves a lift back into position Wednesday, August 12, 2020, to continue painting a new mural on the backside of the Experience Fayetteville building on the square in downtown Fayetteville. The mural is yet to be named and the finished words remain a surprise until the mural is complete. (NWA Democrat-Gazette/David Gottschalk)
Fayetteville is one of the best places to live in the country, according to a recent list from U.S. News and World Report.
The city, which has appeared on the annual top ten list of Best Places To Live in the U.S. every year since 2016, ranked eighth this year.
Among the reason for the city's inclusion on the list are the region's parks, trails and green spaces, the local arts scene and the friendliness of the community, according to the publication's site.
"I am extremely proud," said Mayor Lioneld Jordan. "Fayetteville has so much to offer, from our natural resources to our commitment to sustainability, to our vibrant economic landscape. But our greatest asset is our people."
The city ranked behind Boulder, Denver, Austin, Colorado Springs, Fort Collins, Charlotte and Des Moines in the list. Portland and San Francisco ranked ninth and tenth, respectively.
"The publication uses data from trusted sources, including the U.S. Census Bureau, the FBI, the U.S. Department of Labor and U.S. News' own internal resources to create indexes on the job market, housing affordability, quality of life, desirability and net migration to rank 150 cities across the country," according to a news release.
Sponsor Content
Comments