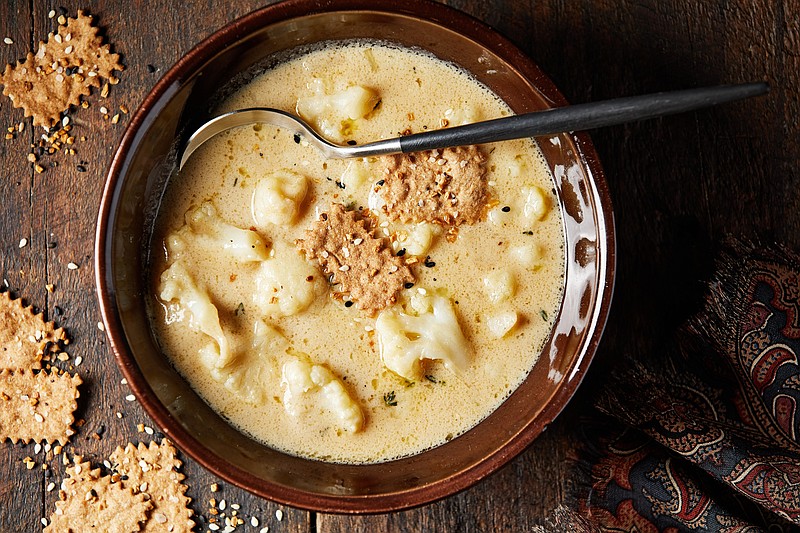 Cheesy Cauliflower Soup. MUST CREDIT: Photo by Tom McCorkle for The Washington Post.
This cauliflower soup takes inspiration from Welsh rarebit, a classic pub dish of piping hot cheese sauce spiked with beer spooned over thick toast. In this iteration, it's the cauliflower that gets the rarebit treatment, resulting in a soup that is cheesy and slightly bitter from the beer. Mustard and Worcestershire sauce add depth, and sharp cheddar cheese delivers a tangy zing.
I've served this soup with pretty pieces of cauliflower floating in the creamy base. I've also whirred the vegetable in my blender for a smooth soup served in small sipping cups, as prelude to dinner.
It looks pretty with a shower of chives on the top or a floating crouton.
Cheesy Cauliflower Soup
2 tablespoons olive oil or vegetable oil
2 cups diced onion (from 1 large)
1 teaspoon kosher salt, divided use
4 cups cauliflower florets (about 1 medium head)
2 cups chicken broth or vegetable broth
3 tablespoons unsalted butter
3 tablespoons all-purpose flour
2 cups whole milk, warmed
½ cup dark beer, such as Guinness
1 teaspoon fresh thyme leaves or ½ teaspoon dried thyme
1 tablespoon Worcestershire sauce
1 teaspoon dry mustard
¼ teaspoon freshly ground black pepper
2 cups grated sharp cheddar cheese
In a 5-quart stockpot over medium heat, heat the olive oil until shimmering. Add the onion and ½ teaspoon salt, stir and cook until the onion turns slightly golden, about 10 minutes. Add the cauliflower, stir everything together to coat with the oil, cook for an additional 3 to 4 minutes, add the broth and bring to a boil. Reduce the heat to medium-low so the liquid is just simmering. Cover the pot and cook until the cauliflower is fork-tender, 7 to 10 minutes.
While the cauliflower cooks, in a small saucepan over medium-high heat, melt the butter until foaming. Sprinkle the flour over the melted butter and whisk until smooth, forming a roux. Reduce the heat and continue to whisk until the roux turns golden brown, about 7 minutes. Add the warmed milk in a stream, whisking until thick and smooth. Add the beer, whisking until smooth, and bring to a simmer, warming just until the bubbles have dispersed, 2 to 3 minutes.
Using a rubber spatula, scrape the beer sauce into the soup and stir until smooth. Add the remaining ½ teaspoon salt, the thyme, Worcestershire, mustard, black pepper and cheese. Stir and heat until a silky cheese soup surrounds the cauliflower, 3 to 4 minutes. Serve hot.
Makes 8 servings.
Nutrition information: Each serving contains approximately 280 calories, 12 g protein, 19 g fat, 16 g carbohydrate (7 g sugar), 40 mg cholesterol, 410 mg sodium and 3 g fiber.
Carbohydrate choices: 1
Sponsor Content
Comments