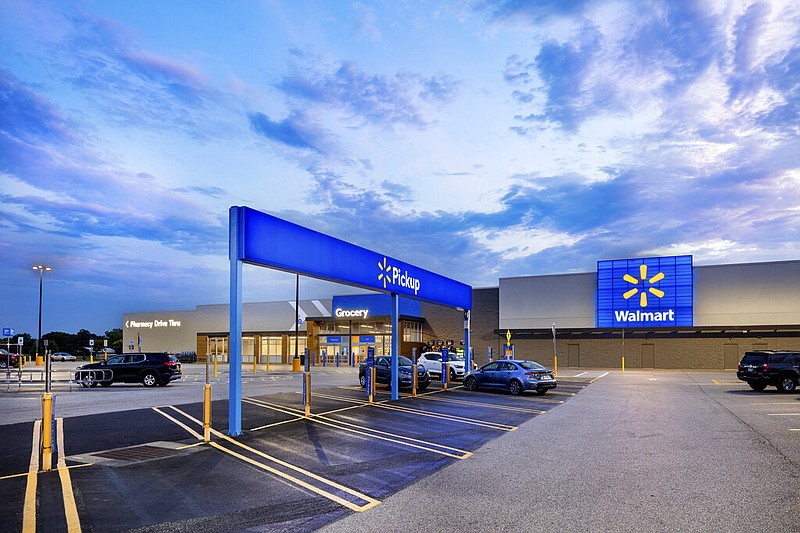 This July 2020 photo provided by Walmart shows the bright signage and Walmart logos from the parking lot outside the Walmart Supercenter in Springdale, Ark. Walmart is getting inspiration from the airport terminal as it revamps the layout and signage of its stores to speed up shopping and better cater to smartphone-armed customers. (Mark Steele + FITCH/Courtesy of Walmart via AP)
Walmart Inc. is trying a tech support program to help customers with their electronic devices both in stores and in their homes, much like Best Buy's Geek Squad and Apple's Genius Bars.
Walmart has set up Tech Services Bars in the electronics departments of its Elm Springs Road Supercenter in Springdale as well as four in the Dallas area, a Walmart spokeswoman said Monday. The company plans to expand the service to 50 stores by mid-2021, she said.
Customers are welcome to take their devices to the Tech Services Bar for troubleshooting, the spokeswoman said. Services include round-the-clock tech support plans, in-store cellphone and tablet repair and computer and tablet setup.
Tech Services Bar staffers will also help customers find products and services that best suit their needs, the spokeswoman said.
In-home help includes smart home installations, Wi-Fi setup, TV mounting and remote setup services.
According to the Dallas Morning News, New York firm True Network Solutions will provide staff for Walmart's Tech Services Bar.
Sponsor Content
Comments