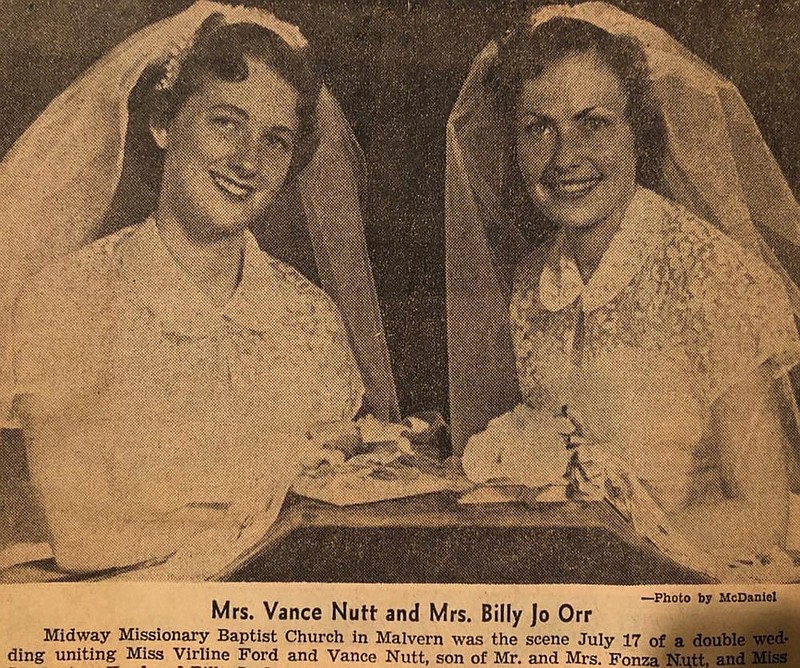 Virline Ford and Vance Nutt were married in a double ceremony with Virlineís sister Linda and her husband, Billy Jo Orr, on July 13, 1955. ìMy daddy walked us both down the aisle,î Virline says. ìHe was in the middle.î (Special to the Democrat-Gazette)
Vance Nutt says Virline Ford changed his life.
"I didn't change his life," Virline says. "God changed his life."
Vance Nutt had admired Virline for a while. One of his friends lived a few blocks from Virline -- and from her father's grocery store -- in Malvern.
"I would spend the night with him sometimes and we would mosey down to the grocery store and buy some bologna and bread and stuff to eat and that's where I kept meeting Virline because she was in the store a lot," he says.
She didn't mirror his admiration.
"I ran with the wrong crowd," he says. "She told me, 'I wouldn't go to a dog fight with you.'"
That's not entirely true, according to Virline. She agreed to go out with him on his graduation night on the condition that they would double with her sister and her sister's boyfriend.
"At least that way I knew he wouldn't be out carousing," she says. "He was a wild boy."
Vance dated Virline's best friend for a while, and Virline drove them around Malvern in Vance's old truck, hollering at the boys they passed along the way.
"I really had no eyes for him whatsoever," she admits.
The second time he asked her for a date, she told him she only would go to church with him.
His older brother, a preacher, was leading a revival and they went to that.
"I made it clear we weren't going to do anything but go to church and come home. I think he was crazy about me and I wasn't crazy about him but I was enjoying luring him around," Virline says. "He was saved that night. He had a different attitude. We went to the revival the rest of that week and then at the end of that week I saw him baptized, and then his actions were different. He didn't run with the same crowd."
Virline, then starting 11th grade and Vance, a recent high school graduate working as an apprentice bricklayer, began seeing each other regularly after that.
When she was a high school senior, Vance told her he wanted to get married. She didn't think her parents would allow it but she told him she would ask.
Her mother said she was too young.
"I don't think she was paying all that much attention, but I said, 'Mother, I've just got to get married,'" she says. "I think she thought I was pregnant -- but of course I wasn't."
Virline's older sister was getting married, and her parents agreed to let them have a double ceremony.
They were wed on July 13, 1955 -- Virline's 17th birthday -- at Midway Missionary Baptist Church between Malvern and Arkadelphia. Vance was 20.
"We had joined that church that his brother pastored and we had been going there together," Virline says.
Vance's brother performed the ceremony and Virline's father walked Virline and her older sister down the aisle together.
Virline and Vance honeymooned in a cottage on Lake Hamilton in Hot Springs.
They moved to Jacksonville after they married so Vance could help with the construction of Little Rock Air Force Base in Jacksonville. When that job was done they moved back to Malvern.
The Nutts live in Benton now. They have three daughters -- Ramona Gay Nutt of Benton, Toni Kay Wiegel of Benton and Paula Rae Tinsley of Little Rock. They also have six grandchildren and 10 great-grandchildren.
When the girls were old enough to go to school, Virline enrolled in classes at Henderson State University in Arkadelphia, carpooling with a neighbor, who was a teacher on campus, each morning after the children went to school and returning before they were dismissed each afternoon.
"In three and a half years Virline had a degree in mathematics and a secondary degree in English," Vance says.
She got a job as a high school math teacher.
"I still spent a lot of Sundays gone on ball trips because I pitched for an independent team after I got out of high school. Finally the Lord corrected that though, because I was injured playing ball [when I] broke and smashed my left elbow," says Vance, who continued playing with church leagues until he was 69. "If she hadn't gone to work teaching school we would have lost everything."
Virline later spent summers at Arkansas State University at Jonesboro, returning home only on weekends, to complete her master's degree in mathematics. She completed work for a doctorate but at the time couldn't get a doctorate in mathematics without leaving the state and didn't want to leave her family to do that.
Vance became a pastor when he was 32 years old. He recently retired after 53 years of leading Baptist churches.
He had thought originally that maybe if he went to church with her she would go with him dancing in honky tonks on the weekends.
"It didn't ever work out that way," he says.
He doesn't mind the way it worked out instead. Virline doesn't either.
She admires the man he has become.
"He didn't want to be a preacher," she says, "but he's made a good one."
If you have an interesting how-we-met story or if you know someone who does, please call (501) 425-7228 or email:
More News
The first time I saw my future spouse:
She says: "I was a cheerleader and he was a football player so he was one of the people on the field we would cheer for."
He says: "Me and my good friend had gone in her daddy's grocery store — to get bologna and bread and all the trimmings and she was in there making a strong case for why she needed more money from her daddy."
On our wedding day:
She says: "It was a double wedding and my sister was with me and we were dressed alike and we helped each other get ready."
He says: "We had a fairly large wedding party because it was a double wedding."
My advice for a long, happy marriage:
She says: "You're not going to be happy all the time."
He says: "Sometimes we discuss things, and we get pretty loud in discussing them. But usually we come to a conclusion and we don't harbor any grudges."
Sponsor Content
Comments