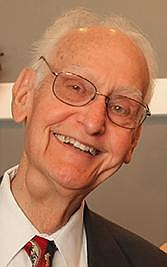 Bob Boyd
At a young age, Bob Boyd learned that being a professional musician was preferable to plowing.
The music was always in him.
The plowing, not so much.
"At 3 years old, I was already picking melodies out on the piano," Boyd said in a 2015 interview.
Boyd, 84, died Thursday of sarcoma, said his daughter, Melody Boyd Arsenault.
The news stunned generations of Arkansans, who flooded his Facebook page with memories and tributes.
"So saddened to hear about the passing of Bob Boyd," wrote Shannon Boshears. "An amazing man and musical legacy in Arkansas. Not a musician in Little Rock who didn't know Bob or shop at Boyd's Music. ... Godspeed to the great gig in the sky."
For almost all of his 84 years, Boyd was a musician. He also worked as a music teacher and businessman. He owned Boyd Music Center in Little Rock, which operated from 1962 to 2000.
Bobby Gerald Boyd was born May 26, 1936, in Mayflower to J.A. Boyd and Minnie Ledrick Boyd.
His mother played piano and his father the harmonica.
His father also shunned modern contraptions, like tractors.
"He plowed with a team of mares," Bob Boyd said in a 2015 interview for the Butler Center for Arkansas Studies.
Besides being a blacksmith and a farmer, the elder Boyd also delivered the mail.
A preacher once told Bob, "I always knew when your daddy was coming in his buggy because I could hear the harmonica."
Boyd first learned to play the guitar and then the piano.
"My dad ordered a $10 guitar from Montgomery Ward," Boyd said in the Butler Center interview.
In 1950, at the age of 14, he took piano lessons for nine months.
When he was 16, Bob Boyd got his own show on radio station KCON in Conway.
By the age of 18, he was playing piano for Jim Ed, Bonnie and Maxine Brown at Club Trio, their Pine Bluff club and restaurant.
"I worked for them on the opening, and at the age of 18 or 19, I got to back Jim Reeves, Porter Wagoner and a guitar player from Memphis named Scotty Moore," said Boyd.
He backed other well-known musicians. He played clubs in New Orleans and St. Louis. But Bob Boyd got tired of being on the road, so he moved back to Little Rock.
He got hired as the accordion teacher at Rosen Music. The only problem was he didn't know how to play the accordion. So Boyd learned over the next two weeks.
He soon had 50 students wanting to learn the accordion. Boyd blamed it on Lawrence Welk, the accordion player whose television show was popular at the time.
While at Rosen, he met Donnie Jean Huddlestun, a piano student from McCrory. They were married in 1960.
By 1963, with the "Beverly Hillbillies" becoming popular on television, students wanted to learn to play the five-string banjo, Boyd told the Butler Center. That's the instrument Earl Scruggs played on the show's theme song, "The Ballad of Jed Clampett."
But that all changed when the Beatles became well known in the U.S. in 1964. Suddenly, kids wanted electric guitars.
"I credit the Beatles with creating a garage band in just about every neighborhood," said Boyd.
The timing was good for Boyd. He'd opened his own music store two years earlier. At one point, he had seven music teachers at his store, which also had studio space for lessons and practice.
"Prior to the Beatles, we had had a 10-year period of three-chord blues, pretty much, and novelty songs and Peter, Paul and Mary and Kingston Trio, and there was nothing to attract the high school kids," Boyd told the Butler Center.
"Their songs had more than three chords," he said of the Beatles. "They were innovators."
Bob Lincoln was the staff guitar and bass teacher at Boyd Music Center from 1963 to 2000. He remembers B.B. King visiting one day in the mid-1960s.
"He didn't buy anything but he was in there for a little while, probably played a little bit," said Lincoln.
Boyd said his weight ballooned to 247 pounds and by the late 1970s he realized he needed to change his life. He began jogging and stopped drinking.
"I thought that drinking made me better and I couldn't have been wronger," he told the Butler Center.
To celebrate Boyd Music's 20th anniversary, he ran 20 miles around the perimeter of the store -- 140 laps.
"It became a media event, and we had bands in the parking lot playing," said Melody Arsenault. "It almost felt like a carnival -- tons of fun."
During other celebrations bands would play on the roof of the store.
After the store closed in 2000, Boyd worked for other Little Rock music stores and kept busy with his own group, the Bob Boyd Sounds.
The group included David Higginbotham on stand-up bass; Randy McDonald on drums, accordion and banjo; and Sim Flora on trombone.
"We played for almost 30 years," said Higginbotham.
He said the group played wedding receptions, parties and for gas station openings.
"One time we played for the opening of a new parking deck out by the airport," said Higginbotham.
Their last gig was March 12 when they played for the dance club at Pleasant Valley Country Club.
"Then the pandemic hit and that was it," said Higginbotham.
Sponsor Content
Comments