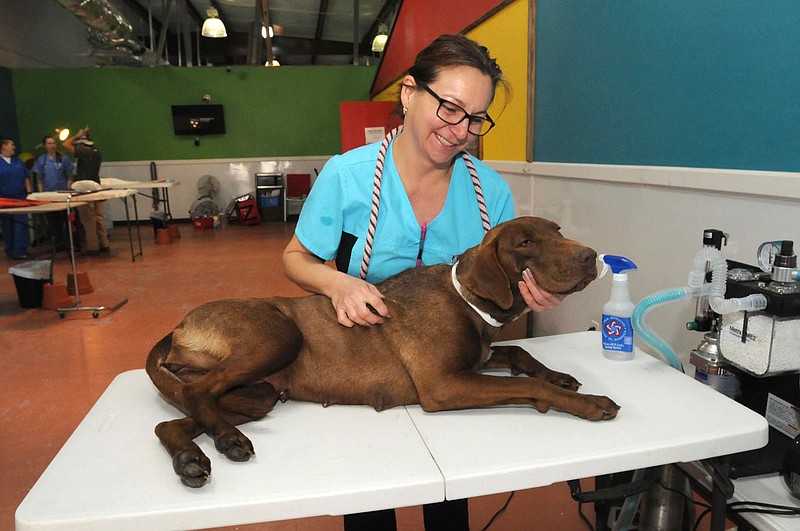 NWA Democrat-Gazette/FLIP PUTTHOFF SPAY, NEUTER DAY Angela Johnson with the Rogers city animal shelter gets a dog ready for surgery on Saturday Feb. 27, 2016 during a spay and neuter event sponsored by Spay Arkansas and held at Phenom-A-Dog, 200 S. 24th St., in Rogers. Seventy dogs and cats belonging to low-income families were spayed or neutered for a reduced cost at the event, said Romaine Kobilsek, board member with Spay Arkansas. February is National Spay and Neuter Month, she said. Spay Arkansas is a nonprofit organization dedicated to spaying and neutering pets for people with low incomes. The group, based at their clinic in Springdale, has seen 22,000 dogs and cats spayed or neutered in the last five years, Kobilsek said.
Rubber ducks will be off to the races Oct. 10 at Lake Atalanta in Rogers to help support Spay Arkansas' dental care for senior dogs.
The nonprofit organization's inaugural Rubber Duck Derby will float off at 11 a.m. from the creek at Lake Atlanta Park and consist of numbered "adopted" rubber ducks with numbers paired with entrants' names on race day. Registration is $10 per duck "adoption" or $25 for a "6-Quack."
Prizes will be $500 for first place, $100 for second place and other prizes for third place.
Winners will be announced live on Facebook, and participants need not be present to win.
Spay Arkansas' primary mission is to "to reduce the number of unwanted and stray animals entering our shelters by offering high quality and affordable spay and neuter services to under-served individuals, shelters and rescues within our community."
The nonprofit organization offers low-cost spay and neuter clinics to make the procedures affordable for low-income pet owners. Fees are set on a sliding scale, based on the pet owner's income.
Shonna Hardy, executive director, says the group recently purchased the necessary equipment to offer dental services and expects to start seeing dental patients in the coming weeks.
The clinic is open 7:30 a.m.-5 p.m. Tuesdays and Fridays and 9 a.m.-5 p.m. Wednesdays.
The group recently announced a partnership with Good Shepherd Humane Society in Eureka Springs to offer a satellite clinic to serve Carroll County and the surrounding area.
Veterinarians at the clinic have performed more than 4,000 surgeries this year through August. Spay Arkansas partners with rescue organizations around the country, transporting some 700 strays this year, and distributes 1 ton of pet food from its food pantry.
-- CARIN SCHOPPMEYER
More News
Rubber Duck Derby
Who: Spay Arkansas
What: Numbered "adopted" rubber ducks with numbers paired with entrants' names on race day.
When: 11 a.m. Oct. 10
Where: Lake Atalanta Park in Rogers
Tickets: $10 per duck "adoption" or $25 for a "6-Quack"
Information: (479) 756-1100 or spayarkansas.org
Sponsor Content
Comments