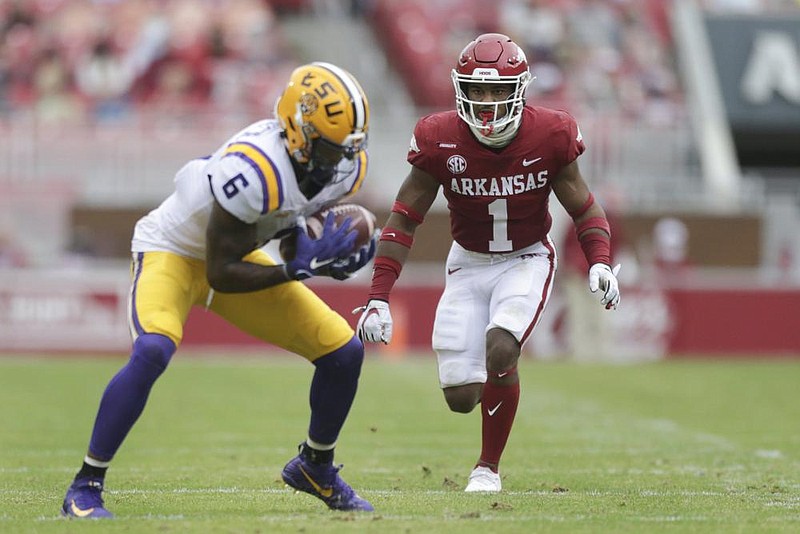 Arkansas defensive back Jalen Catalon (1) covers LSU wide receiver Terrace Marshall Jr. (6), Saturday, November 21, 2020 during the third quarter of a football game at Donald W. Reynolds Razorback Stadium in Fayetteville. Check out nwaonline.com/201122Daily/ for today's photo gallery. (NWA Democrat-Gazette/Charlie Kaijo) - Photo by Charlie Kaijo
FAYETTEVILLE -- By rule, University of Arkansas safety Jalen Catalon will have to miss the first half of next week's game at Missouri after he was ejected for targeting in the fourth quarter of Saturday's game against LSU.
But Arkansas Athletic Director Hunter Yurachek tweeted that he will do his best to make sure Catalon doesn't have to sit out at Missouri.
"I cannot change the outcome or any of the other missed calls, but I will work with the appropriate SEC officials to make sure that this 'targeting' call does not cost Jalen Catalon our next game," Yurachek tweeted after LSU's 27-24 victory over the Razorbacks. "My student-athletes deserve better."
Catalon was ejected for the second time this season -- he also was called for targeting in the first half of Arkansas' 42-31 loss at Texas A&M -- when he tackled Kayshon Boutte with 6:55 left in the game.
TV replays of the tackle showed Catalon hit Boutte with his shoulder and not his helmet, but the targeting call was upheld by the replay official.
"I don't know how that call can possibly be confirmed," said Matt Stinchcomb, the color analyst for the SEC Network's telecast of the game. "I also don't know how you can play defense if you are not able to make a play that looks like that.
"[Catalon] turned his entire body sideways. I didn't even see any head or neck contact."
Arkansas Coach Sam Pittman said he believed Catalon came in with his shoulder as Boutte was going to the ground.
"I felt like he was trying to avoid the contact, but I can see what [the officials] saw as well," Pittman said diplomatically. "But certainly, it looked to me he was trying to get his head out of there. Trying to avoid the receiver's helmet as well."
Pittman then was asked what explanation he got from the officials for calling targeting on Catalon and upholding it.
[Video not showing up above? Click here to watch » https://www.youtube.com/watch?v=7AJGuzzwuyM]
"Man, I'm not going to answer that stuff," Pittman said. "It costs me money [in a fine from the SEC office], and it's over with. You saw it."
Arkansas senior linebacker Grant Morgan was asked his take on the targeting play on Catalon, who had 16 tackles.
"I don't want to say I saw the best view or anything or I was the closest one," Morgan said. "I think everyone there saw it. Obviously, they're the refs and they have to make calls.
"My thing is, I play football, Catalon plays football. It's hard to slow down. It's hard to lay off when you know you've got a hit like that. And Jalen Catalon continues to play really aggressive, and really physical, and that's just him. That's how he's going to play.
"I hate it for him. He's one of the most dynamic players I've ever been around and ever seen here at Arkansas."
Morgan said the officials have a tough job.
"A lot of the rules in football nowadays are getting so precise, and getting so they're almost lawyers out there on the field," he said. "They've got a lot to think about, too. But they're the refs at the end of the day."
Hammonds sighting
Senior T.J. Hammonds, who has been working at slot receiver for the Razorbacks but played just a few snaps, made the most of the two touches he had Saturday.
Hammonds accounted for 80 of 88 yards on a series that led to a field goal that gave Arkansas a 24-20 lead.
On the last play of the third quarter, Feleipe Franks hit Hammonds for a 51-yard pass play that got Arkansas out of a hole at its 8. Two plays later, Hammonds had a 29-yard run.
Coming into the game, Hammonds didn't have a catch on the season. His two carries had gone for minus-5 yards.
Roster hits
A huge chunk of Razorbacks were out -- due either to injuries or covid-19 testing and quarantining -- and the defensive line and running back spots were particularly hard hit. According to an unofficial count, the Razorbacks had 56 available scholarship players, three above the mandatory minimum established by the SEC medical guidance task force.
Heading the list of missing players was running back and team captain Rakeem Boyd. Jonathan Marshall was the only regular starting defensive lineman available, meaning Eric Gregory, Isaiah Nichols, Zach Williams, Dorian Gerald, Julius Coates and Xavier Kelly were all out, as well as David Porter.
Also out were offensive linemen Noah Gatlin, Marcus Henderson, Jalen St. John and Ray Curry Jr.; defensive backs Simeon Blair and Khari Johnson; linebacker Deon Edwards; and tailback Dominique Johnson.
Guard Beaux Limmer was on the field but not dressed out.
Not clear?
Arkansas safety Joe Foucha came out of a pile with the ball after LSU running back John Emery Jr. fumbled with 11:57 left in the second quarter.
But upon review, it was ruled that LSU had retained possession because no clear recovery was made.
The football gods worked to correct what seemed like a missed call later in the drive when cornerback Montaric Brown forced a fumble by receiver Terrace Marshall, and the ball clearly was recovered by safety Myles Slusher.
Ricks ejected
LSU freshman starting cornerback Eli Ricks was ejected for targeting with 7:56 to play in the second quarter for a helmet-to-helmet hit on Arkansas receiver Mike Woods.
Woods, who caught the ball for a 6-yard gain, popped up quickly and waved, as in goodbye to Ricks.
The targeting call was upheld after a video review, but there were off-setting penalties on the play with Arkansas running back Trelon Smith called for offensive pass interference.
The gain on Woods' catch was nullified, and the Razorbacks again faced second and 15 from their 24. They ended the possession with a punt.
Rare interception
Arkansas quarterback Feleipe Franks threw his fourth interception of the season and first in four games when LSU linebacker Jabril Cox picked off a pass and returned it 36 yards to the Razorbacks 1 to set up a touchdown for the Tigers in the second quarter.
It was the first interception by Franks in 95 passes. His last interception had been by Ole Miss safety Jon Hayes in the third quarter of a game the Razorbacks won 33-21.
Vs. LSU
LSU extended its winning streak to five games against Arkansas and now leads the series 42-22-2.
The Tigers matched their second-longest winning streak against Arkansas. They also won five in a row over the Razorbacks between the 1953 and 1965 seasons. LSU's longest winning streak in the series is seven games from 1930-36.
The Tigers are 4-2 in Fayetteville and 20-10 against Arkansas in SEC games since the Razorbacks joined the conference for the 1992 season.
Houston video
Houston Nutt, whose final game as Arkansas' coach was a 50-48 triple-overtime victory at No. 1 LSU in 2007, narrated a pregame video about the series shown on the giant boards at Reynolds Razorback Stadium.
Democrat-Gazette staff writer Tom Murphy contributed to this report.
Sponsor Content
Comments