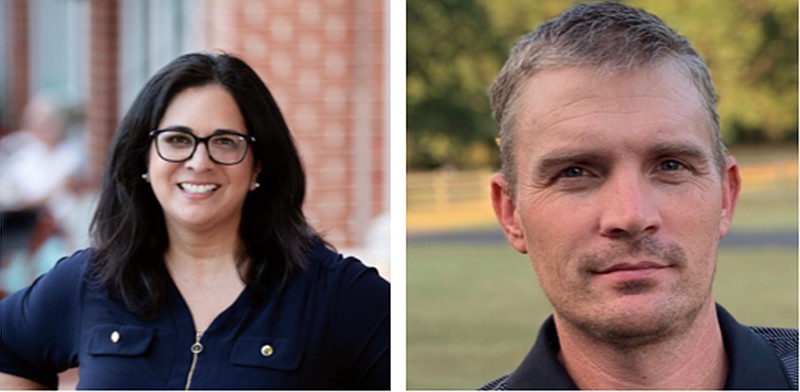 Gayatri Agnew (left) and Jeff Matkins
BENTONVILLE -- Gayatri Agnew and Jeff Matkins are in a runoff for a seat on the City Council.
The runoff election will be Dec. 1.
Agnew finished first in the Nov. 3 general election with 4,779 votes (26%), and Matkins was second with 4,248 votes (23%) in the Ward 1, Position 2 race.
Elle Jackson, a candidate who filed then decided not run, finished third. Jeff Wadlin and Dylan Shaddox came in fourth and fifth.
State law requires a runoff in municipal races with more than two candidates if no candidate receives either a majority of the votes cast or a plurality of 40%. A candidate who receives a plurality of 40% of the votes cast must obtain at least 20% more of the votes cast than the second-place candidate.
There also are city council runoffs in Centerton, Lowell and Springdale. A portion of Springdale is in Benton County.
Early voting starts Tuesday. The early voting sites will be closed Thursday and Friday for Thanksgiving.
Chad Goss, who holds the seat, didn't seek reelection. Ward 1 covers northeast Bentonville.
Agnew, 39, is a senior director at Walmart. She said her campaign is continuing to run as it did before Election Day. The campaign is texting, emailing and calling voters.
"We're continuing to hear from residents who are interested in Bentonville's future specifically concerned with issues like road and street safety, inclusion, growth and our regional response to managing the pandemic," she said.
"I know many voters are tired of talking about elections, but I think it is exciting for our region that we have multiple runoff elections across Benton County. It demonstrates a real rise in citizen engagement in local government."
Matkins, 41, owns Matkins Greenhouse and Flowers in Bentonville. He is fifth-generation Bentonville resident.
"I guess I was not surprised that there would be a runoff, but I wasn't sure about who would be in it," Matkins said. "As far as campaigning goes, I do not really have anything to compare to how one normally campaigns, but those who are seasoned have told me it is definitely a strange year."
Matkins said he has used social media a lot with the help of his wife.
"We went door to door some, but mainly only to hang up door tags to be safe," he said.
Agnew received $26,275 in contributions in her bid for the seat, according to her latest campaign finance report. The total was the highest of any Bentonville City Council candidate, according to filing information.
Agnew listed expenses of a little over $11,000, including $3,144 on advertising, $2,787 on consultant fees and $2,500 for paid campaign workers.
Matkins loaned his campaign $556, had contributions of $890 and expenditures of $413 for advertising.
Council races are nonpartisan.
Bentonville's City Council is made up of eight members, two in each of four wards. City Council members are elected at-large but represent wards. They must live in their ward.
Council members are paid $808 per month, according to the city website. Position 1 is a two-year term, and Position 2 is a four-year term. The city is gradually moving to all four-year terms.
There also will be a runoff for the Ward 1, Position 2 seat on the Centerton City Council. Councilwoman Robin Reed received 3,292 votes (49.6%) to Amy Rochette's 2,298 votes (35%) in the general election.
Ward 1 covers the north part of the city.
Centerton's council is made up of three wards with two members in each ward. Council members are paid $250 per regular meeting and $100 for any special meeting, Mayor Bill Edwards said.
More News
Gayatri Agnew
• Age: 39
• Residency: Has lived in Ward 1 for six years
• Employment: Senior director at Walmart
• Education: Master of business administration and bachelor of arts in political science, Seattle University
• Political Experience: Unsuccessful candidate for Arkansas House in 2018
Jeff Matkins
• Age: 41
• Residency: Has lived in Ward 1 for 11 years
• Employment: Owner, Matkins Flowers and Greenhouse in Bentonville
• Education: Home-schooled through high school
• Political Experience: None
Mike Jones may be reached by email at [email protected]
Sponsor Content
Comments