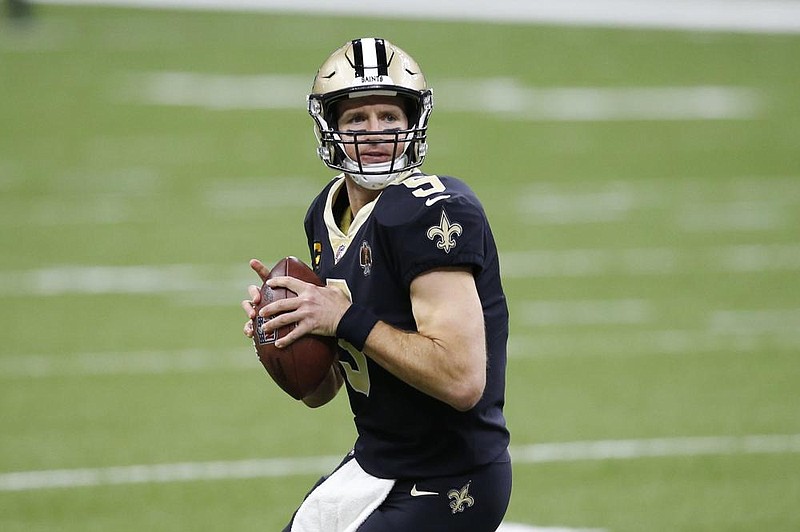 New Orleans Saints quarterback Drew Brees was placed on injured reserve Friday and is expected to miss at least three games with rib injuries. (AP/Butch Dill)
GOLF
Streb fires a 63, leads RSM
Robert Streb birdied his last two holes on the Plantation course at Seal Island and matched his career low with a 9-under 63, giving him a two-shot lead over Camilo Villegas on Friday in the RSM Classic in St. Simons Island, Ga. Villegas had an even better finish to stay in range going into the weekend. His tee shot on the par-5 18th on the Plantation course hit a cart path on the right side of the fairway and bounced enough that he only had a 9-iron left over the water to a front pin. He was urging it to clear the water, and it landed just on the green and left him about 12 feet away for a closing eagle and a 66. The final two rounds move to the Seaside course, which Joel Dahmen lit up Friday for a 9-under 61 that took him outside the cut line to just outside the top 10. The last four winners at the RSM Classic each had the 36-hole lead. Streb was at 14-under 128 at the only tournament he has won on the PGA Tour. It was the fourth time he shot 63, the most memorable in the second round at Baltusrol in the 2016 PGA Championship. Andrew Landry (Arkansas Razorbacks) is at 6-under 136 for the tournament and tied for 22nd place. Sebastian Cappelen (Razorbacks) survived the cut by one stroke, coming in with a 3-under 139.
Kim in front at LPGA event
Breakthrough winners in their last starts, Sei Young Kim and Ally McDonald were on top again Friday in the Pelican Women's Championship in Belleair, Fla. The second-ranked Kim, making her first start since winning the KPMG Women's PGA a month and half ago at Aronimink for her first major title, shot a 5-under 65 at Pelican Golf Club to take a one-stroke lead over McDonald into the weekend. McDonald had a 66. She won her first LPGA Tour title late last month in the Drive On Championship-Reynolds Lake Oconee in Georgia in the tour's last event. Kim had an 8-under 132 total in the first-year tournament originally set for the same week as the PGA Championship in May. The 11-time LPGA Tour winner birdied four of the first five holes and added another on the par-5 14th. Maria Fassi (Razorbacks) is at 3-over 143 after an even-par 70 on Friday. Stacy Lewis (Razorbacks) shot a 1-under 69 on Friday and is at 5-over 145. Alana Uriell (Razorbacks) missed the cut. Uriell shot a 70 on Friday and finished at 8-over 148.
TENNIS
Djokovic moves into semis
Novak Djokovic ensured the world's top four players reached the semifinals of the ATP Finals for the first time since 2004 by eliminating Alexander Zverev 6-3, 7-6 (4) on Friday in London. The top-ranked Djokovic meets Dominic Thiem today as he goes for a record-tying sixth title at the season-ending tournament, and a first since 2015. No. 2-ranked Rafael Nadal will take on No. 4 Daniil Medvedev in the second semifinal. Nadal is trying for the 10th time to win his first ATP Finals crown. Medvedev warmed up by blowing away Diego Schwartzman 6-3, 6-3 late Friday, topping their group with three wins in six sets.
FOOTBALL
Brees to miss at least 3 games
The Saints placed quarterback Drew Brees on injured reserve Friday, meaning he'll miss at least three games with rib injuries. Brees was unable to finish last Sunday's game after absorbing a heavy hit on a sack attempt by 287-pound San Francisco defensive tackle Kentavius Street, who was penalized for roughing on the play. Street landed on the right side of Brees' torso as the two went to the ground, and Brees was diagnosed Monday with rib fractures and a collapsed lung. Brees, 41, has played efficiently this season for New Orleans, completing 73.5% of his passes for 2,196 yards and 18 touchdowns with 3 interceptions in eight-and-a-half games. The Saints announced Friday that Taysom Hill will start at quarterback against the Atlanta Falcons on Sunday.
Garrett on covid list
Cleveland's star defensive end Myles Garrett will miss Sunday's game against Philadelphia -- and maybe more -- after testing positive for covid-19, dealing the Browns a major blow as they try to end an 18-year playoff drought. The Browns (6-3) won't have Garrett, the NFL's leader in sacks, against the Eagles and there's no predicting when he'll be back. According to league rules, a player who tests positive for the virus can't return to the team until at least 10 days after the onset of symptoms, plus at least 24 hours after symptoms have passed. Garrett stayed home from practice Wednesday and Thursday because he was showing symptoms.
Niners waive DE McKinley
The San Francisco 49ers have waived defensive end Takkarist McKinley after he failed a physical. The Niners claimed McKinley off waivers earlier this week after he failed a physical in Cincinnati, then cut him Friday after he failed their physical as well. McKinley was a first-round pick by the Falcons in 2016. He had 171/2 sacks, 2 passes defensed, 2 forced fumbles and 1 fumble recovery in 49 career games. He had one sack in four games this season.
BASEBALL
Pirates designate two
The Pittsburgh Pirates have designated pitcher Trevor Williams and utility player Jose Osuna for assignment. The team made the moves Friday to create room on the 40-man roster for infield prospect Rodolfo Castro and starting pitching prospect Max Kranick. The 28-year-old Williams went 31-37 with a 4.43 ERA in 106 career appearances in Pittsburgh. Osuna hit .241 with 24 home runs and 88 RBI in 276 games for Pittsburgh.
Rays cut ties with Renfroe
The Tampa Bay Rays have designated outfielder Hunter Renfroe for assignment, helping clear room on the 40-man roster for three young prospects who were not part of the team's run to the World Series. Renfroe, 28, batted .156 with 8 home runs and 22 RBI in his first season with Tampa Bay. He started six of 12 games he played in the postseason, batting .174 with 2 home runs and 7 RBI.
Sponsor Content
Comments