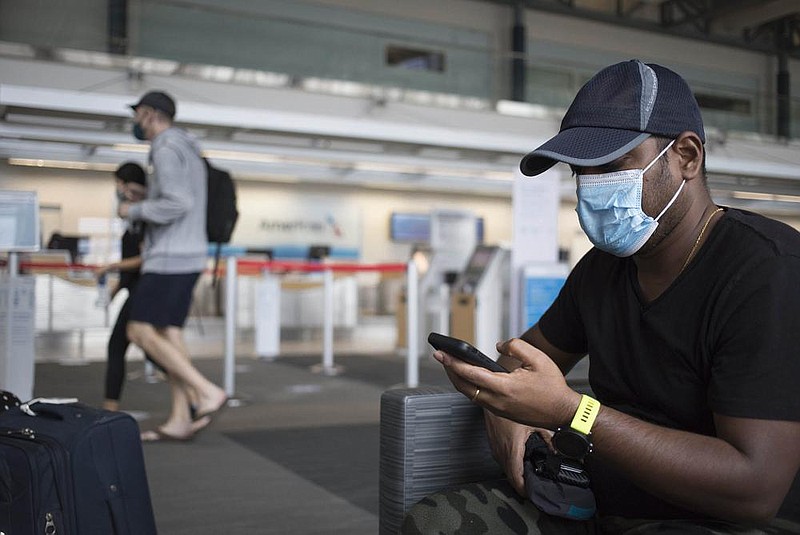 Soma Chire of Bentonville waits for his family before heading off on a trip to India, Saturday, August 29, 2020 at Northwest Arkansas National Airport in Bentonville. A new study shows more travelers are choosing the Northwest Arkansas National Airport rather than driving to airports in Oklahoma or Missouri. The study shows a significant decrease in leakage for XNA. Check out nwaonline.com/200830Daily/ for today's photo gallery. (NWA Democrat-Gazette/Charlie Kaijo) - Photo by Charlie Kaijo
The two largest commercial service airports in Arkansas together saw nearly 1.7 million fewer passengers go through their doors through the first 10 months of 2020, according to the latest data.
Bill and Hillary Clinton National Airport/Adams Field had 807, 137 passengers arrive and depart through Oct. 31. The figure was down by 1,067,298 -- a drop of almost 57% -- from the 1,874,435 people who went through the terminal in the first 10 months of 2019.
The decline was steeper at Northwest Arkansas National Airport at Highfill. There, 614,662 passengers went through the terminal in the first 10 months of the year, a 60.4% fall from the same period in 2019.
Both airports are struggling to recover from the drop in air travel because of the coronavirus pandemic that began in March, according to last month's numbers.
At Clinton National, 88,115 passengers departed or arrived in October, a 56.3% decrease from the same month in 2019.
Northwest Arkansas National had 65,313 passengers last month, a 63.8% decline from October a year ago.
Sponsor Content
Comments