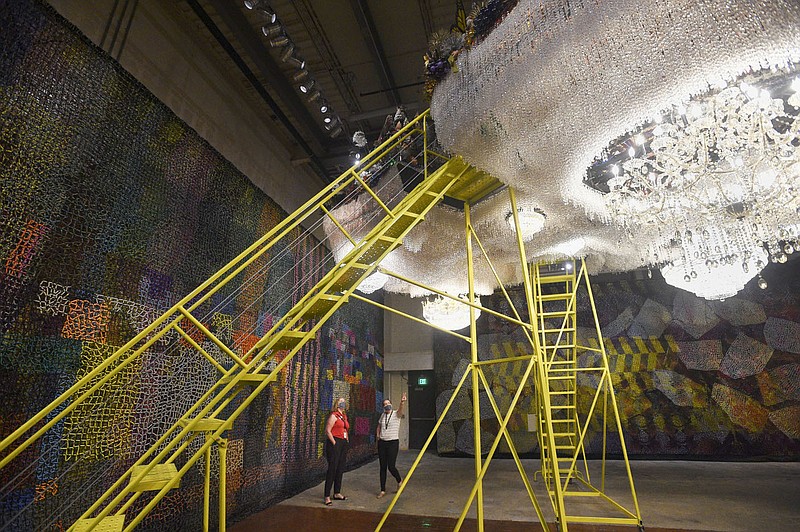 Robin Groesbeck (left) and Jessi Mueller look at the exhibit "Crystal Cloudscape" Thursday at The Momentary in Bentonville. The Momentary is presenting its new exhibit "Nick Cave: Until, organized by MASS MoCA," open from Saturday to Jan. 3, 2021. The free immersive exhibition spans over 24,000 square feet and serves is a response to the question, "is there racism in heaven?" Check out nwaonline.com/200911Daily/ for today's photo gallery. (NWA Democrat-Gazette/Charlie Kaijo)
Since the inception of the monumental exhibition "Nick Cave: Until," artist Nick Cave envisioned it as a catalyst for prompting discussion around and reflection on the themes presented. Part of that idea included inviting other artists across media to make their own work in response to "Until." When the curatorial team at Bentonville contemporary arts space the Momentary began preparing to host the exhibition, thinking about other creators to bring into the conversation was an exciting task.
"For the Momentary, in the way that we're thinking about contemporary performing arts and contemporary visual arts, it was such an opportunity for collaboration," shares Pia Agrawal, curator of performing arts at the venue. "Especially because the way that the idea of response was really driven by Nick, by the artist, it gave our teams the opportunity to work together on what these responses would look like."
Poets, dancers, theater makers, musicians, visual artists, fashion designers and more were all tapped to explore the themes of "Until" through their own perspective and form of expression. The artists all spent time discussing the installation with Cave, and some of the resulting responses will be ongoing through the end of the exhibition period while others will be a single performance or event.
"It's kind of a beautiful position to put the artists in the same position that we and Nick are asking the visitors to be in," Agrawal muses. "The beauty of contemporary art is that there are so many different means of interpretation, and there are so many things you can take away."
More than one of the responding artists' forms of expression may be unexpected, Agrawal admits. For instance, "I'm not sure that everyone would think that fashion and a fashion designer would be thinking about the same questions that a visual artist is thinking about," she poses.
So this evening, in collaboration with Arkansas Arts & Fashion Forum, the Momentary will host two designers in the galleries to consider that very notion.
Bruce Davis is the inaugural Designer in Residence for AAFF's new designer residency program, EMERGE, and Brandy Lee is a member of the 2020 EMERGE cohort. The program serves to identify and support the growth of new talent in the field of fashion, and it was a perfect fit to foster both the program's and the Momentary's basis in collaborative practice, reveals Katie Marquess, marketing and creative director at AAFF.
"Through collaborations like this one, we get to show the community that the thought processes, intentions and ideals that create the foundation of a practice in fashion are not entirely different from those of visual artists in the contemporary field," Marquess offers.
Davis and Lee have both created four looks inspired by the exhibition, and their work will be shown on models moving through the gallery tonight.
"Providing a platform for Bruce to gain visibility allows him to ask questions that deserve answers," Marquess says of Davis' address of "Until's" themes, in particular.
"When will it be enough? When will the lives of men that look like him matter? Cave's work is asking the same question. When we see this kind of beauty, creativity and vitality come from an artist, it's impressive regardless of their background. But when that artist has to turn to us and ask 'When will I matter,' we are faced with a stark question about why we have not already begun to do so much better. For the bar to be so low and yet we refuse to step over it as a society puts the creative work in a much more dire context."
FAQ
EMERGE: Design As Practice
With Brandy Lee and Bruce Davis
WHEN — 6-7 p.m. today
WHERE — The Momentary in Bentonville
COST — Free
INFO — 367-7500, themomentary.org, arkansasfashion.org
FYI — Dance/theater artist Blake Worthey will also present his performance in response to "Until" immediately following the fashion presentation, beginning at 7:15 p.m.
Sponsor Content
Comments