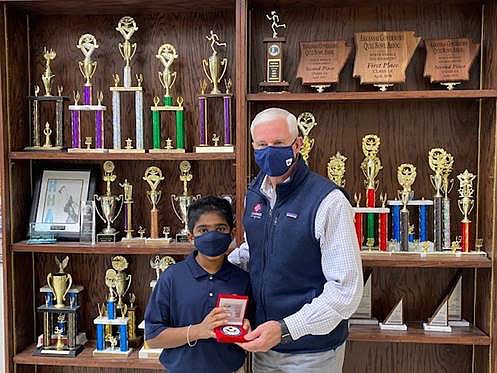 Veera Sai Joshik Unnam, a seventh-grader at Haas Hall Academy in Bentonville and a resident of Fayetteville, was recently honored by Rep. Steve Womack as winner of the 2020 Congressional App Challenge. (Courtesy Photo)
Haas Hall
Veera Sai Joshik Unnam, a seventh-grader at Haas Hall Academy in Bentonville and a resident of Fayetteville, was recently honored by Rep. Steve Womack as winner of the 2020 Congressional App Challenge. The annual nationwide coding competition for middle school and high school students aims to encourage youngsters to pursue science, technology, engineering and math (STEM) education and computer science careers.
"We are incredibly proud of Veera," said Rod Wittenberg, headmaster at Haas Hall in Bentonville. "As a seventh-grader, he used his technological savvy to create a user-friendly app with tremendous real-world utility. ... I feel that Veera has unlimited potential."
Veera's winning app, Soil Moisture Control, allows people to monitor the soil moisture levels of crops in the field as well as house plants. The app reads the moisture levels in real time and uses the data it collects to suggest whether more or less water is needed to maintain a healthy growth environment. Veera developed both software and hardware components, which means his application is fully functional.
Womack honored Veera with a certificate and congressional medallion at a ceremony at Haas Hall Academy. Also honored were Ananya Vangoor, a senior at Bentonville West High School, second place for the AskClass App; and Lucas Jaggermauth, a senior from Haas Hall Academy in Rogers, third place, for the Code Craft App.
This is the sixth year that Womack has hosted the Congressional App Challenge in Arkansas's Third Congressional District.
University of Arkansas
Three University of Arkansas students have received Joe M. Steele & Hardy W. Croxton Memorial Scholarships for 2020-21:
Jacob (Jake) Taylor of Rogers is pursuing a degree in Civil Engineering.
Machaela Morrison of West Fork is focused on a degree in Environmental, Soil and Water Science.
Jake Krier of Fayetteville, a previous winner, is majoring in Biological Engineering.
Beaver Water District Board members donate board meeting attendance fees to the scholarship fund. These scholarships provide financial assistance to upperclassman or graduate students in the departments of Civil Engineering, Biological and Agricultural Engineering or Crop, Soil, and Environmental Sciences who have demonstrated interest in drinking water treatment, wastewater treatment, environmental or life sciences. The fund is managed by the University of Arkansas Foundation.
Donations may be made payable to the University of Arkansas Foundation Inc. -- with Joe M. Steele & Hardy W. Croxton Memorial Scholarship in the memo line -- and mailed to Gift Services, 300 University House, University of Arkansas, Fayetteville 72701.
Arkansas State
Leland Southard had a passion for agricultural economics, and he was more than happy to share his knowledge and experience with others during a career of more than 40 years. The College of Agriculture alumnus even planned beyond his lifetime, bequeathing a gift to Arkansas State University for the benefit of future students like him.
The gift from Southard, who died in June, is the basis of the Leland Southard Memorial Fund, which will provide educational opportunities for students interested in agricultural economics. Friends and associates have subsequently added numerous memorial gifts to the fund through the Arkansas State University Foundation Inc.
Southard spent most of his career with the U.S. Department of Agriculture's Economic Research Service (ERS), from which he retired in 2007. After living in Alexandria, Va., for many years, he and his wife Judith moved to San Antonio in 2015.
A native of Salem, Southard earned his Bachelor of Science in Agriculture degree in 1963, majoring in agricultural business at what was then Arkansas State College. He went on to Louisiana State University for his Master of Science in Agriculture in agricultural education.
Additional memorials be directed to the Leland Southard Memorial Fund via the ASU Foundation, P.O. Box 1990, State University, AR 72467.
University of Mississippi
Amanda Arnold of Bentonville and Kathryn Kelly of Fayetteville were recently initiated into the Honor Society of Phi Kappa Phi, the nation's oldest and most selective collegiate honor society for all academic disciplines, at the University of Mississippi in Oxford:
They are among approximately 30,000 students, faculty, professional staff and alumni to be initiated into Phi Kappa Phi each year. Membership is by invitation only, and only the top 10 percent of seniors and 7.5 percent of juniors are eligible for membership.
Send school news to [email protected]
Sponsor Content
Comments